Low Carb Apple Crisp

WHY NOT USE APPLES?
This recipe reminds us of a low carb apple crisp, with less fructose.
The only organ in your body that can take up fructose is your liver. The first thing that eating fructose does is causing an increase in uric acid. Fructose inhibits nitric oxide, which would otherwise reduce our blood pressure.
This is why fructose is famous for causing hypertension (high blood pressure).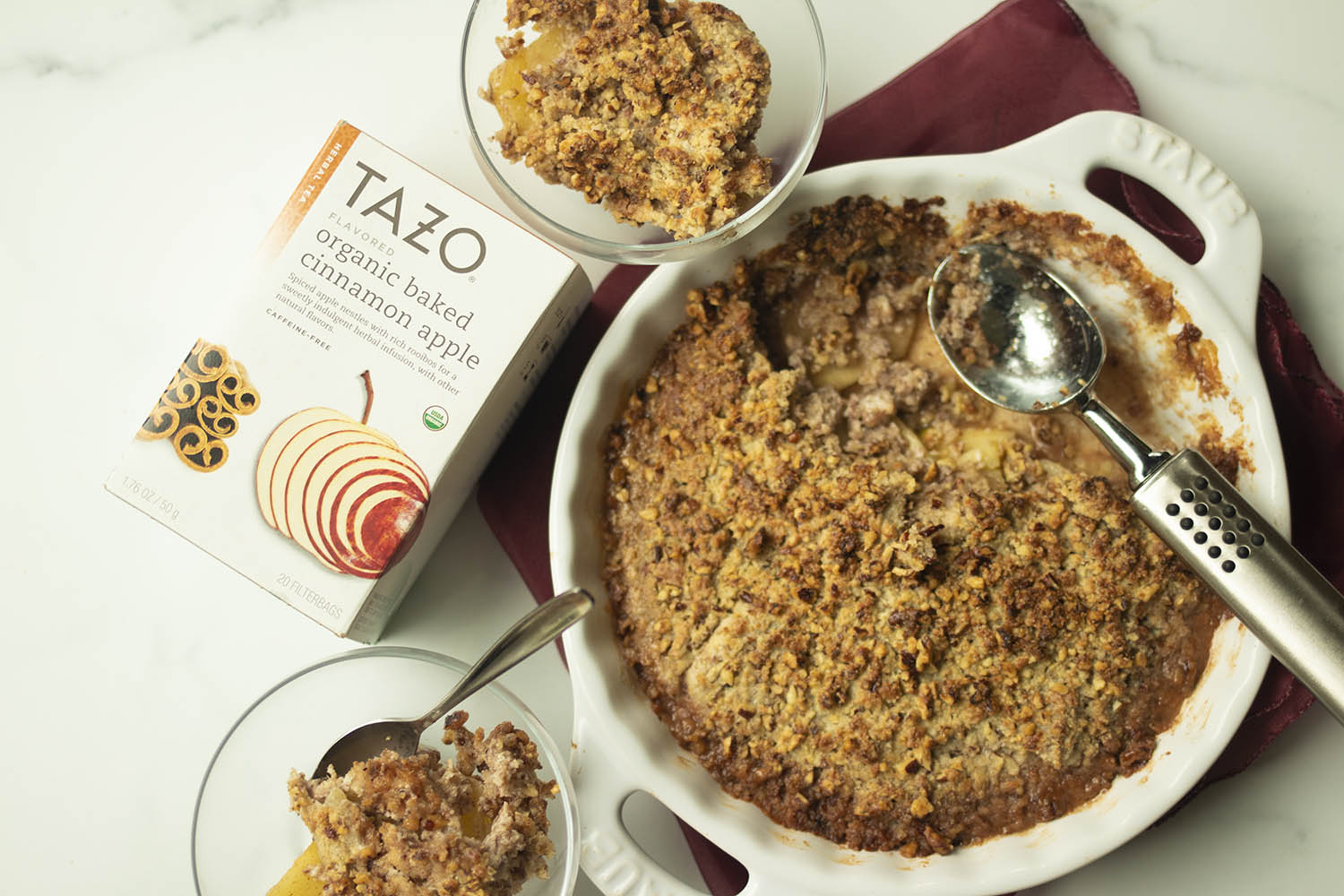 Fructose also initiates what's known as lipogenesis, excess fat production. And the third thing that fructose does in the liver is it initiates an enzyme that inhibits our insulin receptors. That means your insulin levels all over your body have to rise…causing a whole slew of problems, including weight gain. Between 1970 and 2003 our average consumption of fructose increased from less than half a pound per year to 56 pounds per year. We were never designed to take in so much fructose. Even some natural sweeteners have lots of fructose. From 90 to 97 percent of the sugar in agave nectar is fructose. Up to half of the sugar in some varieties of honey is fructose.
To read more, check out the book KETO: The Complete Guide to Success on the Ketogenic Diet
So is an "apple" the devil…no, but here is a way to lower the fructose overall.
Nutritional Comparison per cup:
Apple = 95 calories, 21 carbs, 4 fiber
Zucchini = 20 calories, 4 carbs, 1 fiber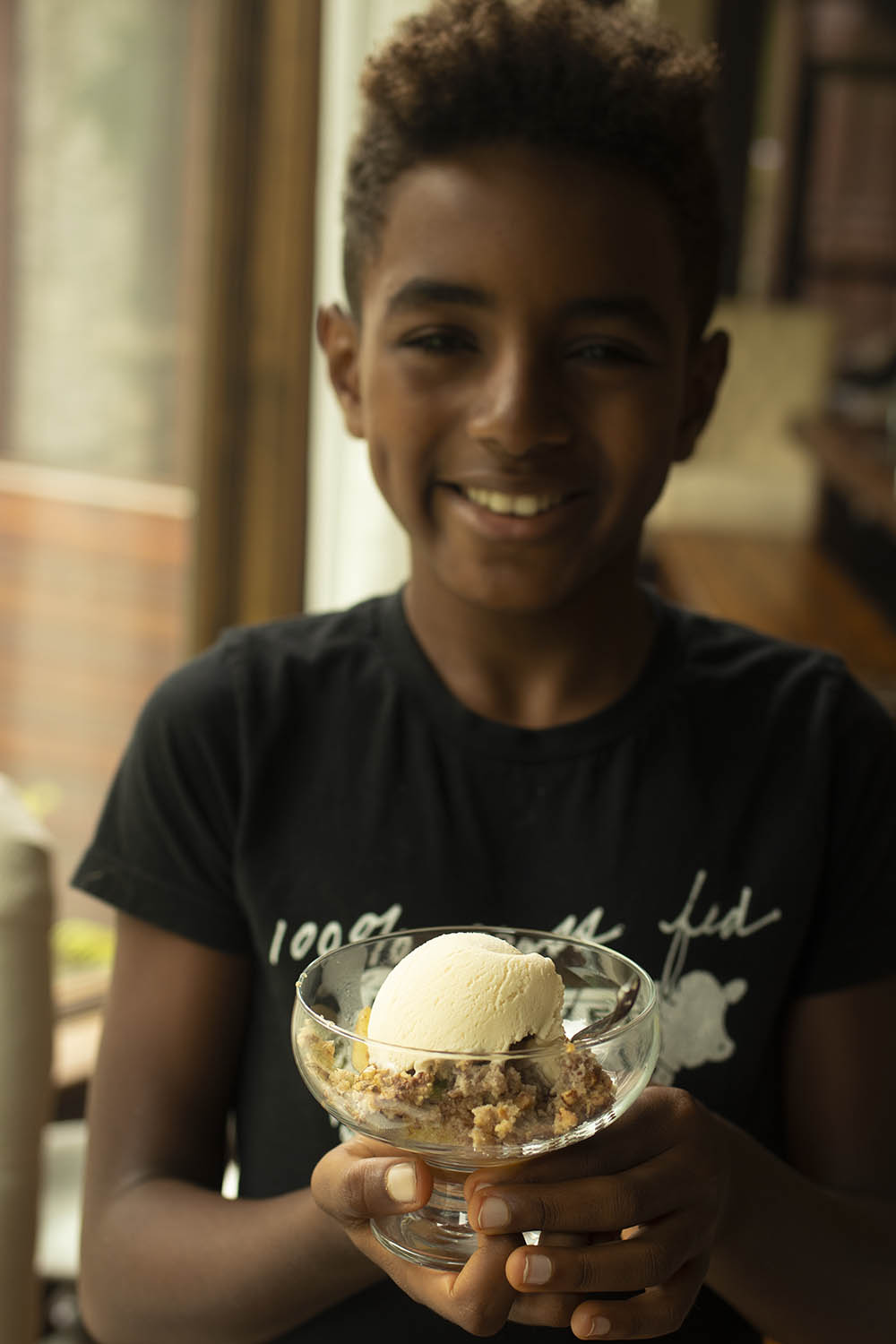 If you want to watch me make delicious keto recipes like this low carb Apple Crisp, subscribe to our new YouTube Channel to get updated when the video comes out which will be in a day or two, and comment below on what video recipe we should make next!
Low Carb "Apple" Crisp
Ingredients
8

cups

zucchini

peeled and cubed

4

apple tea bags

click HERE

1/4

cup

lemon juice

1/4

cup

Natural Sweetener

or 1/4 cup erythritol and 1 tsp stevia glycerite

2

teaspoons

ground cinnamon

1/4

teaspoon

ground nutmeg

1

teaspoon

apple extract

optional
TOPPING:
1

cup

Natural Sweetener

or 3/4 cup erythritol and 1 tsp stevia glycerite

1

cup

chopped pecans

or other nuts

1/2

cup

almond flour

1/2

cup

vanilla egg white protein

or vanilla whey powder

2/3

cup

butter

cold
Instructions
Preheat oven to 325 degrees F.

Heat a pot with 2 cups of boiling water. Remove from heat and add the tea bags. Steep for 5 minutes or until the water is very concentrated with apple tea. Remove the tea bags.

Place the zucchini slices in the apple tea and boil for 10 minutes. The zucchini soaks up the apple flavor and you would never notice the difference!

Remove the zucchini from the apple tea.

In a bowl, combine the zucchini, lemon juice, sweetener, cinnamon, nutmeg, and extract; mix well. Pour into a greased 13-in. x 9-in. x 2-in. baking dish or 10 inch pie pan.

For the topping, combine sweetener, pecans almond flour and protein powder in a bowl; cut in butter until crumbly. Sprinkle over the zucchini mixture.

Bake at 325 degrees F for 40-45 minutes or until bubbly and the zucchini is tender.
Nutrition
Calories:
324
|
Fat:
28
g
|
Protein:
10
g
|
Carbohydrates:
9
g
|
Fiber:
4
g
|
P:E Ratio:
0.3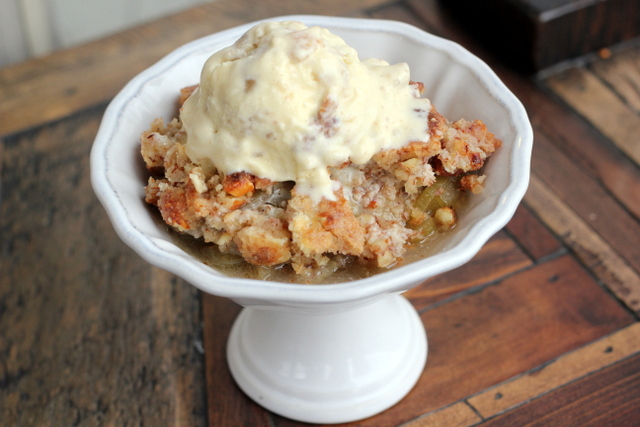 TESTIMONY OF THE DAY
"WOW, I am absolutely blown away by what's available on your website. You've probably heard this before, but the content is truly amazing!! I am very much looking forward to the coaches weekly webinars, you both offer so much knowledge in such a kind and generous way. Grateful for you both " – Koreann
Most people I consult are doing keto totally wrong. Get fast results with the my NEW Keto Packages!