Keto Peanut Butter Cups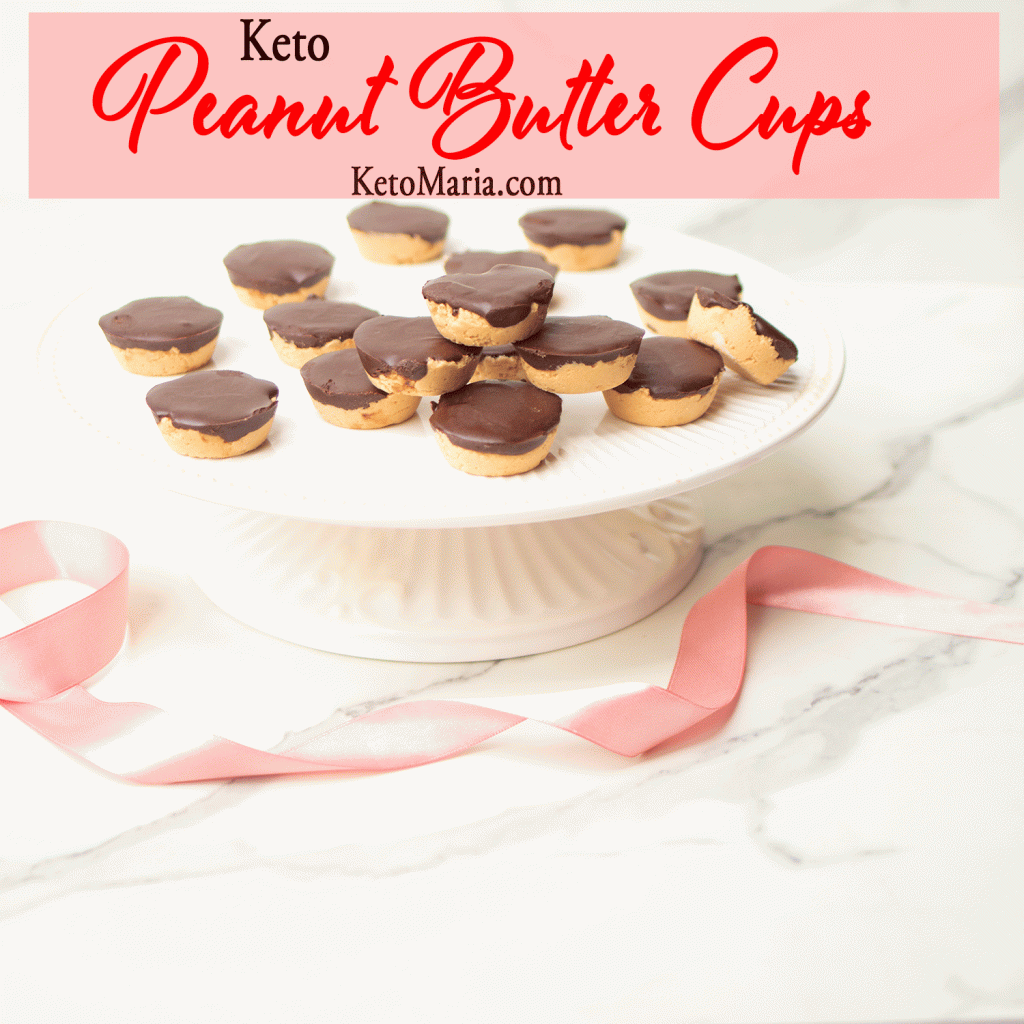 It is my birthday tomorrow and I wanted to make a simple yet delicious candy for my friends! Since most people I know LOVE peanut butter cups, I made keto peanut butter cups that are packed with protein!
HOW TO MAKE KETO PEANUT BUTTER CUPS
I actually do not have peanut butter in my keto peanut butter cups! Instead, I used Equip Prime peanut butter protein! Oh it is so good!
Some of you know that I pack Equip Prime Protein powder in my carry on when I travel! I am in LOVE with it! But at the airport when I was on my way to speak in Baltimore, the security thought my little ziplock with powder in it looked "fishy." So they had to test it! lol!
Equip Prime Protein powder is an all-natural, comes from 100% grass-fed beef protein powder. No fillers, no additives, no chemicals and it is so delicious! It works perfect for making my keto peanut butter cups!
Use code MARIA to save!
Happy Shopping and THANK YOU for all your support!!!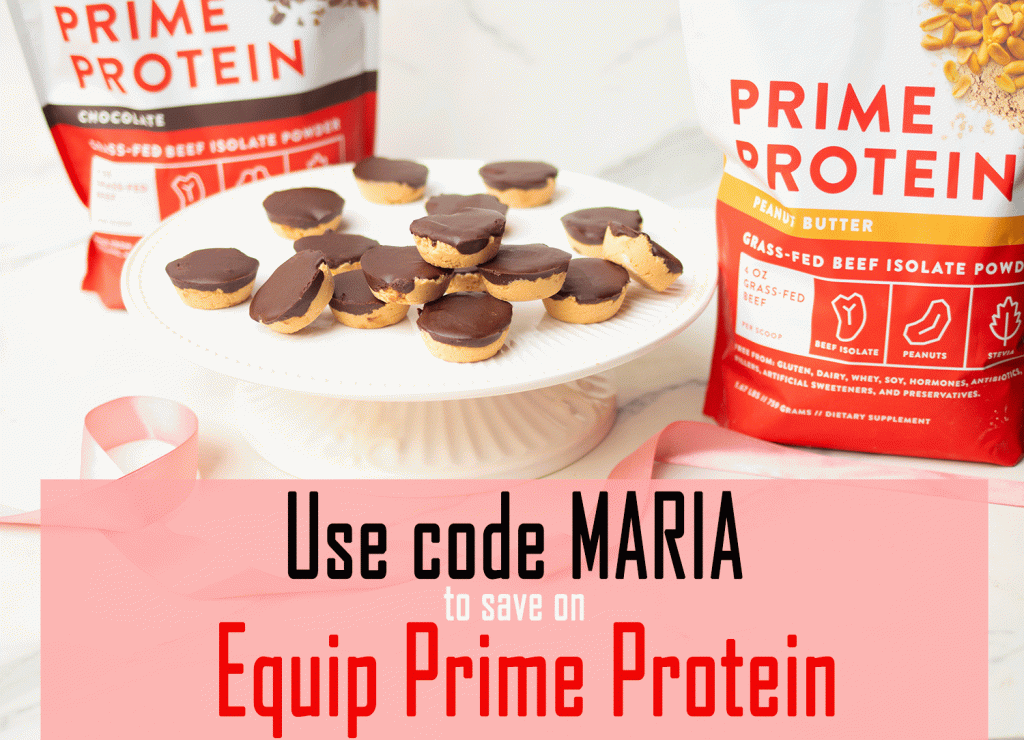 Keto Peanut Butter Cups
Ingredients
8

tablespoons

salted butter

softened (or butter flavored coconut oil if dairy free)

3

tablespoons

powdered sweetener

(I used allulose and 1 teaspoon stevia glycerite)

3

scoops

Peanut Butter Equip Protein Powder

1

teaspoon

vanilla extract
CHOCOLATE COATING
1

ounce

unsweetened baking chocolate

chopped fine

5

tablespoons

butter

(or butter flavored coconut oil if dairy free)

2

tablespoons

powdered sweetener

(I used allulose and 1/2 teaspoon stevia glycerite)

1

scoop

Chocolate Equip Protein Powder
Instructions
Place the softened butter, sweetener, protein powder and vanilla in a large bowl and use a hand mixer to combine until smooth. Taste and adjust sweetness to your liking. Place the mixture into a mini silicone muffin pan (or the bottom of a parchment lined 8x8 inch baking dish). Place in the fridge while you make the chocolate coating. 

To make the chocolate coating, place the chopped chocolate and butter into a medium bowl. Heat in the microwave at 20 second increments and stirring in between until the chocolate is completely melted. Add the sweetener and prime protein. Use a hand mixer to combine until smooth. Taste and adjust sweetness to your liking. Pour over the peanut butter layer. Place in fridge for 4 hours to set. 

Store extras in an airtight container in the fridge for up to 7 days. Can be frozen for up to a month. 
Nutrition
Calories:
79.9
|
Fat:
6.8
g
|
Protein:
3.7
g
|
Carbohydrates:
0.8
g
|
Fiber:
0.3
g
|
P:E Ratio:
0.5
TESTIMONY OF THE DAY
I spoke in Baltimore and Meredith came to surprise me! Doesn't she look AMAZING????
"I have been overweight since second grade. In fifth and sixth grade my parents took me once a week to a children's weight loss clinic, where group weigh-ins and talk therapy were the order of the day. I was an active kid, I was on the swim team and I showed horses, it wasn't a lack of exercise. By the time I graduated high school I was wearing a size 22/24.

When I graduated from college in 1991, I was a size 28.

I was put on blood pressure medication when I was 30 and put on antidepressants a year later. Around 35 I was diagnosed with Hashimotos.

In the Fall of 2016, my doctor talked to me about Metformin. He gave me a prescription that I did not fill until February of 2017. When I saw him in June of 2017, he told me that we needed to talk about insulin, I was 420 pounds.

I came across Maria Emmerich and in 6 months, my doctor took me off metformin, and the antidepressants. At only 9 months, I lost 100 pounds, and my doctor cried.

In 2 years, I have lost 206 pounds and am 20 pounds from my goal. I am OFF blood pressure medicines and now the only thing I am still taking is for the Hashimotos, and I am working to get off of that now thanks to Maria.

I actually bought a size 12 dress the other day, because it fit! I have not worn a size 14/16 since 6th grade!

Maria has helped me greatly while I have been on this journey, I live in Wisconsin and have been lucky enough to have met her in person now 6 times. Every time I see her it amazes me that she remembers me, her warmth and joy inspire me to continue on with my journey. My only regret is that I did not find this way of eating sooner.

Thank you Maria, from the bottom of my heart, Meredith" 
Most people I consult are doing keto totally wrong. Get fast results with the my Mind-blowing Keto School!