Keto Chicken Enchiladas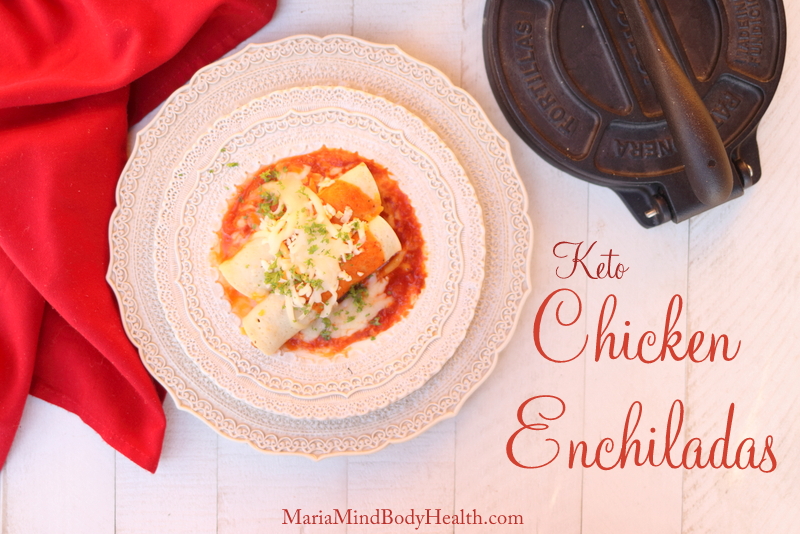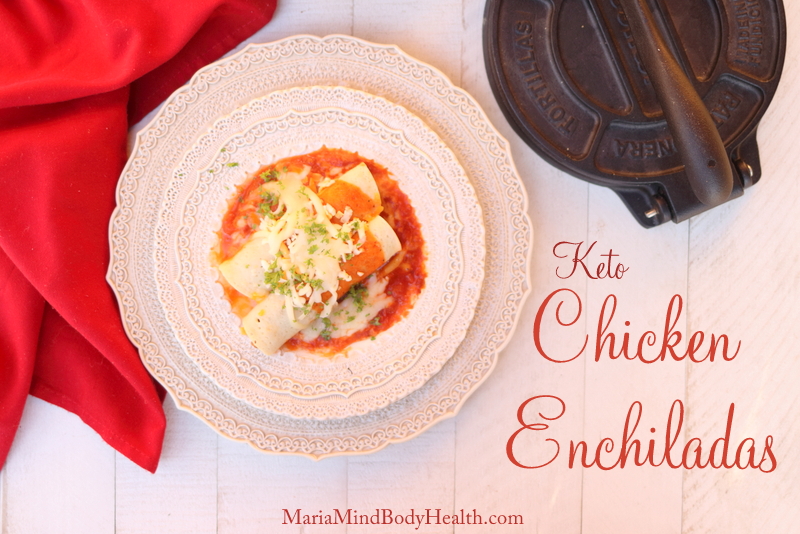 I'm all about easy and fast keto cooking when it comes to busy weekday meals. I know that many of you are pressed for time and want easy recipes but ones that are also very tasty! If you love Mexican food, you must try these simple enchiladas!
I made the tortillas for Keto Chicken Enchiladas 2 different ways but today I will give you the SUPER Easy recipe. One is a little more work than the other one but they both are amazing! This version is also dairy free if needed. I will blog the harder version in the future, but for now I would love to hear your thoughts on this easy Keto Enchilada recipe!
Another tip I want to give to those of you who do not want to cook anything… pick up an organic rotisserie chicken and shred it with 2 forks. Then open a can of green chilis and combine well into the shredded chicken. This will be your filling. But seriously, making shredded chicken in a slow cooker is very easy too.
One more tip to make this a fast dinner is to prep this a few days ahead and if you really like this, make a triple batch and store 2 batches in the freezer for an easy meal.
Do not use store bought enchilada sauce for this recipe! Have you looked at the ingredients in that stuff??? Check it out:
Ingredients = Water, Tomato Paste, Modified Corn Starch, Spices, Salt,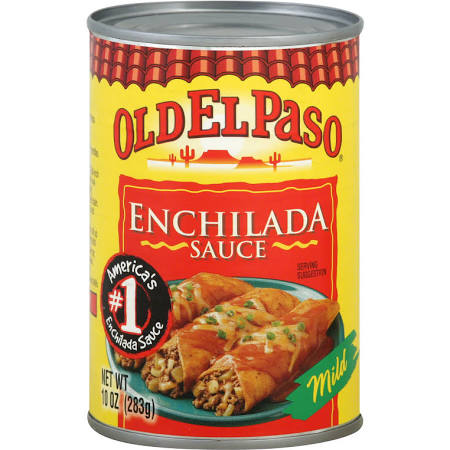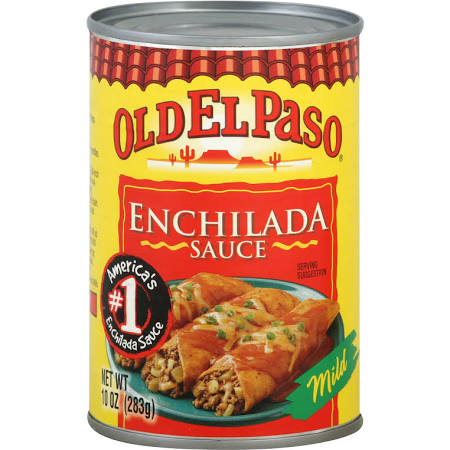 Onion Powder, Soybean and/or Cottonseed Oil, Garlic Powder, Hydrolyzed Corn Gluten, Soy and Wheat Gluten Proteins, Citric Acid, Dried Yeast, Soy Flour. Contains: soybeans and wheat
Keto Chicken Enchiladas Option 1
Ingredients
FILLING:
2 chicken breasts
½ cup chicken broth (homemadeor Kettle and Fire chicken broth)
¼ cup diced onion
1 (4.5 oz) can green chilis, drained
ENCHILADA SAUCE:
1 cup favorite salsa (check for added sugars and vegetable oils)
2 tablespoons tomato purée
¾ cup beef/chicken broth, homemade preferred but boxed works
¼ cup chili powder
¼ teaspoon cumin powder
¼ teaspoon garlic powder
TORTILLAS:
12 slices organic deli chicken
TOPPING:
Shredded Monterey Jack or sharp cheddar cheese (omit if dairy free)
Chopped Cilantro Leaves
Instructions
Place the filling ingredients in a 4 quart slow cooker. Turn on low for 6-8 hours (or on high for 4 hours). Shred with a fork. Can be made up to 2 days ahead.
Place all enchilada sauce ingredients in a blender and combine until smooth. Use for Keto enchiladas. Store in airtight container in the fridge for up to one week. Can be frozen for up to a month.
Place the sauce in the bottom of a 9 by 11 inch casserole dish.
Place a few tablespoons of shredded chicken in the center of a slice of deli chicken. Roll up like an enchilada. Place onto sauce in the casserole dish. Repeat with remaining filling and "tortillas". Top with cheese if using. Place in oven to bake for 10 minutes or until heated through and cheese is melted.
NOTE: You can skip the baking and microwave on HIGH for 1 minute or until cheese is melted.
Garnish with chopped cilantro.
Notes
Nutritional Info:
213 calories, 7g fat, 28g protein, 7g carbs, 2g fiber
TESTIMONY OF THE DAY
"I just want to say thank you! I'm having my first cycle naturally in I don't know how long. YEARS! I have PCOS and my Dr put me on birth control at 16 so I would have regular cycles to "help" my PCOS. I wish I had known about The Ketogenic life way back then! After getting married 8 years ago I stopped taking birth control to try to conceive. When I stopped BC my cycle didn't return. 10 months later my OB decided to start me on fertility meds that forced me to have cycles. Between fertility treatments I never had cycles on my own. I conceived my son on my last fertility treatment cycle that I was able to afford and was blessed with my miracle baby. Since recovering from his birth in November of 2015, I haven't had a cycle on my own. I started fertility treatments in November or 2016 which gave me cycles, and unfortunately miscarried twice between December and April.
Almost a month into the 30 Day Ketogenic Cleanse my cycle started on it's own!!! This is such great news for me, my PCOS and my fertility. I also have more energy, better skin, sleeping much better and I'm so much happier. I didn't realize how sad I really was and I know that changing my diet has helped with that mental shift to happiness and self love.
I can not thank you enough for sharing your passion with the world. I'm so thankful I found your website last year which started me on this path to health and wellness. I've also dropped 15 pounds this past month as well which is an added bonus! Thank you for helping me find me again!" Laura
 Thank you for your love and support!