Keto Basque Cheesecake (Tarta de Queso)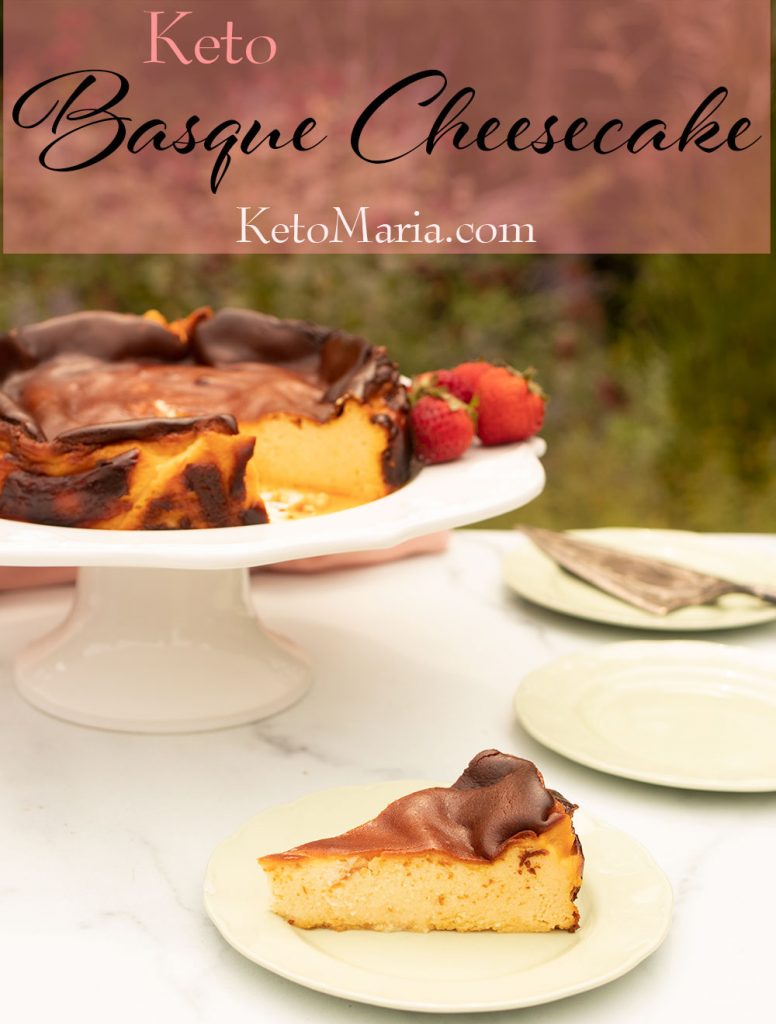 It was my birthday this past week and sadly the fun things we had planned were canceled due to the devastation in New Orleans so I thought, we needed cheesecake to cheer us up!
Have you ever heard of a Basque Cheesecake?
I recently heard of this delicious sounding cheesecake and thought I must make a keto recipe for all of you!
This style of cheesecake originates in the Basque region (which consists of 4 provinces in Northern Spain and 3 provinces in Southern France).  A Basque Cheesecake is also known in Spain as 'tarta de queso.' It is famous for its burnt surface and amazing flavor. It is uniquely light yet creamy, caramelized and delicious, cheesecake that is super easy to make that it is nearly foolproof!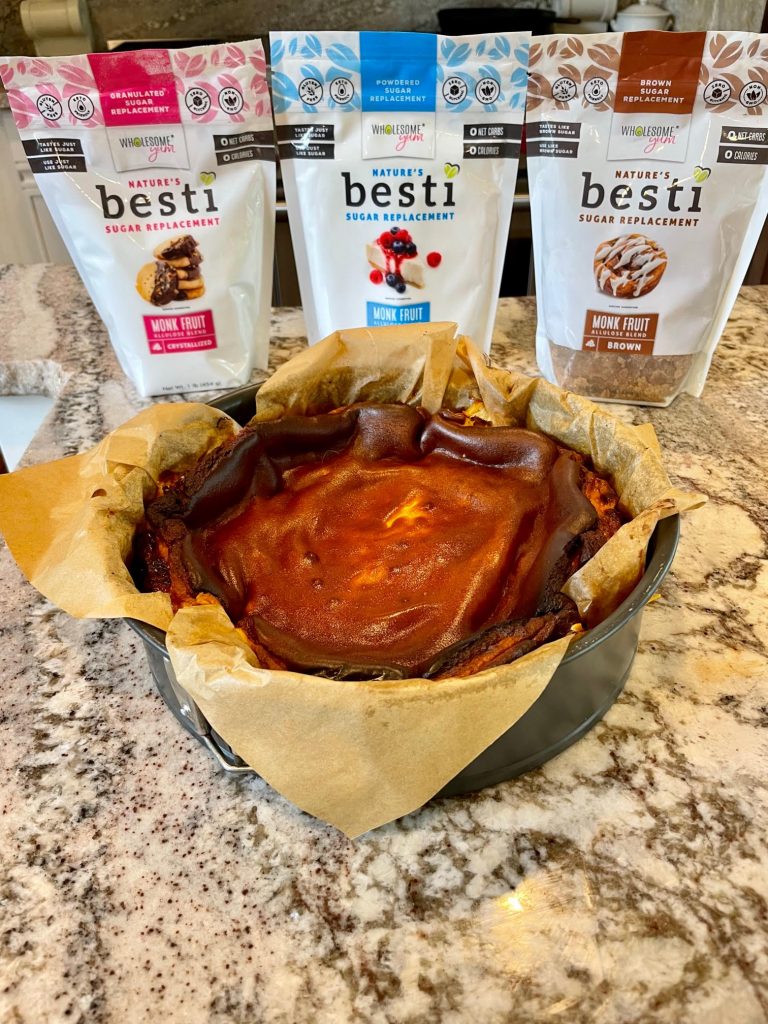 This Basque cheesecake is the BEST keto cheesecake I have ever had!
To make this keto Basque Cheesecake, you must use allulose. Using other types of sweeteners will not work. Allulose melts like sugar which makes this caramelly Basque Cheesecake! When you purchase allulose, I only recommend Wholesome Yum brand! 
Wholesome Yum brand of allulose is the best quality allulose and they even ship to Canada!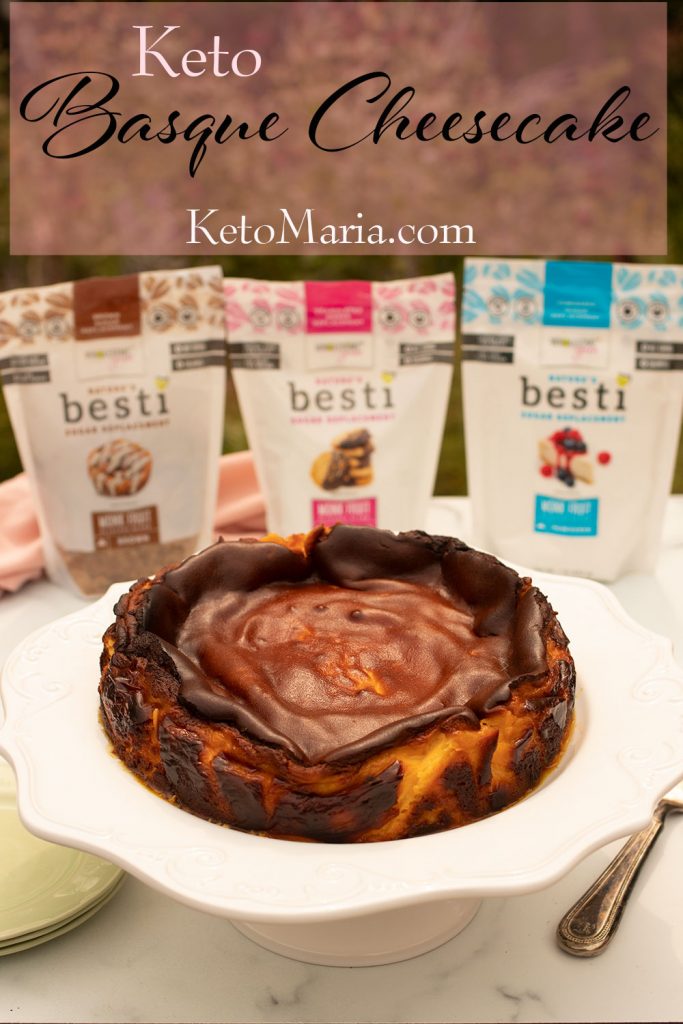 Wholesome Yum has the best quality natural sweeteners. Wholesome Yum also doesn't use harmful additives like some brands! I also love Wholesome Yum because they are also a kind small family-owned business. You all know I love supporting small business!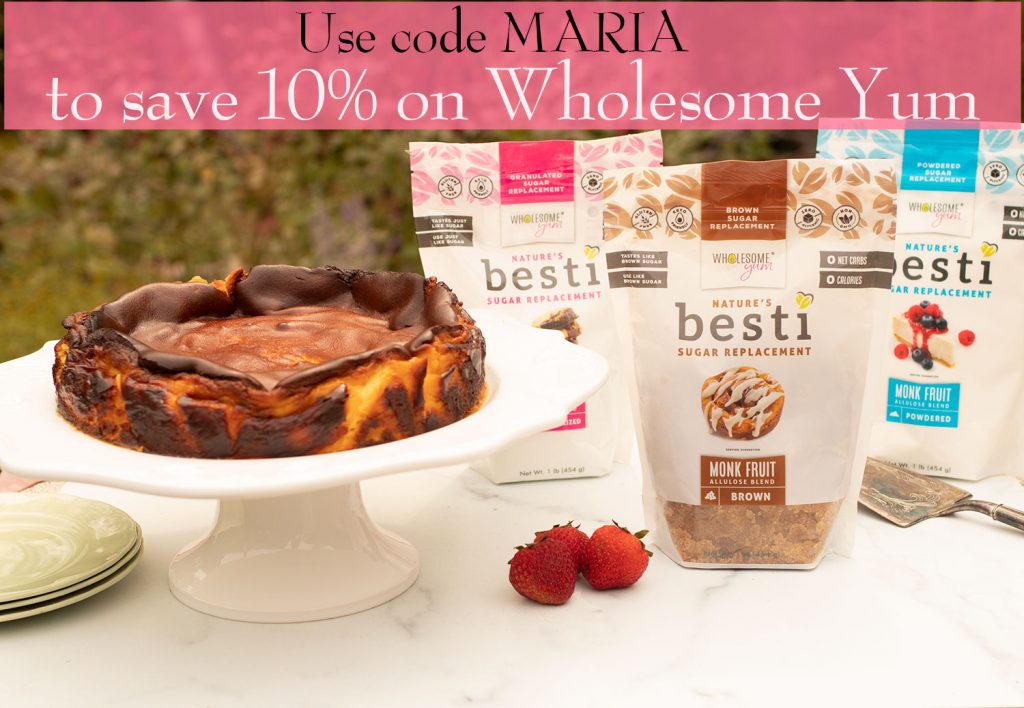 I prefer my keto cheesecakes to be slightly soft and creamy in the middle, which means that the center of the cheesecake will need to still be fairly jiggly when you pull it from the oven. But feel free to bake yours longer if you prefer a more firmly-set cheesecake. Or you can bake it for even less time if you prefer the center to be extra soft and creamy.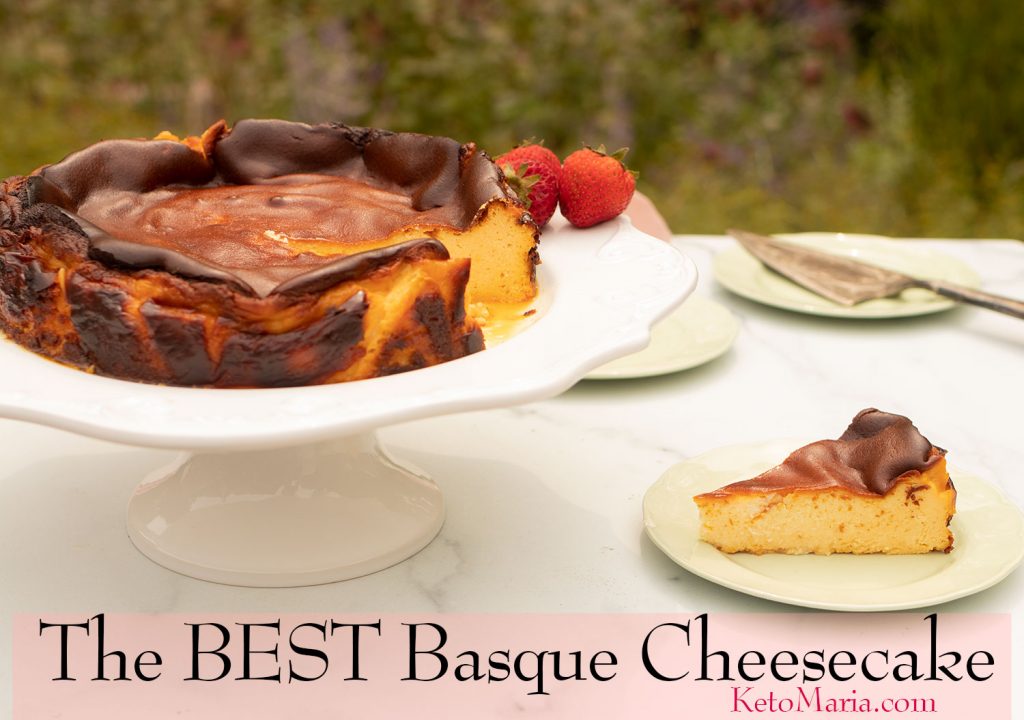 Keto Basque Cheesecake
Ingredients
2

pounds

full-fat cream cheese

room temperature

1 1/3

cups

Wholesome Yum allulose

Brown Allulose makes it extra delicious!

5

large

eggs

room temperature

1 1/4

cups

heavy cream

room temperature (or unsweetened almond milk to lower the calories and carbs)

2

teaspoons

vanilla extract

1

teaspoon

Redmond Real salt

plus flaky sea salt for topping if desired
Instructions
Preheat oven to 400°F. Line a 9-inch springform pan with a large sheet of parchment paper so it extends a few inches above the sides of the pan. Place the pan on a large baking sheet and set aside.

To make the cheesecake, place the cream cheese and allulose into a stand mixer (or a large mixing bowl and use a handheld mixer) to beat the mixture on medium speed for 2 minutes, or until it is very smooth with no lumps remaining, scraping down the sides of the bowl as needed. Add the eggs one at a time, beating on medium-low speed until each egg is combined before adding in the next. Add the cream (or almond milk), vanilla extract, salt and mix on low speed until well combined.

Pour the mixture into the prepared pan.

Bake for 50 minutes or until the top of the cheesecake has risen up high, the top is a deep golden brown, and the center is still slightly jiggly. (Keep a close eye on it — if the top starts to get too browned or starts to burn, just gently lay a sheet of aluminum foil on top of the cheesecake until it has finished cooking.)

Remove the cheesecake from the oven and allow cool completely to room temperature. Once the cheesecake is no longer warm, remove the sides of the springform pan, peel back the parchment, and slice.

Serve with a sprinkle of flaky sea salt if desired, and enjoy!
Nutrition
Calories:
386
|
Fat:
36
g
|
Protein:
9
g
|
Carbohydrates:
4
g
|
P:E Ratio:
0.2
TESTIMONY OF THE DAY
"Thank you Maria!
You are an inspiration to me.  I no longer take statin drugs or diabetes meds! No more acne or thinning hair! Thank you for everything!" Kim
Most people I consult are doing keto totally wrong. Get fast results with the my NEW Keto Packages!