HOW TO HEAL PCOS
TESTIMONIES OF THE DAY
 Just a few testimonies on how Keto Healed PCOS!!!
How to Heal PCOS
1. "My PCOS is gone! after a month and a half eating grain free and sugar free (in addition to gluten and mostly dairy) my blood work came back with 0 markers of PCOS! :)" – Elise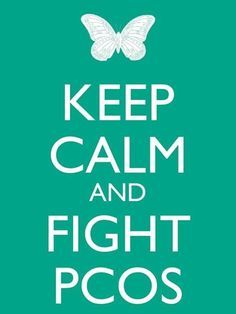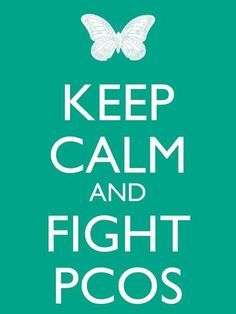 2. "Hi Maria, I've been a follower of your blog for awhile now, and have been following a ketogenic diet for 1.5 years now (because of your valuable books and blog), which has helped me recover from significant adrenal fatigue problems, and also manage my PCOS and thyroid disease, allowing me to get pregnant at age 35. I had a healthy ketogenic pregnancy and found your blog and cookbooks a staple in my new diet and health journey. Thanks for your input and for all the work you do!"- Leah
3. "I am so thankful to have found this site. I was diagnosed with PCOS when I was 21. At the time I had only the absence of menses as a symptom. I was 120lbs. No extra hair. Thyroid was fine. GTT was great. It was a sonogram for pelvic pain that spurred the blood work and diagnosis.Fast forward 11 years, my husband and I had been trying for over a year to conceive. He got checked out and came back normal. When I went to see my GYN she mentioned I might want to "cut back on carbs" which at the time I thought that was nuts. (Calorie is a calorie school of thought) I had recently gained up to 196lbs, really quickly and the calorie counting wasn't working. So I decided to do some research about low carb and fertility. After finding some studies on the national institute of health I thought I would give it a go. I have now had 4 consecutive cycles under 40 days. (That has NEVER happened to me before) I have lost 22lbs. And I tell everyone about these recipes!!! I could never do it without this site. I have photos of my attempts at your recipes all over my facebook. My husband (who eats nothing but junk) even raves about them.Thank you!" – Paolina
4. "Hello, I had recently purchased one of your meal-plans, my goal being to get pregnant (I have pco-syndrome) because of my work schedule (anesthesiologist, on-call nights, ect) it was a little tough to completely adhere to the keto-diet. But I managed to cut my carbs to about 50-80 grams/day and i left out all gluten and about 60-70% of my calories were fat-based (good fats) even though i was eating at least 2500 kcal a day (weight loss not being my goal) i lost 5 pounds within a week (i am 5 feet 9 inches and now weigh 130 pounds). I lost my food cravings and feel a nice satiety most of the day, and no more issues with gas or bloating and I am pregnant! Only 3 weeks into changing my diet.
Thank you so much for your advice. sincerely,  Serife from Frankfurt, Germany"
5. "I just thought I would send you a note and say THANK YOU! Between you and several others, especially my naturopath, I took the road to health and eat a high fat, low carb, grain and sugar free diet, and have HEALED my PCOS! My doctor told me today that there is not one hint of anything indicating I even had it! 55 days of grain free and sugar free, going strong!" E-
6. "I had it before I conceived my daughter (2011); I went to the doctor because no matter how little I ate and exercised, I couldn't lose weight. I was holding steady at 150 lbs. I was prescribed metformin after an exam of my ovaries, which didn't do anything except make me EXTREMELY fertile. Well, after my daughter was born I was back to my weight loss quest. My symptoms were still there- painful and heavy sporadic periods (along with a terribly placed IUD-evil thing!) and I was still around the same weight after around 3 months postpartum. I even went to a "weight loss clinic" to get some help and they handed me these pills that are essentially legal meth. I was so frustrated with not being able to lose weight; I googled a diet for PCOS. Many pages later, I read an article about a woman who healed her PCOS with a high fat, extremely low carbohydrate diet. I figured that I was desperate and willing to try anything, so it couldn't hurt. I did research on Keto and began immediately. I began losing weight instantly, had more energy, and after getting the IUD removed and several trial and errors with hormonal birth control (I can't have estrogens apparently) I'm right as rain. I've since been diagnosed with low testosterone and hypothyroidism this year, taking TSH daily and getting hormonal pellets implanted every 5 or so months. I've had great success with Keto; minimal migraines, loads of energy, muscle building, clear head and no more weird and extremely painful menstruation! Best of all, I'm the fittest I've ever been in my life!" Amy
Get started on your path to healthy healing today!
I have a fantastic package for fertility! On SALE today!
HOW KETO HEALED ME!
I love this photo. It shows how my love for baking started at an early age. On the other hand it also shows my early age of sugar addiction.
I grew up loving sugar! I also had a lot of ear infections, which means a lot of antibiotics. I often wonder if the ear aches and antibiotics caused my love of sugar at a young age since I now understand the connection between low good gut bacteria and sugar cravings!
 In my "before" photo, I was 15 years old on a camping trip in Colorado. I already lost 12 pounds in this photo due to giardia (a parasite in the water), but you get the idea that at age 15 I was going down the wrong path.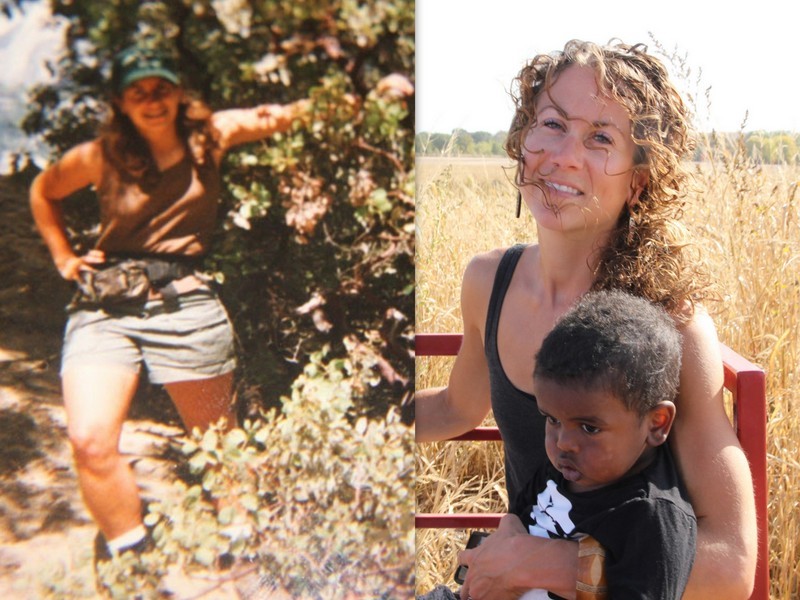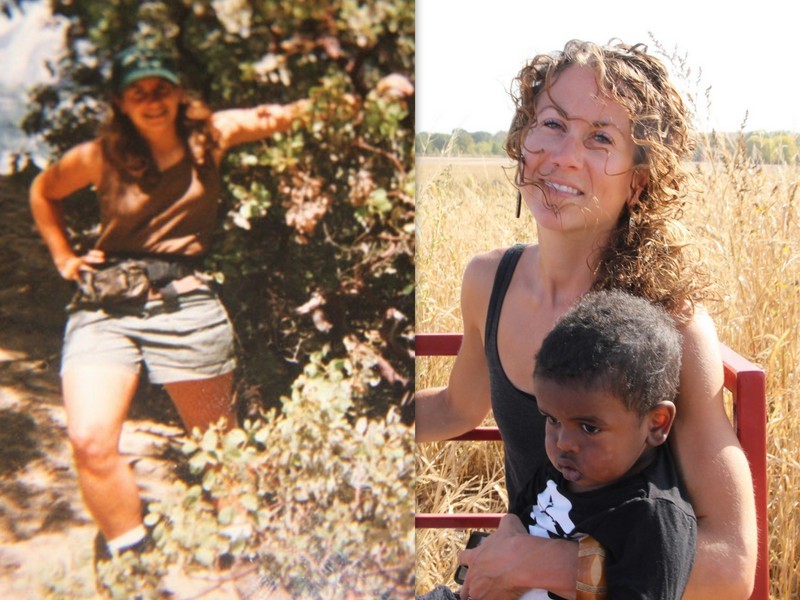 I never really talk about it, I am a very private person, but when I was a teenager I didn't have a period until I was 16. All of my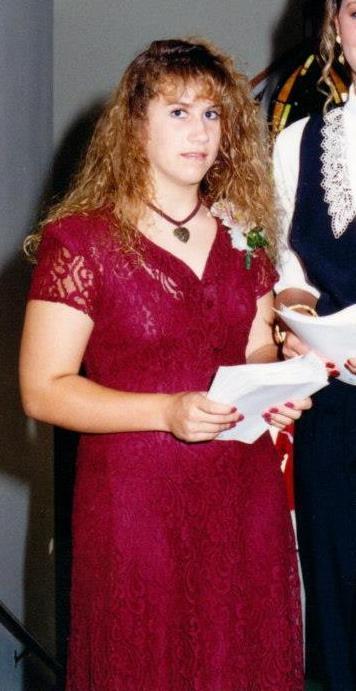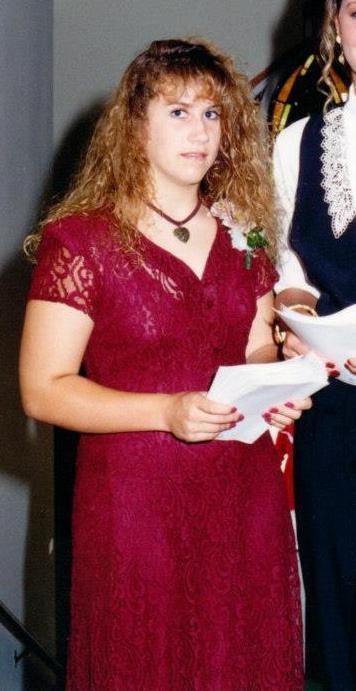 friends would have conversations about it and I just acted like I too didn't like having a period, but I knew I was different.
Once I did have my first period, the second one didn't come like it should, they were very very sporadic and painful. I also had dark facial hair and I was on antibiotics for excessive acne. All the classic signs of PCOS, also known as Polycystic Ovarian Syndrome.
Hormones are chemical messengers that activate numerous diverse processes in your body, including energy production, often one hormone signals the release of another hormone.
When a woman has PCOS the hormones get out of balance. One hormone triggers another, which changes another and the sex hormones get out of balance.
In a healthy body, the ovaries make a tiny amount of male sex hormones (androgens). In PCOS, they start making too much androgens. This often causes you to stop ovulating, grow excessive facial and body hair, and acne.
Someone with PCOS is known to have too much insulin, and are insulin resistant. When the body doesn't use insulin well, blood sugar levels go up. Over time, this increases your risk of type 2 diabetes.
So what causes too much insulin? Carbohydrates and sugar! Yep, even when I started to diet and lose weight at first, I was doing it the wrong way and my PCOS wasn't going away. I lived off of Special K and skim milk, carrots dipped in mustard (gross, I know!), and and salads with fat-free French dressing. Sugar sugar and more sugar!
As I studied nutrition in college, I started to eat lower carb which helped me in many ways, but it wasn't until I started to add more and more saturated fat and cholesterol… yes, I said "saturated fat and cholesterol", is when I started to heal. Too many people go low carb, but are still eating low fat; for example I would eat egg white omelets, chicken breasts with steamed broccoli. Healthy right??? Nope!
Cholesterol is what makes healthy hormones! We know this by studying breast-fed babies. Breast milk is primarily made up of cholesterol which is essential for the baby to develop gonads, thyroid and other hormones. I get so frustrated when I hear dietitians recommend cutting all cholesterol and saturated fats. At what point does it change from being a crucial nutrient to a demonized nutrient???
Cholesterol is so important to the human body that nature has devised a backup plan in the event your diet falls short. When that happens, your liver steps in to make cholesterol to give your body a baseline level. If your liver gets over used and tired, thyroid issues also show up. Why? The thyroid hormone T4 is converted into the activated T3 in the liver, not in the thyroid! So taking care of your liver is extra important!
A ketogenic diet for PCOS leads to significant reductions in weight, lowers percent free testosterone, LH/FSH ratio, and fasting serum insulin in women with PCOS over a short six-month period!
It may take time to heal decades of abusing your cells. But you WILL heal.
Caffeine also aggravates and increases androgens. This too had to go!
Estrogen dominance is a huge factor of PCOS. Alcohol is a huge estrogenic toxin. It increases estrogen by 300%. The infamous "beer belly" is really just an "estrogen belly." Biochemically, the higher your level of estrogen is, the more readily you absorb alcohol, but the slower you break it down (click HERE to read more on that). I no longer drink alcohol but I did in my past. I actually drank a lot. I have an addictive personality and it showed with food and alcohol. A Ketogenic diet also healed my addiction and anxiety around food as well as alcohol. Our cells are primarily made up of saturated fats so many people heal issues such as depression and anxiety when they begin the ketogenic lifestyle. Estrogen dominance causes low progesterone which increases anxiety and sleep issues…it is a sad snowball effect.
Another thing that causes estrogen dominance is topical chemicals and make-up! In THIS study, in only 3 days of changing their toxic makeup their estrogenic levels went down by 45%!!!! Is your make-up filled with "Obesogens?" I highly suggest switching! 
You also do not have to be overweight to have PCOS or diabetes. I've had numerous clients with type 2 diabetes who were underweight. Ketosis isn't just about weight loss. You can and will gain weight if you eat excessive amounts of calories even if you are in Ketosis.
Don't wait so long for help like I did. I'm a very private person and I suffered quietly. Don't suffer through this alone! I've also had people wait too long to get help. One client in India waited too long to seek help for her type 2 diabetes that she also became type 1.
You may read that someone with PCOS needs to eliminate red meat. What studies don't tell you is that they used conventional meat filled with hormones. Please avoid that. Hormones in food is not a good idea for anyone, but especially those who already have hormonal imbalances. Skip those giant chicken breasts from SAMs club and get organically raised chicken thighs. They taste better anyway!
Even primitive people gave the prized red meat and organ meat to the fertile tribesmen and women to ensure survival of the tribe. They knew that to have a healthy reproduction, the men and women needed quality protein and fats.
SUMMARY
Things that can increase PCOS and/or hormones:
1. Alcohol
2. Caffeine
3. Carbs and sugar
4. Hormones in foods
5. Trans fats (form crust around cells causing an increase in insulin resistance)
6. Topical products and other Obesogens.
-If you want to watch a helpful Webinar, click HERE. 
7. Lack of cholesterol consumption
8.  Excess stress and adrenal hormones
Certain supplements can also increase healing time by saturating the cells with therapeutic doses of needed nutrients.
Anyway, my testimony is to help you feel encouraged and empowered to take control and understand that you deserve this and you do not have to live off of salads or live at the gym. If you are willing to take the time to prepare meals, even if they are slow cooker meals, you CAN do this! You deserve to feel amazing too!
I also believe that everything happens for a reason. My past brought me to my future. I have a wonderful job where I can help educate you all about the truth! But more than anything, my past brought me my 2 precious boys.
I look forward to seeing all of your "after" photos" with your babies! – Maria