Grilled Sweet and Sour Chicken Legs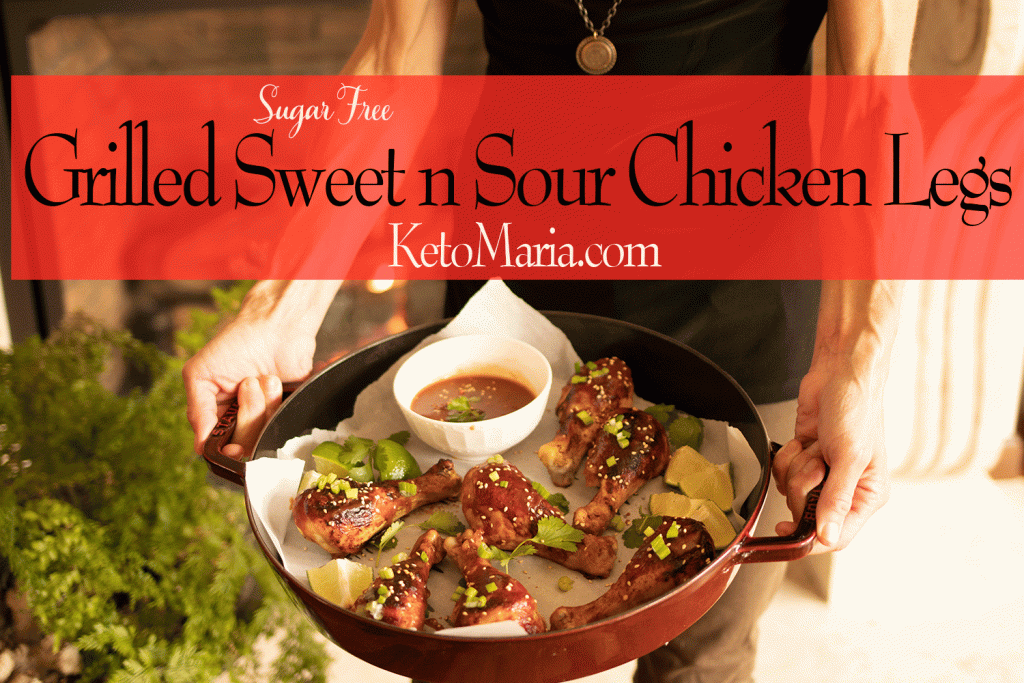 One of my favorite meals before I was keto was Sweet and Sour Chicken!
What's not to love about Sweet and Sour Chicken? It is a flavor bomb of goodness!
However, the sweet and sour chicken I was eating was filled with sugar, sugar and more sugar!
I still love sweet and sour chicken, I just make it a bit differently!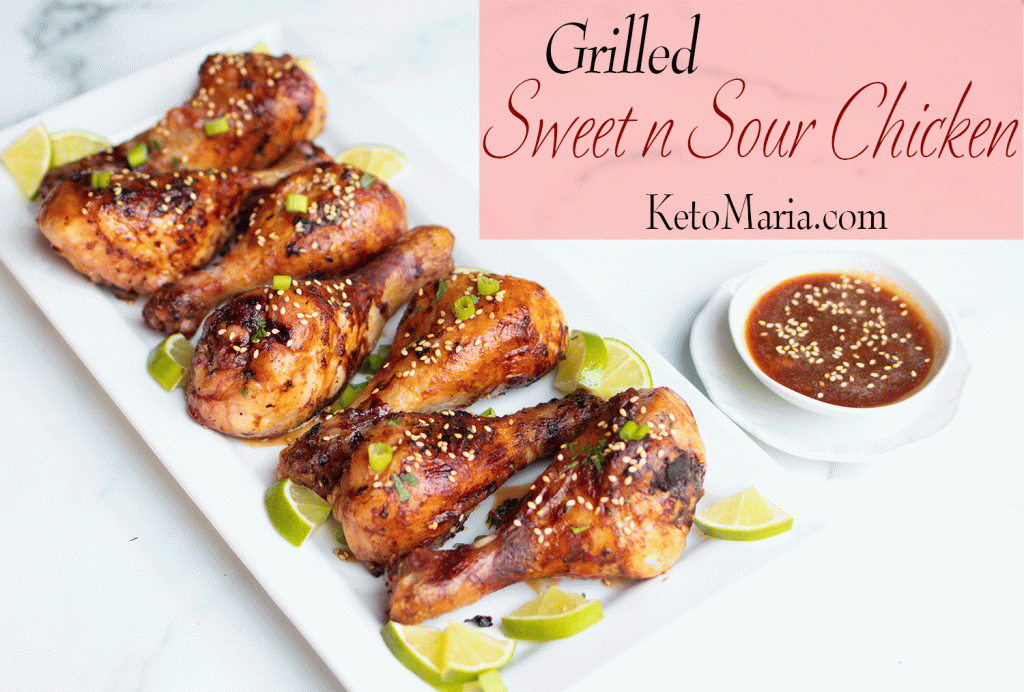 To make the sauce for my Grilled Sweet n Sour Chicken Legs, I used Primal Kitchen Ketchup. Most sweet n sour sauce recipes have ketchup in them, however, most ketchups are filled with corn syrup, sugar and more sugar!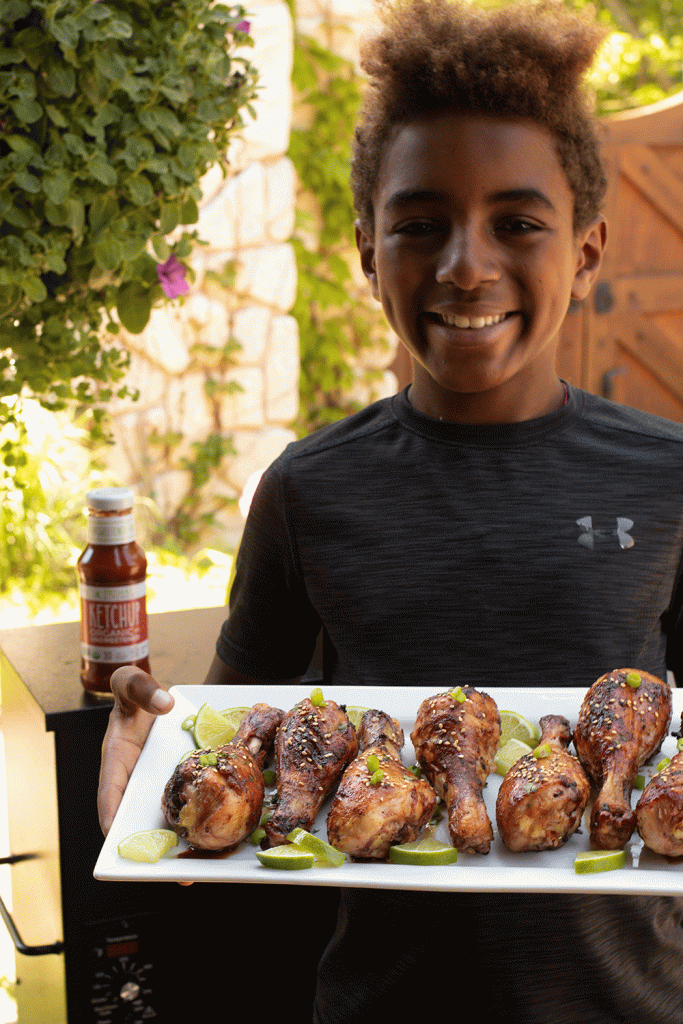 Primal Kitchen ketchup is sugar free yet so delicious and packed with a fresh tomato flavor and makes a great sweet and sour sauce! My son Kai would drink a bottle of Primal Kitchen ketchup if I let him!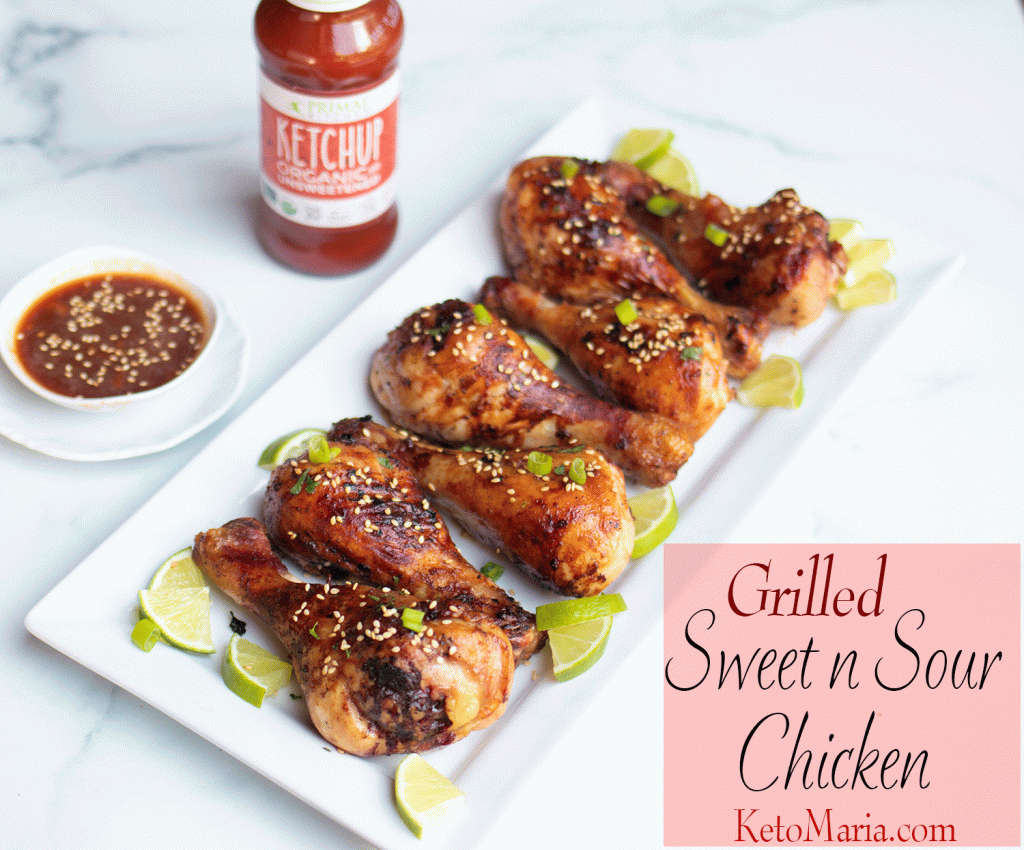 Primal Kitchen ketchup is not only filled with top quality ingredients, it is also delicious! I love that I can easily open a jar and use it to make my sweet and sour sauce in an instant!
Primal Kitchen is SO generous that they are doing a special discount for all of my readers! Use code: Maria for 20 % off!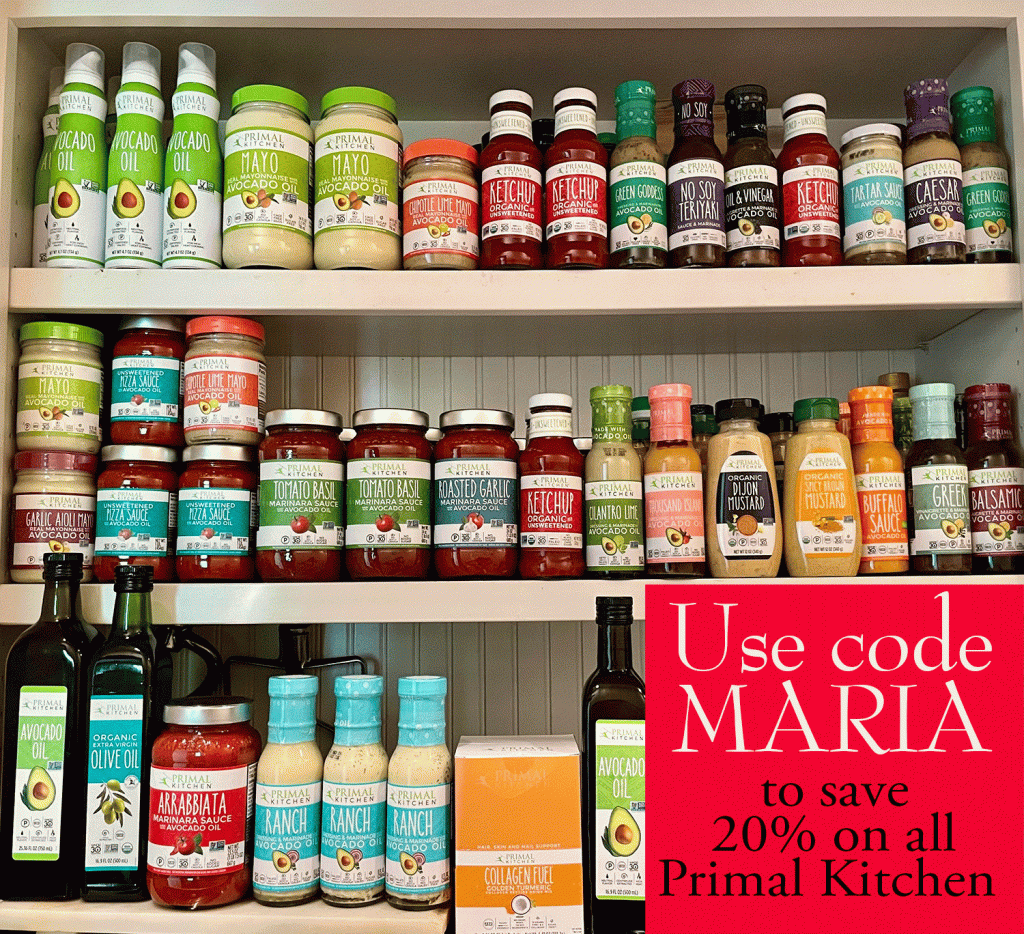 If you want to watch us make this delicious grilled sweet and sour chicken, subscribe to our new YouTube Channel to get updated when the video comes out which will be in a day or two, and comment below on what video recipe we should make next!
Grilled Sweet and Sour Chicken Legs
Ingredients
½

cup

chicken bone broth

1/3

cup

Natural Sweetener

1/3

cup

organic tamari sauce

soy sauce

¼

cup

Primal Kitchen ketchup

1

tablespoon

apple cider vinegar

1

teaspoon

fresh ginger

peeled and grated

1

clove

garlic

smashed to a paste

5

drops

orange oil

optional, or 1/2 teaspoon orange extract

1

pound

bone-in skin-on chicken legs

skin-on chicken legs
OPTIONAL GARNISH:
Lime

Toasted sesame seeds

scallions

sliced

Fresh cilantro leaves
Instructions
Preheat the grill to high.

Place the broth, sweetener, tamari, Primal kitchen ketchup, vinegar, ginger, garlic, and orange oil, if using, in a small bowl. Stir well, then pour half of the sauce into another bowl and set aside for serving.

Season the chicken legs lightly with salt Place the chicken on the grill. Grill for 10 minutes. Baste with sauce. Rotate the legs and grill another 10 minutes. Baste with sauce again. Grill until the chicken is cooked through and no longer pink inside and internal temperature reaches 165 degrees F.

Serve the chicken with the reserved sauce. Garnish with lime quarters, toasted sesame seeds, sliced scallions, and cilantro leaves if desired.

Store in an airtight container in the refrigerator for up to 4 days or in the freezer for up to a month. To reheat, place the chicken in a preheated 375°F oven for 10 minutes or until warmed to your liking.
Nutrition
Calories:
297
|
Fat:
16
g
|
Protein:
33
g
|
Carbohydrates:
4
g
|
Fiber:
0.1
g
|
P:E Ratio:
1.7
TESTIMONY OF THE DAY
"Just before Christmas in 2016, I had my first grand mal seizure and was diagnosed with epilepsy.  I weighed in at the hospital at 382 pounds. I had a fractured shoulder and was told by the hospital physician that if I were to have another seizure and break my leg that crutches were not an option. I would be bed ridden.
I knew I had to get a handle on my health and begin researching "best diets for neurological health".  The ketogenic diet came up repeatedly.
I began following this new way of living with very little guidance purely for the neurological benefits. Many other benefits were almost immediate. My multiple migraines every month were gone; my body and joints stopped hurting from all of the processed food and sugar I was consuming.  I slept better than I ever had. But even more than that, my weight was dropping. Steadily.
However, within 6-8 months, I began stalling and struggling.  The weight loss wasn't budging and I was following the guidance of strangers through blogs and Facebook groups to try and figure out why.
On my birthday, I received a cookbook by Maria Emmerich, and decided to start researching Maria's way of following keto.
Everything changed.
Maria understood the connection between food and nutrition for the body.  She was passionate about helping others achieve not just a healthy weight but optimal overall health. For the first time, I felt empowered that I had the knowledge to continue on this way of eating for the rest of my life.
I went from 406 pounds (at my highest) to 156 pounds.  I am transformed and healthy, and attribute a tremendous amount of my success to following Maria's guidance.
Maria, thank you from the bottom of my heart for pouring your knowledge and wisdom into others.  You helped change and save my life, and I am so thankful." Jessica
Most people I consult are doing keto totally wrong. Get fast results with the my NEW Keto Packages!