Grilled Grapefruit Chicken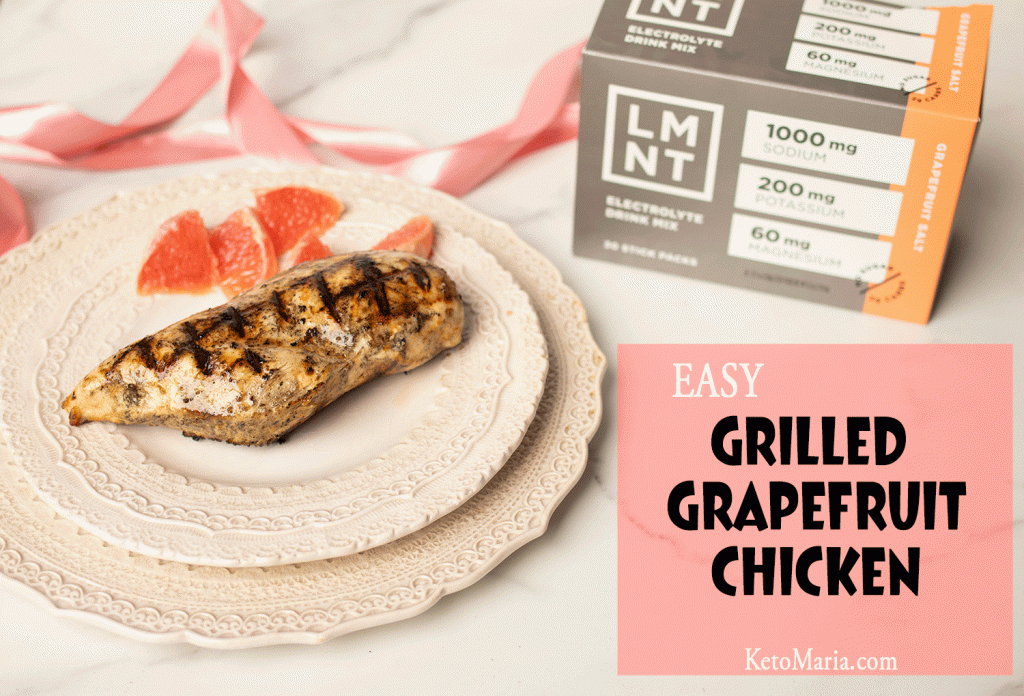 I love grilling in the summer! If you love grilling too, you will LOVE my recipe for Grilled Grapefruit Chicken!
My recipe testers loved this recipe so much that it is in their weekly meal planner!
Grapefruit LMNT now a Permanent Flavor!
Do you love Grapefruit LMNT? We sure do in our house! It is Kai's favorite flavor. Now you can get it anytime as LMNT has now made it a permanent flavor! To celebrate I made this recipe for Grapefruit chicken and it tastes amazing!!
HOW TO MAKE GRILLED GRAPEFRUIT CHICKEN
There's not actually any grapefruit in my recipe for Grilled Grapefruit Chicken. Instead, I used LMNT Grapefruit Salt to marinade the chicken!
Why do you need more electrolytes on a ketogenic diet?
When you adopt a lower-carb way of eating, insulin levels in the body drop. This signals the kidneys to excrete electrolytes at a higher rate (particularly sodium).
If these electrolytes are left unreplaced, you can very quickly become electrolyte deficient and experience unpleasant symptoms like muscle cramps, headaches, brain fog, dizziness, and fatigue. These symptoms will persist until you adequately replace electrolytes. This is sometimes called the keto flu.
The good news? Symptoms begin to reside within just 15-30 minutes of properly replacing sodium, magnesium, and potassium.

How to replace electrolytes and maintain ketosis.
Most electrolyte products on the market today are either loaded in sugar or woefully lacking in electrolytes. So for years, I recommended that folks simply add more salt to their food and be conscious that they are eating foods rich in magnesium and potassium.
However, I found that many folks still needed to supplement electrolytes because they are physically active, live in hot climates, intermittent fasting, or struggled to get adequate servings of electrolytes with their meals.
That's why I'm thrilled by good friend Robb Wolf created LMNT Recharge, a tasty electrolyte drink mix with a meaningful dose of electrolytes, which he developed with low-carb and keto communities in mind. LMNT includes:
An optimal ratio of electrolytes
All natural ingredients
No sugar
No fillers
No gluten
The ingredients speak for themselves. Compare LMNT to other electrolyte products on the market today: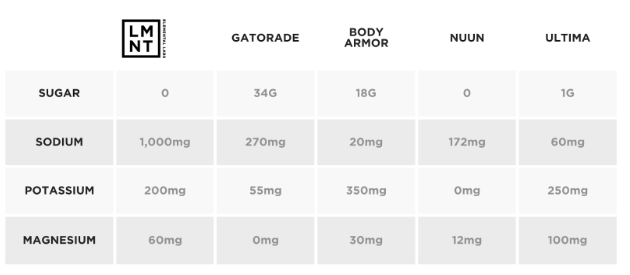 Other electrolytes just aren't setup in the right ratios for a ketogenic or carnivore lifestyle. You need more salt, no sugar and the right forms of magnesium (most use oxide where LMNT uses malate which is great!).
They also come in three great flavors, two sweetened with stevia! Perfect for making my Grilled Grapefruit Chicken!
Grilled Grapefruit Chicken
Ingredients
1/4

cup

olive oil

2

Grapefruit LMNT Packets

1

teaspoon

fresh ground black pepper

4

8 ounce

boneless skinless chicken breasts
OPTIONAL GRAPEFRUIT SALAD DRESSING
1/4

cup

olive oil

3

tablespoons

apple cider vinegar

2

Grapefruit LMNT Packets

1

teaspoon

fresh ground black pepper
Instructions
Place all the ingredients into a 9 by 9 inch casserole dish. Allow the chicken to marinade for 8 hours or overnight. 

Preheat grill to medium high heat. Remove the chicken from the marinade, allowing the excess to drip off. Discard the remaining marinade.

Place chicken on the grill for 7-8 minutes. Flip over and cook an additional 7-8 minutes or until no pink remains and chicken reaches 165°F. Rest 3-5 minutes before slicing.
OPTIONAL GRAPEFRUIT SALAD DRESSING
If would like to make a chicken salad with the leftover grapefruit chicken, place all the ingredients into a jar, cover and shake well. Store extras in an airtight container in the fridge for up to 12 days.
Video
Notes
Optional Dressing Only (serves 4):
125.3 calories, 13.5g fat, 0.1g protein, 1.4g carbs, 0.1g fiber
Nutrition
Calories:
367.3
|
Fat:
10.5
g
|
Protein:
68.4
g
|
Carbohydrates:
0.3
g
|
Fiber:
0.03
g
|
P:E Ratio:
6.4
TESTIMONY OF THE DAY
Doesn't Michelle look AMAZING??? I'm still working while I'm on my keto retreat in Italy but it's a labor of love
especially when I get to help people lose 150 pounds in only ONE year
"It's my 2 year ketoversary! Lost 150 pounds in one year and have successfully kept it off for one year.  Had a Body lift done and next is an arm lift scheduled for 8/15.  Thank YOU Maria and Craig Emmerich – Michelle
Most people I consult are doing keto totally wrong. Get fast results with the my Mind-blowing Keto School!