Greek Salad Kabobs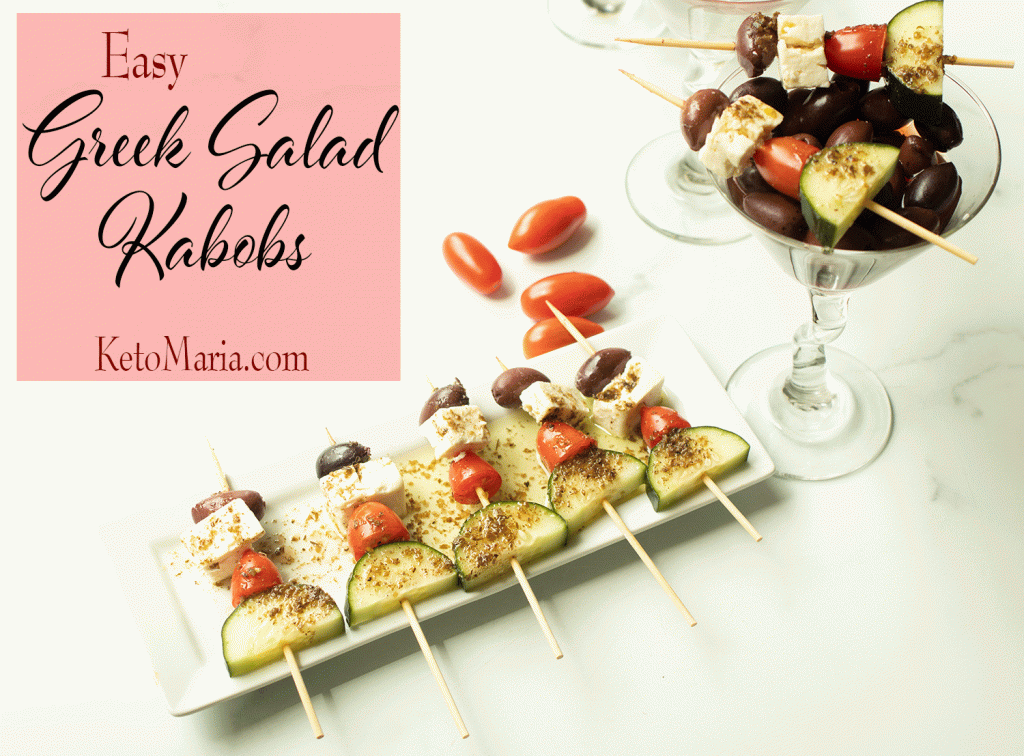 I LOVE Greek food! I love the intense flavors of a Greek salad! I also love the Minnesota State Fair and so do my boys!
We go to the Minnesota State Fair every year and since last year there were no state fairs due to Covid, we are EXTRA excited to to this year!
When I think of the Minnesota State Fair, I think of "foods on a stick!" I don't know why, but if I put foods on a stick, my kids gobble it up! Everything tastes better on a stick which is why I love to make these easy Greek Salad Kabobs!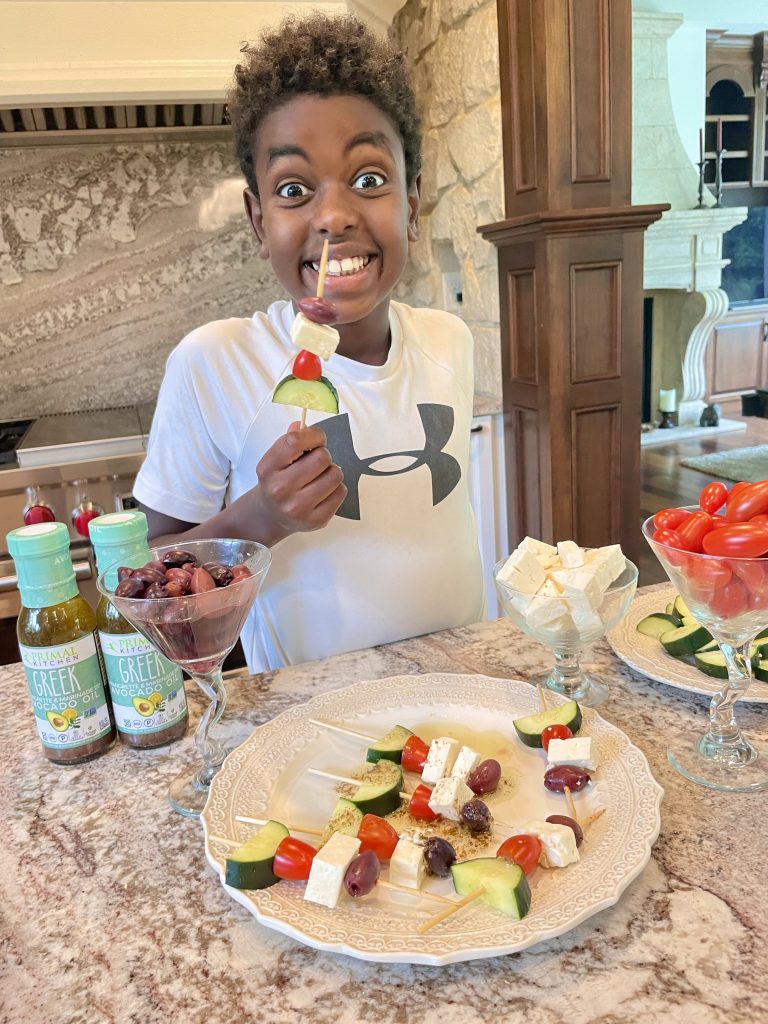 My Greek Salad Kabobs are great easy keto appetizer to serve for Labor Day! I like to make my Greek Salad Skewers a day or two before a party so all I have to do is take them out of the fridge.
These Greek Salad Kabobs are also great because they are so easy, your children can help make them. If you are trying to get your kids to eat healthy, I encourage all of you to have them help make my recipes!
When kids help make the food, they are much more willing to try and like their creation!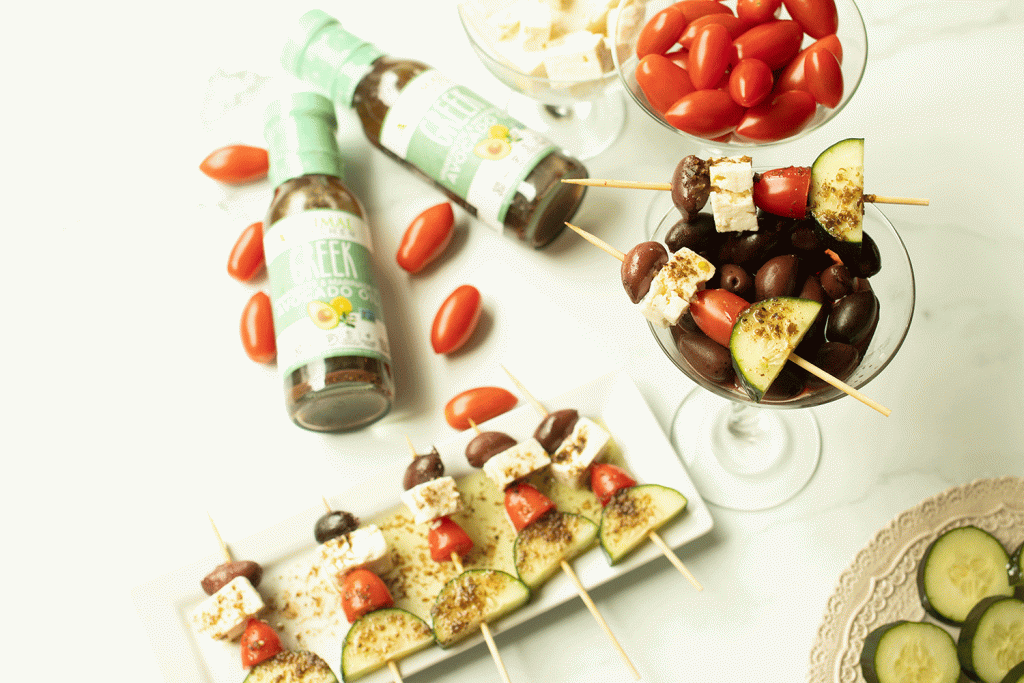 Making my Greek Salad Kabobs are really easy because all you have to do for the Greek dressing is open up a bottle of Primal Kitchen Greek Vinaigrette!
Primal Kitchen's Greek Vinaigrette is my favorite dressing!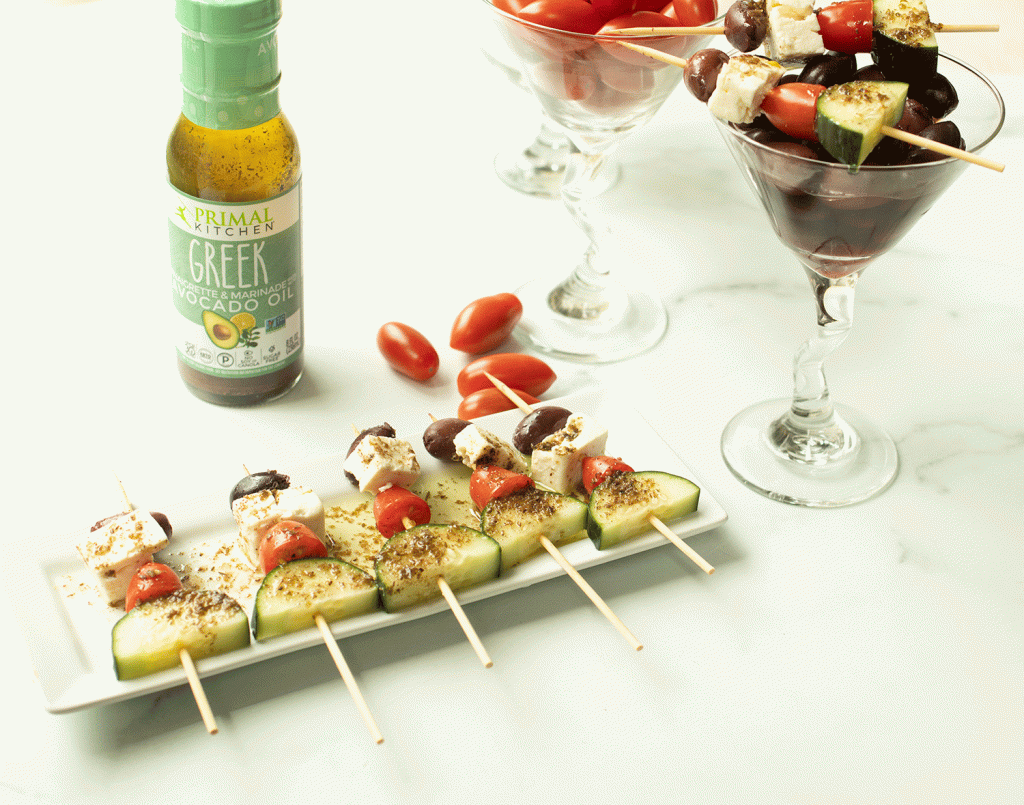 Primal Kitchen products are not only filled with top quality ingredients, they are also delicious!
I love that I can easily open a jar of Greek Vinaigrette and use it to make my Greek Salad Kabobs in an instant!
Primal Kitchen is SO generous that they are doing a special discount for all of my readers!
Use code: Maria for 20% off!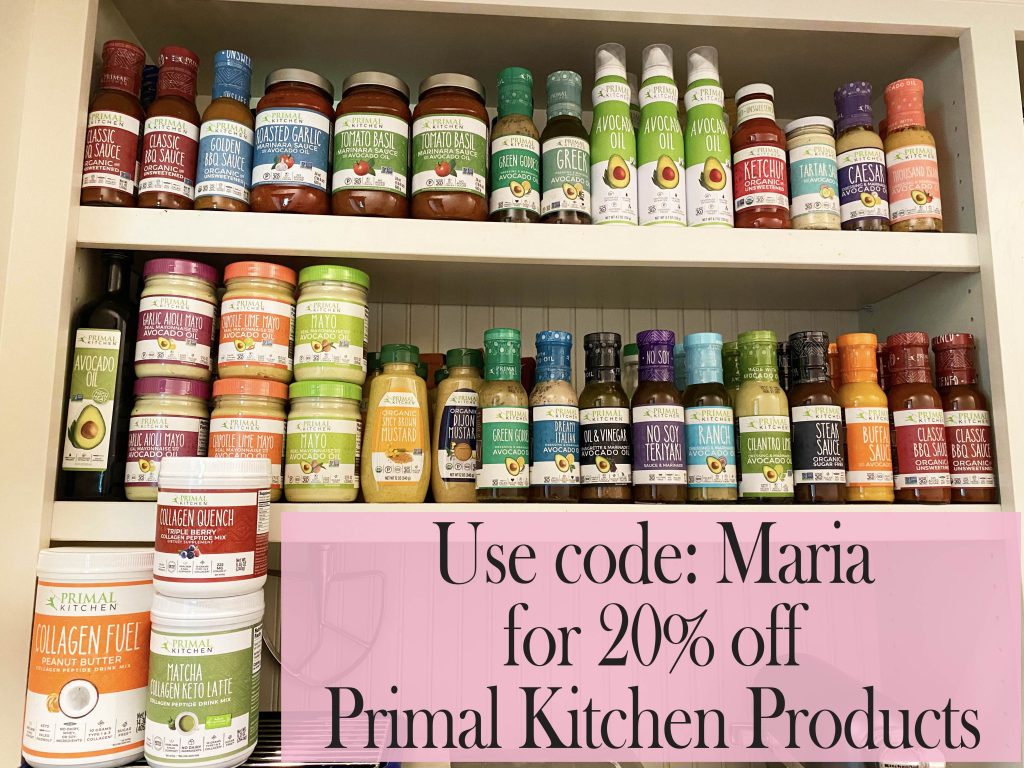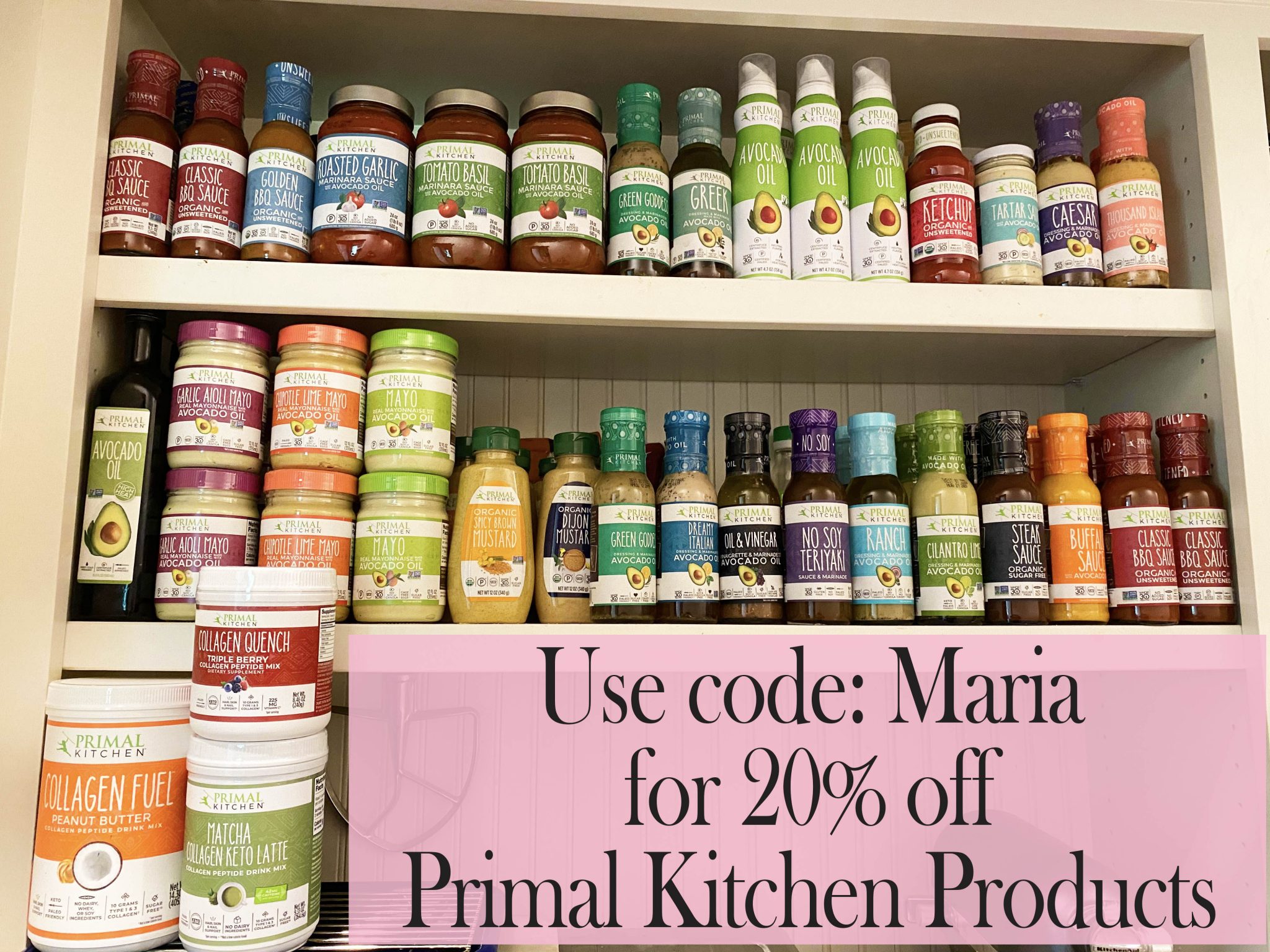 If you want to watch me make this easy dairy free Ranch Dressing, subscribe to our new YouTube Channel to get updated when the video comes out which will be in a day or two, and comment below on what video recipe we should make next!
Greek Salad Kabobs
Ingredients
24 cherry tomatoes
24 (1 by ½ inch) pieces red onion
24 (1/2 inch) cubes feta (3 ounces)
24 Greek olives, pitted
12 (1/2 inch) slices cucumber, halved
Instructions
Place one tomato onto a skewer. Follow that by a piece of red onion, feta cheese, Greek olive and a slice of cucumber. Repeat with remaining ingredients and skewers.
Notes
Nutritional Information:
119 calories, 10g fat, 3g protein, 4g carbs, 1g fiber
TESTIMONY OF THE DAY
"Before I decided to do keto, my life was so absolutely miserable. The amount of stress in my life was unreal and "I" allowed that to consume me. But years leading up to that even when I was thinner and looked healthy, I wasn't…I lived a rat race of working out and eating garbage that always defeated my work. I owe a great deal of credit to Maria Wojcik Emmerich!
I did not discover Maria and her keto genus until year two of my journey. Sure I follow others…but she is who I listen to…when she speaks, I know "she knows" what she is talking about. I support her…she has the most ridiculously wonderful recipes…honestly you can get overwhelmed because you want to try everything! If there is a keto warrior, it is Maria…and her husband Craig!
The work they put into research and recipes is crazy…and that is for our benefit. If you are new to keto or you are a seasoned keto freak like me and still want to learn and improve your keto journey to better health stick around…listen, read what Maria and Craig publish and try, just try a new approach to your keto lifestyle, you'd be amazed at the change that will take place!" – Suzanne
Most people I consult are doing keto totally wrong. Get fast results with the my NEW Keto Packages!