French Toast Protein Bagel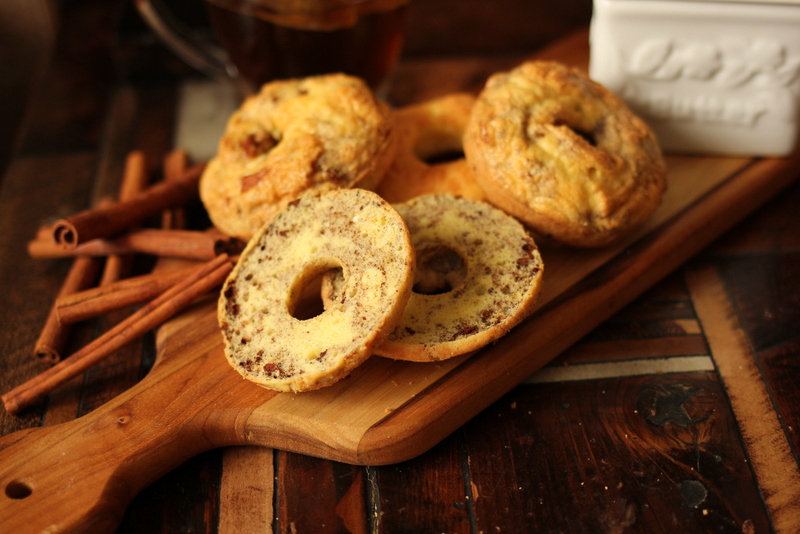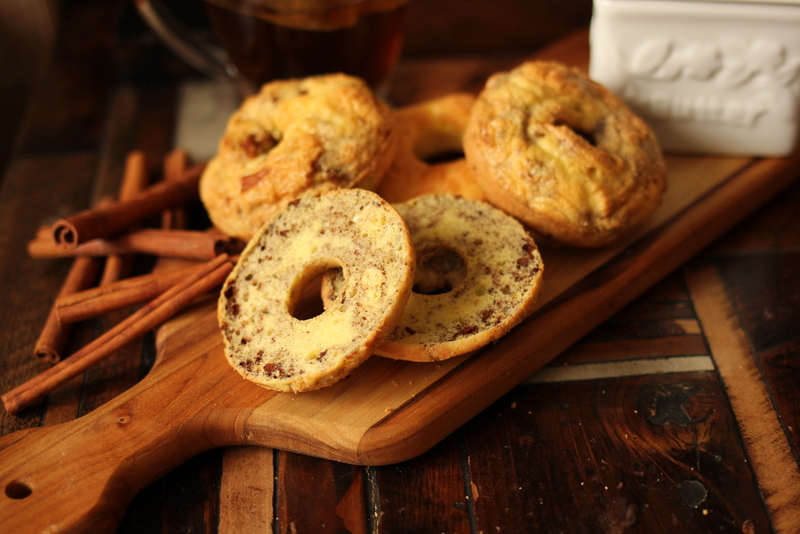 I used to go to Panera Bread and get the "French Toast" Bagel with Honey Walnut Cream cheese…Yikes, check out these stats:
1 bagel = 350 calories, 67 carbs, 2 fiber…NO LIE, this is on their website. And that is just for the bagel, no cream cheese.
HEALTHIFIED FRENCH TOAST BAGEL
10 eggs, separated
2 TBS coconut flour
1 tsp baking powder
1/2 tsp guar gum (optional: for chewy texture)
1/4 tsp Celtic sea salt
1/4 cup melted coconut oil
1 tsp vanilla (or maple) extract
2 TBS cinnamon
Preheat the oven to 325 degrees F. Place the egg whites in a large bowl. Whip the egg whites until very stiff. In a medium-small bowl mix the dry ingredients. Gently add the dry ingredients along with the egg yolks, coconut oil and extract to the whites. Swirl in cinnamon.
Spoon the dough into a greased "donut" mold or shape into bagels on a cookie sheet. Bake for 20 minutes Makes 12 bagels.
NUTRITIONAL Comparison:
Healthified bagel = 124 calories, 2 carbs, 1 fiber, 9 protein, 9 fat, P:E Ratio 0.9
Small "LENDER's Bagel = 140 calories, 29 carbs, 1 fiber
CLICK HERE TO FIND THE DONUT PAN I USED.


If you would like to help out a small family, rather than large business, I am happy to announce that you can now get my books as a high quality ebook that works on any platform. This is an ebook format that works on any computer or mobile device. It is a beautiful pdf that has all the full color pages and layouts as the printed books with click-able table of contents and searching capabilities. This is extremely useful when trying to find a recipe. These books are much higher quality than the ebook platforms (kindle, apple). Plus, most of the profits don't go to Amazon or apple! Just go here to get your copy!
Just Click HERE or select "My Books" above to get your copy now! Thank you all for your love and support!
TESTIMONY OF THE DAY
"Hello Craig, Maria, Kai and Micah!
My journey to a healthy sized body has been a long one. Always the fattest kid in grade school, high school, and college, my life was typically an unhappy one as a young adult.
I ate the standard American diet my whole life with bouts of diet struggles until I learned about 5 years ago that I was a sugar addict. My weight topped out at 260 lbs and at only 5'4" I was unhealthy to say the least.
Enter Maria, Craig and PSMF (protein sparing modified fasting)!
I feel better now at 71 than I have my whole life! I have energy & stamina that I never knew possible and cannot accurately express my gratitude! Thank you so much Maria and Craig Emmerich!" Janet 
Most people I consult are doing keto totally wrong. Get fast results with the my Mind-blowing Keto School!