Flourless Red Velvet Cake with Cream Cheese Frosting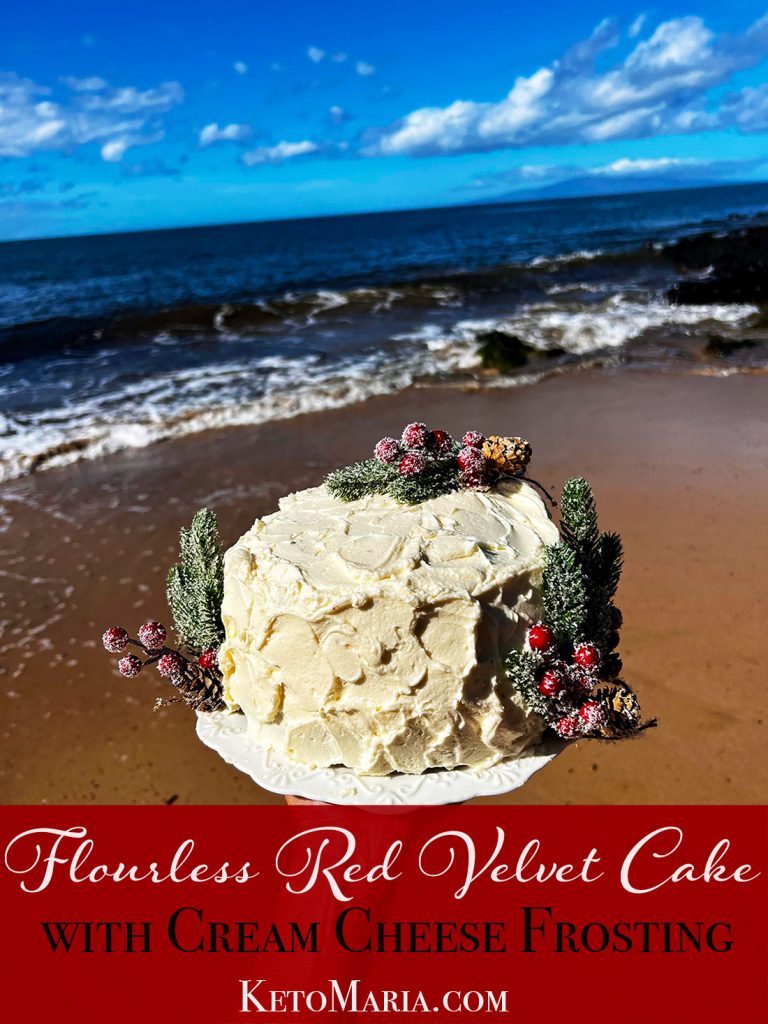 It is my hubby's 50th birthday on Christmas Day so I wanted to make him an extra special birthday cake to celebrate!
We do not eat nut flours very often so I wanted to make a delicious keto cake without almond or coconut flour. So I decided on a flourless Red Velvet cake with cream cheese frosting!
Red Velvet cake is my mother's favorite flavor of cake and I thought Craig would enjoy it for his special 50th birthday since he loves cream cheese frosting.
Kai said my cream cheese frosting was the best frosting ever!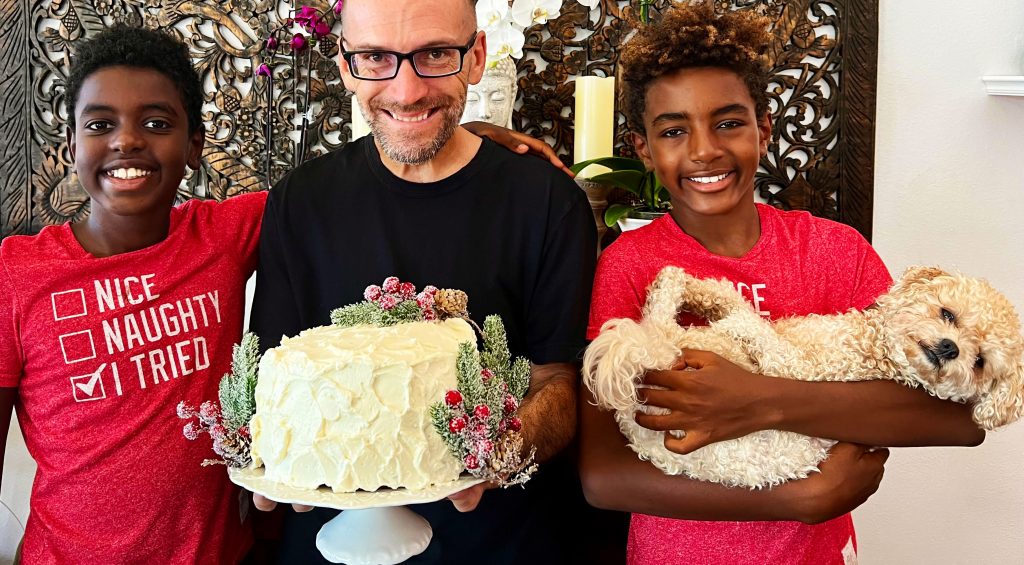 The cake part of my Flourless Red Velvet Cake is protein sparing! The cream cheese frosting is not, but if you wanted the frosting to be protein sparing too, you could use my frosting from The Art of Fat Loss! It's delicious! 
To make my flourless Red Velvet Cake, I used Further Food chocolate collagen!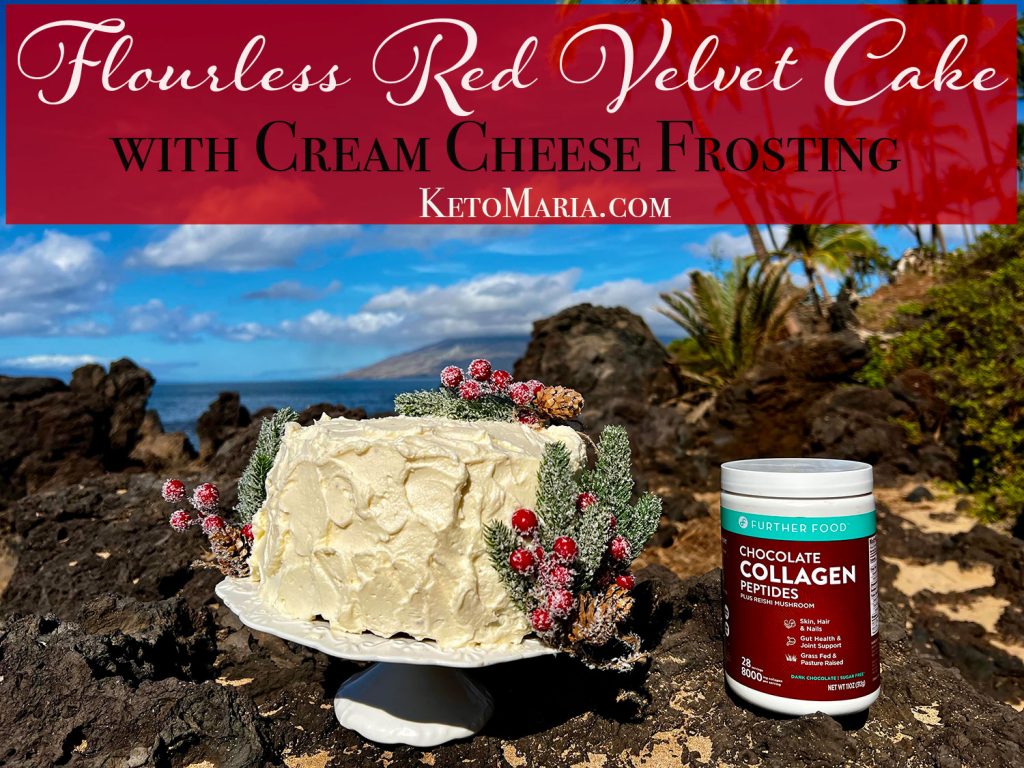 Further Food chocolate collagen made my flourless Red Velvet Cake extra delicious and extra healthy! Further Food products are not only filled with top quality ingredients, they are also delicious!
I love that I can easily open a tub of Further Foods Chocolate Collagen and use it to make my flourless Red Velvet cake in an instant!
Further Food is SO generous that they are doing a special discount for all of my readers!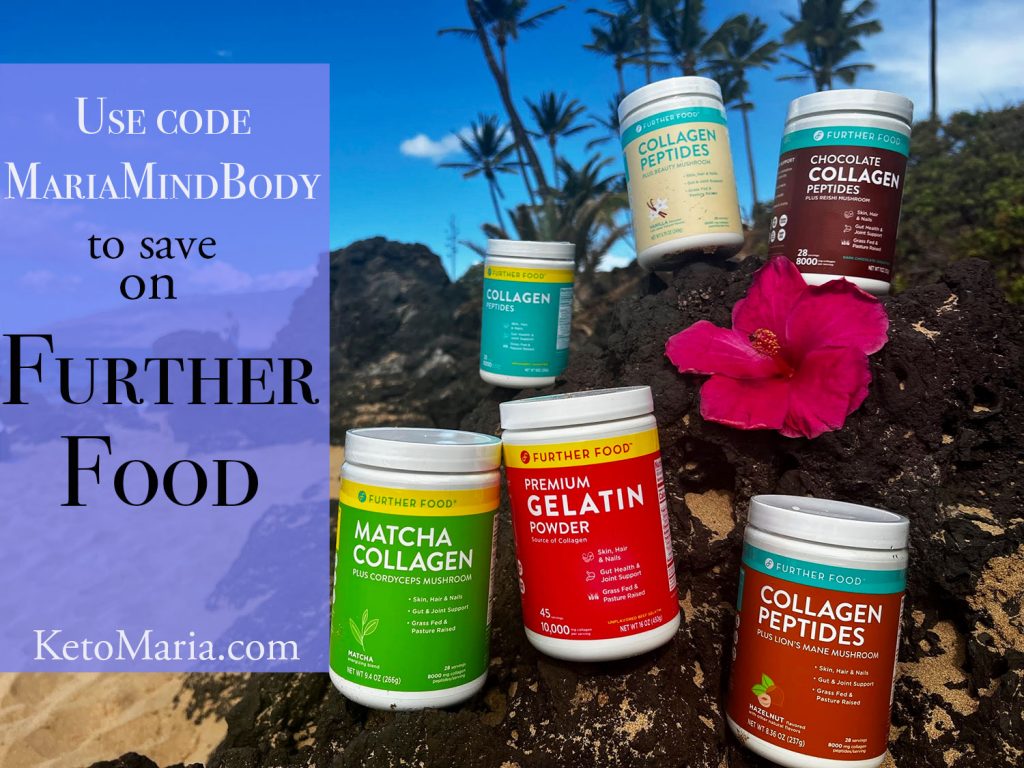 Flourless Red Velvet Cake with Cream Cheese Frosting
Ingredients
CAKE:
16 egg whites
1½ teaspoon cream of tartar
¼ teaspoon Redmond salt
½ cup allulose
⅔ cup unsweetened cocoa powder
CREAM CHEESE FROSTING AND FILLING:
1½  cups powdered Swerve (or allulose)
1 cup butter, softened
2 (8 oz) packages cream cheese, softened
1 teaspoon lemon juice
⅛ teaspoon Redmond Real salt
GARNISH:
Instructions
Preheat oven to 350 degrees F (175 degrees C). 2 8-inch cake pans with parchment paper. Spray well with avocado oil spray. Set aside.
In a large clean bowl, whip egg whites with a pinch of salt and the cream of tartar until foamy (save the yolks for "healthified" creme brule, "healthified" coconut custard, OR "healthified" ice cream).
Mix on high speed until very stiff (you will be able to put bowl upside down and the whites won't fall out).
Meanwhile, in a medium bowl, sift the sweetener, cocoa powder and collagen together and set aside.
Once the whites are stiff, gently fold in the cocoa mixture. Add your favorite extract flavor. Stir to combine.
Divide the mixture onto the prepared cake pans.
Bake for 25-30 minutes or until golden brown and cooked through.
Place the cakes into the fridge to cool. Can be frozen for up to a month.
Carefully slice the cakes in half widthwise so you have 4 cake layers.
To make the frosting. Using a hand mixer, beat the sweetener, butter, softened cream cheese in a medium-sized bowl until smooth. Add the extracts, lemon juice and salt; beat until well combined. Taste and adjust sweetness to your liking.
Place one layer of cooled cake onto a serving platter. Spread ⅓ of the frosting over the layer. Repeat with remaining layers. Frost the outside of the red velvet cake with the cream cheese frosting.
Notes
Nutrition:
529 calories, 45g fat, 19g protein, 8g carbs, 4g fiber
P:E Ratio 0.4
Nutrition (Cake only):
149 calories, 7g fat, 15g protein, 7g carbs, 4g fiber
P:E Ratio 1.5
TESTIMONY OF THE DAY
"Celebrating my 63rd  Birthday today and still can't believe how my life has changed since I found Maria and Craig Emmerich.  I never dreamed I could lose 200 lbs.  From 420 lbs to 220 lbs. this morning!  A simple Thank you will never be enough to express my gratitude! But…THANK YOU!!" Felicia
Most people I consult are doing keto totally wrong. Get fast results with the my Mind-blowing Keto School!