Eating Keto at Restaurants

When did it become so common to eat out? I remember that eating out was a rare Friday night treat. Now if you walk into a restaurant at the lunch hour it is packed! Flavor determines what we eat on a daily basis. I understand that people want to eat delicious food; I do too. That is why I wrote Keto Restaurant Favorites; to give you the flavors your palate is screaming for yet keeping your body healthy and in ketosis. A keto diet doesn't have to be deprivation. I feel that making our favorite restaurant meals at home actually taste better and fresher anyway! The other night I made a few batches of my Protein Noodle Lasagna (recipe found in Keto Restaurant Favorites) and as we gobbled it up while watching Master Chef Jr. my son said, "Can I have another bowl? It is the best food ever!"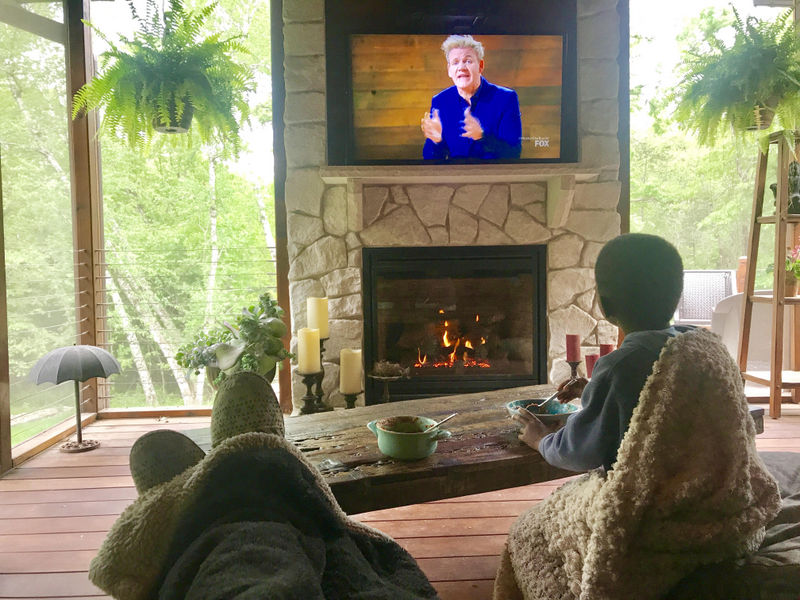 Just hearing that made all the work of making it worth while! You don't get that sense of joy and fulfillment from picking up chicken nuggets or junky fast food marketed to kids. Sure, it takes time to make healthy meals but I find it totally worth it when I know I am feeding my family well!
And my passion is making traditional restaurant favorite foods that are tasty ketogenic nourishing foods. This book is to help you feel encouraged and empowered to take control and understand that you deserve this and you do not have to live off of salads or live at the gym. If you are willing to take the time to prepare meals will feel like the amazing self you are meant to be!
Click HERE to find Keto Restaurant Favorites! Thank you for your love and support!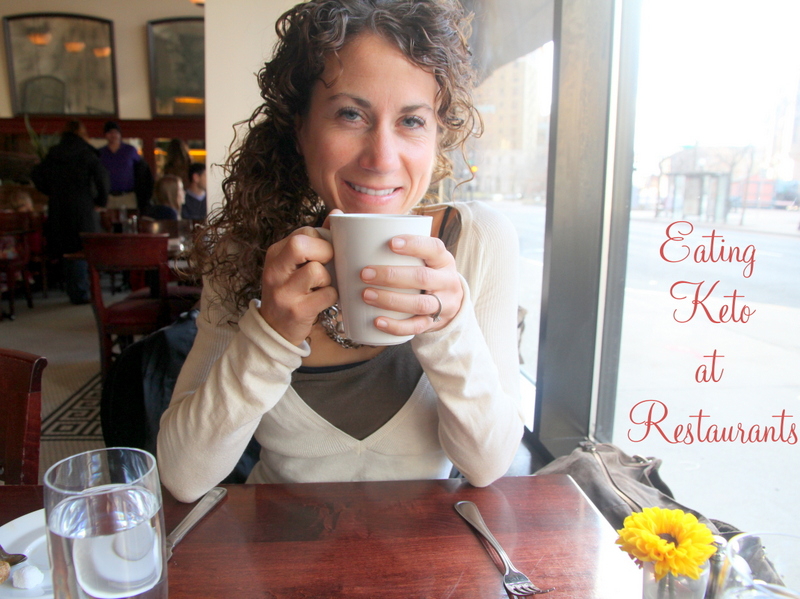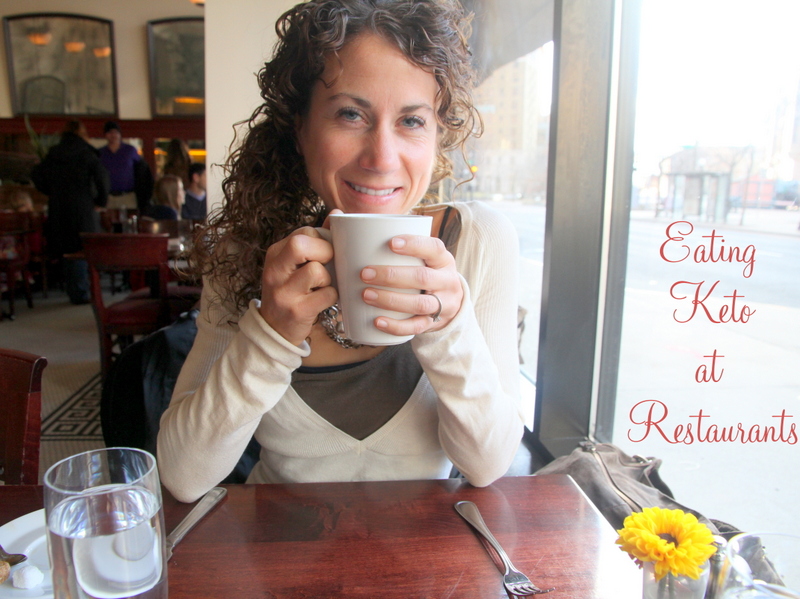 I was telling a friend how we went to have crab at a local crab restaurant and when the crab arrived I asked for real butter. The young waiter scurried to the back and when he came back he said, "We don't have any butter but we do have this vegetable oil blend," he stated proudly… as if butter was going to kill us.
HUH? A restaurant with no butter? We packed up our crab to go and picked up butter at a market so we could enjoy a picnic outside. Crab just isn't right without butter!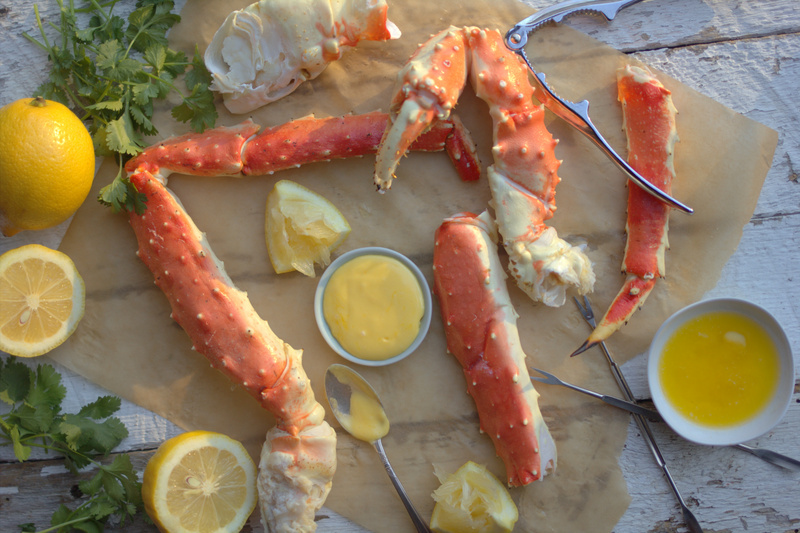 Also beware of sugar free desserts such as the Low Carb Cheesecake at The Cheesecake Factory. They use Splenda to sweeten their cheesecake which I mistakenly ordered for years and was stuck at a weight I wasn't comfortable at. When I cut Splenda out of my life I lost 7 pounds in a WEEK! No lie! Splenda has maltodexterin in it to bulk it up so it measures cup for cup like sugar. Sugar has a glycemic index of 52 and maltodexterin has a glycemic index of 110! No wonder I didn't lose weight eating desserts like that! Click HERE to read more on sweeteners. 

Top Tips for Eating Keto at Restaurants
"Food can be the most powerful form of medicine or the slowest form of poison." Ann Wigmore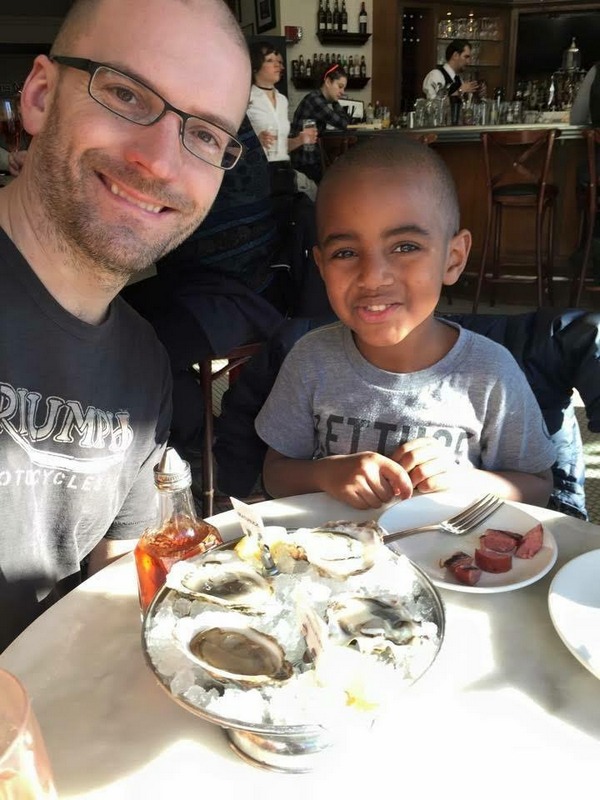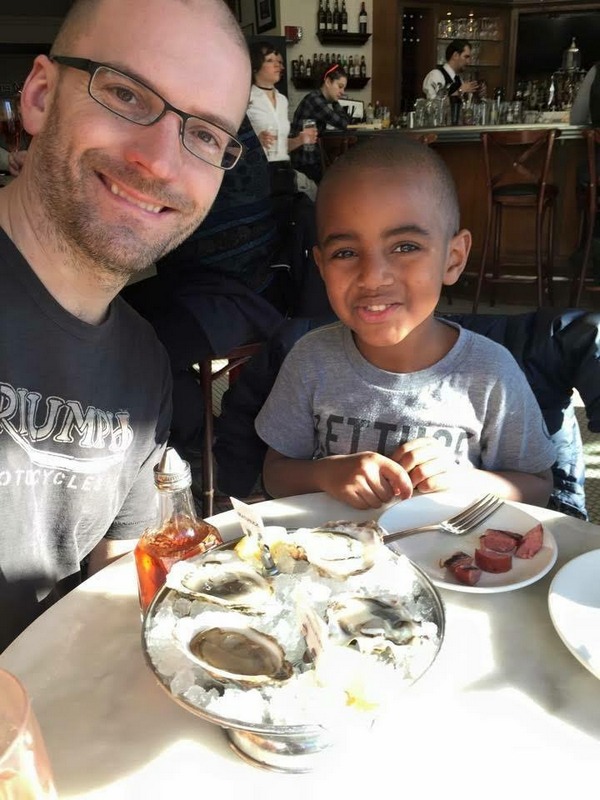 If you do choose to eat out while maintaining the keto lifestyle here are my top 10 picks:
1. Omelet
Many places serve omletes for lunch also which I adore. Just be aware of the fillings such as beans. Choose ketogenic fillings such as mushrooms, onions, cheeses, meats. My favorite is Ham and Emmentaler Cheese with a side of house made hollandaise for dipping.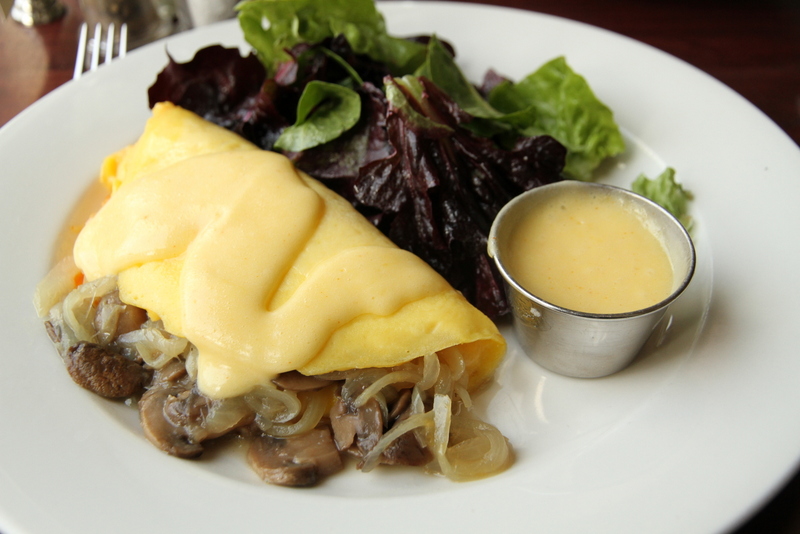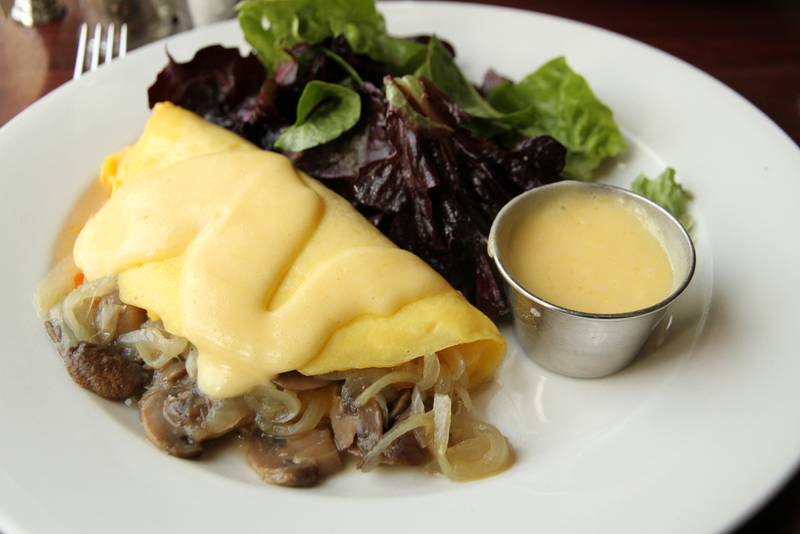 TIP: An omelet always sounds like a safe option when eating out but think again. Here is another thing you may not be aware of; some large breakfast chains such as IHOP adds pancake batter to their omelets. That's right – they add sugar, carbs and WHEAT to their eggs for the omelet base for "fluffiness"… yuck! A spinach and mushroom omelet at IHOP is 24 carbs and 7 grams of sugar! That just isn't right.
HEALTHY OIL TIP: Ask them to cook your omelet in butter instead of vegetable oil which most restaurants do.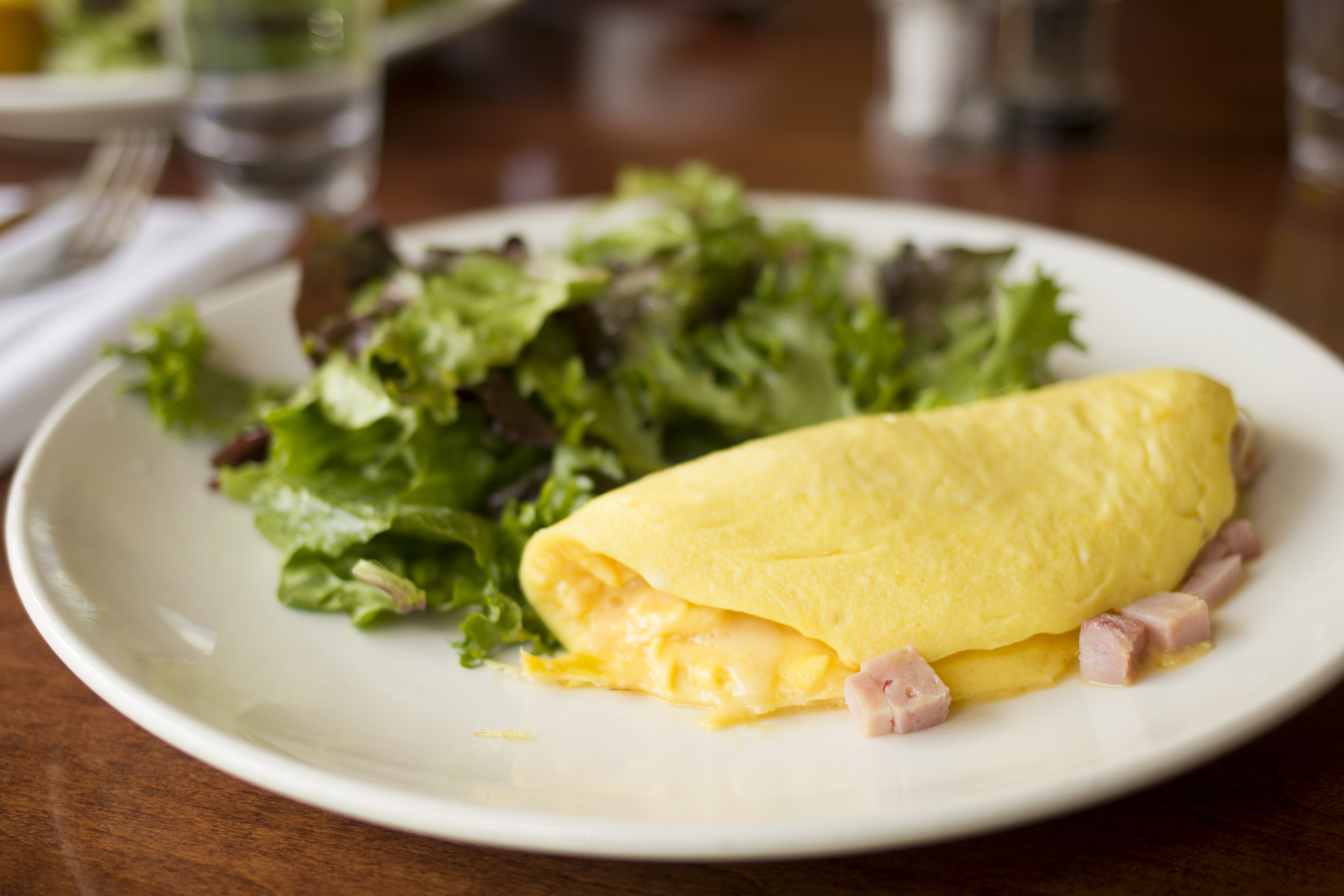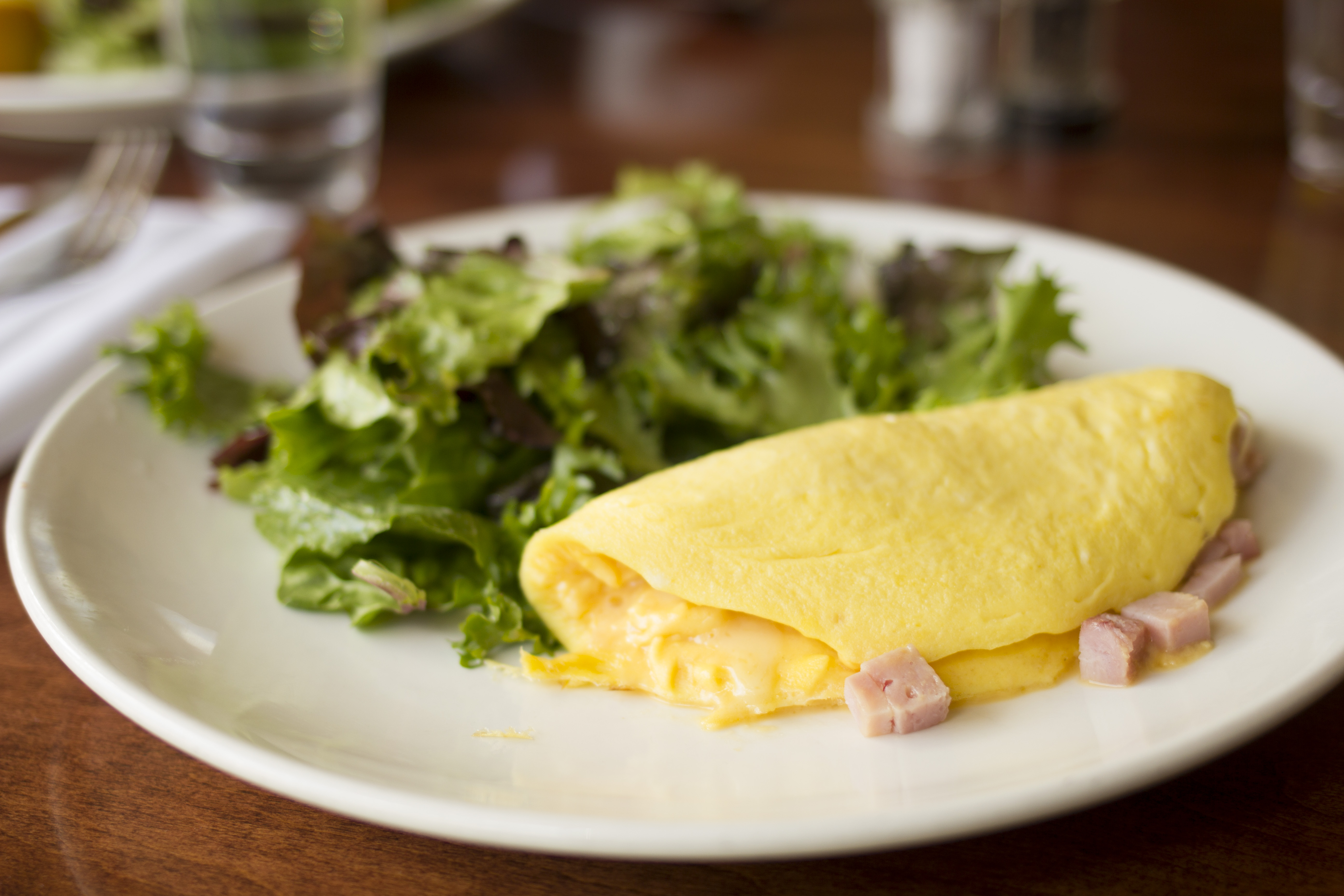 2. Poached Eggs Benedict
Skip the bun. I often order eggs benedict and skip the bun and sub in extra hollandaise. My eggs benedict is often served with a side salad, 2 slices of ham, 2 poached eggs and a large side of hollandaise. That way I don't worry about what oils the eggs are fried in.
Tip: make sure the hollandaise is homemade and not made from a powdered mix.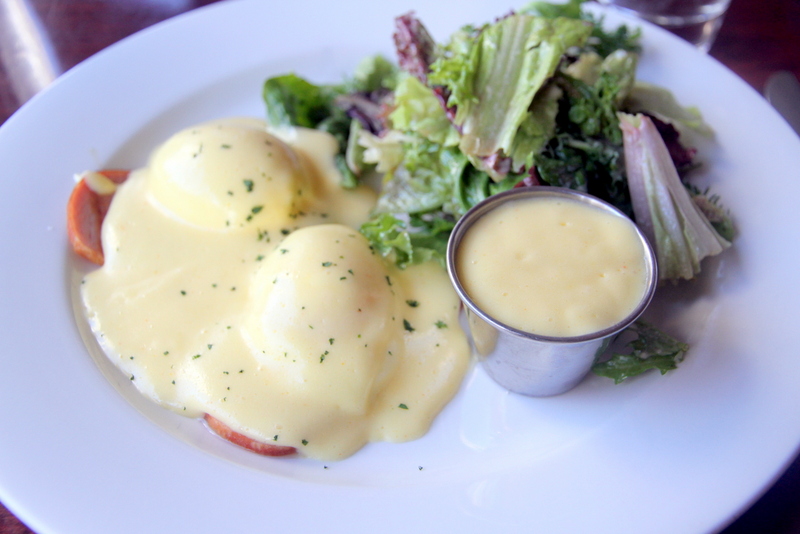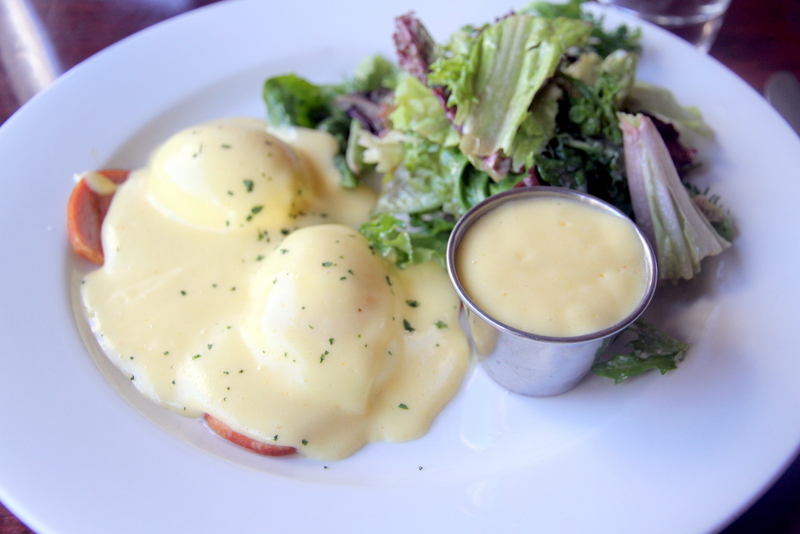 3. Hamburger on a Side Salad: Skip the bun. Order a hamburger with a large side salad with a salad dressing with no sugar (Ranch, Blue Cheese, and Italian). Bonus points if you bring your own salad dressing.
Beware of hidden sugars such as BBQ sauce basted burgers, caramelized onions made with soda. Yes I wrote that right, some restaurants caramelize their onions with Coke.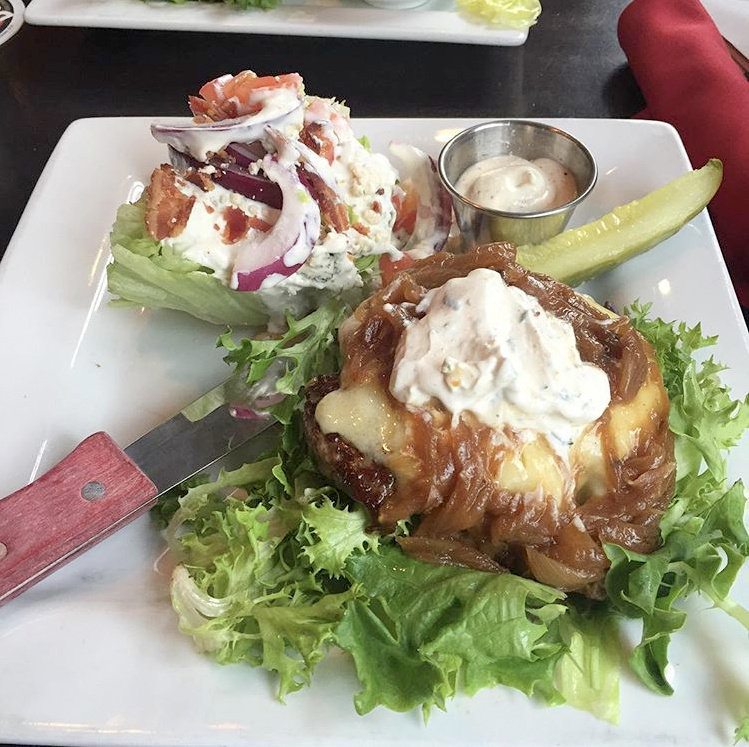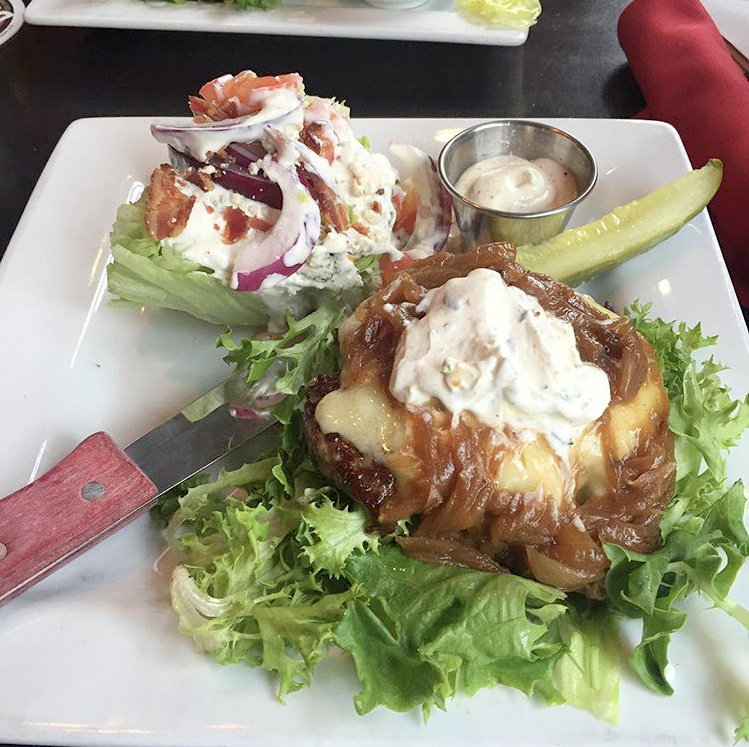 4. Sandwich on a Side Salad: Ask for no bun or fries and sub in a large salad. I have even ordered a Reuben over a large salad.
TIP: Beware of hidden sugars in dressings such as Thousand Island.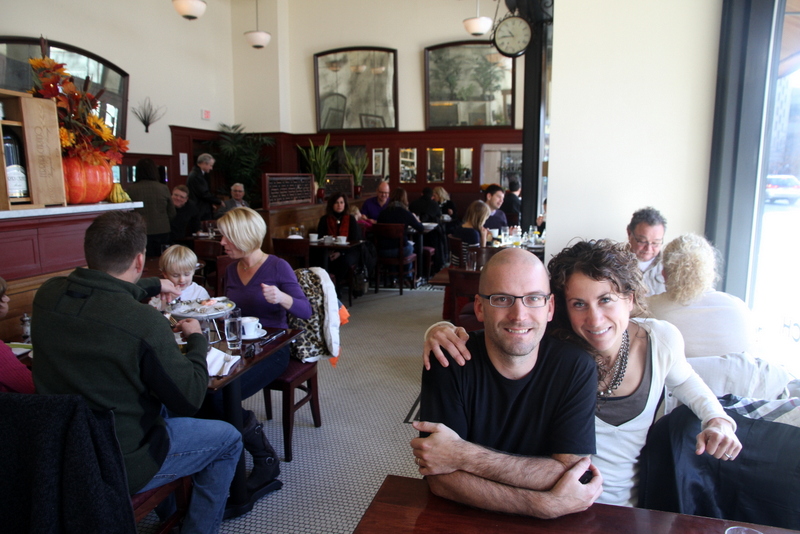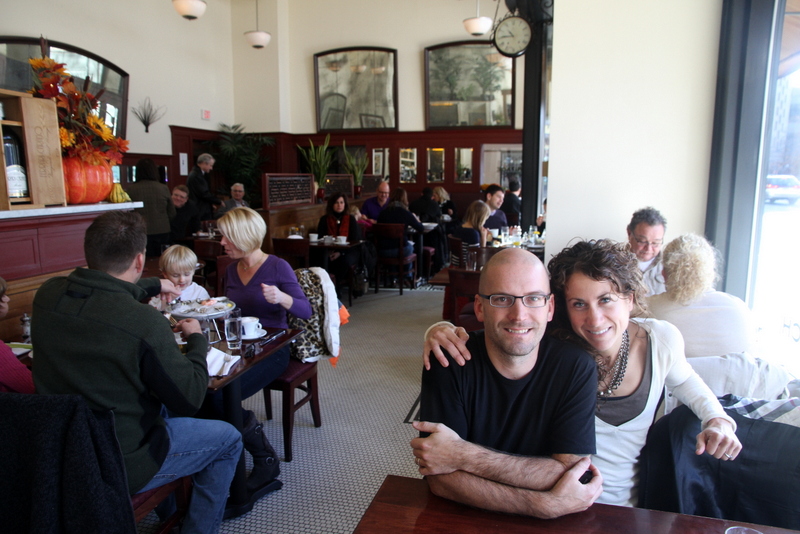 5. Salmon with Broccoli: Skip the starch of rice or potatoes and ask for a non starchy vegetable such as Broccoli. Smother it in extra butter.
6. Steak and Mushrooms: Again, skip the starchy potatoes and ask for a ketogenic vegetable such as sautéed mushrooms.
Bonus points if you choose a ketogenic cut of steak. To see a helpful chart on the best cuts see page ……
Skip the steak sauce which is filled with sugar.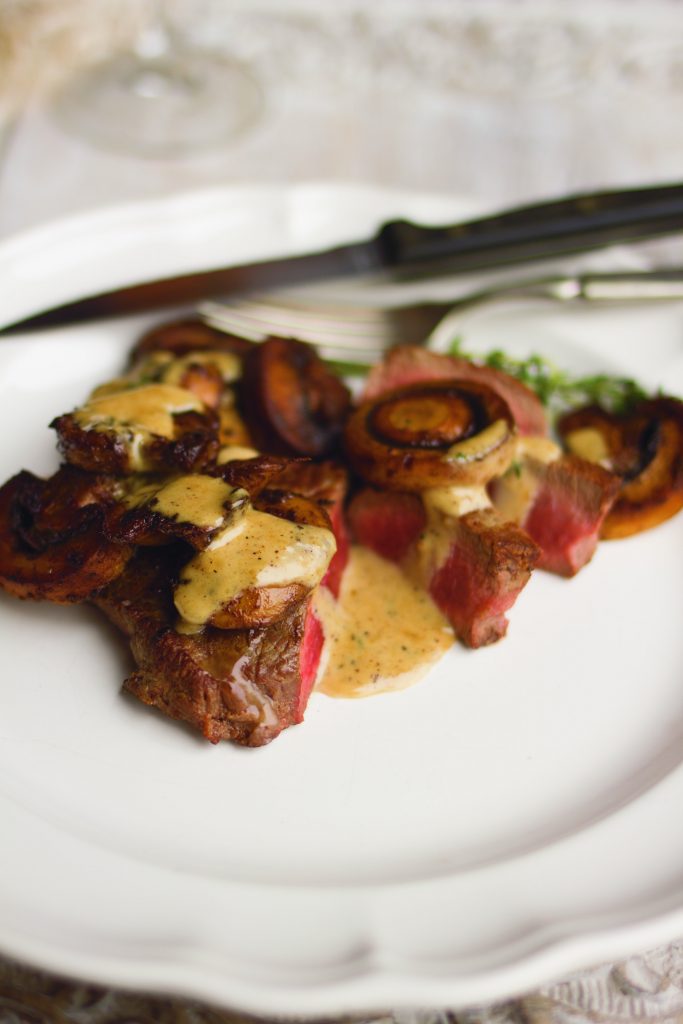 7. Chicken Alfredo and Other Pasta Dishes: Ask them to skip the pasta and put the sauce over sautéed broccoli. Even at popular chain Italian restaurants I have enjoyed chicken Alfredo and Shrimp Scampi over broccoli instead of pasta.
Tip: make sure the Alfredo is not made with a roux; which is when they add flour for a thickener.
8. RAMEN and PHO SOUP: I love getting Pho soup at this Vietnamese restaurant in Minneapolis. I ask them to not put any noodles in the soup and instead they do extra cabbage that they sliced extra thin which reminds me of noodles.
Beware of what type of soy sauce the restaurant is using. Are they using true fermented soy sauce or Americanized sauce that has gluten added.
9. Thai Food: I adore going to Thai restaurants; sure it takes a long time but that is because they are making everything so fresh. I often get Thai food and sub out the noodles for sautéed cabbage noodles. Tom Ka Gai soup (Coconut Chicken Soup) is one of my favorites.
Beware of added sugars which some Thai Restaurants add. Ask them to not add sugar to your dish.
10. Nachos on lettuce. I love nachos and one local restaurant called San Pedro makes these awesome nachos that they serve over bite sized romaine lettuce and we use the crispy leaves as our chips. I have asked for this at a variety of restaurants and they all have been very open to my request.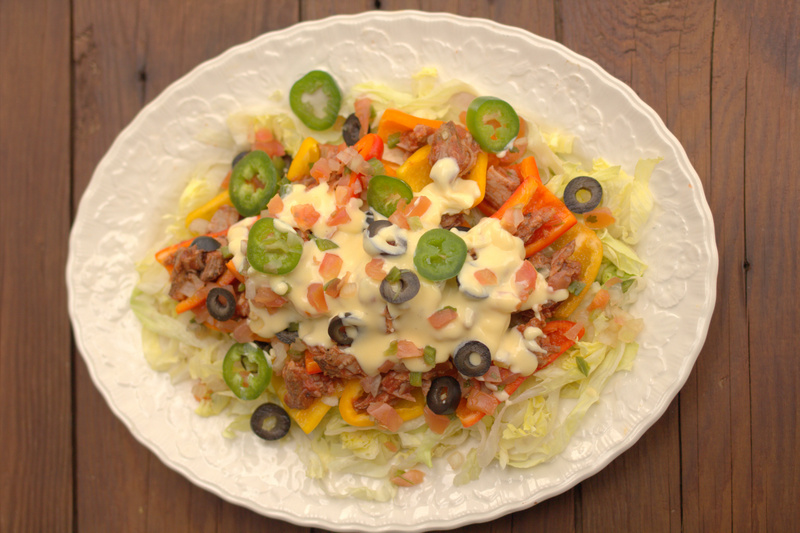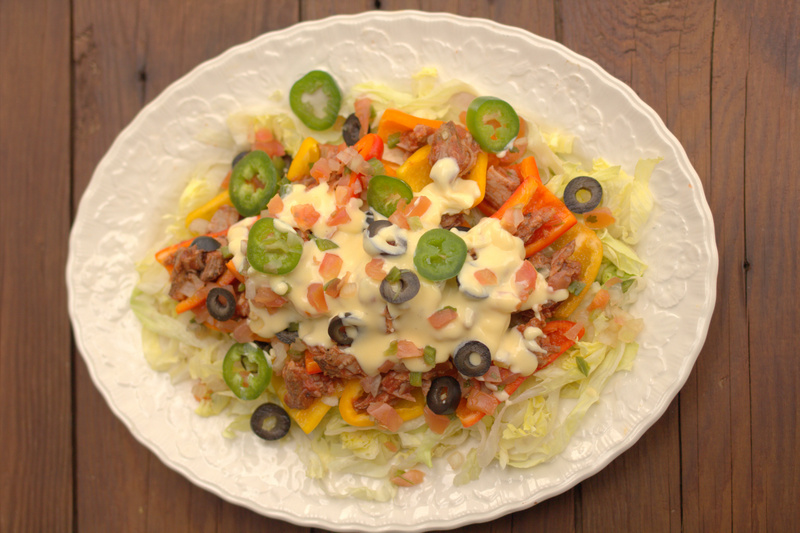 11. Sushi: Sushi can be a great choice if you skip all the rice and get sashimi style.
Beware of what type of soy sauce the restaurant is using. Are they using true fermented soy sauce or Americanized sauce that has gluten added.

Bonus points if you bring your own Coconut Aminos or organic Tamari Sauce.

Craig often likes to go to get "healthifed" sushi (sashimi, no rice) with Micah. While he was there he overheard the sushi chef tell the waiter to try the sushi rice because yesterday someone else made it and it didn't taste good. He said he adds over 3 quarts of sugar to each batch of rice, which equals to be 34 grams of ADDED sugar per cup of rice! We never eat rice but that sure is another reason not to!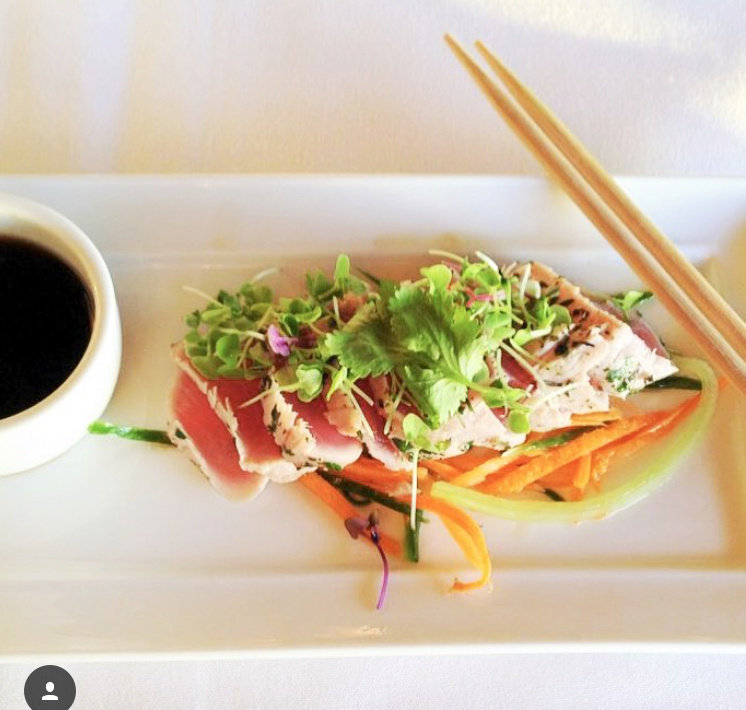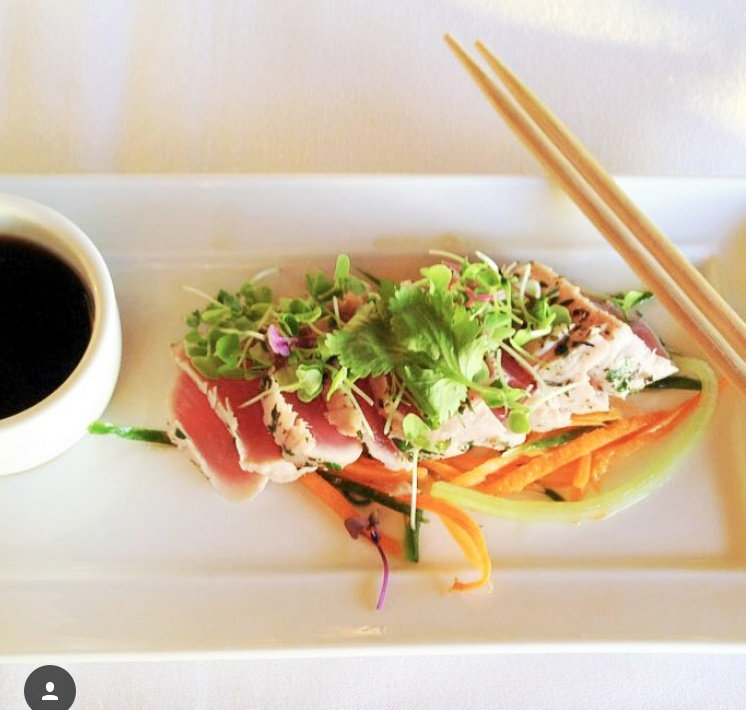 12. Crab, Lobster or Shrimp with BUTTER: This is always a tasty choice as long as the butter is really butter and not a vegetable oil mixture.
Ask for a side salad or sautéed keto vegetable on the side such as broccoli.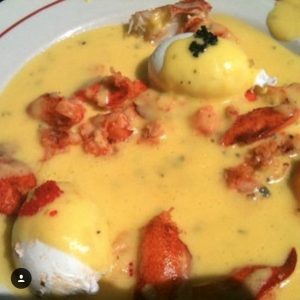 13. Sausages and Brats with a side of sauerkraut
Beware of Bavarian Sauerkraut which has added sugar
14. Fast Food Option: The only place I would recommend as a fast food option would be Chipotle. I recommend getting lettuce, layered with your choice of meat, topped with sautéed bell peppers, salsa and guacamole (sour cream and cheese if not dairy sensitive).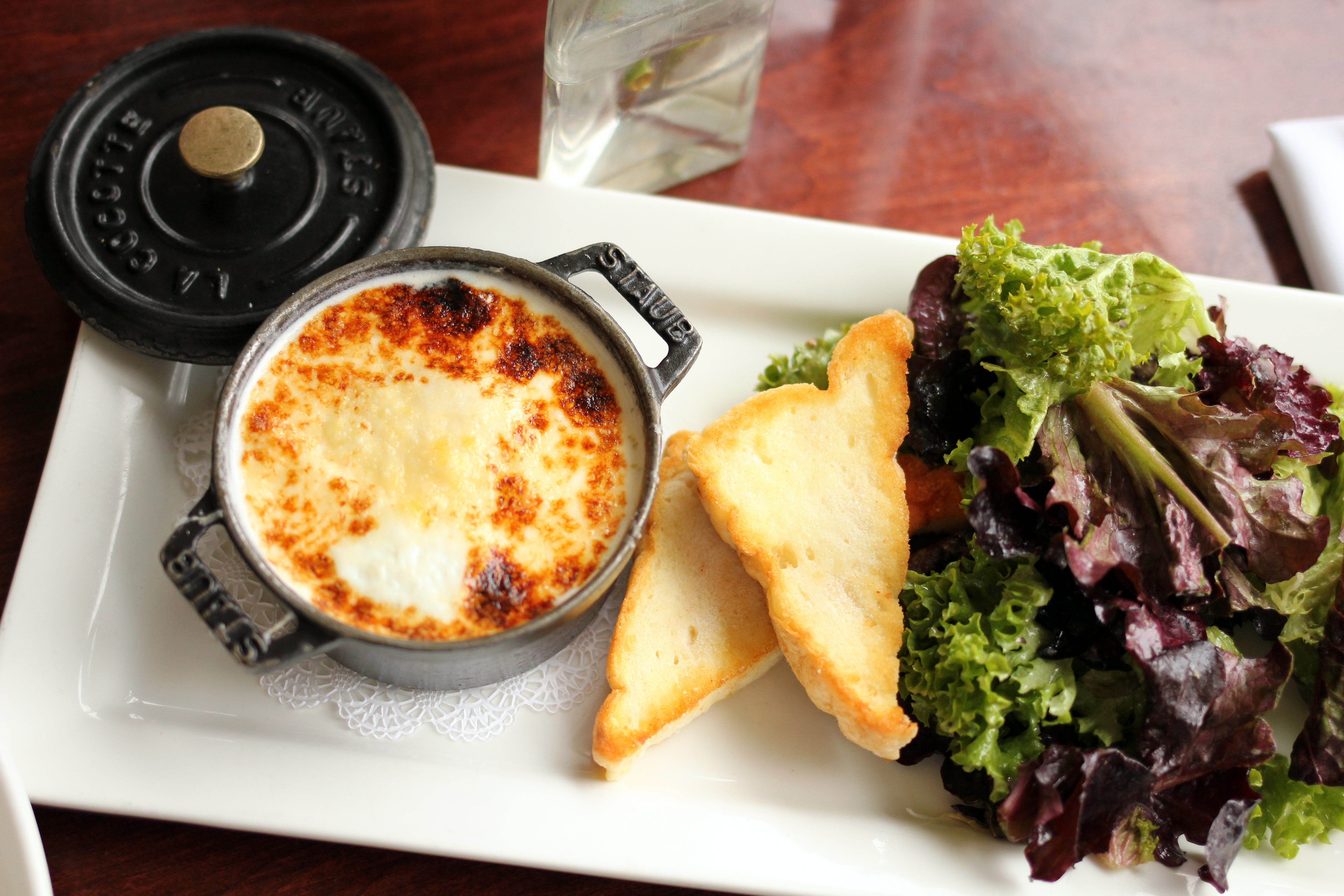 These are just a few ideas of what I have ordered at restaurants. There is no place I can't go to and decipher a menu to make it keto. One tip I suggest is to look at the menu online beforehand and plan out what you are going to order before you go. Stick to your plan and do not get tempted or influenced by your friends or waiter on ordering unhealthy options.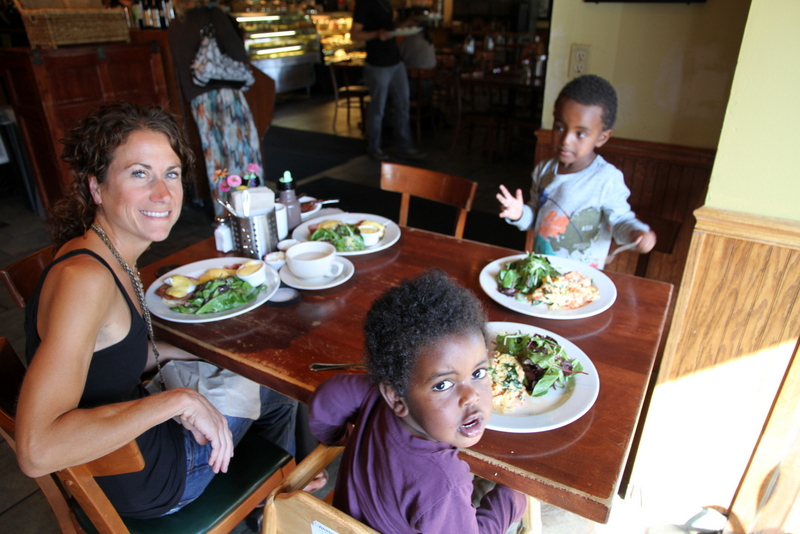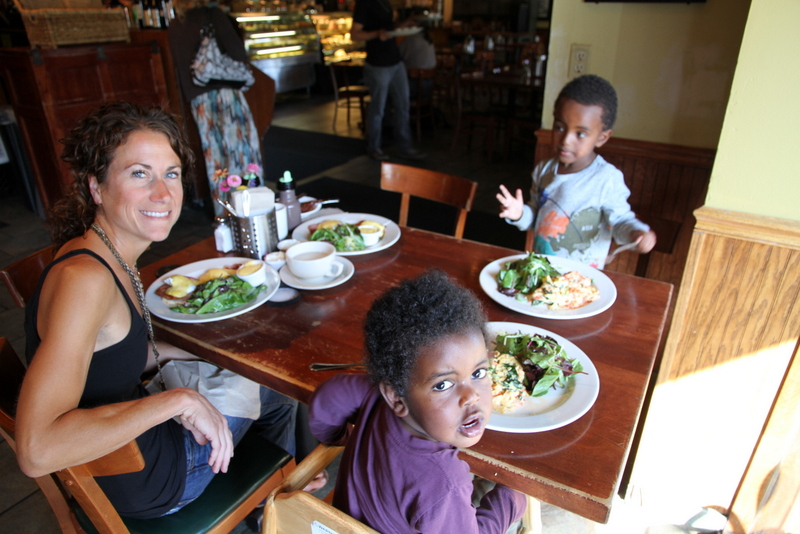 The more keto we become the less desire we have to eat at restaurants. I'm sorry but they never give me enough sauce anyway! I prefer my food at home so I make sure the ingredients are impeccable! So if you want to make your favorite restaurant classics at home, check out my book Keto Restaurant Favorites! You won't be disappointed!
Thank you for your love and support! 

TESTIMONY OF THE DAY
"Drum roll please!!!  Here are my results from the 30 Day Keto Cleanse:
Grand Total:  -18# / -14.75″
Days 1-7: -9.8# / -6.5"
Days 8-14:  -5# / -3.75"
Days 15-21:  +1.2# / -2.5"
Days 22-30: -4.4# / -2"
I intermittently fasted everyday for the past 30 days, providing myself with an eating window between 4-7 hours.  I did NOT exercise during this time, and I also did NOT follow the meal plan 100% after week 2.  Instead, I mixed and matched to provide myself with less time in the kitchen, but made sure my macros were in check.  I did one prolonged fasting for 42 hours at the end of week 2, but I'm not sure that will be something I do often.
What I've learned:
1) I need to keep flexing my willpower muscle through the rough patches.  I am strong!!
2) My accountability partner (PPP) is priceless!  Thank you Lori Klingsporn Moran for inspiring me to start this adventure and for always being an invaluable source of support and motivation!
3) I DON'T need alcohol to have fun!
4) Life continues without sugar, dairy, nuts and alcohol!
5) I can survive on 2 meals per day!
6) Maria's and Craig's Keto recipes are delicious, sustaining and easy to follow!  The information/education/coaching they provide in their books and through online support is paramount to success!  Thank you!
7) It's okay to listen to my body and to not force ideas of perfection.  Being flexible, yet prepared, is important.  I will incorporate exercise when I'm ready.  I will not take supplements unless I ABSOLUTELY find it's necessary — I don't like how I feel when taking them.
8) Patience is needed during this journey — I didn't pack on all of this unhealthy weight overnight.  It's going to take time for my body to adapt to this WOE.
9) My sweet spot for losing weight is to keep my calories below 1200 per day (when not exercising), protein between 50-80g and carbs at 20g or less.  The rest will fall into place.
10) There's so much more to add, but suffice it to say that I am happy with continuing this journey and look forward to where it's going to take me.
Keto on fellow Ketopians!!!"
 Thank you for your love and support!