Dairy Free BLT Chaffles
It is hard to find bacon without sugar and when you do it is VERY expensive! That is why I order Butcherbox bacon! It is sugar free and it is mailed to my front door!
If you LOVE bacon like my son does, you are going to want to check this out!
Butcherbox is doing a special deal when you sign up now!
If you're an existing ButcherBox member I've got deals for you too.
Skip the stores with all the temptations and get quality food mailed to your front door!
Click HERE to access member deals and specials. You'll find exclusive and limited time offers as well as new product launches like lobster, ground bison, seafood sampler, cast-iron favorites, their legendary bacon blast (10 packs of bacon for just $5/pack), and so much more. Their member deals are constantly changing so be sure to click HERE!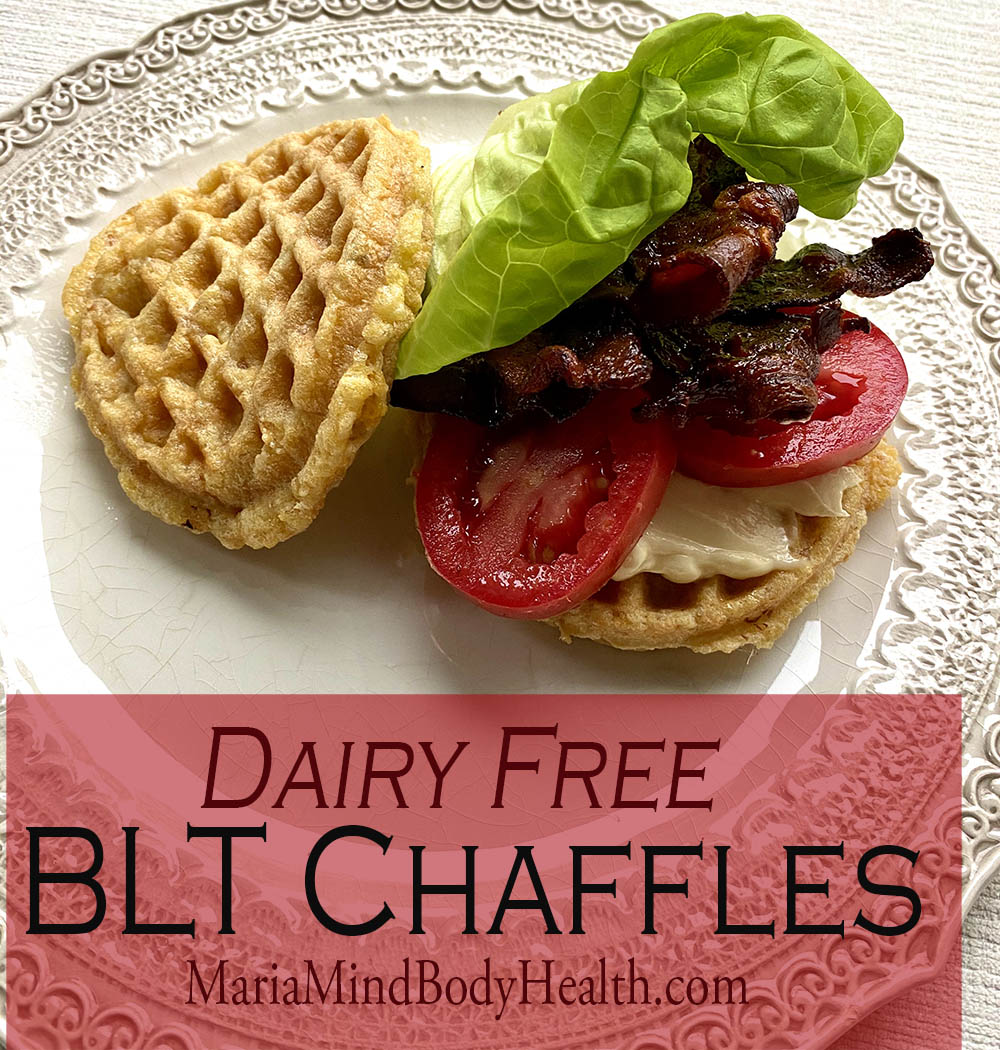 I LOVE a good BLT! Crispy bacon, fresh tomatoes, crunchy lettuce and a creamy mayo! What's not to love?
I decided to make some chaffles for a BLT sandwich, but going dairy free is very helpful for weight loss. I love the chaffle crazy, however, the cheese isn't really helping most of my clients lose weight.
Instead of a "chaffle" I guess these keto waffles are more of a "paffle" a Pork Rind Waffle! I ditched the cheese and used pork rinds instead to make this BLT paffle dairy free!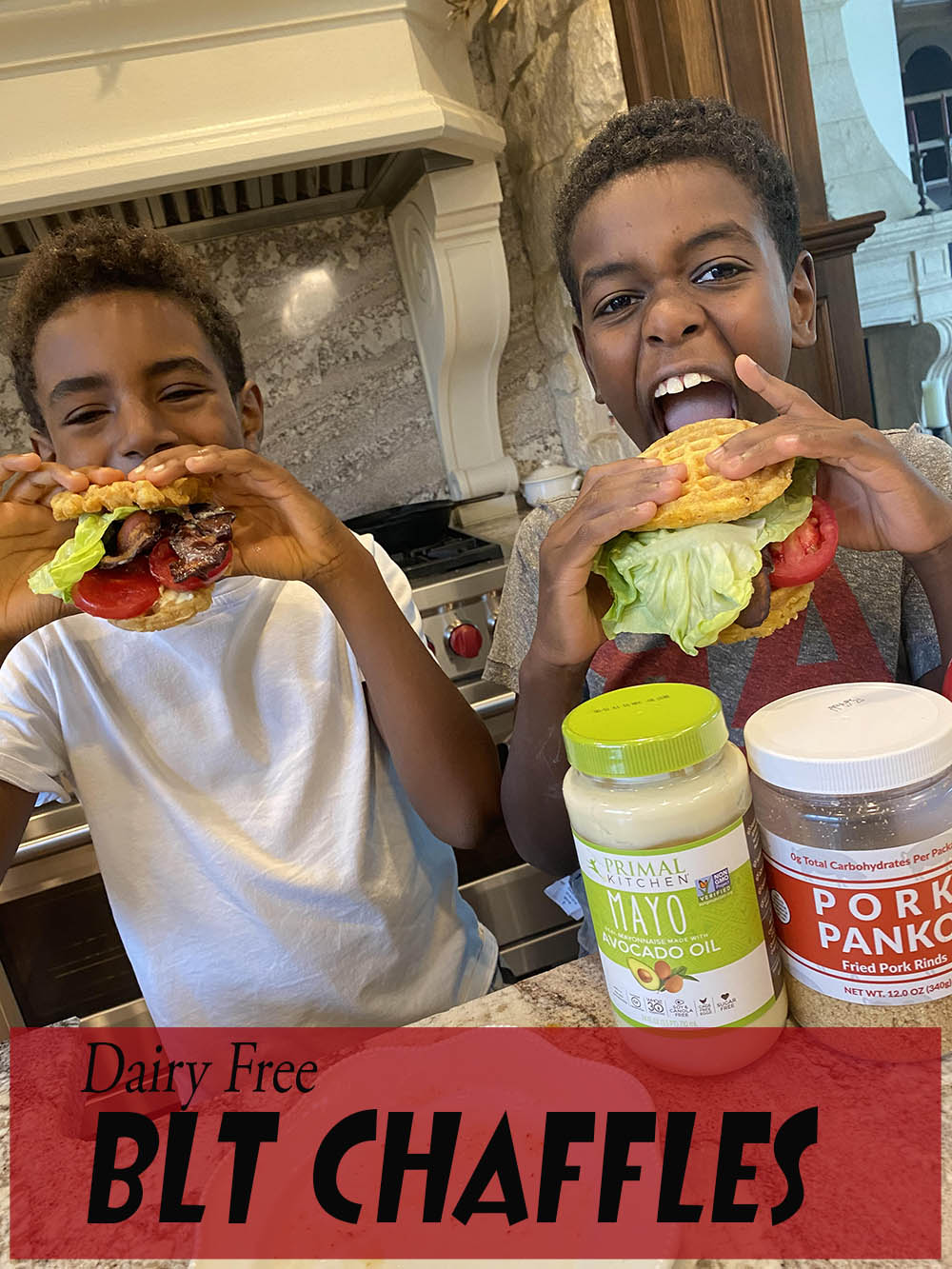 If you want to watch us make this yummy dairy free BLT Chaffle, subscribe to our new YouTube Channel to get updated when the video comes out which will be in a day or two, and comment below on what video recipe we should make next!
Dairy Free BLT Chaffles
Ingredients
1/2

cup

ground pork rinds

1

egg

1/2

tsp

smoked paprika

Duck Fat Spray

for greasing chaffle maker

Sandwich Fixings:

2

slices

sugar free bacon

cooked

2

leaves

lettuce

1

slice

tomato

1

tablespoon

Primal Kitchen mayo
Instructions
Preheat a mini chaffle maker (click HERE to find).

Place the pork rinds, egg and paprika into a small bowl and use a fork to combine well.

Grease the chaffle maker with duck fat spray (or other spray) and place 1/2 of the mixture into the chaffle maker and press the maker down. Cook the chaffle for 2 to 3 minutes or until golden brown and cooked through.

Remove from chaffle maker and repeat with remaining batter.

Meanwhile, prepare the BLT fixings, make the bacon. Slice the tomato.

Once the chaffles are done, place a few slices of bacon onto a chaffle, top with lettuce and tomato. Smear mayo on the other chaffle and place on the top.

Best served fresh.
Notes
Nutritional Information:
545 calories, 42g fat, 43g protein, 3g carbs, 1g fiber
TESTIMONY OF THE DAY
"I started to gain weight after high school. I got married and had 2 boys. After my second child I was finally diagnosed with Hashimoto's thyroiditis. I tried and tried to lose weight. I always blamed it on my thyroid. At 270 pounds I had gastric bypass 16 years ago. 10 years ago I was the first person after having gastric bypass to be able to donate part of my liver to my then 12 year old niece. The trauma from the donation took its toll on my body and I ended up getting fibromyalgia. I slowly started to pack on my weight again. I had gained 50 pounds back from before the donation.     
January 1st 2017 I decided to go keto. The first year I did it all wrong! I lost weight but very slow. I started being honest with myself about being a food addict. I do not "cheat" on this lifestyle. I can NOT just have one small slice of cake at a party. If I do I know that all my cravings for sugar will start all over again. I was feeling very overwhelmed because I knew that keto was a great lifestyle but my weight loss totally stalled and I didn't know what to do.  I also found out that I'm post Menopausal. So I have Hashimoto's, fibromyalgia and I'm post menopausal! I felt like I was doomed!! 
 Then I heard about Maria Emmerich! Wow everything changed!
 I read your keto book (Keto: The Complete Guide to Success on the Ketogenic Diet). I started all the supplements for hypothyroidism. I stopped all the extra fat that I was adding into my diet. I weight melted off and I feel great!! I'm smaller than I've ever been. I didn't know that I could be less than 120 pounds. I never even let myself dream of being this small. I'm never going back!
My husband started your keto just a couple of months ago and he has now lost 30 pounds and feeling great! Thank you Maria for all your knowledge. I'm forever grateful!" Melissa Goleno
Most people I consult are doing keto totally wrong. Get fast results with the my NEW Keto Packages!