Collagen Irish Cream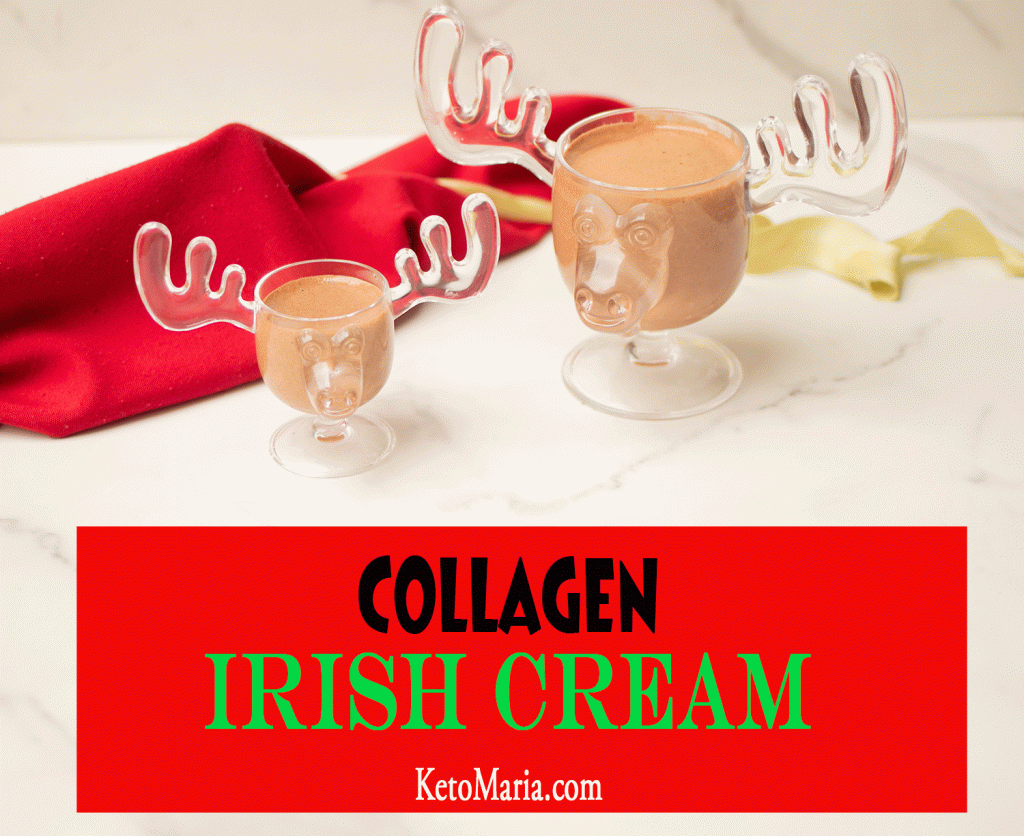 The holidays are coming which means comfort food and my Collagen Irish Cream is guilt free!
Kai LOVES it! But he loves anything with a coffee flavor!

HOW TO MAKE COLLAGEN IRISH CREAM
Most of you know that I do not drink alcohol and I haven't had it for over 16 years. I also do not drink coffee, despite my addition to coffee since I was 15 years old working in a coffee shop. So my recipe for Irish Cream is a bit modified but it still is packed with flavor.
My keto Irish Cream is also packed with collagen which is something I consume daily!
Did you know 1/3 of your body is made up of collagen? And that after menopause, collagen declines in a rapid rate so bumping your collagen intake up before you lose it is very helpful for skin, hair and nails!
Further Food collagen is my favorite collagen to use and it makes recipes like my Irish Cream SUPER delicious!
Stock up on Further Food collagen so you can have beautiful skin for decades!
Further Food is so generous, when you use code MariaMindBody, you SAVE!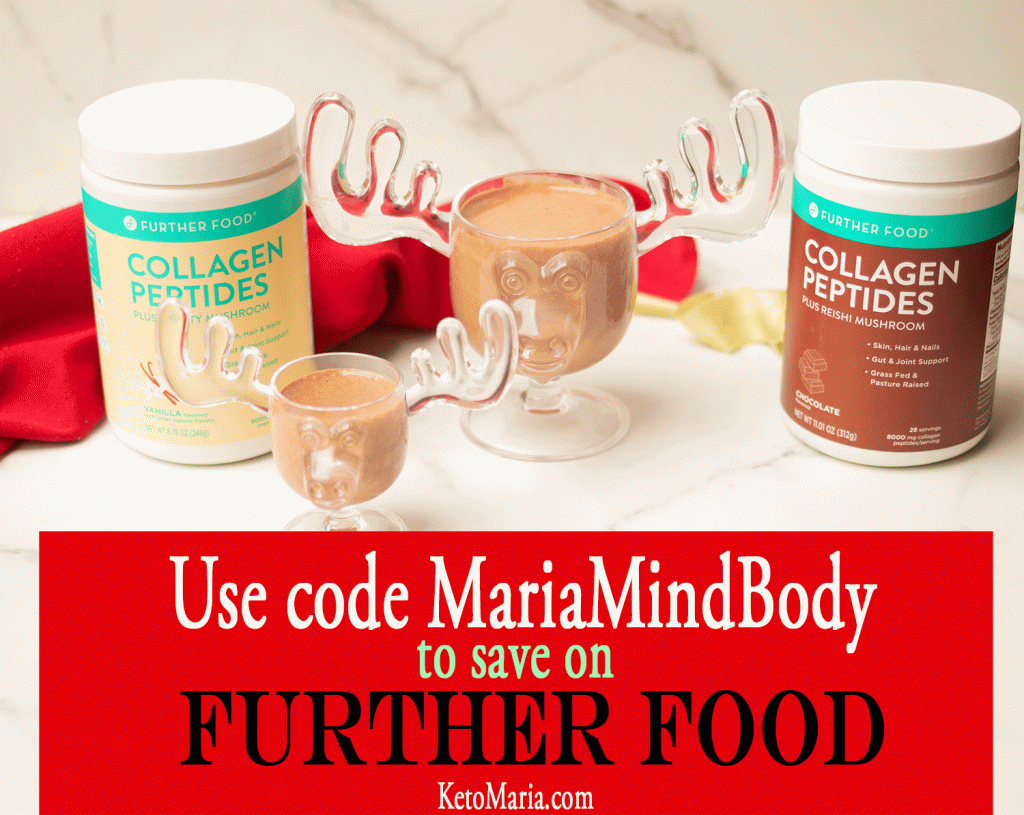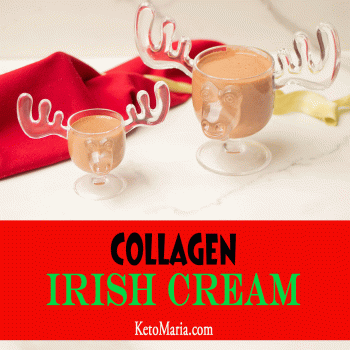 Collagen Irish Cream
Equipment
Ingredients
1 1/2

cups

unsweetened Almond Milk

or heavy cream

1

ounce

unsweetened baking chocolate

chopped fine

1/4

cup

Further Food Vanilla Collagen

or chocolate collagen

1/2

teaspoon

vanilla extract

1/8

teaspoon

cappuccino stevia

or coffee extract

1/8

teaspoon

Redmond Real Salt
Instructions
Place the unsweetened almond milk into a sauce-pot over medium high heat. Place the rest of the ingredients into a blender and pulse until chocolate is in very fine pieces.

Once the almond milk is simmering, slowly pour into the blender. Puree until chocolate is melted. Taste and adjust sweetness to your liking.
Nutrition
Calories:
75.3
|
Fat:
4.5
g
|
Protein:
5.4
g
|
Carbohydrates:
2.6
g
|
Fiber:
1
g
|
P:E Ratio:
0.9
TESTIMONY OF THE DAY
Doesn't Curt look AMAZING??? He lost 300 pounds with the keto lifestyle
"I have been overweight for as long as I can remember, as a kid I grew an attachment to eating my feelings which carried all the way into my adult life. I was being naïve and thought I was healthy because I didn't have diabetes or things of that nature, just a little high blood pressure issue. Boy was I wrong, because my weight kept growing to the point I was 525 lbs wearing 60 inch pants and 8xl shirts and that blood pressure issue wasn't getting any better. I had tried a few diets before and failed at them because my results weren't quick enough. 

In March of 2019 I started doing keto after having to tell myself enough was enough with the excuses I was telling myself, no one was coming to save me and I had to save myself. I told myself this time was going to be different and I owed it to myself to stick with it, because I wanted to be around for a long time and I wanted to enjoy that life as close to the fullest I could.

With keto I was able to lose 300 lbs and maintain the weight loss and I just recently had my 4 year ketoversary. I am no longer wearing 60 inch pants and 8xl shirts and I'm on the lowest dosage for my blood pressure medicine. I have found a love for cooking and baking my own food as well as exercising to stay healthy. I owe taking my life back to this way of eating and I always tell myself now that you've done it there's no going back." -Curt 
Most people I consult are doing keto totally wrong. Get fast results with the my Mind-blowing Keto School!