Coconut Shrimp
If you are a fan of Outback Steakhouse Coconut Shrimp, you will enjoy this recipe. It cuts 300 calories and 33 carbohydrates just for the shrimp portion. This recipe also cuts over 350 calories and 105 carbohydrates with the marmalade! I hope you enjoy!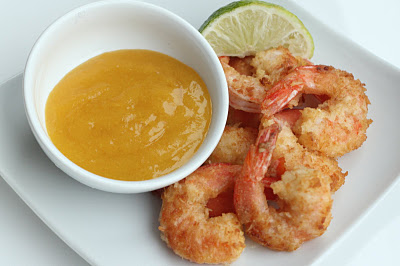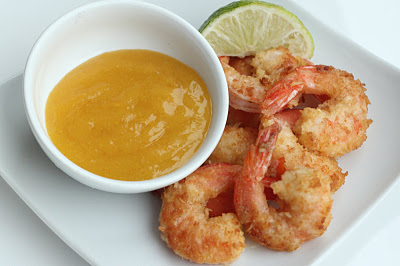 Coconut Shrimp:
1/2 cup protein sparing bread flour (recipe HERE)
1/2 cup shredded unsweetened coconut flakes
1/2 tsp Celtic sea salt
1/2 tsp Chinese five-spice powder
2 pinches ground cayenne pepper
2 egg whites
1 pound shrimp, deveined and peeled
Coconut or macadamia nut oil, for frying
Place the protein sparing bread flour, salt, cayenne pepper and five-spice in a shallow dish. Place the coconut flakes in a separate dish.
Place the egg whites in another shallow bowl. Lightly beat the egg whites. Dip shrimp in the protein sparing bread mixture, then the egg whites, then coat with the coconut flakes. Use your hands to press the coating onto the shrimp.
Heat 2 inches oil over medium-high heat. Fry shrimp 5 minutes in hot oil until evenly golden and crispy. Serve with orange marmalade. Makes 4 servings.
Orange Marmalade:
1 cup prepared yellow mustard
¼ cup Swerve confectioners or 1/4 tsp stevia glycerite
¾ cup coconut vinegar or cider vinegar (see below)
2 TBS butter or coconut oil, melted
1 tsp orange oil/extract
Make the dipping sauce: combine ingredients in a small bowl. Mix well and enjoy. Makes 4 servings.
NUTRITIONAL COMPARISON: (6 shrimp)
OUTBACK Steakhouse coconut Shrimp = 690 calories, 21g fat, 29g protein, 67 carbs, 8 fiber
OUTBACK ORANGE Marmalade (1/4 cup serving) = 403 calories, 0g fat, 0g protein, 1g fiber
"Healthified" Coconut Shrimp = 252 calories, 14g fat, 30g protein, 12 carbs, 7g fiber (4 effective carbs)
"Healthified" Orange Marmalade (1/4 cup serving) = 59 calories, 7g fat, 1g protein, 1g carbs, 1g effective carbs
Coconut Vinegar nutritionally exceeds other vinegar in its amino acid, vitamin and mineral contents, and is an excellent source of FOS (a prebiotic that promotes digestive health). In addition to using in your favorite dressings and marinades, our Coconut Vinegar may also be used instead of apple cider vinegar for skincare or with any internal cleansing program. (This delicious vinegar does not have a coconutty flavor.) Click HERE to find.
TESTIMONY OF THE DAY
"Maria Emmerich! Not only is she a blessing, she is so brilliant to say the least. I can honestly say that if I would not have reached out to her I would not be who I am or the amazing way I feel till this day.
Years back… I was not feeling this way.  Aches, pains, inflammation flare-ups non stop and  days I could hardly walk. I was referred to a rheumatologist I was told I have spondyloarthritis. I was prescribed a few medicines and methotrexate being one of them, which I later on learned was the culprit for my headaches, dizziness, nausea and severe fatigue.  Methotrexate is known for other problems it can cause, but I did not and could not stick with it any longer to find out the other damages it would have caused me . And that is all because of Maria Emmerich.  Her wisdom, information and advice is phenomenal
I followed exactly what she advised  me to do to heal all the things that ailed me. Soon after starting Maria's plan for me, I was able to stop all prescribed medicines from my rheumatologist! And I can honestly say It was because of her I feel like I feel today…which is amazing!
I went to my last rheumatologist with a whole different body so to say.  My Dr. was amazed at the difference he saw in me.  From once hardly being able to move, bend or twist with extreme fatigue to what he was seeing that day was … it was like he was shocked and looked shocked.  His exact words were "whatever you're doing, keep on doing it".  And to my shock he was not one bit shocked when I told him I went off the medicines he prescribed me 6 months prior.  He also said "well then you're the first person I am legitimately taking off those meds."
And I can honestly say that is all because of Maria and Craig Emmerich! I am beyond grateful and thankful  to then for not only giving me the knowledge and tools I needed to heal what ailed me." Jennifer