Testimony of the Day
As "the skinny girl" my entire life it was a medical condition and the medications necessary for me to take for the rest of my life that packed on more than 50 lbs. in a very short amount of time at the age of 37 that led me to places I had never been before. Although the medication was making me feel better, it was a different story when I looked in the mirror. I had never tried to be thin, I just naturally was, and it's not like I wanted to weight 102 lbs on my 5'4″ frame, I always had a dream weight of 120. Something my doctor laughed at when I asked him how to keep some of my baby weight after I delivered my first baby, after all, being pregnant was the first time I actually got over 100#, something that had been a goal of mine since I was about 16. I know, poor thin girl … however, I was about to learn how body image affects so many aspects of a person being, something I had never even considered. 20 days after starting my medication and I had already gained 27 lbs.
I was so shocked every time I looked in the mirror, I still expected to find my former self and seeing my friend's visible reactions although they tried to be encouraging. I kept having to purchase larger and larger clothes and eventually peaked at plus 54 pounds. I had tried to "eat better", you know, yogurt, fruit, vegetables, but in all honesty I am a bona fide, all-out sweet tooth, always have been. Nothing seemed to help. My doctor and I decided to switch my medication to see if the side effects would alter. Hard to say if it worked, I didn't change anything else, although eating my way across Australia on vacation did not add any weight. I took that as a good sign. Then I ventured back into the workforce and was more mobile and managed to lose a bit of weight, about 10 lbs. But I still felt terrible, emotionally, physically, had the 3:00 "I'm so tired I could sleep the rest of the day" thing going on.
I had a couple of friends who started working with a nutritionist who was altering their lifestyles, but it sounded like an impossible plan, no sugar!! No gluten?? How could I live without dessert and bread, my lifeline? I happened to overhear a session my friend was having with this nutritionist and honestly, it sounded do-able. You could substitute healthy versions of sweeteners, not give them up completely. Might work. There were ways to make/buy bread that I could eat, who knew? I decided to buy the book and check into it. What I learned changed my life. I decided to go "all-in".
I scheduled a consultation with Maria (said nutritionist) attended her Healthy Metabolism Class and attend her grocery store shopping excursion. I could do this, no, I will do this. My family was in shock. I don't think they gave me a chance, no sweets, no way. But I was determined. I did not eat one thing that wasn't on Maria's approved/recommended list. It definitely didn't happen overnight, but little by little, week by week I was losing weight. My clothes were starting to hang, people were taking notice. My goal … 120 pounds! Ironic right? My goal when thin and chubby was always 120!  I honestly don't know where I found the strength to do it, except by following Maria. Her constant encouragement and knowledge educated me in an area I didn't even know I needed to learn, after all, prior to medication, I could eat whatever I wanted. I no longer had the 3:00 afternoon energy dip, and generally had a better outlook on life. I'm not saying it was completely easy, there were challenges … what to order if we went out to eat? I eventually did reach my goal and I owe it all to this book and its author, Maria Emmerich. Thank you Maria
  -Jennifer Norman
Click HERE to start your journey to a keto-adapted diet!
If you are a fan of Outback Steakhouse Coconut Shrimp, you will enjoy this recipe. It cuts 300 calories and 33 carbohydrates just for the shrimp portion. This recipe also cuts over 350 calories and 105 carbohydrates with the marmalade! I hope you enjoy!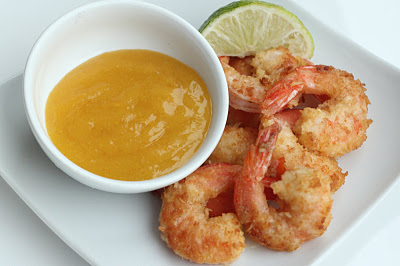 Coconut Shrimp:
Coconut or macadamia nut oil, for frying
1/2 cup coconut flour
1/2 tsp Celtic sea salt
2 pinches ground cayenne pepper
1 1/2 tsp Chinese five-spice powder
1/2 cup shredded unsweetened coconut flakes
2 egg whites
1 pound shrimp, deveined and peeled
Heat 2 inches oil over medium-high heat. Season coconut flour with salt, cayenne pepper and five-spice powder.
Add coconut flakes to seasoned coconut flour and combine. Lightly beat the egg whites. Dip shrimp in the egg whites, then coat with the coconut bread. Fry shrimp 5 minutes in hot oil until evenly golden and crispy. Serve with orange marmalade. Makes 4 servings.
Orange Marmalade:
1 cup prepared yellow mustard
¼ cup Swerve confectioners or 1/4 tsp stevia glycerite
¾ cup coconut vinegar or cider vinegar (see below)
2 TBS butter or coconut oil, melted
1 tsp orange oil/extract
Make the dipping sauce: combine ingredients in a small bowl. Mix well and enjoy. Makes 4 servings.
NUTRITIONAL COMPARISON: (6 shrimp)
OUTBACK Steakhouse coconut Shrimp = 690 calories, 21g fat, 29g protein, 67 carbs, 8 fiber
OUTBACK ORANGE Marmalade (1/4 cup serving) = 403 calories, 0g fat, 0g protein, 107g carbohydrates!!! 1.6g fiber
"Healthified" Coconut Shrimp = 252 calories, 14g fat, 30g protein, 12 carbs, 7g fiber (4 effective carbs)
"Healthified" Orange Marmalade (1/4 cup serving) = 29 calories, 0g fat, 0g protein, 2 carbs, 0 effective carbs
Coconut Vinegar nutritionally exceeds other vinegar in its amino acid, vitamin and mineral contents, and is an excellent source of FOS (a prebiotic that promotes digestive health). In addition to using in your favorite dressings and marinades, our Coconut Vinegar may also be used instead of apple cider vinegar for skincare or with any internal cleansing program. (This delicious vinegar does not have a coconutty flavor.) Click HERE to find.