Testimony of the Day
"I have been following Maria closely for a couple of years now.  I adapted over time to her grain-free/sugar-free lifestyle.  It definitely didn't happen overnight for me, but within the time it became an easy habit.  Last August I decided to purchase a package with Maria because I still felt there was a major missing link to my healing.  I knew I was eating pretty good, but I was still having a lot of issues: depression, anxiety, major cravings, sleep issues, a few extra pounds, etc.  I felt like there was something off with my hormones so that is what led me to purchase the package with Maria.  Once I purchased the package Maria sent me a long questionnaire to fill out online.  By the next day, she had gotten back to me with a detailed list of supplements to be taking. She also recommended some blood work to have done to test for deficiencies, etc. I ordered the supplements that day (warning-not cheap but so worth it!). I also started eating according to the meal plan she sent, which made it so easy.
I am not exaggerating when I say that I felt improvements almost instantly. Within the first week, I felt like a new person. I wasn't completely "cured" but I was well on my way. 
It has now been almost 5 months since I contacted Maria. I am off meds for depression, I sleep so much better, and my anxiety is pretty much gone. I feel happier and more at peace now than I have in years.  My sleep still continues to improve. For me, that was the thing that took the longest to change. I went from sleeping about 4 hours a night and now I am up to between 7-8 each night. For me that is awesome!  I still hope to reach a full 8 hours or more on a consistent basis, and I think I will get there soon.
I would have to say working with Maria is the best money I have ever spent. Mentally and emotionally I am at the best place I have ever been in my life.  I am a better wife and mother in so many ways.  I didn't realize how debilitating my anxiety and depression were until I started feeling good.  I wake up happy every day now!  I could never put a price on that. -Cami"
Click HERE to start your journey to a keto-adapted diet!
KETONES
When you hear the words "butter" or "coconut oil" you have been trained to think "heart disease!" Well, I am here to tell you we have been replacing these natural good-mood fats with rancid vegetable oils (corn/canola/soybean) overloaded with omega 6 fats. Butter and coconut oil, actually protect the omega-3s in our brain. Outside of mother's milk, coconut oil is nature's richest source of medium-chain triglycerides (MCT); they are extraordinary fats because they are not processed by your body in the same manner as long-chain triglycerides. Coconut oil increases thermogenesis, which increases metabolism and produces energy. The medium-chain fats in coconut oil go directly to the liver and are immediately converted to energy, we call these KETONES. It also increases metabolism because it is easily absorbed and produces organelles in our cells. We have studied cows and other animals with different fats:
Feed animals vegetable oils = put on weight and produce fatty meat
If you feed them coconut oil = very lean
Normal fat metabolism depends on bile salts that have been released from your gallbladder before broken down in your digestive system. Coconut oil bypasses bile metabolism and go directly to your liver where they are converted into ketones.
The liver immediately releases KETONES into the bloodstream transported to the brain to be used as fuel.
BENEFITS OF KETONES:
Ketones = stable source of energy for the brain during periods of low blood sugar without the harmful neurological side effects associated with high blood sugar.
Ketones = preferred source of brain food in people affected by diabetes or any neurodegenerative condition such as Alzheimer's, ALS, Parkinson's, & Multiple Sclerosis. In these conditions, the brain can no longer use glucose for fuel so we need to use an alternative source…ketones!
Ketones = help heart patients recover from a heart attack and they can dramatically shrink cancerous tumors.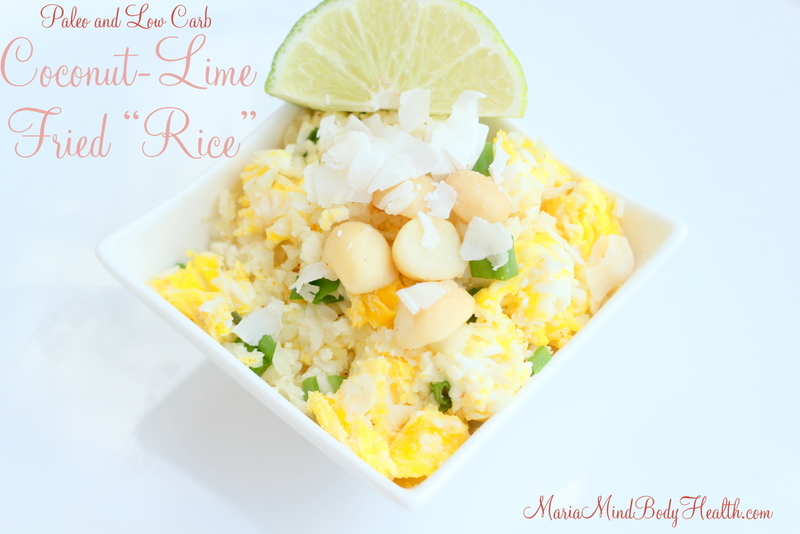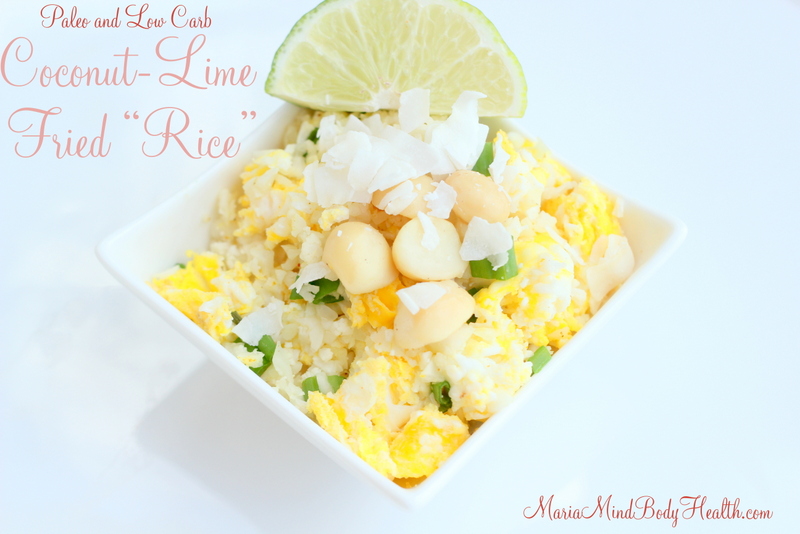 So let's use some flavorful coconut oil to help our brain and body!
SAUCE
1/4 cup lime juice
2 TBS organic Tamari (soy sauce)
1/2 tsp stevia glycerite (or 2 TBS Swerve)
1 TBS grated lime peel
"RICE"
1/2 cup macadamia nuts, coarsely chopped
1/2 cup unsweetened coconut flakes
2 TBS coconut oil, divided
3 eggs, beaten
1 TBS minced fresh ginger
1 1/2 cups chopped zucchini
4 cups cauliflower "rice"
1/4 cup chopped cilantro
SAUCE: Combine all sauce ingredients in a small bowl. Set aside.
"RICE": Place the cauliflower heads into a food processor (click HERE to find the one I use), pulse until small pieces of 'rice.' Set aside.
Add 1 TBS of the oil to skillet; stir-fry eggs over medium heat 1 to 2 minutes or until scrambled but still moist. Remove eggs.
Add remaining 1 tablespoon oil and ginger to skillet; stir-fry 40 to 60 seconds or until fragrant. Add zucchini and cauliflower "rice". Increase heat to medium-high; stir-fry 2 to 3 minutes or until crisp-tender. Stir in the sauce until combined. Stir in egg, cilantro, half of the nuts, and half of the coconut. Serve topped with remaining nuts and coconut. Makes 6 servings.
NUTRITIONAL COMPARISON (per serving)
Traditional Fried Rice = 390 calories, 12g fat, 9g protein, 61g carbs, 2g fiber (59g effective carbs)
"Healthified" Fried Rice = 220 calories, 19.8g fat, 6.3g protein, 7.3g carbs, 3.1g fiber (4.2g effective carbs)