SHOPPING LIST
If you haven't noticed, I do not allow advertising on my site.
I just didn't agree with some of the products that were advertised. They were keto products, but they were unhealthy and I would never personally eat most of the products. It was hard to say no to blog advertisements; they pay thousands of dollars a month, but I just felt uncomfortable about having the products I didn't recommend on my website.
Instead, I have created a shopping list where you can find all the healthy ingredients that are difficult to find in the grocery store (and if you do find them, they are often very expensive).
I have done a lot of detective work and found the lowest prices on for all of the products I use and love. Everything from food, pantry items, kitchen tools, supplements, and skin products are on my list.
I rarely waste time in the grocery store because I find everything online for a way better price!
All you have to do is click on the words in my recipes and it will take you right to the correct item. If you add them to your cart I get a tiny commission that helps me afford to keep practicing recipes (Recipe experimenting can costing me a fortune!…but I love helping!).
I also have GREAT HOLIDAY GIFT IDEAS on the list!
Happy Shopping and THANK YOU for all your support!!!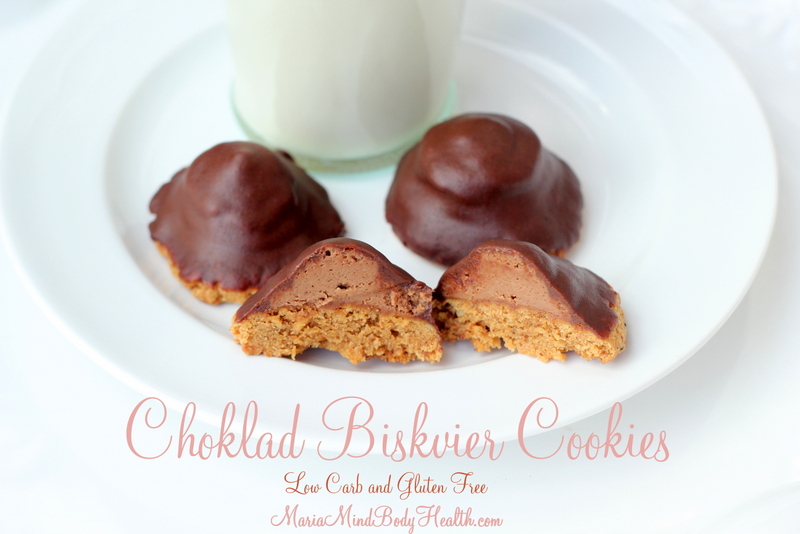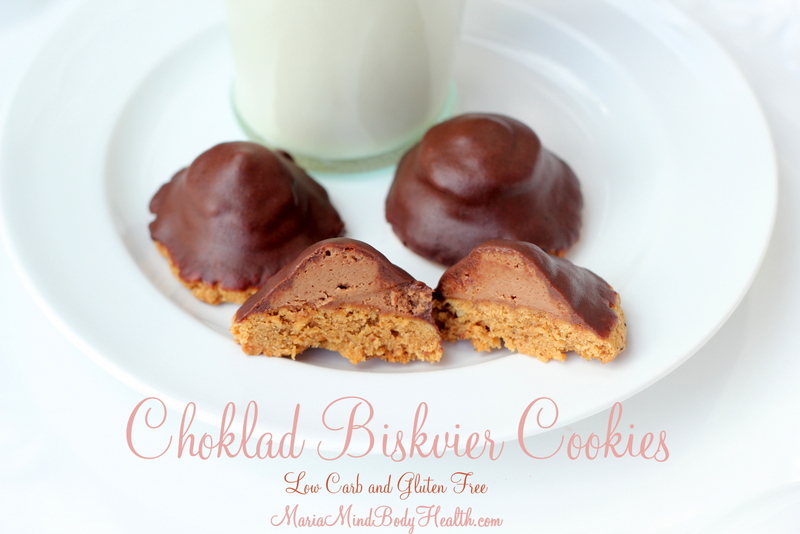 COOKIES:
14 oz almond butter
2 egg whites
1 cup Swerve (OR 1/2 cup Allulose)
FILLING:
1 cup butter, at room temperature
1 cup Swerve
2 tsp vanilla extract
2 pasteurized egg yolks
4 tsp unsweetened cocoa powder
COATING:
12 oz ChocoPerfection dark chocolate, chopped
4 tsp coconut oil or melted butter
OR
2 TBS butter or coconut oil
1 oz unsweetened baking chocolate
6 TBS almond milk OR heavy cream
1/4 cup Swerve confectioners
1 tsp stevia glycerite
To prepare cookies: In a bowl of an electric mixer on medium speed, beat almond butter, egg whites, and natural sweetener until thoroughly combined, about 2 minutes, scraping downsides of the bowl as necessary. Cover the bowl with plastic wrap and refrigerate at least 30 minutes.
Preheat oven to 325 degrees and line baking sheets with parchment paper.
Using a small scoop, form dough into balls (or drop by heaping teaspoons) and place 2 inches apart on prepared baking sheets.
Moisten the flat bottom of a glass with water, dip into ¼ cup of erythritol and carefully press prepared glass bottom into dough balls, flattening dough; repeat with remaining dough.
Bake until lightly brown, 18 to 20 minutes. Remove from oven and cool cookies on baking sheets for 5 minutes, then transfer to a wire rack to cool completely.
To prepare to fill: Line baking sheets with wax paper. In a bowl of an electric mixer on medium speed, beat butter until creamy, about 1 minute. Add sweetener, vanilla extract, egg yolks, and cocoa powder, and mix until smooth, (scraping downsides of the bowl as necessary) about 2 minutes.
Using a small knife, spread about 1 tablespoon filling on top of each cookie, making a rounded top. Transfer cookies to prepared baking sheets and refrigerate for at least 1 hour.
To prepare chocolate coating: Break the chocolate into small pieces. In a double boiler over gently simmering water (or in a microwave oven), melt chocolate. Whisk in 2 teaspoons oil (or melted butter), adding more to reach desired consistency. (OR: Place the erythritol in a coffee grinder and blend into a smooth powdered sugar texture (this is optional, but provides smooth chocolate).
Place the butter and chopped chocolate in a double boiler (or in a heat-safe dish over a pot of boiling water). Stir well until just melted (don't burn the chocolate!), add in the cream and sweetener. Stir until smooth and thick). Let mixture cool for a few minutes, then dip cookies into chocolate mixture, holding onto the almond base.
Return cookies to prepared baking sheets and refrigerate until chocolate hardens at least 30 minutes. Store in refrigerator and serve chilled. Makes 24 cookies.
NUTRITIONAL COMPARISON (per cookie)
Traditional Cookie = 289 calories, 18g fat, 3.2g protein, 30.7g carbs, 1.4g fiber
Healthified Cookie = 187 calories, 18g fat, 3.2g protein, 3.8g carbs, 0.7g fiber
Testimony of the Day from a Type I diabetic
"Maria, Kathy, and I have to let you know what the time with you has done for us. As you know I am a type 1 diabetic and am always looking to improve my eating habits. And like most Americans, we are also trying to fight the onslaught of cheap easy food and what it does to us. My goal as a type 1 diabetic was to reduce my insulin intake and to stop taking drugs that doctors feel are necessary for diabetics take just because we are diabetics.
In my search for better meals and healthier eating a friend of mine recommended you. From our very first session I learned, I was close. But, the little changes I made were a world of difference. And as continue making changes that are in line with your teaching I continue to heal my body. For example, before we changed our food combinations I was taking up to 40 units of insulin a day.
The changes started lowering the amount of my daily use of insulin on the very first day. I am now down to using between 15 and 20 units a day. That means my body is storing less fat and I am beginning to fuel my body with fats and moderate protein instead of carbs. What is more impressive is that I have never been under 20 units of insulin a day in five years as a diabetic. I thought the first day was a fluke. But, it is now the norm. And most important I am eating as much if not a little more food each day. I am not starving at all. My wife is not as strict as I am. However, she is making the changes I am making every day. She is also losing weight and getting closer to her natural body weight. There is little to no effort to make the changes.
The only things that are hard for her to give up totally are wheat bread and a little Diet, Dr. Pepper, a week. However, she is taking steps every day to change her life over and plans to be completely changed in the next few weeks.
Thank you, Maria, for helping us get on the right path to better health. Marc"
To get started on your path to health click HERE. I'd be honored to help you too!
From the Chapter: Keto-Adapted Diets Help Heal Auto-Immune Disorders 
I get a lot of type 1 diabetics that comment or write to me saying that I need to remember to say type 2 diabetes when I write about carbohydrates and my success stories. I understand the differences between type 1 and type 2, but a well-formulated keto-adapted diet does help type 1 also! Type 1 diabetes develops when antibodies destroy the cells in the pancreas that produce and secrete insulin. The body normally produces these antibodies to defend itself from foreign invaders, but sometimes these helpful antibodies turn on the body's own cells. In the case of type 1 diabetes, the antibodies target the pancreatic cells. Most of the time, these antibodies can be identified through the examination of a blood sample. When antibodies are present in the blood, it means the blood is attacking a foreign substance. When food leaks from the intestines into the bloodstream (because of leaky gut), the blood reacts by attacking the protein found in foods, such as the gluten found in wheat or the casein found in dairy. In this case, we need to lower the autoimmune response as well as count carbohydrates and excess protein. This is why a high-fat, moderate-protein, low-carb, and allergen-free diet works for autoimmune disorders. There have been several studies proving an association between type 1 diabetes and celiac disease[51], so when eliminating gluten, carbs, and excess protein, I have some awesome results.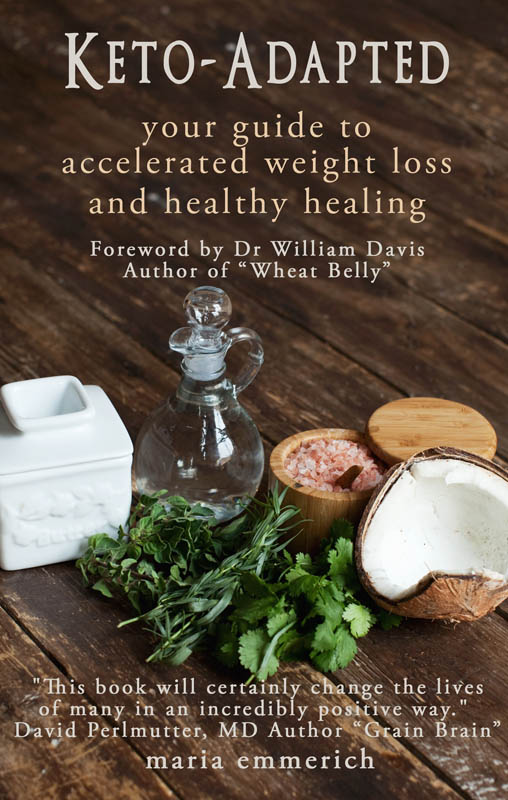 If you are a type 1 diabetic and you start to eat a well-formulated keto-adapted diet, it is extremely important to work closely with your doctor. When clients tell me that their doctor told them, "Don't worry, eat whatever you want, just make sure you cover your glucose with insulin," it's like saying to a firefighter, "Don't worry, pour as much gasoline as you like on that fire, as long as you cover it with enough water." It is absolutely dangerous and irrational. In this case, I suggest finding a new doctor who will encourage you to eat a keto-adapted diet while watching your need for insulin.
To read more, check out Keto-Adapted.
Click HERE to get a limited edition of the Hard Cover.
Thank you all for your love and support!