Testimony of the Day
"This is a partial before after photo of me.  I couldn't find any photos of me at my highest weight (185 in college).  On the left I was about 170 and today I am 145. But thanks to Maria, I am the healthy and happy person I am today." Craig
To get started like Craig, click HERE. I'd be honored to help you too!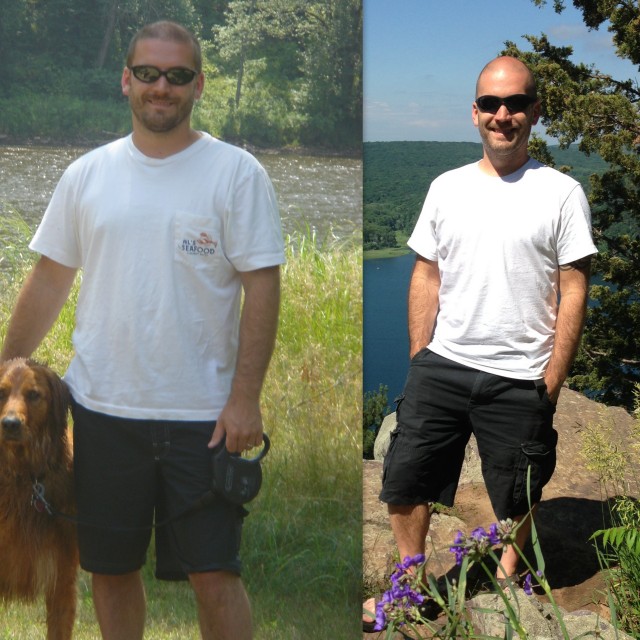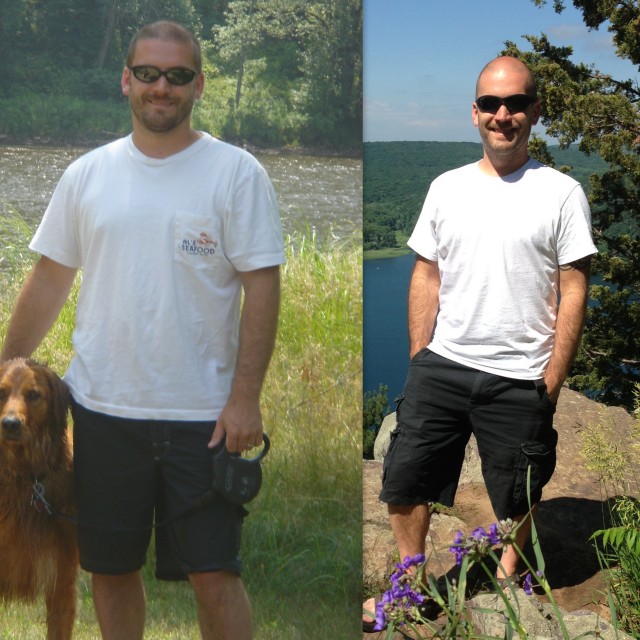 Coconut Sugar
Coconut sugar is a sweetener that has become very popular in the past few years. Man, I get a million questions about this sweetener. This sugar is derived from the coconut palm tree and is hyped as being more nutritious and lower on the glycemic index than sugar. Coconut sugar is made in a two-step process:
1. A cut is made on the flower of the coconut palm, and the liquid sap is collected into containers.
2. The sap is placed under heat until most of the water in it has evaporated.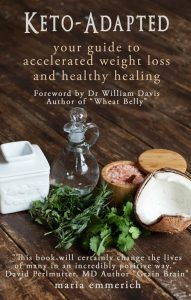 Coconut sugar does maintain some of the nutrients found in the coconut palm. It is difficult to find exact data on this, but according to the Philippine Department of Agriculture, coconut sugar contains several nutrients.[39] Most notable of these are the minerals iron, zinc, calcium, and potassium, along with some polyphenols and antioxidants that may also provide some health benefits. The reason it is lower on the glycemic index is because it also contains a fiber called inulin, which may slow glucose absorption.[40]
Even though coconut sugar does contain some nutrients, you'd have to eat a ridiculous amount of it to really get any benefits from these nutrients. You would get a lot more from non-sweet foods. Coconut sugar has the same amount of empty calories as table sugar. So again, you may be thinking, "OK Maria, if I want to sweeten something a little, I will use coconut sugar since it seems less harmless than honey." No! Let me surprise you with a tidbit: even though I see claims all over the web that coconut sugar is commendably fructose-free, 70 to 80% of it is made of sucrose, which is half fructose (and half glucose)![41]  This essentially means that coconut sugar supplies the same amount of fructose as regular sugar, gram for gram.
As long as you understand just how detrimental fructose is not only to your waist line, but also to the overall health of your cells and liver, you see that coconut sugar should be avoided.
Read more about this in my new book Keto-Adapted.
If you would like to help out a small family, rather than large business, I am happy to announce that you can now get my books as a high quality ebook that works on any platform. Plus, most of the profits don't go to Amazon or apple! 
Click HERE or select "My Books" above to get your copy now
!
Click HERE to get a limited edition of the Hard Cover.
Click HERE to get a soft cover.
Thank you all for your love and support!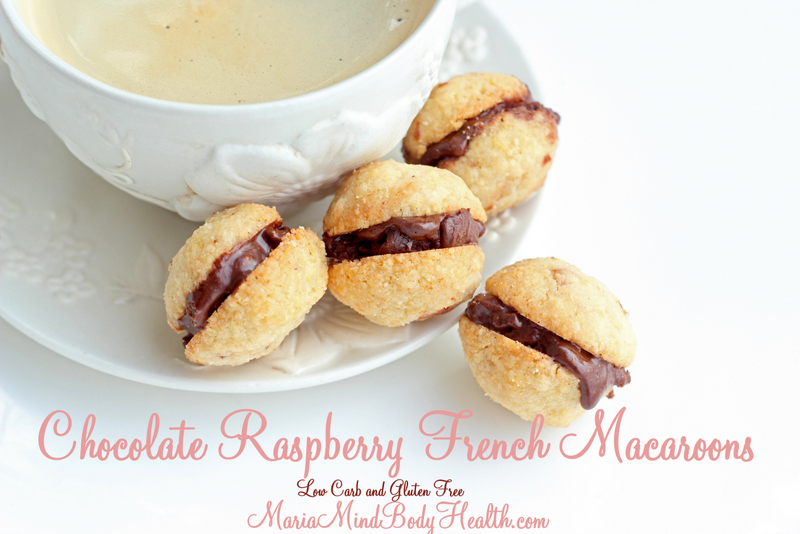 MACAROONS:
2 cups blanched almonds
1/2 cup Swerve (or erythritol and 1 tsp stevia glycerite)
3 large egg whites
3/4 tsp Redmond Real Salt
3 TBS Swerve (or Erythritol)
3 TBS unsweetened cocoa powder
GANACHE:
3 oz unsweetened chocolate, finely chopped
1/3 cup vanilla almond milk (or heavy cream)
Swerve or stevia glycerite (to taste)
1 TBS coconut oil or butter, softened
1/16 tsp raspberry extract
Place 1/2 cup Swerve or erythritol in a coffee grinder/food processor and blend until a fine powder (or use confectioners Swerve). Macaroons: Line 2 baking sheets with parchment paper. Pulse almonds with 1/2 cup Swerve in a food processor until very finely ground, 2 to 3 minutes, then transfer to a bowl (or use blanched almond flour). In another bowl, beat egg whites with an electric mixer at medium speed until they just hold soft peaks. Add Swerve, cocoa powder and salt, a little at a time, beating, then increase speed to high and continue to beat until whites just hold stiff, glossy peaks. Stir almond mixture into meringue with a rubber spatula until completely incorporated. (Meringue will deflate) Spoon batter into bag, pressing out excess air, and snip off 1 corner of plastic bag to create a 1/4-inch opening. Twist bag firmly just above batter, then pipe peaked mounds of batter (the size of a chocolate kiss) onto lined sheets about 1 1/2 inches apart. Let cookies stand, uncovered, at room temperature until tops are no longer sticky and a light crust forms, 20 to 30 minutes. Preheat oven to 300 degrees F. Bake cookies for 20-30 minutes or until crisp and edges are just slightly darker. Cool completely on sheets on racks, about 30 minutes.
GANACHE: Melt chocolate with cream in a metal bowl set over a pan of barely simmering water or in top of a double boiler, stirring until smooth. (Bowl should not touch water) Remove bowl from heat, then add coconut oil or butter and raspberry extract, stirring until butter is melted. Let stand at room temperature until cooled completely and slightly thickened.Carefully peel cookies from parchment (they will be fragile). Sandwich a thin layer of ganache (about 1/2 teaspoon) between flat sides of cookies. Makes 24 sandwich cookies.
NUTRITIONAL COMPARISON (per serving)
Traditional Macaroons = 105 calories, 6.5g fat, 2.6g protein, 12 carbs, 1.6g fiber
"Healthified" Macaroons = 71 calories, 6.4g fat, 2.6g protein, 2.8 carbs, 1.6g fiber