Testimony of the Day
"I started to follow Maria last March 2013, my before picture that in Portuguese says "Antes" it looks like I was pregnant but I wasn't, my baby had almost 1 year old at that time, I was a type 2 diabetic, and I`m not anymore, I have hypothyroidism, and I was always anxious, nervous, tired. I used to have migraines and trouble sleeping, not anymore! I have 3 kids under 5, and now I have the energy that I need to take care of them and play with them, I just love to be on my own skin now, my "Hoje" pic shows how I look today with 50lb down, I fell like my real me again, life is great! thanks, Maria for everything, I can't thank you enough!" – Cynthia
To get the results like Cynthia, click HERE for easy to follow keto-adapted meals.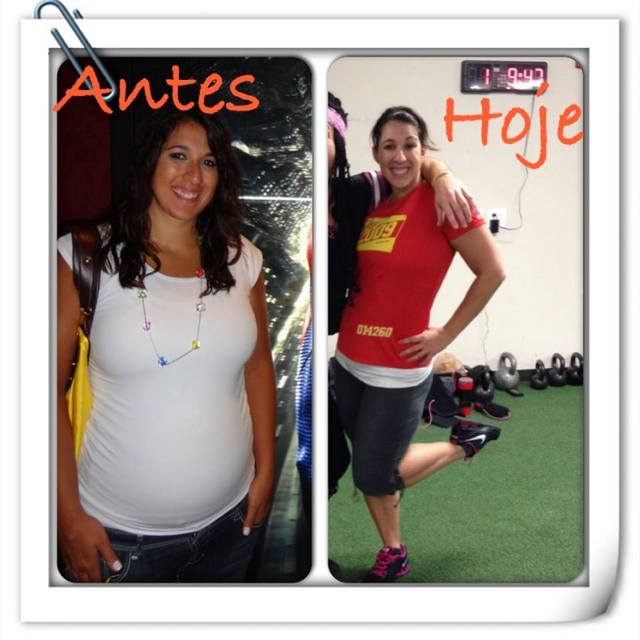 Do you know anyone suffering from Alzheimer's? How is your memory? Do you only eat egg whites? If you are, you are skimping on an essential mineral called CHOLINE! Egg yolks are filled with this vital mineral.
Choline is a chemical similar to the B-vitamins and serves many functions in our bodies:
1. Composes the structure of cell membranes, the flexibility and integrity depend on adequate supplies of choline.
2. Protects our livers from accumulating fat. 77% of men, 80% of postmenopausal women, and 44% of premenopausal women developed fatty liver when they ate a diet deprived of choline. (Premenopausal women were not as affected because choline can be made by our bodies from the synthesis of phosphatidyl-choline, which is regulated by estrogen from our ovaries).
3. It is the precursor molecule for the neurotransmitter acetylcholine, which I write a whole chapter on in Secrets to Controlling Your Weight Cravings and Mood. This is a neurotransmitter that carries messages from and to nerves, acetylcholine is the body's primary chemical means of sending messages between nerves and muscles.
4. Because of rapid development in fetuses and infants, we have a great need for choline in our early lives. Human milk has high levels of choline. Studies prove that mothers who don't consume enough choline have babies with less brain development and poorer memories after birth.
I know, I know, you are asking, "Well, how many eggs can I have in a day? What about the cholesterol in the yolks?" When most people hear "cholesterol," they think "bad." Like most things in life, the reality is more complex. First off, I am talking about using farm-fresh, free-range, omega-3 filled eggs. Yes, they cost more, but I don't need to buy Choline or Omega 3 supplements…I just spend my money on quality food!:)
Cholesterol is more of our "fire-fighters" that come in to put out the inflammation going on in our body. If your cholesterol numbers are high, you have inflammation going on. What can cause inflammation?
1. Too many Omega 6 fatty acids (omega 3 imbalance)
2. Low-fat dairy products (oxidized milk solids added to skim/1%/2% milk)
3. Processed-prepackaged foods
4. Food Allergies/Sensitivities
5. Alcohol consumption
6. Too much fructose in the diet (Agave, HFCS, JUICE (even 100% natural juice)So instead of forcefully pushing cholesterol down with statin drugs, focus on what is causing the inflammation. People whose diets supplied the highest average intake of choline (egg yolks), have levels of inflammatory markers at least 20% lower than people with the lowest intakes, reports the American Journal of Clinical Nutrition (Detopoulou P, Panagiotakos DB, et al.) Chronic inflammation has been linked to a wide range of conditions including cognitive decline and Alzheimer's, heart disease, osteoporosis, and type-2 diabetes.
So, here is a recipe for our brain!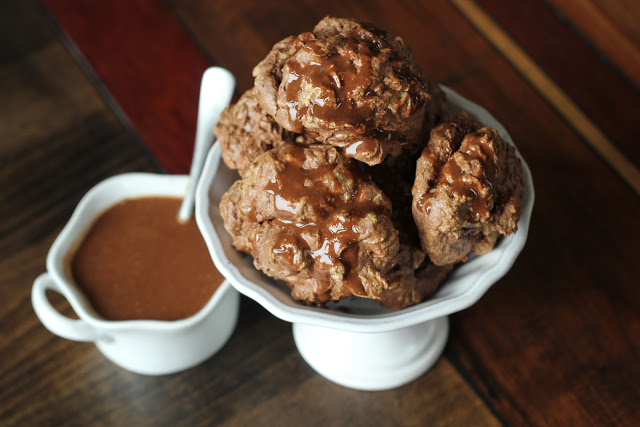 PUFFS:
3 eggs, separated
3 oz cream cheese or coconut cream (if dairy allergy)
1/2 cup chocolate whey protein (vanilla works too)
4 TBS cocoa powder
1/8 tsp cream of tartar
½ tsp stevia glycerite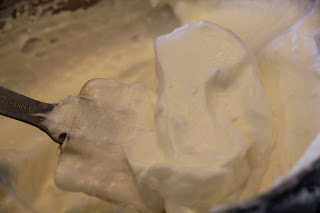 Preheat oven to 300 degrees F. In a bowl, whip egg whites with cream of tartar until peaks are very stiff (about 5 minutes, see photo). Slowly mix in whey protein and cocoa powder. In a separate bowl, blend cream cheese, yolks, and stevia. Slowly add the cream cheese mixture into the stiff egg whites. Grease a cookie sheet or medium-size muffin tin. Fill muffin tin with batter or make little balls of batter on a baking sheet. Bake for 20 minutes (or until golden brown). Remove pans from oven and let cool on a cooling rack. Once cool, use a knife to cut a small hole in the puffs to insert the cream filling.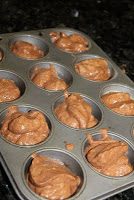 FILLING:
2 cups raw hazelnuts
1/2 cup unsweetened cocoa powder
1/2 cup erythritol
1 tsp stevia glycerite
1/2 tsp vanilla
1/8 tsp Celtic sea salt
3 TBS hazelnut oil (could use other oil like coconut or macadamia nut)
Heat the oven to 400 degrees. Spread the hazelnuts evenly over a cookie sheet and roast until they darken and become aromatic about 10 minutes. Transfer the hazelnuts to a damp towel and rub to remove the skins.
Pulsing the Erythritol in a coffee blender and blending it until a fine powder is an optional step, but it makes a really smooth Nutella.
In a food processor, grind the hazelnuts to a smooth butter, scraping the sides as needed so they process evenly, about 5 minutes.
Add the cocoa, sweetener, vanilla, salt, and oil to the food processor and continue to process until well blended, about 1 minute. The finished spread should have the consistency of creamy peanut butter; if it is too dry, a process in a little extra hazelnut oil until the desired consistency is achieved. Remove to a container, cover, and refrigerate until needed. Allow the spread to come to room temperature before using, as it thickens considerably when refrigerated. It will keep for at least a week.
NUTRITIONAL COMPARISON:
Traditional Nutella = 200 calories, 23 carbs, 2 fiber
"Healthified" Nutella = 110 calories, 3.4 carbs, 2 fiber
More recipes and tips like this can be found in: The Art of Eating Healthy: Sweets. Thanks SO much for your support!