Cheesy Keto Grits
Cheesy Keto Grits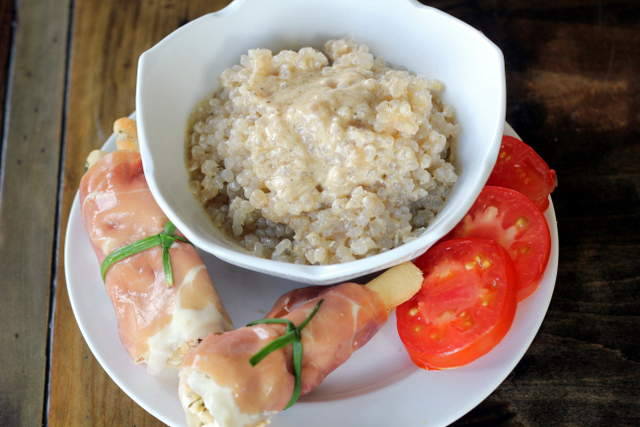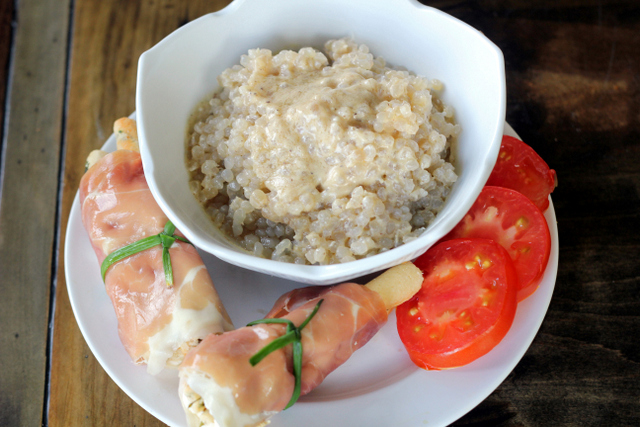 BAKED CHEESE KETO GRITS
1 tsp Celtic sea salt
3 cups Cauliflower "rice" or
Miracle Rice
1/4 cup butter
1/2 tsp black pepper
1 TBS chopped garlic
1 cup Cheddar, coarsely grated
2 large eggs
Preheat oven to 350 F. If using cauliflower, place cauliflower flowerets in a food processor and pulse until small pieces of rice. If using Miracle Rice drain and rinse well. In a saucepan, add butter, salt, pepper, garlic, and cheese, stirring until butter and cheese are melted. Lightly beat eggs in a small bowl, then stir into "grits" (cauliflower rice or Miracle Rice) until combined.
Pour into an ungreased 8-inch square baking dish (2 inches deep) and bake until set and lightly browned, about 1 hour. Serve immediately. Makes 4 servings.
NUTRITIONAL COMPARISON (per cup)
Corn Grits = 143 calories, 31.1 carbs, 0.1 fiber
Cauliflower = 28 calories, 3 carbs, 1 fiber
"Healthified" Grits = 284 Calories, 7g protein, 3.1 carbs, 0.9g fiber
Testimony of the Day
Hi Maria,
For many years, I have been plagued with many auto-immune maladies.  Most of them were just bothers, skin problems, aches, burning tongue. I had been on a low dose of Prednisone since 2002.  About a year and a half ago, I was diagnosed with Pericarditis and then after several months of tests, Giant Cell Arthritis ( which is inflammation of the arteries going through my temple to the brain). The tests showed major inflammation in my body so I was put on very large doses of Prednisone.  That caused many more problems. We have been trying to lower the dose for about 6 months and it has been up and down.  I have had lab tests every two weeks for the last 15 months.
Then, 5 weeks ago, I began my lifestyle change mainly because it was touted to be good for inflammation and I had gained lots of weight with the help of the Prednisone. After the first two weeks into your program, my inflammation tests were still high  but last week, both indicators showed that my levels were in the normal range. That is the first time in more than 10 years. I can't tell you how happy that has made me and my family.  I am a believer!!!!! I feel good. I don't miss either the gluten or the sugar. I can't thank you both enough for the guidance and information. It just proves that you can teach an old dog, new tricks. Thanks again, Molly"
If you want to get started on your path to healing, click HERE. Don't wait another day!
 Don't forget to take your "before" photo!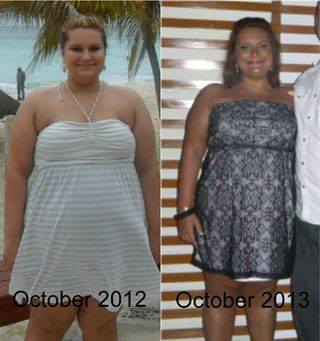 Grits and Other Grains 
Another question I am frequently asked is about grits and wild rice. Yes, they are gluten-free, but for those with a damaged gut (leaky gut) or a damaged metabolism or anyone who wants to become keto-adapted, it is way too high in carbs. It is disturbing to find that 60% of adults never completely heal from the celiac disease despite following a gluten-free diet.[53] It has been found that only 8% of adult patients with celiac disease eating a gluten-free diet reached "normalization," where their intestines completely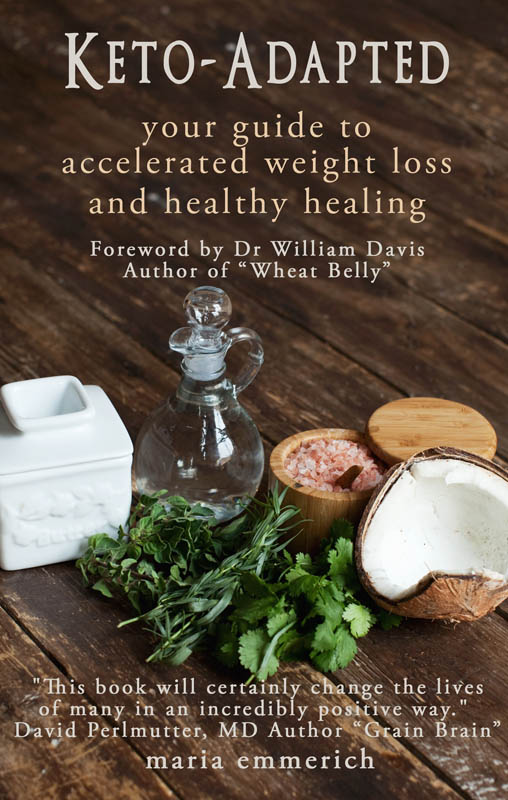 recovered. However, there is new research that may help people with celiac for good! Researcher Alessio Fasano, M.D. has been on the leading edge of recent autoimmune and celiac disease exploration. In 2011, he published a paper titled "Leaky Gut and Autoimmune Diseases" which presented a new theory that suggests prevention and reversal of autoimmune disease is possible.
Read more about healing autoimmune diseases and celiac in my new book Keto-Adapted.
We all know that sugar is bad, but we mistakenly believe complex carbohydrates are healthy and we need to eat them in abundance. BUT what if I told you that "Complex carbohydrates" and "Whole Grains" are just glucose molecules hooked together in a long chain; the digestive tract breaks it down into glucose…also known as sugar. So a "complex carb" diet and a "sugary" diet are pretty much the same things.