Testimony of the Day
"I have been following Maria closely for a couple of years now.  I adapted over time to her grain free/sugar free lifestyle.  It definitely didn't happen over night for me, but within time it became an easy habit.  Last August I decided to purchase a package with Maria because I still felt there was a major missing link to my healing.  I knew I was eating pretty good, but I was still having a lot of issues: depression, anxiety, major cravings, sleep issues, a few extra pounds, etc.  I felt like there was something off with my hormones so that is what led me to purchase the package with Maria.  Once I purchased the package Maria sent me a long questionnaire to fill out online.  By the next day she had gotten back to me with a detailed list of supplements to be taking. She also recommended some blood work to have done to test for deficiencies, etc. I ordered the supplements that day (warning-not cheap but so worth it!). I also started eating according to the meal plan she sent, which made it so easy.
I am not exaggerating when I say that I felt improvements almost instantly. Within the first week I felt like a new person. I wasn't completely "cured" but I was well on my way. 
It has now been almost 5 months since I contacted Maria. I am off meds for depression, I sleep so much better, and my anxiety is pretty much gone. I feel happier and more at peace now than I have in years.  My sleep still continues to improve. For me, that was the thing that took the longest to change. I went from sleeping about 4 hours a night and now I am up to between 7-8 each night. For me that is awesome!  I still hope to reach a full 8 hours or more on a consistent basis, and I think I will get there soon.
I would have to say working with Maria is the best money I have ever spent. Mentally and emotionally I am at the best place I have ever been in my life.  I am a better wife and mother in so many ways.  I didn't realize how debilitating my anxiety and depression were until I started feeling good.  I wake up happy every day now!  I could never put a price on that. -Cami"
Click HERE to start your journey to a keto-adapted diet!
 Don't forget to take your "before" photo!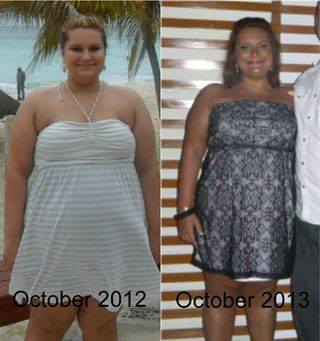 Wild Rice
Another question I am frequently asked is about wild rice. Yes, it is gluten free, but for those with a damaged gut (leaky gut) or a damaged metabolism or anyone who wants to become keto-adapted, it is way too high in carbs.It is disturbing to find that 60% of adults never completely heal fro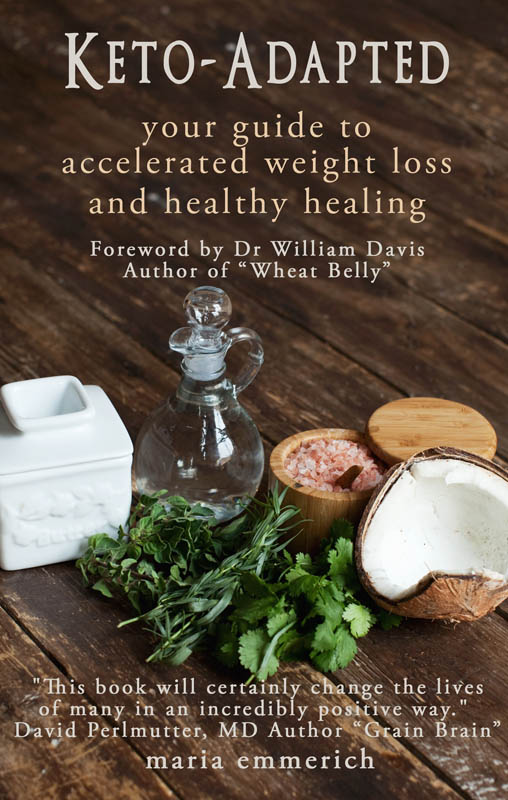 m celiac disease despite following a gluten-free diet.[53] It has been found that only 8% of adult patients with celiac disease eating a gluten-free diet reached "normalization," where their intestines completely recovered.
However, there is new research that may help people with celiac for good! Researcher Alessio Fasano, M.D. has been on the leading edge of recent autoimmune and celiac disease exploration. In 2011, he published a paper titled "Leaky Gut and Autoimmune Diseases" which presented a new theory that suggests prevention and reversal of autoimmune disease is possible.
Read more about healing autoimmune diseases and celiac in my new book Keto-Adapted.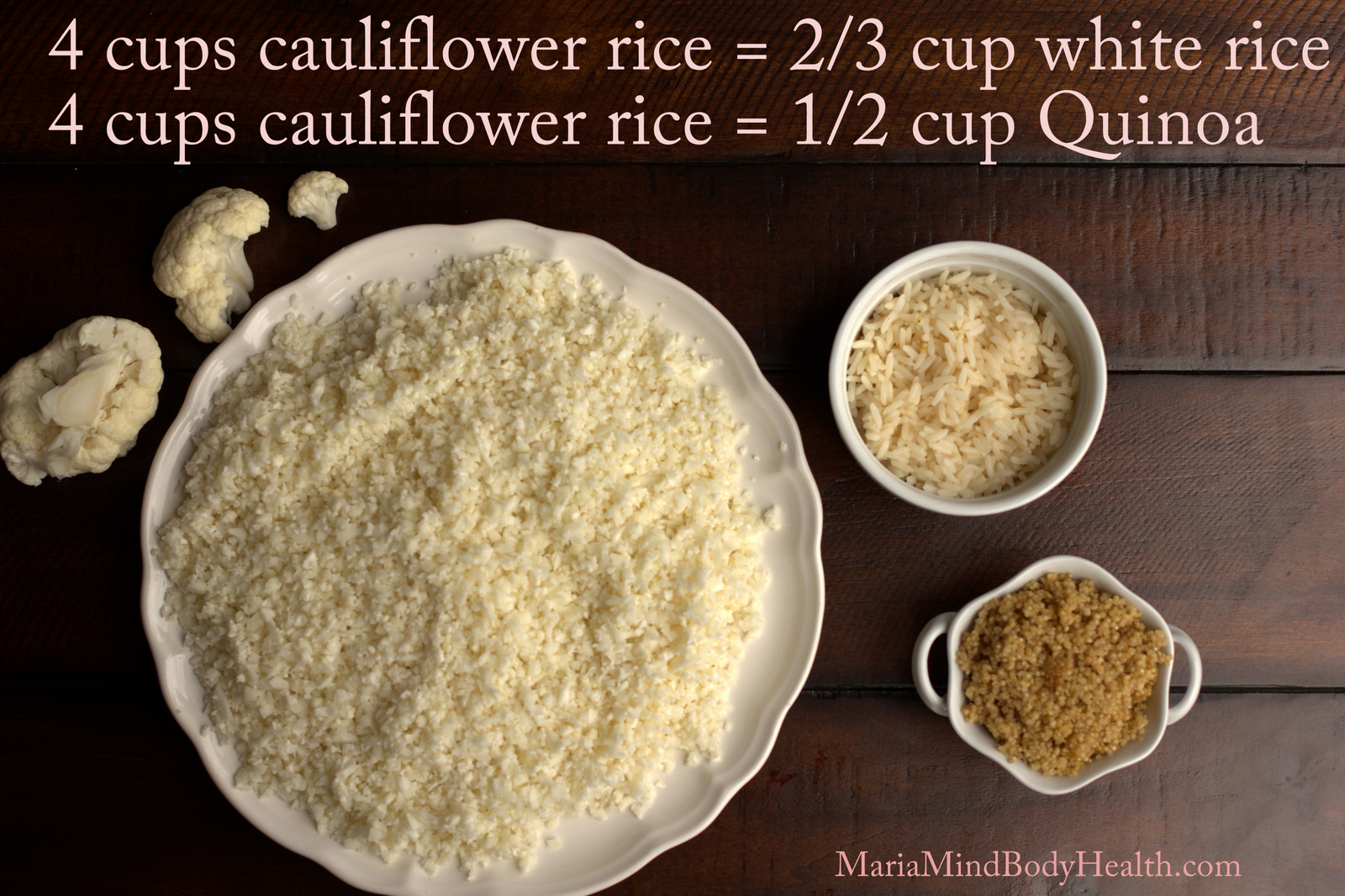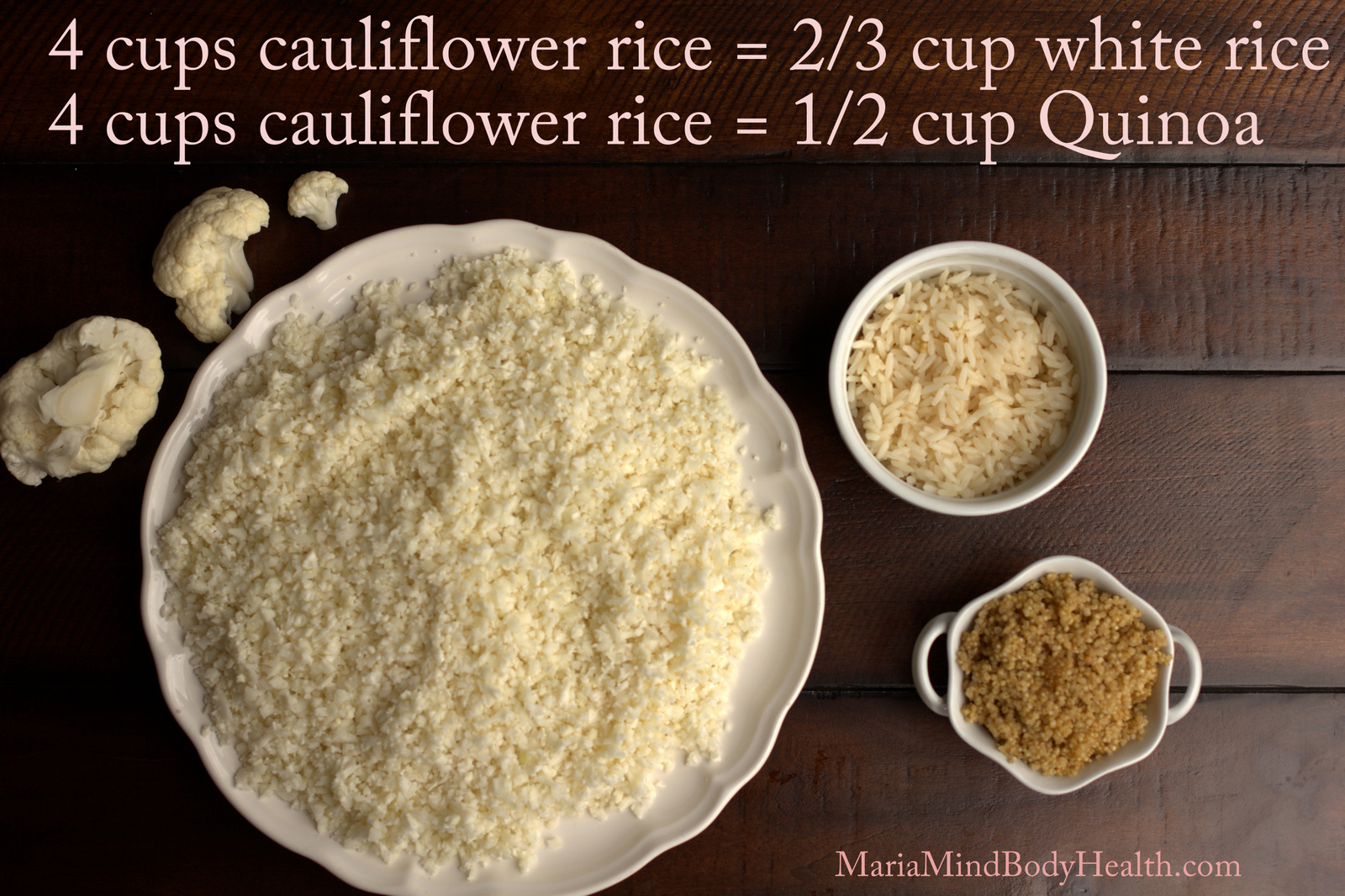 We all know that sugar is bad, but we mistakenly believe complex carbohydrates are healthy and we need to eat them in abundance. BUT what if I told you that "Complex carbohydrates" and "Whole Grains" are just glucose molecules hooked together in a long chain; the digestive track breaks it down into glucose…also known as sugar. So a "complex carb" diet and a "sugary" diet are pretty much the same thing.
To read more on why Asians eat rice without weight gain, click HERE.
Are you a visual learner like I am? Here is a helpful video of me making Cauliflower "Rice" on television. Click HERE to watch.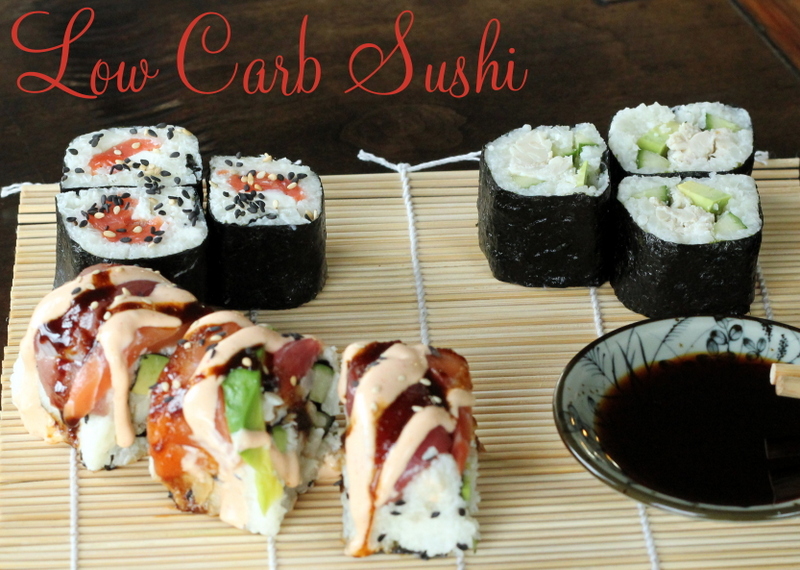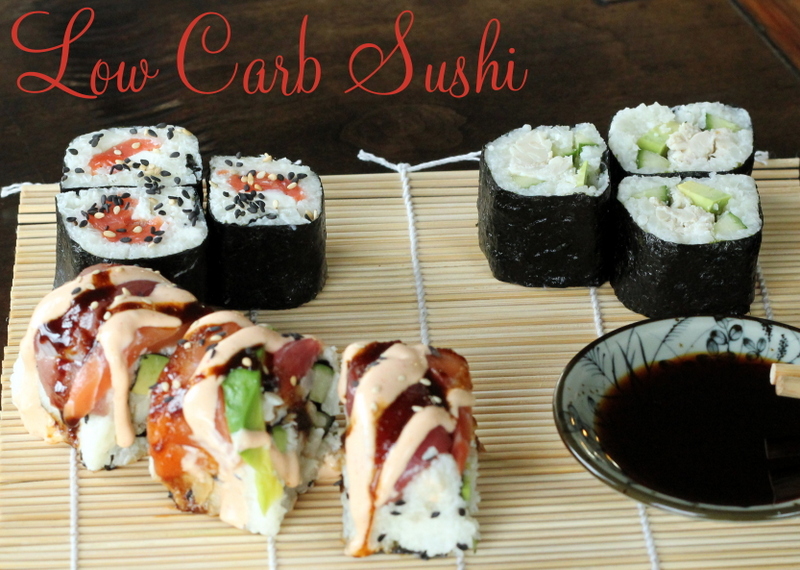 Craig often likes to go to get "healthifed" sushi (sashimi, no rice) with Micah. While he was there he overheard the sushi chef tell the waiter to try the sushi rice because yesterday someone else made it and it didn't taste good. He said he adds over 3 quarts of sugar to each batch of rice, which equals to be 34 grams of ADDED sugar per cup of rice! We never eat rice but that sure is another reason not to! Try my "healthified" sushi instead! Recipes found in The Art of Healthy Eating Savory.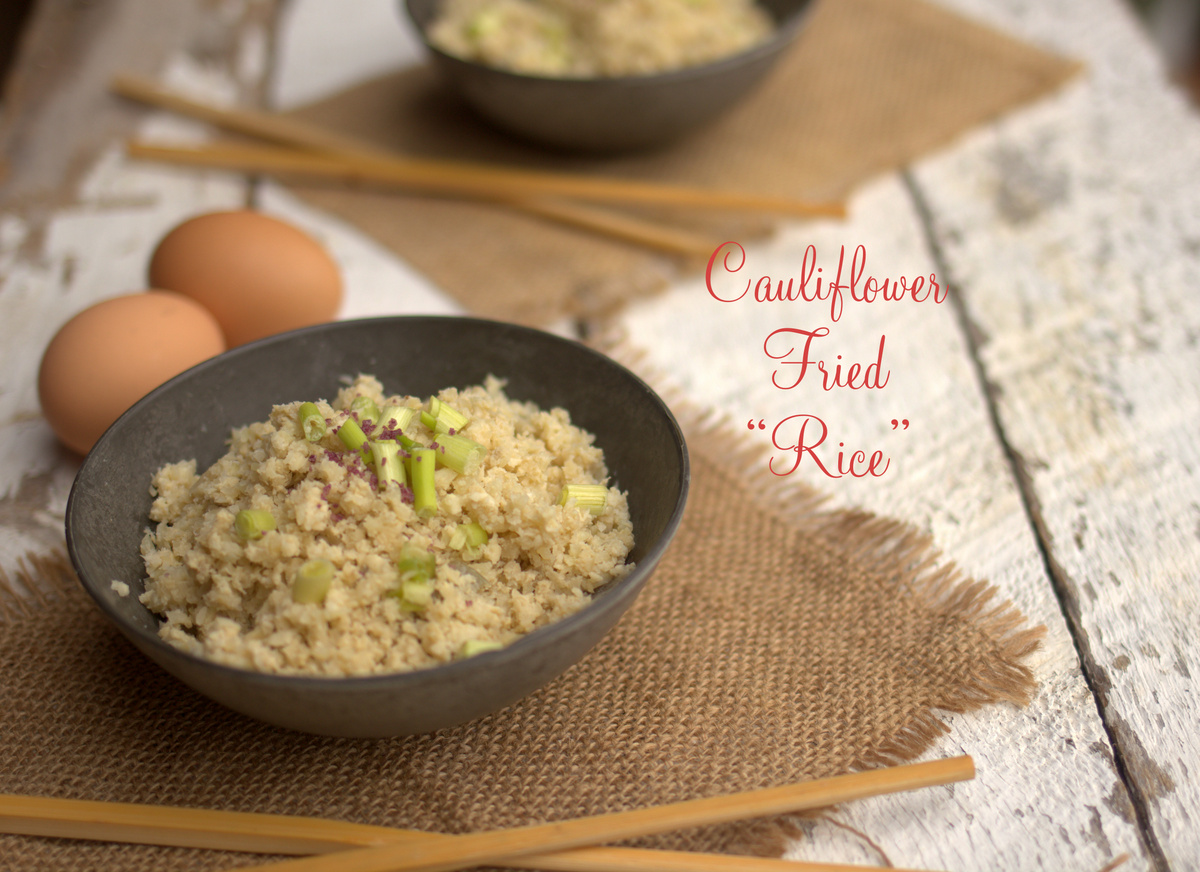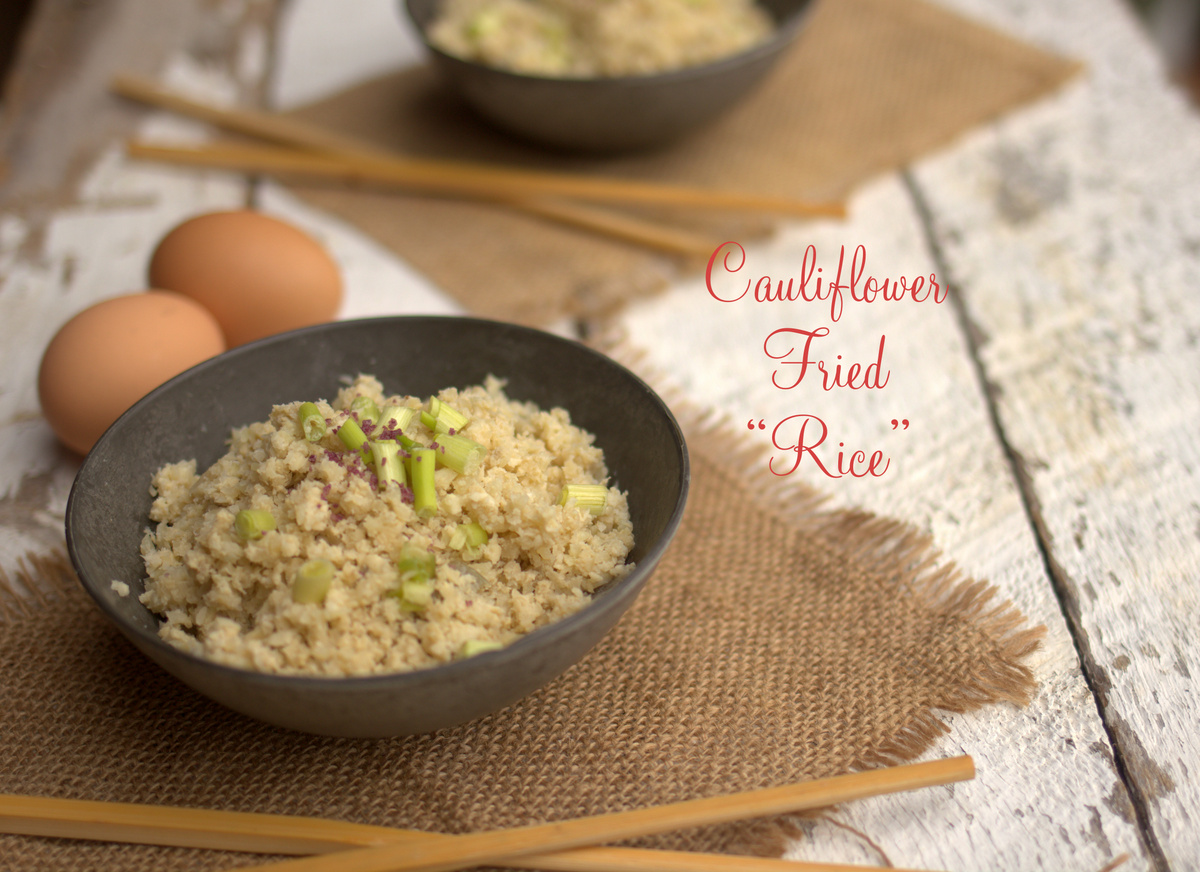 "HEALTHIFIED" FRIED RICE
1/3 cup chopped onion
1 clove garlic
2 TBS butter or coconut oil
4 cups cauliflower, into rice
3 TBS Tamari sauce (soy sauce)
1 tsp fish sauce*see note below
2 TBS minced fresh parsley
1/8 tsp pepper
1 egg, lightly beaten
Place cauliflower flowerettes in a food processor. CLICK HERE TO FIND THE FOOD PROCESSOR I USE TO MAKE "CAULIFLOWER RICE". Pulse until small pieces of "rice." In a skillet, saute onion and garlic in butter until tender. Stir in the cauliflower rice, Tamari sauce, parsley and pepper. Cook over medium-low heat for 5 minutes, stirring occasionally. Add the egg; cook and stir until egg is completely set, about 3 minutes. Makes 4 servings.
NUTRITIONAL COMPARISON (per serving)
Traditional Fried Rice = 301 calories, 7g fat, 6g protein, 41.7 carbs, 1g fiber
"Healthified" Fried Rice = 106 calories, 7g fat, 5.1g protein, 7.3 carbs, 3g fiber
FISH SAUCE:
One staple that every cook should have in their fridge is Fish Sauce. It is a special ingredient that takes good food to amazing food. Fish Sauce, mushrooms and aged cheeses have something called "UMAMI." Umami is a pleasant savory taste produced by glutamate and ribonucleotides, chemicals which occur naturally in many foods. Umami is subtle and not generally identified by people when they encounter it, but blends well with other tastes to intensify and enhance flavors; it plays an important role in making food taste delicious. Red Boat brand is traditionally fermented, not with wheat like most others. This bottle will last you a LONG time – you only use a few drops per dish, it's strong stuff!