Butter Pecan Ice Cream Bites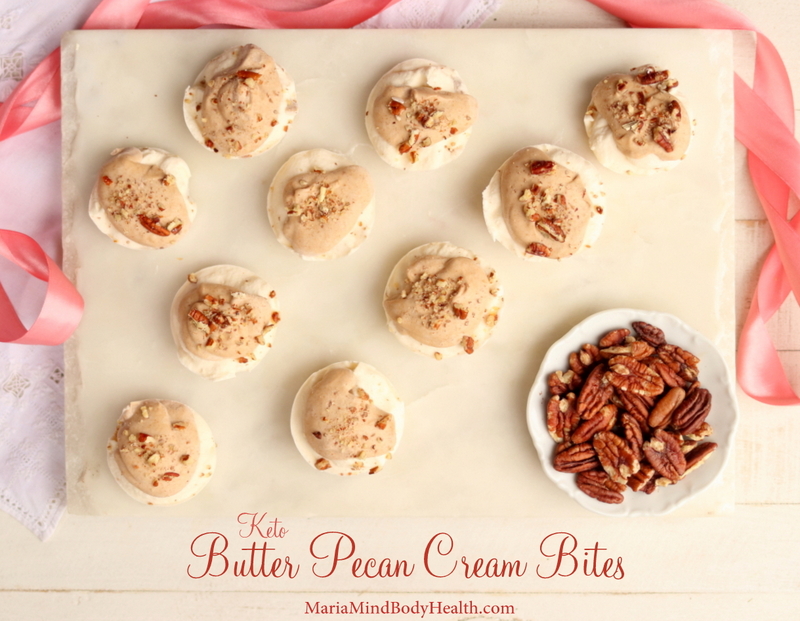 My keto butter pecan ice cream recipe is a total hit on my blog! The only complaint I get about it is that the ice cream is so delicious that many people overeat when they make it. I totally get it! I am a part of the "clean plate club" where you feel the need to eat the whole thing! That is why I practice portion control.
These Butter Pecan Ice Cream Bites are perfect for portion control! AND they are very easy to make on vacation! We are currently in Maui and we love to have a little dessert!
Butter Pecan Ice Cream Bites
Ingredients
1

cup

heavy cream

chilled

1

cup

cream cheese

softened (or Kite Hill brand if dairy free)

¼

cup

ALLULOSE

or equivalent (to desired sweetness)

1

teaspoon

vanilla extract

BUTTER PECAN LAYER:

1/2

cup

butter

4

oz

cream cheese

softened

1/2

cup

pecans

plus more for garnish

1

cup

unsweetened almond milk

1/2

cup

ALLULOSE

1

teaspoon

vanilla
Instructions
Place the heavy cream in a chilled bowl and beat until stiff peaks form. Add in the softened cream cheese, natural sweetener and vanilla; combine until smooth.

Place the mixture into a bendable chocolate mold (I used this muffin pan and placed it on a cookie sheet for stability). Place in freezer until frozen.

To make the Butter Pecan layer, Place the butter in a medium saucepan over high heat. Use a whisk to stir occasionally. Heat until butter starts to froth. Start to whisk often while brown flecks appear. Continue to heat and whisk until the butter turns a dark golden brown (not black).

Place the brown butter and the rest of the ingredients into a blender and puree until well combined. Taste and adjust sweetness to your liking. Divide the mixture into each ice cream bottom. Garnish with additional pecans.

Place in the freezer for at least 2 hours before serving. Store covered in the freezer for up to 1 month.
Notes
Nutritional Info:
227 calories, 28g fat, 3g protein, 2g carbs, 0.4g fiber
TESTIMONY OF THE DAY
"Hi, Maria! I'm so happy I met you! This is my first keto pregnancy after having 3 children and 1 miscarriage, and it is by faaaar the easiest. I started keto to manage my PCOS, but it's not only enabled me to lose 90 lbs pre-pregnancy, but cured a fatty liver, normalized my A1C levels, cured my chronic hives, enabled me to get pregnant the very first month of trying (where it's taken years for #2 and #3) and now virtually has eliminated my nausea throughout my entire pregnancy so far (whereas for my last pregnancy I was sick and on several meds the whole 9 months).
 I also do not have gestational diabetes this time around, where I have before. My increased energy is remarkable, and my other kids love your recipes so much, they often eat them up before I get much of them! 
Thank you so much for helping me to have such amazing health for my husband, kids, and the ministry work we do! It's completely changed my lifestyle for the better!!️"
Most people I consult are doing keto totally wrong. Get fast results with the my NEW Keto School!