BBQ Stuffed Meatloaf
I love BBQ sauce and I LOVE meatloaf! What's not to love about this BBQ Stuffed Meatloaf? It is like a giant cheese stuffed BBQ burger!
Many of you know that I didn't like meatloaf night when I was a little girl. However, if my mom would have called it a gigantic hamburger loaf, I probably would have eaten it without question!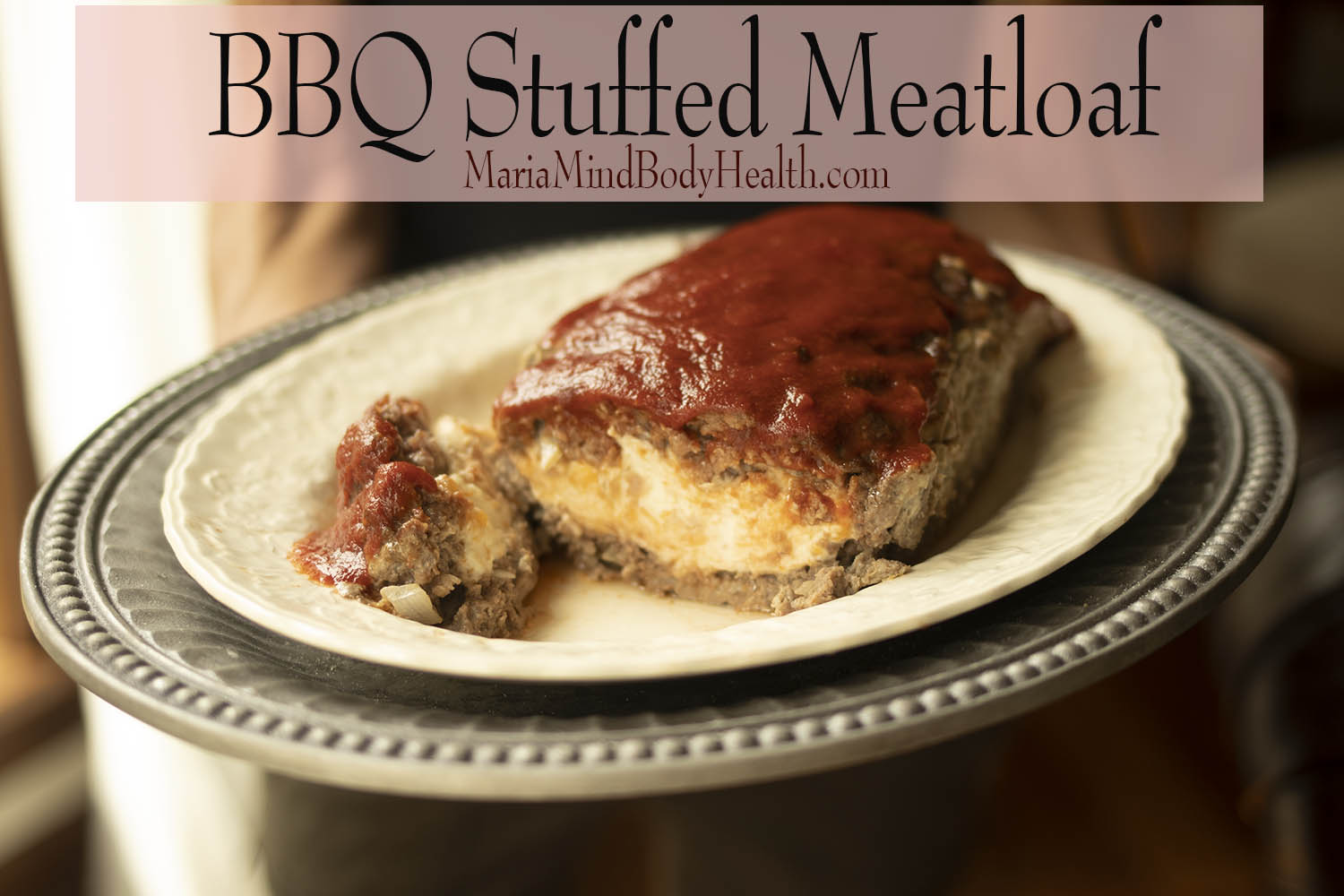 This BBQ Sauce that smothers this delicious stuffed meatloaf is so good, you are going to want to have extra in the fridge to use on everything! To make this delicious BBQ sauce for the meatloaf, you can use smoked salt or liquid smoke. If you are like me and love bbq flavors, I have GREAT news! Redmond Real Salt is making a very special Smoked Salt for me! It is Maria Emmerich's Smoked Salt!
Watch for it coming SOON!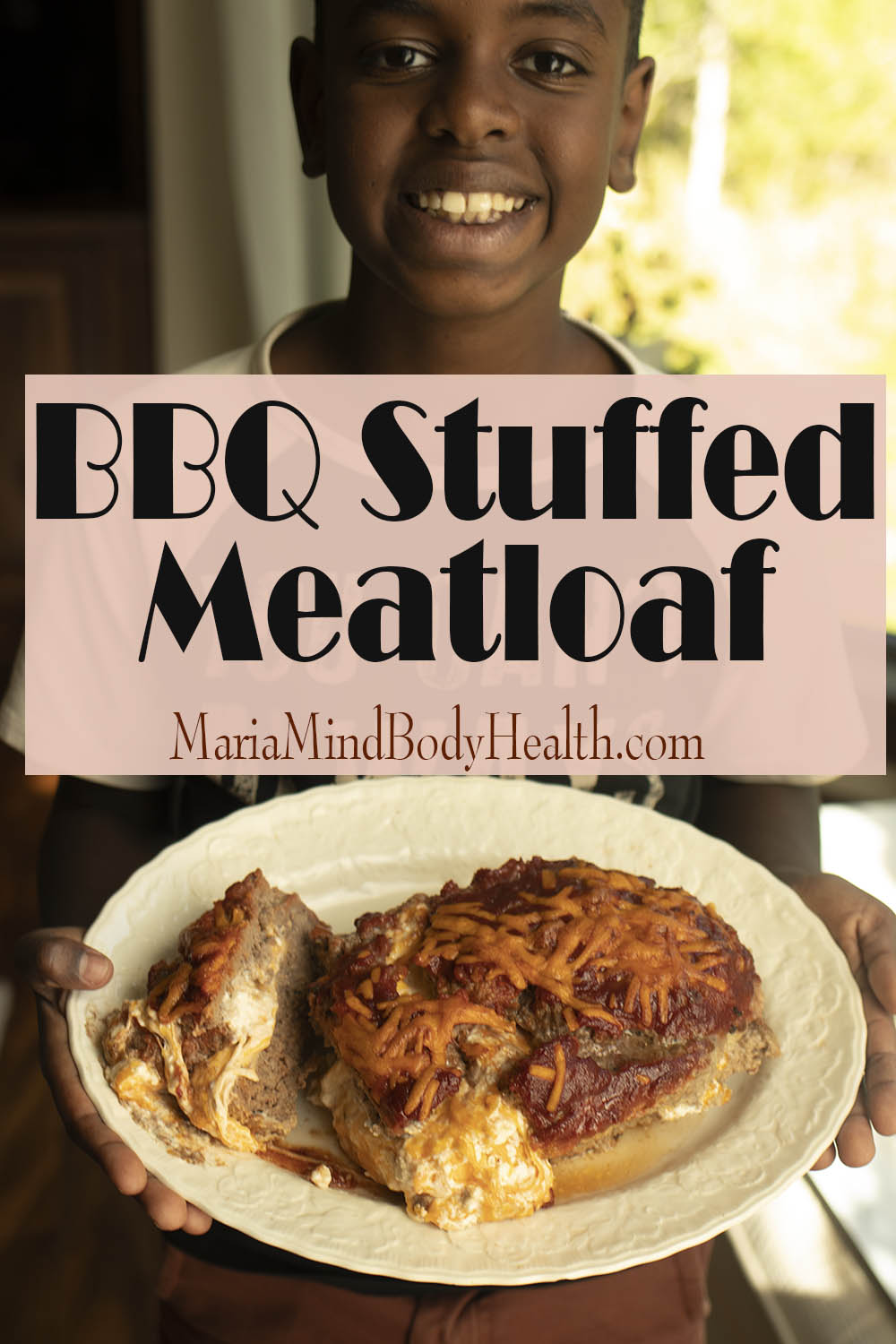 If you are like my family and love recipes that use ground beef, do not miss this amazing deal of FREE GROUND BEEF FOR LIFE! 
You all know that I would rather be on my outside enjoying nature rather than driving to the store and waiting in line to get groceries! That is why I get just about everything mailed to my front door and my favorite delivery twice a month is Butcherbox!
I want to give you guys a chance to try it out, so as a special gift to my followers for a limited time only,  you get FREE meat!
If you want to watch me make delicious keto recipes like this BBQ Stuffed Meatloaf, subscribe to our new YouTube Channel to get updated when the video comes out which will be in a day or two, and comment below on what video recipe we should make next!
EASY BBQ Sauce
Ingredients
1½ cups tomato sauce
2 tablespoons apple cider vinegar
2 tablespoons Swerve confectioners (or a few drops stevia glycerite)
1 teaspoon garlic powder
1 teaspoon onion powder
Optional: if not using smoked salt add ½ teaspoon pure liquid smoke
Instructions
To make the BBQ sauce, Combine all of the ingredients in a medium-sized saucepan. Bring to a boil, then reduce heat and simmer for 15-30 minutes.Store in an airtight container in the refrigerator for up to 2 weeks.
Notes
Nutritional Information (per serving, about 3 tablespoons):
11 calories, 0.3g fat, 1g protein, 1g carbs, 0.2g fiber
BBQ Stuffed Meatloaf
Ingredients
1 pound ground beef
⅔ cup diced mushrooms (for umami and moisture)
¼ cup diced onion
2 eggs, beaten
2 teaspoonsRedmond Real salt, divided
1 teaspoon fresh ground pepper, divided
1 (8 ounce) package cream cheese, softened
1 cup grated Cheddar cheese, plus 2 tablespoons for garnish
1 teaspoon garlic powder
1½ cups keto BBQ sauce (recipe above)
Instructions
Preheat the oven to 350 degrees F (175 degrees C).
Mix together ground beef, mushroom, onion, eggs, 1 teaspoon salt, and ½ teaspoon pepper in a large bowl until combined. Press about ¾ of the meat mixture into the bottom and up the sides of a loaf pan, leaving a well in the middle.
In another large bowl, combine the cream cheese, 1 cup Cheddar cheese, garlic powder, 1 teaspoon salt, and remaining ½ teaspoon pepper. Press cream cheese mixture into the well of the meatloaf. Cover with remaining meat mixture, pressing along the edges to seal. Cover loosely with aluminum foil.
Bake for 30 to 35 minutes or until an instant-read thermometer inserted into the center reads 160 degrees F (70 degrees C). Remove from the oven, and turn oven to broil.
Remove foil. Brush the top of the meatloaf with keto BBQ sauce, and sprinkle with 2 tablespoons grated Cheddar.
Place meatloaf in the middle rack under the broiler and cook until the sauce is bubbly and cheese is melted, 2 to 3 minutes.
Notes
Nutritional Information:
310 calories, 24g fat, 19g protein, 3g carbs, 0.4g fiber
TESTIMONY OF THE DAY
LOST 100 Pounds together in 8 months! 
"These photos were taken nine months apart, on December 8, 2019 and September 6, 2020. In January we cut out high carb foods like pasta, rice, potatoes, flour, sugar, high fructose corn syrup etc.
We are big fans of Maria and Craig Emmerich and recommend their book, keto. Maria has several great cookbooks and a great website with hundreds of recipes posted free. 
I see an endocrinologist every six months for thyroid/ bloodwork and in June he was very happy with my numbers and results. He is pro keto and supports this lifestyle for us.
Steve's lost 60 lbs and I've lost 40 lbs. We eat great. Neither of us are ever hungry.
The end. 🥰" – Melissa
Most people I consult are doing keto totally wrong. Get fast results with the my NEW Keto Packages!