Apple Dippers
Do you make your kids get the Apple Dippers at McDonald's instead of the french fries? I would choose a different battle for the day. The Apple Dippers seem like a good option, but have you ever noticed that the apples never turn brown? This is because of all the preservatives they use. Check out the McDonald's ingredients:-Apple Dippers: Apples, calcium ascorbate (a blend of calcium and vitamin C added to maintain natural color), ascorbic acid, calcium chloride.
-Low Fat Caramel Dip: Corn syrup, sweetened condensed whole milk, high fructose corn syrup, water, butter, sugar, salt, disodium phosphate, artificial flavors (ethyl vanillin, vanillin), caramel color, pectin, potassium sorbate as a preservative.
…I think I will stick with my 4-ingredient dip recipe:)
Jicama is a very low calorie and low carbohydrate root vegetable. It contains only 35 calories per 100 g. It is also very high in quality phyto-nutrition profile comprises of dietary fiber, and anti-oxidant. It is one of the best sources for dietary fiber and an excellent source of oligofructose inulin, a soluble dietary fiber. The root pulp is 13% of fiber. Inulin is a zero-calorie, sweet inert carbohydrate and does not metabolize in the human body, which makes the root an ideal sweet snack for diabetics and dieters.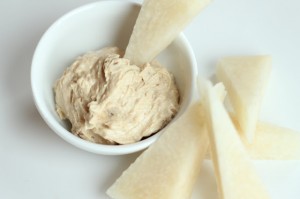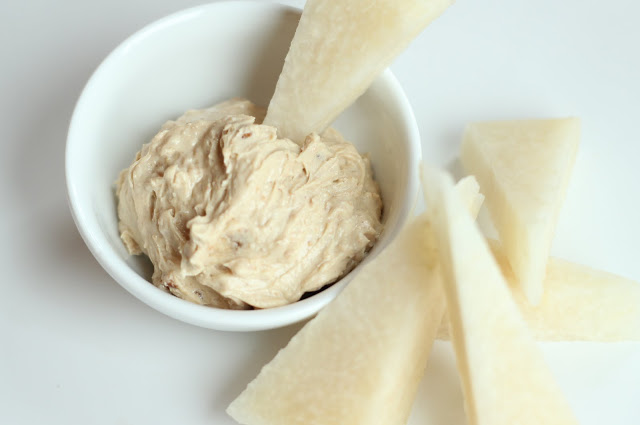 8 oz cream cheese or coconut cream, softened
1 cup peanut or almond butter
1/4 cup Swerve Brown (or stevia glycerite to taste)
1/4 cup unsweetened almond milk
Jicama slices
In a mixing bowl, combine the first four ingredients; mix well. Serve with Jicama "apples". Store in refrigerator.
NUTRITIONAL COMPARISON (per cup):
Apple = 21 carbs, 4 grams fiber, and 95 calories
Jicama = 11 carbs, 6 grams fiber, and 46 calories