The Carnivore Cookbook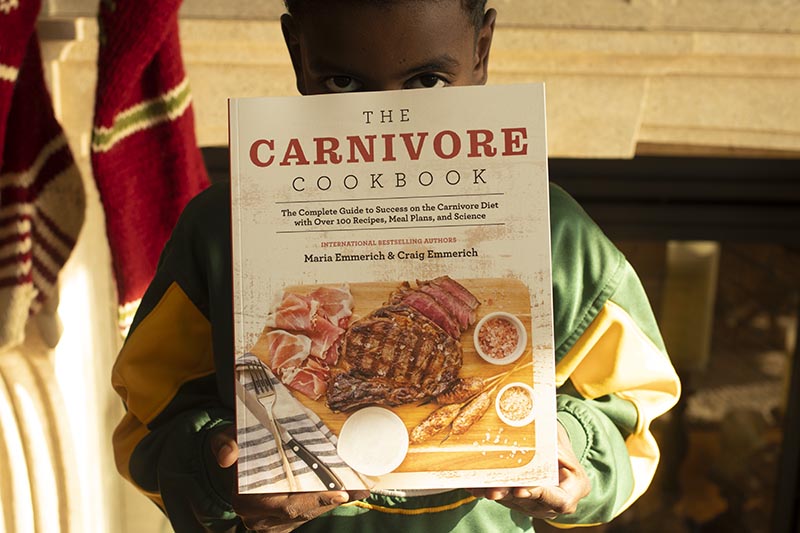 Craig and I are VERY excited to announce the release of our new book The Carnivore Cookbook!
The Carnivore Diet somewhat started after we adopted Micah and Kai. Life was so busy juggling a baby, a toddler and work. Carnivore simplified my life! Plus, my boys didn't like vegetables. I thought they needed to eat them, so Craig and I started to research the most nutrient dense foods. GUESS WHAT? It is not veggies with the most nutrients, it is BEEF and ORGAN Meat! My boys LOVE bologna, hot dogs and sausages, we just make sure to get organic products from US Wellness Meats which makes the most delicious Tomahawk Ribeyes, bologna and hot dogs without sugar and even braunschweiger without sugar! Click HERE to check it out!
We were also desperate to find something that would help Craig with the pain he has from Lyme. Nothing was working and he tried everything! Once he eliminated all plants and the anti-nutrients (like oxalates) that came with them, which can cause pain, his pain was greatly reduced! A low oxalate food plan was essential to having my husband back. No one seems to understand how Lyme has changed his life and eating Carnivore has finally provided relief.
Carnivore is a great option for anyone who has any chronic disease or issue like autoimmune, mood issues like bipolar, anxiety, depression, chronic pain, fibro, Lyme, or other chronic issue that have seen some relief with keto, but not total resolution or reduction in symptoms. Carnivore can be the next step to realizing full relief. That is why we outlined the carnivore autoimmune protocol (CAIP) in this book to give you the tools to fully heal and reverse your issues and find your threshold for what foods you can add back in and keep symptoms away.
Here is a sneak peak into The Carnivore Cookbook:
I love carnivore so it was sad to see people that think it is a limited diet. It can be if you aren't inventive. So I jumped into the kitchen to create the most delicious carnivore recipes!
TESTIMONY OF THE DAY
"Hi Maria! I'm on Day 12 of carnivore. I am thrilled that I've committed to doing this for myself. I am sleeping better, my weight is steadily moving down. I am able to work all day while fasting. My sinus issues are mostly gone (thanks in part to giving up stevia). For months my skin was chronically dry and flakey in the T zone. My complexion is near perfect now. Acid reflux? What acid reflux? Gone! The right food is the best medicine! Looking forward to what a full month of carnivore brings." – Susan
Most people I consult are doing keto totally wrong. Get fast results with the my NEW Keto Packages!