Pumpkin Pie Gummies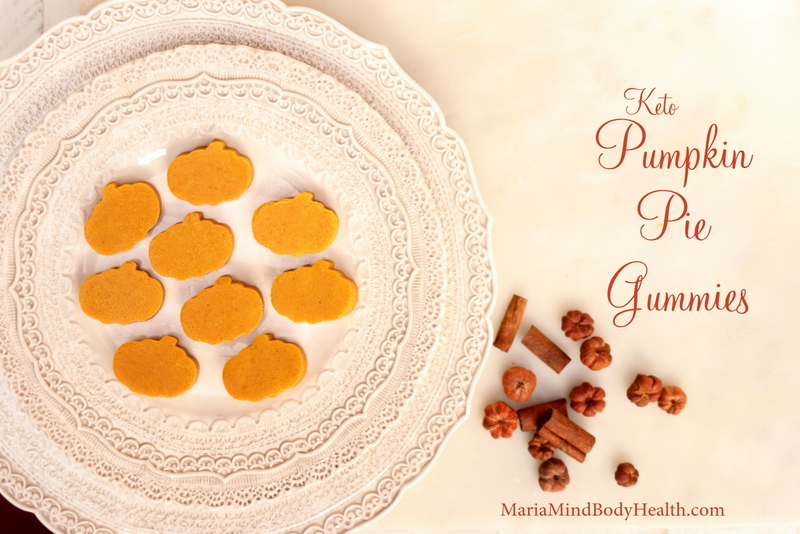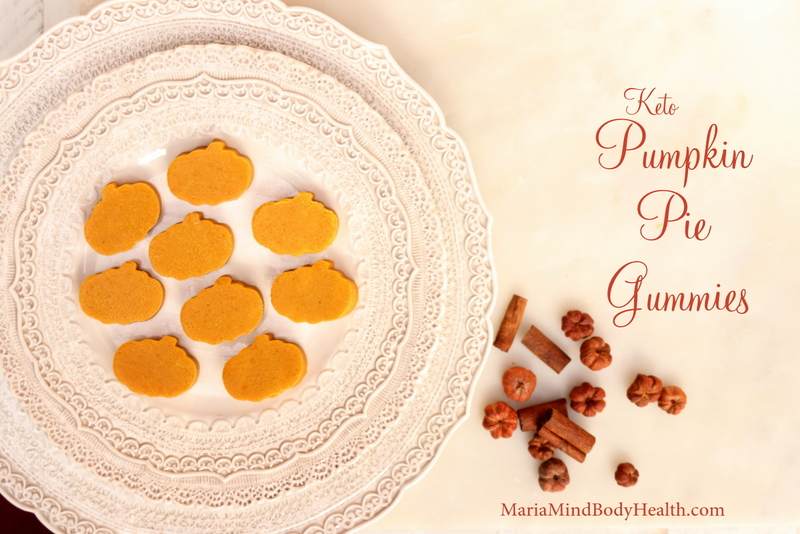 I always loved a gummy bear, gummy worm or any type of gummy candy so I thought to put a twist on a keto gummy and make a pumpkin pie gummy recipe!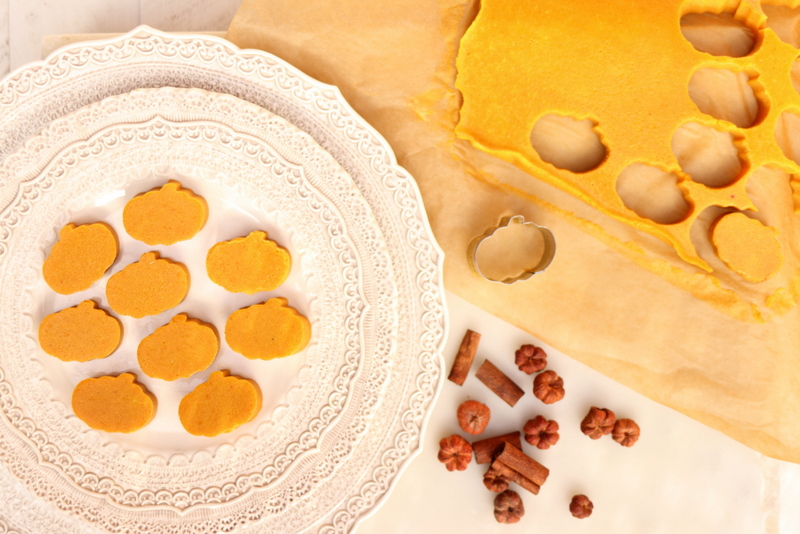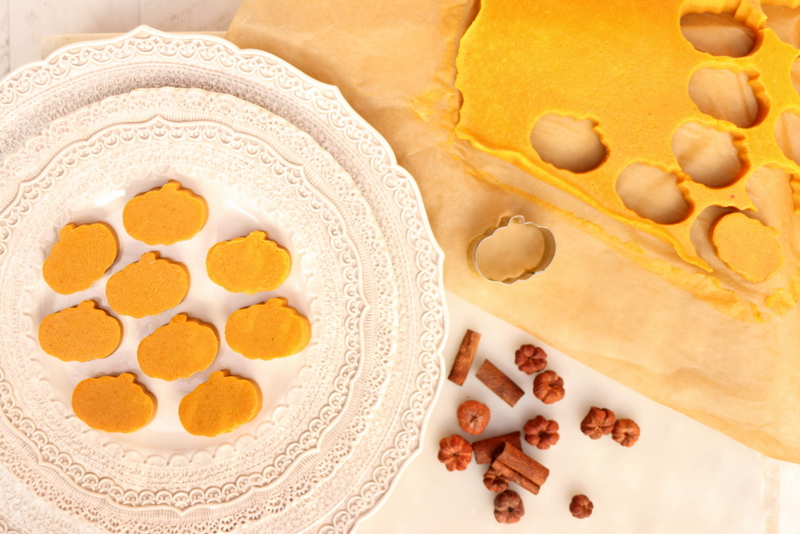 I met the kind owner of Further Foods at KetoCon this past summer and she asked what products I would like to see her make in the future and I suggested a gelatin that I can make gummies with! Last week she sent me a container of her new organic gelatin and the boys and I started making delicious healthy keto gummies!
For the launch of their new Gelatin product Further Food is doing a special 15% off deal for our fans. Use coupon code MARIA15 for 15% off!!
Click HERE to find organic Further Foods Gelatin!
Use Code:  MARIA15 for 15% off ALL FurtherFood Products! Offer good for 2 weeks! (ends on November 21st)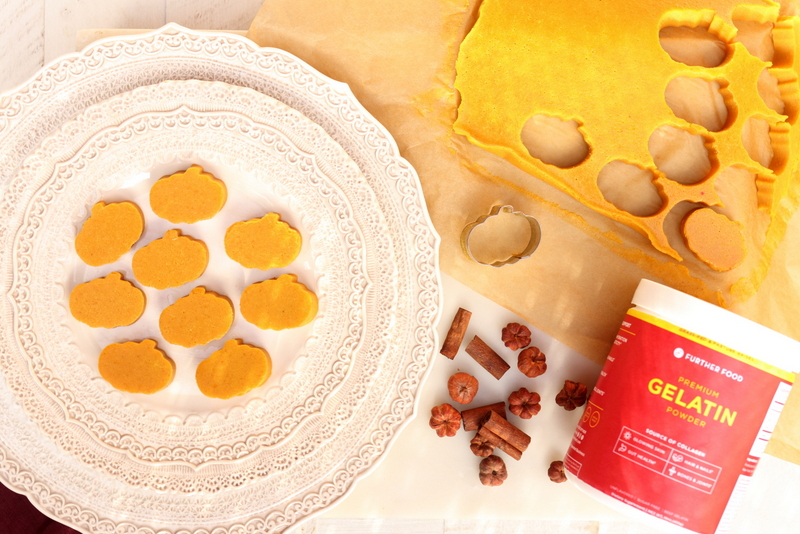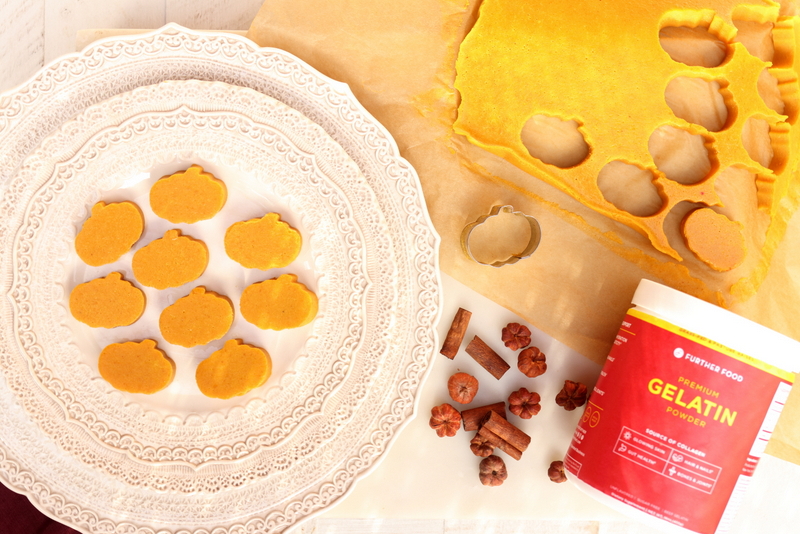 Pumpkin Pie Gummies
Ingredients
¼ cup unsweetened almond milk (or heavy cream)
2 tablespoons unflavored gelatin
¼ cup pumpkin puree
2 tablespoons Swerve confectioners or equivalent
½ teaspoon pumpkin pie spice
½ teaspoon vanilla
Special Equipment:
Pumpkin cookie cutter
Instructions
Place a piece of parchment in an 8 by 8 inch baking dish. Set aside.
Place the almond milk in a microwave-safe cup. Add the gelatin and whisk until dissolved. Microwave on high for 40 seconds or until boiling. Whisk in the pumpkin, spices and vanilla. Taste and adjust sweetness to your liking.
Pour into the prepared baking dish. Place in the refrigerator until set, about 2 hours or overnight. The longer they sit, the more they will firm up. Use a cookie cutter to cut out shapes or use a knife to cut into 1 inch squares.
Store in an airtight container in the refrigerator for up to 5 days.
Notes
Nutritional Information:
29 calories, 0.2g fat, 5g protein, 1g carbs, 0.4g fiber
TESTIMONY OF THE DAY
"I wanted to share my story, and how Maria and Craig have changed my life.
After 4 years of having no answers and suffering daily with pain and neurological issues, I was diagnosed with Chronic Late State Lyme disease in 2009. I was so sick at that point, I could not even walk and was in a wheelchair. I was prescribed high doses of antibiotics as well as anti-inflammatory medications, nerve pain medication, inhalers, and the list goes on. I was taking to many medications that I actually had to create a spreadsheet to keep everything straight. I was becoming a shell of the person I used to be. After years of dealing with the side effects of all the medications, the weight gain, and just feeling miserable every day, I decided to start looking into what I could do more naturally to help my body. I did try a no sugar and no white flour eating plan that was recommended by one of my doctors; which provided minimal relief. Things came to a head March 14, 2017, when I experienced a mild stroke.
I was very fortunate that I obtained medical treatment quickly which led to a full recovery. However, while I was in the hospital for my stroke, my neurologist said he wanted me to change my eating to eliminate not only sugar and white flour, but wheat – actually, all grains. At first I was resistant as I had never seen any impressive results by eliminating the sugar and white flour; so now I would just be hungry and miserable right? I started off without much assistance the first 2 weeks, except that I was to eat "Wheat Belly" according to the doctor. So I did research and tried my best. After a couple months of trying to figure this all out on my own I came across a post a friend shared on Facebook, and it was a link to a recipe on the Keto-adapted site. This moment was life changing!
I tried the recipe and it was delicious! And I was actually allowed to eat everything that was listed in the ingredients. This is when I went on to Amazon and bought my first keto cookbook….Quick and Easy Ketogenic Cooking, by Maria! I loved the cookbook and the recipe so much, that I started really engaging with the Facebook page and blog, and bought more of Maria's cookbooks! Transitioning to a keto lifestyle impacted me and my family and ways I could never imagine. I had been very outgoing and active with my family prior to me getting ill; but that all had changed and I was run down and sick and tired all the time. Now, using the keto recipes, I was not only losing weight and feeling better, I had so much more energy! I have 5 grown daughters and 8 grandchildren (I am 52) and it was like I was brought back to life for them again.
This works! My pain level is zero most days (which is awesome), I have minimal neurological issues that keep getting better, I have no digestive issues, and I am off ALL meds!! Yes, off ALL Lyme meds! I cannot thank Maria enough for giving me my life back. I never thought I would ever be able to wake up and say I feel good. I never thought I would be bike riding and doing Zumba and going so many places with my family again. I still have a lot to learn, and my goal is to take some of the keto courses. I actually have three family members who also now are transitioning to a keto lifestyle. I am so grateful for what Maria and Craig do for others! . PS…I am not cured of Lyme, but managing it at a level I never thought possible!! I look forward to meeting Maria in December in Ann Arbor so I can thank her in person.
Photo: Me at 80's prom before Keto and 1 year later." – Lisa
Most people I consult are doing keto totally wrong. Get fast results with the my NEW Keto School!