PUMPKIN LATTE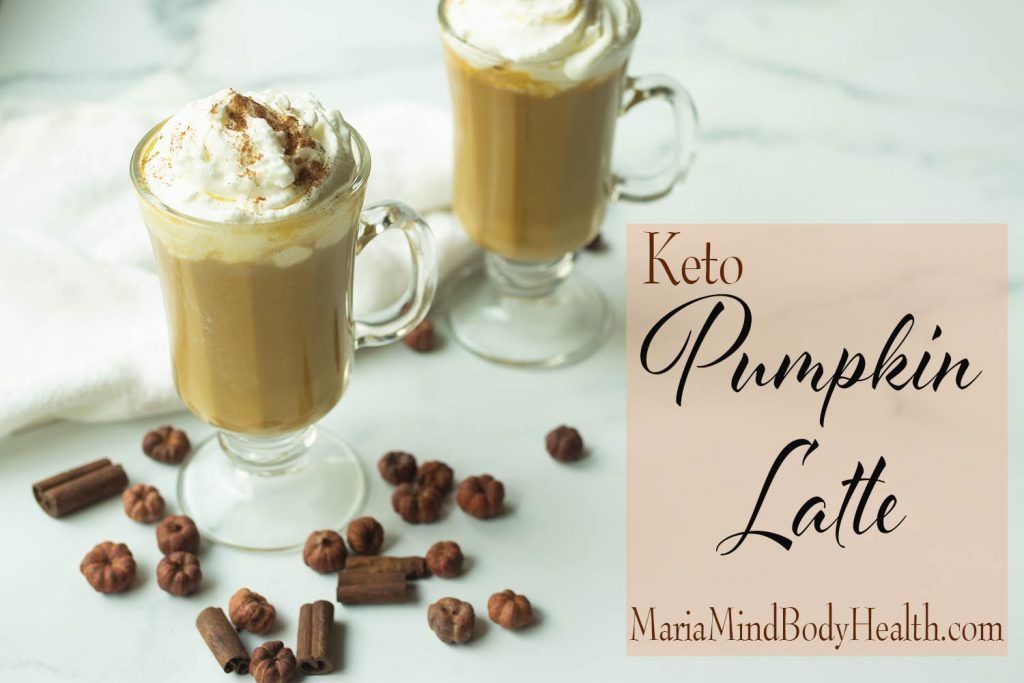 I remember my first taste of a Pumpkin Latte! I was in the cutest coffee shop in Vermont visiting my really fun aunt, Julie. There was a Pumpkin Latte on the menu for the month of October and I thought I MUST try it!
I also worked at a coffee shop when I was in high school, which is where my passion for baked goods came along. We always got to bring home the leftover cinnamon rolls, muffins, scones, cookies that were left from the day, which wasn't the best for my health! However, it is the reason I started writing keto recipes of my favorites like this keto Pumpkin Latte! I hope you enjoy!
FOR NUTRITIONAL BENEFIT add a few tablespoons Unflavored Collagen! Click HERE to order the collagen I love that has 0 carbs! Use coupon code: MARIAMINDBODY for 5% off

PUMPKIN LATTE
1.5 cups unsweetened almond milk
1 tsp pumpkin pie spice (or a dash of each: cinnamon, nutmeg, ginger and cloves)
4 TBS pumpkin
1 shot of organic espresso (or 1/4 cup strong coffee)
1 tsp pure vanilla
Sweetener to taste
Place ingredients in a large bowl (or I used a MAGIC BULLET blender, click HERE to find) and mix until smooth. Enjoy!
Starbucks (16 ounce) = 288 calories, 54 carbs, 0 fiber, 50g sugar!
"Healthified" Latte = 76 calories, 6 carbs, 2g fiber, 0 sugar:)
TESIMONY OF THE DAY
"Hi Maria! I wanted to let you know how much I love your blog, Facebook info, books and of course your recipes. I have not personally had a one on one consultations with you, although I have been to your seminars (which are awesome). For some reason today I felt I needed to share something with your readers.
I have struggled for almost 20 years with not feeling well. I knew something was wrong but didn't know how to go about fixing it. Also like many others, the thought of giving up foods that you love was not something I thought I could do. Well….here I am today to tell you I can do it. I am on day 27 of no gluten, no sugar! I was so sick I had to do a yeast cleanse and am currently doing a liver cleanse. It is not easy to remove food that has such a strong hold in your life BUT once you do…..it is awesome! I don't have cravings any more nor do I think about food all day, which is huge for me.
I am finally starting to feel better so that is a big plus. The best part is…..even though I know I will never eat wheat again, it is okay because I know how to cook Maria style! Thank you for sharing your wisdom and insight about food and how it affects our bodies. To those new to this way of eating….you can do it! Don't wait for the perfect time to start. It will not be easy but once you get used to it, you will be happy that you did it! Thanks or letting me share." -Shelly!
If you would like to help out a small family, rather than large business, I am happy to announce that you can now get my books as a high quality ebook that works on any platform. This is an ebook format that works on any computer or mobile device. It is a beautiful pdf that has all the full color pages and layouts as the printed books with click-able table of contents and searching capabilities. This is extremely useful when trying to find a recipe. These books are much higher quality than the ebook platforms (kindle, apple). Plus, most of the profits don't go to Amazon or apple! Just go here to get your copy!