Pecan Pie Pancakes
I love exploring in the kitchen and creating tasty keto food and writing Keto Comfort Foods was the most fun cookbook to write because I just thought of my favorite comfort foods from my former fat days and made them keto! The problem is that I keep thinking of more and more recipes that would have gone great in the book but my editor already had to cut 20 recipes from the book because it is so huge!
The other day I was making pancakes for dinner which I love doing. Who doesn't love pancakes and eggs for dinner? It is fast, cheap and so yummy! It is almost a dessert for dinner! I saw a huge bag of pecans in my pantry and I thought, "Pecan Pie Pancakes!" That would be so tasty! I have bought pecan meal in the past but I have a pretty powerful blender that would totally do the trick and make pecans into pecan meal. So I tossed the pecans in and pureed into a fine pecan meal, then I added my other ingredients and pureed into a pecan pie pancake batter.
I already had my syrup made because I adore that syrup! And if you never made Brown Butter before, don't worry, it isn't that hard and you can watch this video to see how easy it is:
Here is a video of how to make Brown Butter:

Here's to a yummy breakfast (or "brinner"!)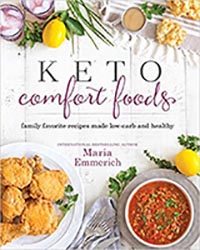 If you would love a whole book filled with more than 175 comfort food recipes (most cookbooks only have 110-125 recipes) check out my latest book Keto Comfort Foods!
Thank you for your love and support!
And if you already have the book I would LOVE to have you post photos of the cookbook on social media! It helps me so so so much!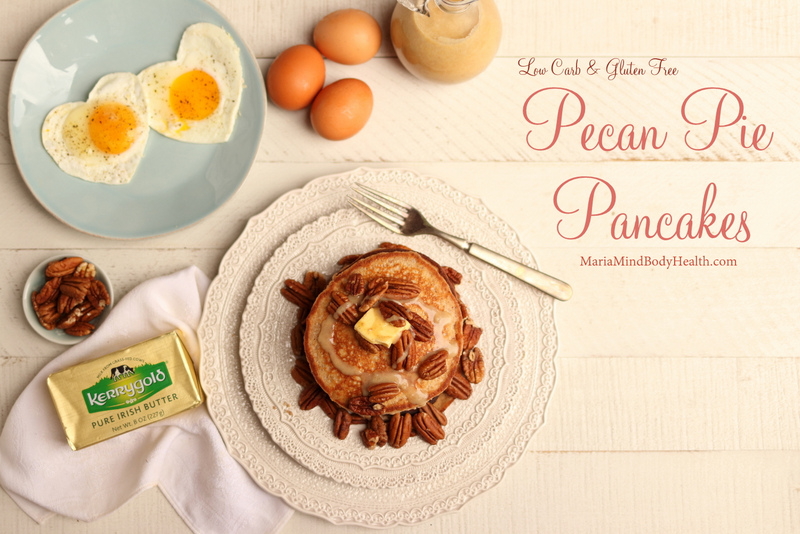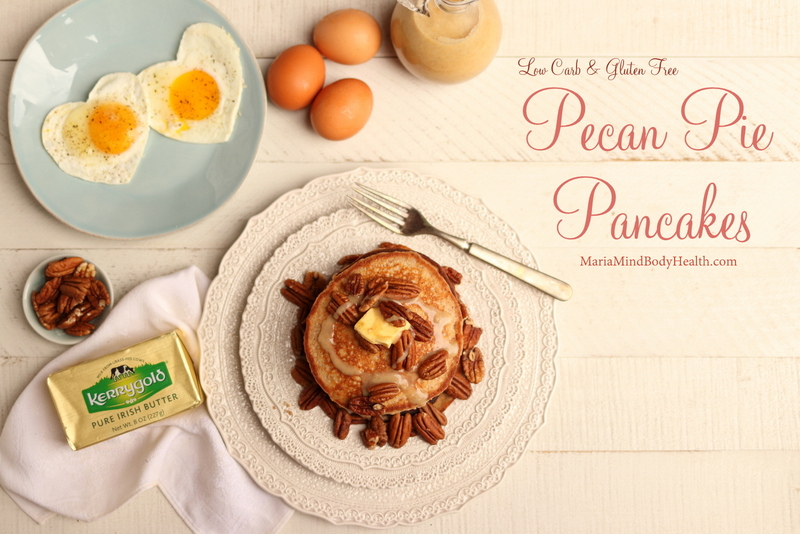 Pecan Pie Pancakes
CLICK HERE for my "Maple" Syrup recipe.
Pecan Pie Pancakes
Equipment
Ingredients
1

cup

pecans

3

large

eggs

4

ounces

cream cheese

Kite Hill cream cheese if dairy free

1

tablespoon

Natural Sweetener

or equivalent

1

teaspoon

vanilla/maple extract

Pinch

Redmond Real salt

use code Maria15 for 15% off
Instructions
Place the pecans in a powerful blender and pulse until a fine powder. Add the eggs, 4 ounces cream cheese, 1 tablespoon sweetener, extract and salt into the blender and combine until very smooth. Heat a quality non-stick skillet on medium high and grease with coconut oil or coconut oil spray. Once hot place 4 tablespoons of batter in the skillet into 3 inch round pancakes. Cook until cooked through on the bottom, about 2 minutes, then flip and cook another 2 minutes. Remove from pan and repeat with batter. Serve with my syrup!
Nutrition
Calories:
356
|
Fat:
33
g
|
Protein:
10
g
|
Carbohydrates:
5
g
|
Fiber:
2
g
|
P:E Ratio:
0.3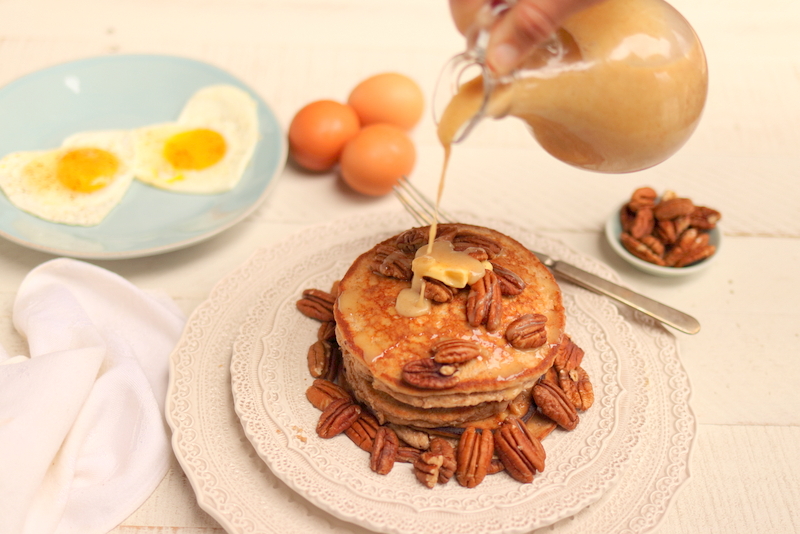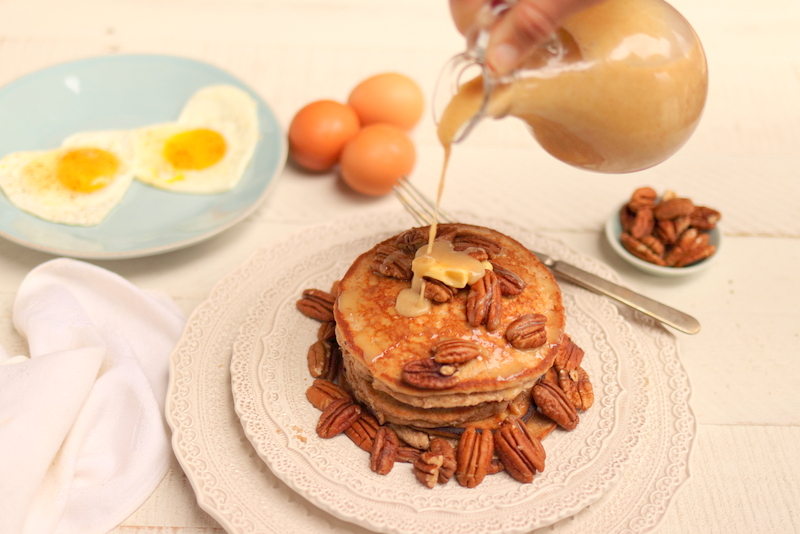 TESTIMONY OF THE DAY
30 Day Cleanse Testimony:
"Hi Maria, I wanted to share my story with you, as today is an exciting day for me, it's the first time in years I broke below 150 on the scale… 149! In September 2015 I ended up in the hospital with an ovarian cyst rupture. I didn't know I had it, and it caused internal bleeding.  For months afterward I felt awful while my body tried to absorb the fluid and blood in my belly. I was running low grade fevers and feeling like crap for almost 4 months. I had no energy, and as a result I didn't go anywhere or do much, I didn't cook, I was eating terribly, drinking, became depressed, and gained a lot of weight. I don't even know how high my weight got, because I didn't want to look. In the "before" pictures, I was in Costa Rica. The scenery was beautiful, but I didn't even like looking at the pictures because I felt and looked so icky! After that I started keto, it's been a bumpy journey, I fell off the wagon this summer for a while, but recently got back on, and have never felt better. I have been mainly sticking to keto since July, but a week ago I started your 30 day cleanse and cut out dairy and alcohol. Just 4 days ago I had surgery to remove more cysts on both ovaries. I'm still a bit bloated, but I feel great otherwise, and am not in a lot of pain. I have more energy than ever! And that's only a week into the cleanse! I'm down more than 20lbs from a year ago! I have read 4 of your books now, and they've helped me stay motivated and on track. I'm excited to see how my body and health continue to improve. Thank you for your passion!" – Raya
 Thank you for your love and support!