My Favorite Client Testimony of the Week:
"Hey Girl…I have been meaning to send you a quick note and let you know of our continued efforts of this journey to be "healthified"…nothing to spur me on like people talking smack to my girl! I just want to remind you how awesome you are…and how much you have helped us and you are continuing to change peoples lives!!! Thank you, Maria, for sharing your God given talent with the world!!!! You have changed our lives..without finding you 2 1/2 years ago my feeble attempts at eating lo-carb would have come to a halt. One can only eat so much meat and pork rinds before you get really-really tired of it You have opened our world up to a whole new way of eating without feeling deprived…thank you!!!!
So…after feeling defeated (last e-mail) my husband went and had his blood work done and here are his results…His A1c went from 6.2 to 5.7!!! YAY! His TC went from 190 to 162…HDL 53 to 48…Trg 91 to 78…LDL 119 to 98…Non HDL 138 to 114…TC/HDL 3.6 to 3.4.This is without meds, he quit taking those almost a year ago. This report thoroughly convinced him to eat "Maria's way" 100 % of the time!
As for me…well I have found a Dr. who is working with me to try to get my hormones balanced. I go back mid-July to discuss the results of the blood work, saliva and stool test. After my first visit, the Dr put me on Livothyronine Sodium tablets…my thyroid is a little sluggish! But if it weren't for you…I would have accepted what the other Doctors advised and not have ever known that I have a allergy to dairy, a slow thyroid and would be on a anti-depressant for menopausal symptoms. You continue to motivate me…now at almost 54 years old I am doing a body pump class…at 53 I ran 2 5k's (never liked running before) and feel better than I did 15-20 years ago! You are changing lives and lifestyles. THANK YOU!!! I will give you a update in July after I hear what the Dr. says…I would still love for the number on the scales to go down, that for me is a never ending struggle. But unlike in previous years, its not going up either…YAY! One small victory!
Be blessed…and know that you have many, many people all around the world who love you and care about you (and your family) and thank God for you everyday!
Oh, and just a side note…I walk/jog 3 miles in the morning…ride my bike 2 miles…walk in the evening…body pump 2 x's a week… clean houses 5 days a week, have a garden, mow the yard with a push mower instead of using the rider( just so I get my exercise!!) I only wish all my efforts would work like they did for you!"
I am thankful for clients like this to cheer me up;)))
Jay Robb Protein New Discount Deal!
I love Jay Robb for so many reasons, but here's one more! They have a new subscription program where you get a 20% discount on every order!  I love Amazon Subscribe and Save (I gets lots of stuff sent every month or 2 months) and this is just like that. Thank you JAY ROBB! 
Go HERE to get started!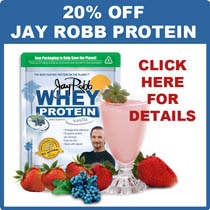 Hazelnut Oil
The oils we use everyday has such an impact on our cells, moods, skin…you name it! Are you still using canola oil? THROW THAT OUT! In this recipe, I used hazelnut oil to get a great flavor, but coconut oil or butter will still create a delicious cereal.
Hazelnut oil is packed with tons of nutrients, I love this amazing oil for salads dressings. Some benefits of hazelnut oil:
1. HEART HEALTH: It is high in Vitamin E and amino acids which boosts heart and other muscle strength. It also has oleic acid, which is known to boost the protective Apapratein A-1 for health-vein diseases and decreases Apapratein B.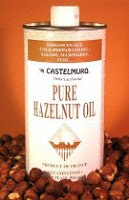 2. ANEMIA: It is proven that vitamin E stops the degeneration of red blood cells which helps to retain blood in the body. Therefore it helps the body from going low on red blood cells and turning anemic which 90% of menstruating females suffer from. If you anemic, you have a hard time carrying oxygen to the mitochondria of you cell, which is where you burn fat. SO, if you are low red blood cells, fat burning is hard to accomplish.
3. CANCER: The high levels of vitamin E in hazelnut oil offset the damage from free radicals that trigger cancer.  Free radicals basically destruct cells. But hazelnut oil fights and diffuses cancerous cells because vitamin E is a soluble lipid phenolic antioxidant. Antioxidant activities of phenolics have the ability to transform hydrogen atoms to independent roots. Since these compounds can form independent roots, they are found to inhibit cancer cell growth.
4. CHOLESTEROL HEALTH: It is rich in beta-cytosterol and oleic acid, a mono-unsaturated fatty acid that helps to check the cholesterol levels and also bring down the bad cholesterol levels in the body.
5. DIABETICS: Helps balance blood sugar levels out. Vitamin E is a soluble lipid phenolic antioxidant which transforms  hydrogen atoms to independent roots and therefore decrease atherosclerosis in diabetic people.
6. MENTAL HEALTH/ADHD: The high amounts of linoleic acid is essential for healthy nerves and brain function. It also contains B1, B2 and B6 vitamins that are essential for mental health, especially for growing children. Hazelnuts oil contains tons of folate which is responsible for a decreased risk of neural tube birth defects. Folate is also known to relieve depression.
7. ACNE and DRY SKIN: Hazelnut oil acts as an excellent moisturizer because it has a number of essential fatty acids such as linoleic acid, which rehydrates the skin. It helps clear acne because it has stong antibacterial and astringent properties that prevent the excessive secretion of oil that results in acne. So skip the "natural" acne products found on the shelves filled with chemicals that get absorbed into your liver and try this!
8. HAIR HEALTH: Coloring and dying hair is so common nowadays. Shampooing the hair makes the color fade quicker while making the hair dull and rough. To retain your hair color, apply hazelnut oil to your hair before shampooing. The vitamin E will also help strengthen the hair.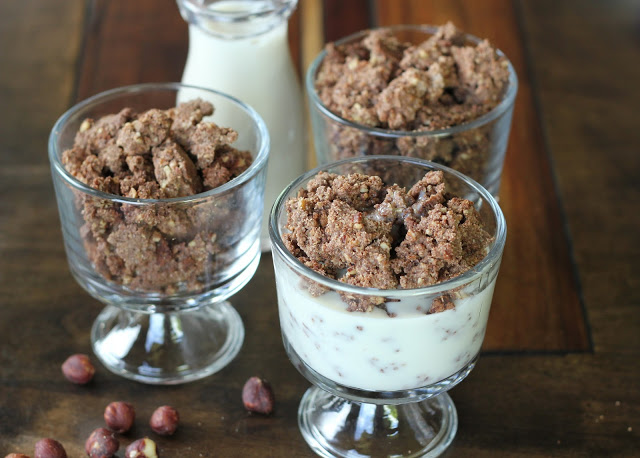 "HEALTHIFIED" NUTELLA CEREAL
1/3 cup erythritol (or Swerve)
1 tsp stevia glycerite (omit if using Swerve)
1/4 cup hazelnut meal
1/3 cup crushed hazelnuts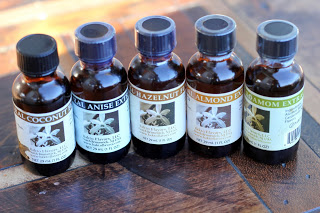 1/4 cup JAY ROBB chocolate whey protein (or egg white protein)
1/4 cup hazelnut oil or coconut oil
2 TBS water (or 2 more TBS butter/oil for a "crunchier" cereal)
1 tsp pure hazelnut extract
1 TBS unsweetened cocoa powder
Preheat oven to 300 degrees F (170 degrees C). Combine 1/3 cup erythritol and stevia glycerite (or Swerve), hazelnut meal, nuts, whey, extract and cocoa in a small bowl. Mix in oil and water until mixture resembles coarse crumbs. Place on a cookie sheet with defined edges or the butter will leak off. Bake for 12-20 minutes or until golden brown. Remove from the oven and gently stir while still hot. Let cool in the cookie tin (it will crisp up A LOT). Break pieces apart and enjoy with unsweetened almond milk. Makes 3 servings.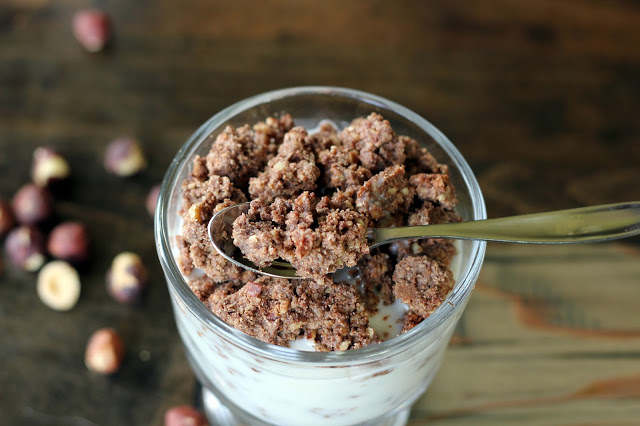 NUTRITIONAL COMPARISON (per serving)
Post Cereal = 249 calories, 6g fat, 5g protein, 44 carbs, 4g fiber (40 effective carbs)
"Healthified" Cereal = 240 calories, 15.4 g protein, 19g fat, 8g carbs, 4g fiber (4 effective carbs)
MILK COMPARISON (per cup)
Skim Milk = 90 calories, 13g carbs, 13g sugar
Unsweetened Almond milk = 35 calories, 1g carb, 0g sugar