No Coffee Pumpkin Latte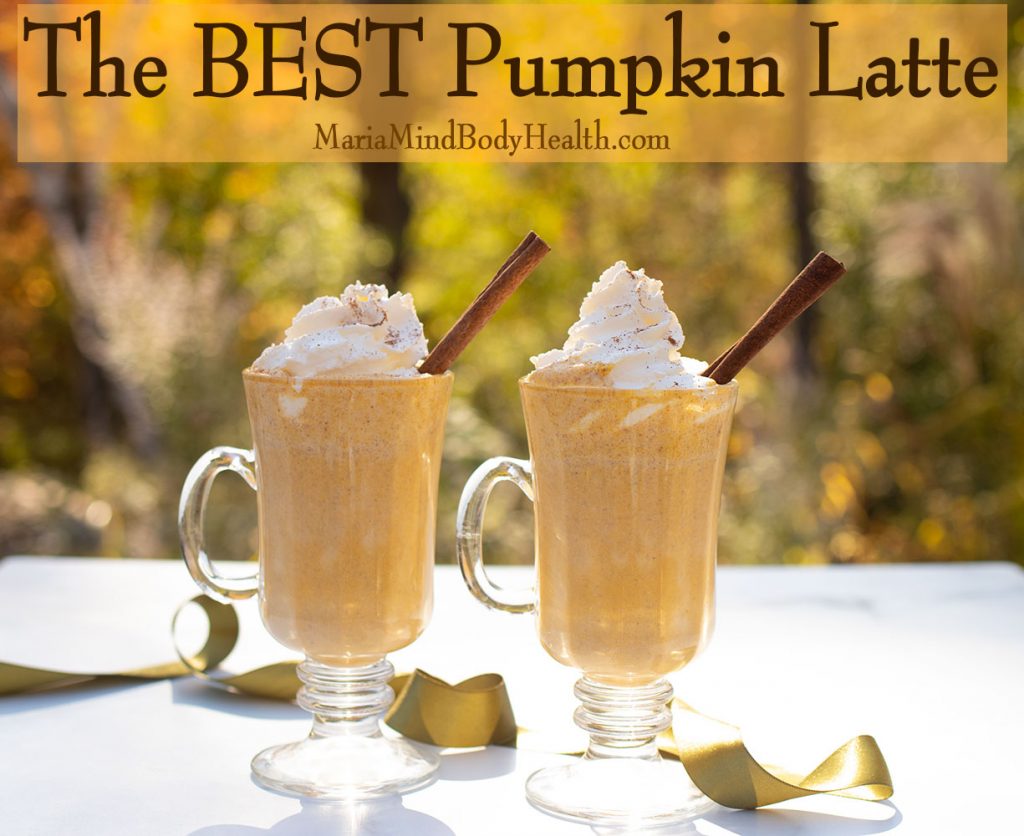 I remember my first taste of a Pumpkin Latte! I was in the cutest coffee shop in Vermont visiting my really fun aunt, Julie. There was a Pumpkin Latte on the menu for the fall and I thought I MUST try it!
I also worked at a coffee shop when I was in high school, which is where my passion for baked goods came along. We always got to bring home the leftover cinnamon rolls, muffins, scones, cookies that were left from the day, which wasn't the best for my health! It is the reason I started writing keto recipes of my favorites like this keto Pumpkin Latte!
Many of you know that I no longer drink coffee for a variety of reason (click HERE to read why I don't drink coffee).
Cutting coffee was my hardest habit to break, but it was essential to maximizing my healing!
If you are trying to cut coffee, you must try this Pumpkin Latte! I have MANY recipe testers and they all absolutely loved this delicious No Coffee Pumpkin Latte!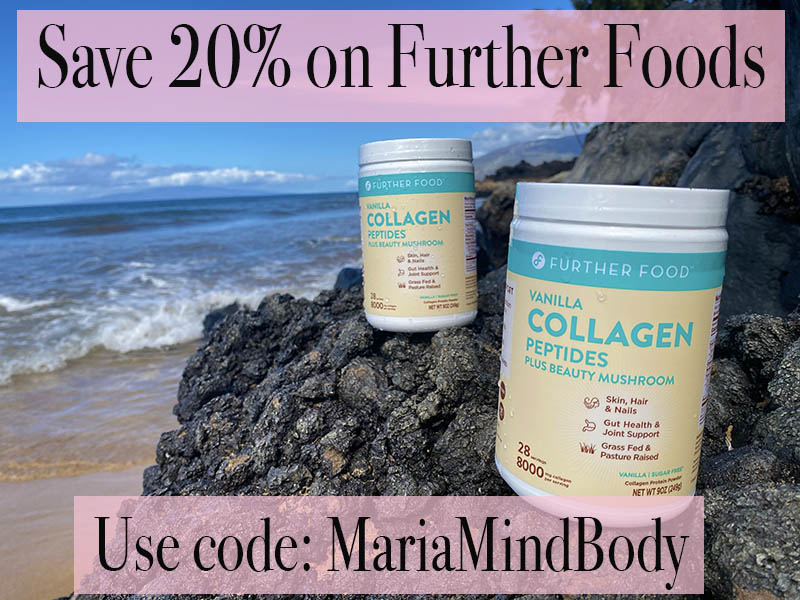 This No Coffee Pumpkin Latte is EXTRA healthy because I added a scoop of vanilla collagen!
I love using collagen for the multiple benefits and I am VERY picky about what brand of collagen I use!
You all know that products are not always created equal and that is the same with collagen brands. That is why we use Further Foods collagen and gelatin. The quality and potency is the highest you can find!
Further Foods recently launched a Vanilla Collagen peptide with Beauty Mushroom!
The reason I love this Further Food product is because it is the ONLY collagen blends on the market made with 4 only real food ingredients and no gums! It is just collagen peptides, mushrooms (reishi in the chocolate and tremella in the vanilla), cocoa powder/vanilla bean natural flavoring powder, and monkfruit.
Reishi mushroom is a natural mood & immunity booster. And Tremella mushroom is the ultimate beauty mushroom. It's even more effective than hyaluronic acid at locking in moisture, reversing wrinkles, and brightening complexion!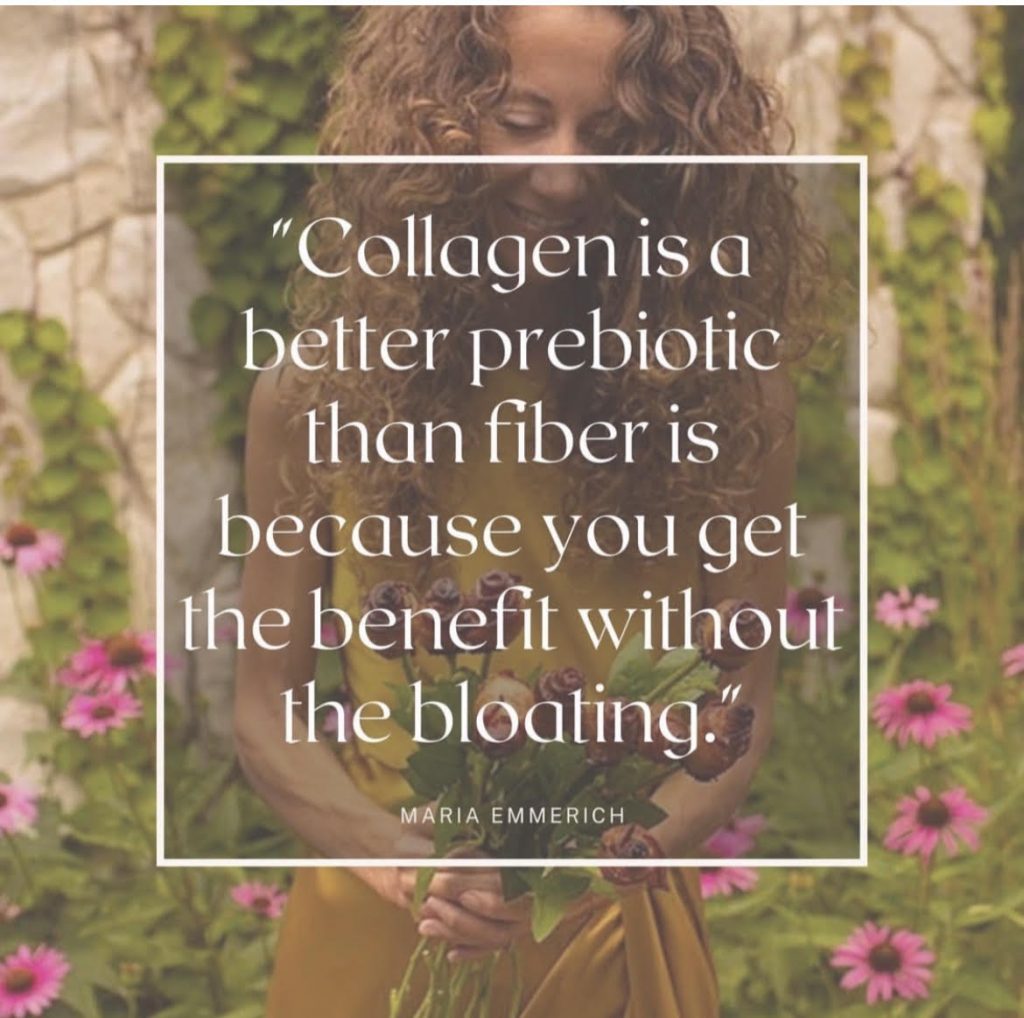 Here are some details about Further Foods Vanilla Collagen:
This expert developed collagen blend combines their high quality grass-fed, pasture-raised collagen peptides with vanilla & beauty-boosting mushroom. It's keto approved, sugar free, and has 0g of net carbs, 0g of sugar! (note, if doing carnivore, I would stick with the plain collagen)
Daily use of collagen peptides can help reduce wrinkles, promote youthful radiant skin, strengthen hair & nails, build stronger bones, and support gut health. (SEE THE AMAZING TESIMONY BELOW)
100% CLEAN INGREDIENTS: The ONLY vanilla protein powder made with 100% real food ingredients. And it is sweetened with monk fruit, one of our favorite sweeteners.
It's super easy to use! Add 1-2 scoops of this vanilla goodness to warm almond milk or water to make a delicious drink.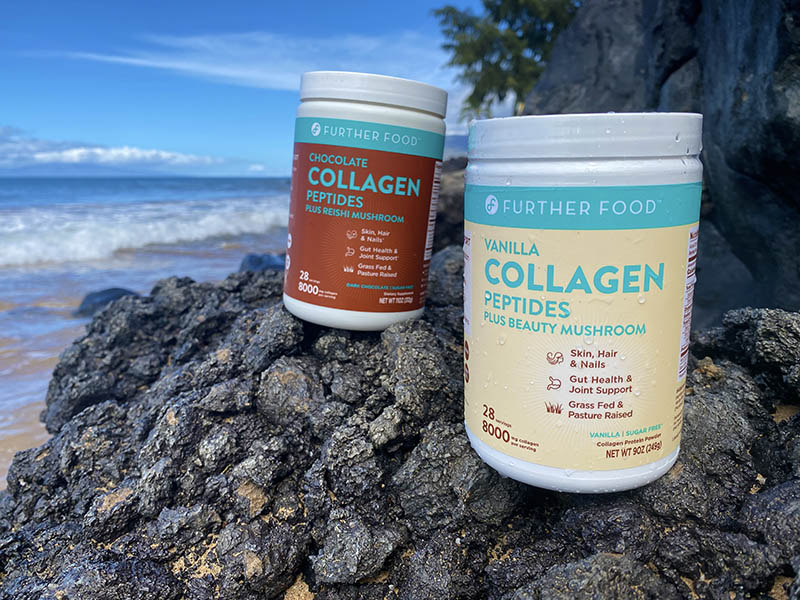 Somedays my boys get sick of eggs for breakfast and they ask for a collagen Pumpkin Latte made with eggs! Today we made my No Coffee Pumpkin Latte and I added a few drops of pumpkin pie stevia and the boys absolutely loved them! Simple and delicious!
A few notes about making this No Coffee Pumpkin Latte:
1. You can make this recipe with or without actual pumpkin puree. My family as well as my recipe testers thought it was delicious both ways, so if you want to keep the carbs lower, you can still have a pumpkin pie flavor without adding the pumpkin puree.
2. You have the option to use water in this recipe or unsweetened almond milk. Both ways were tested by many recipe testers and they thought both ways were fantastic!
3. You could sub half of the water with full fat coconut milk or heavy cream if you want to make this No Coffee Pumpkin extra rich and creamy, but many of you know, I suggest dairy free for maximum healing and weight loss.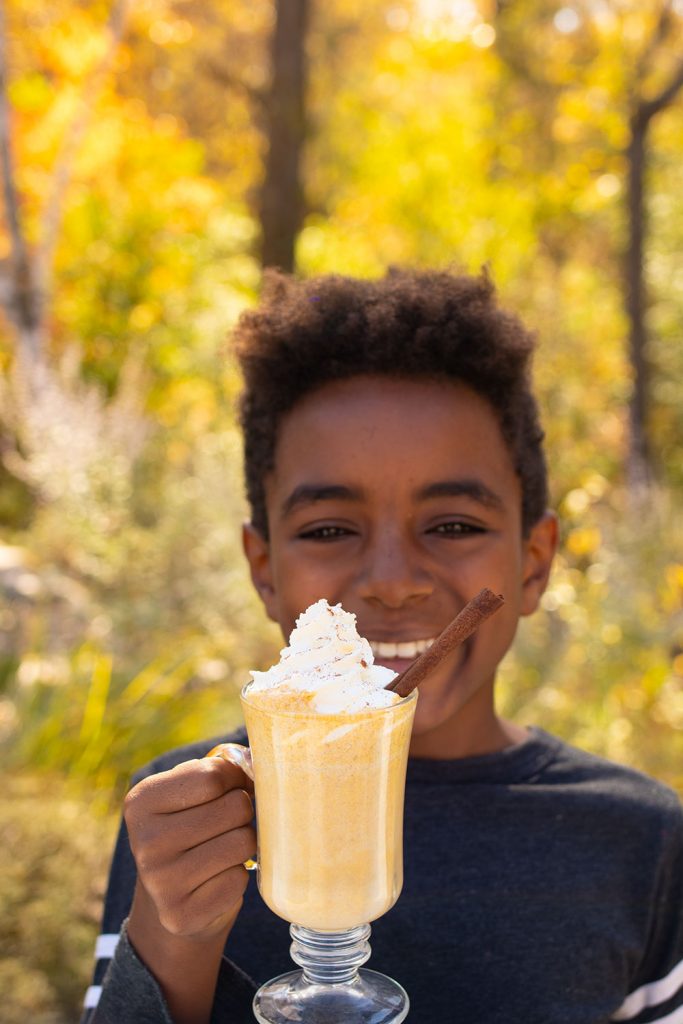 I use my Vitamix daily! No lie. I use it for everything. I make my sauces in it, salad dressings (my Ranch is the best!), my keto soups that I want pureed, and it makes my hard boiled egg pudding into the creamiest chocolate mousse!
Yes, a Vitamix is a pricy gift, but I went through a cheap blender almost every year. My Vitamix has lasted 10 years! It is good investment in my mind!
Click HERE to find the Vitamix I love (on SALE NOW)!
Click HERE to find a more affordable Vitamix! 
No Coffee Pumpkin Latte
Ingredients
1 1/2

cups

water or unsweetened almond milk

see NOTE above on substitutes

2

raw eggs

1

scoop

Further Food Vanilla Collagen

1/2

teaspoon

vanilla

1/2

teaspoon

Pumpkin Pie Spice

Pinch

of cinnamon

Few drops Pumpkin Spice stevia

or vanilla

Pinch

Redmond Real salt

OPTIONAL: 1/4 cup canned pumpkin

GARNISH: dairy free whipped cream if desired
Instructions
Heat the water in a sauce pot over high heat until it comes to a soft boil.

Meanwhile place the eggs, vanilla collagen, vanilla, Pumpkin spices, stevia and salt (and pumpkin if using) into a blender. Puree the mixture and while the blender is running over slow speed, pour the hot water into the blender. Taste and adjust sweetness to your liking. Garnish with dairy free whipped cream if desired!
Notes
Nutritional Information:
227 calories, 13g fat, 23g protein, 3g carbs, 0.1g fiber
TESTIMONY OF THE DAY
"No more hair extensions!!!
Before I started my Keto journey, I was sick and overweight.  I was working 45+ hours a week on average.  My body was ravaged by autoimmune diseases, my joints ached like that of a sick 80-something year old woman, I was severely bloated, I had no energy, I was depressed, and my hair had fallen out to the point of embarrassment.  I had hair extensions professionally placed to help conceal the hair loss, and stated following Maria Wojcik Emmerich's approach to healthy living including eating a clean ketogenic diet and using collagen.
Today, my joints no longer ache.  I have tons of newfound energy.  30lbs-gone.  I'm wearing clothes I haven't been able to wear in years.  My hair has grown back—I even had my extensions removed!  My hair has never been this soft, shiny, and healthy!  Even my hair stylist agrees!  She's so excited for me!  My nails are the longest and strongest they've ever been, too!  I quit my full time job and am now a devoted stay at home mom.  I am happier, and more motivated than ever to love myself—Because if you cannot love yourself, you can't possibly effectively pour love into your family and community.
I encourage each and every one of you to devote 2020 and beyond to YOU.  You deserve to feel good.  You deserve to be happy!  And most importantly, you deserve to be HEALTHY!  The one thing that Maria & Craig Emmerich taught me that nobody else has ever effectively been able to is to love myself, and for that I will be forever grateful 🖤" Autumn
Most people I consult are doing keto totally wrong. Get fast results with the my NEW Keto Packages!