Maple Bacon Apple Cake
It is hard to find bacon without sugar and if you do, it is really expensive! That is why I order Pederson's Farms bacon! Click HERE to get sugar-free bacon! 
If you want to get my favorite keto BUNDLE of meaty goodness from Pederson's Farms, you get a great deal!
Maria's Mind Body Health Bundle contains 10 of Pederson's Natural Farms Whole30 Approved No Sugar Added products. Included with this bundle is:
1 package No Sugar Added Hickory Smoked Uncured Bacon
1 package No Sugar Added Smoked Kielbasa
1 package Uncured No Sugar Grass Fed Added Beef Hot Dogs
1 package Fully Cooked No Sugar Added Mild Breakfast Sausage Links
1 Uncured No Sugar Added Half Ham, Boneless and Spiral Sliced
1 package No Sugar Added Italian Ground Sausage
1 package No Sugar Added Chorizo
1 package No Sugar Added Uncured Old World Kielbasa
1 package No Sugar Added Uncured Hot Dogs (Made with Pork & Bacon)
1 package 100% Grass Fed Organic Ground Beef
Bundle is normally $225.00 but with code: MARIAEMMERICH it is only $161.00! Click HERE to get it!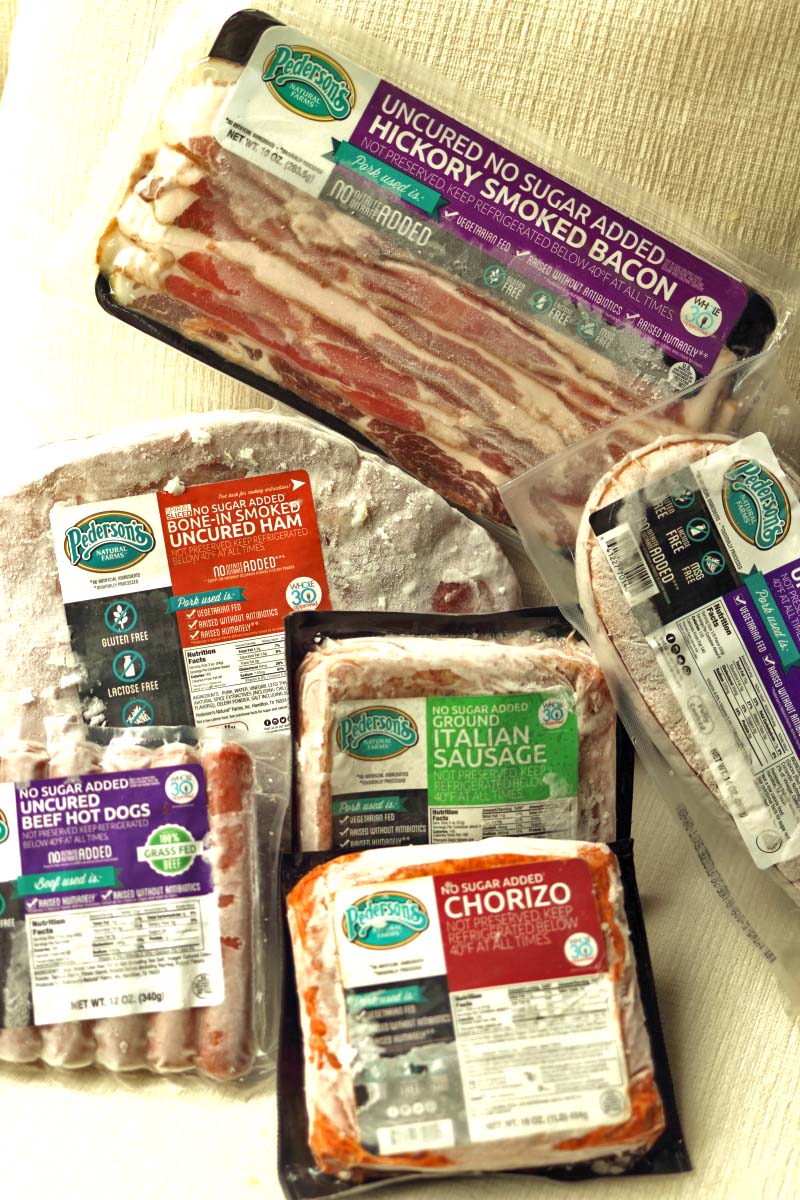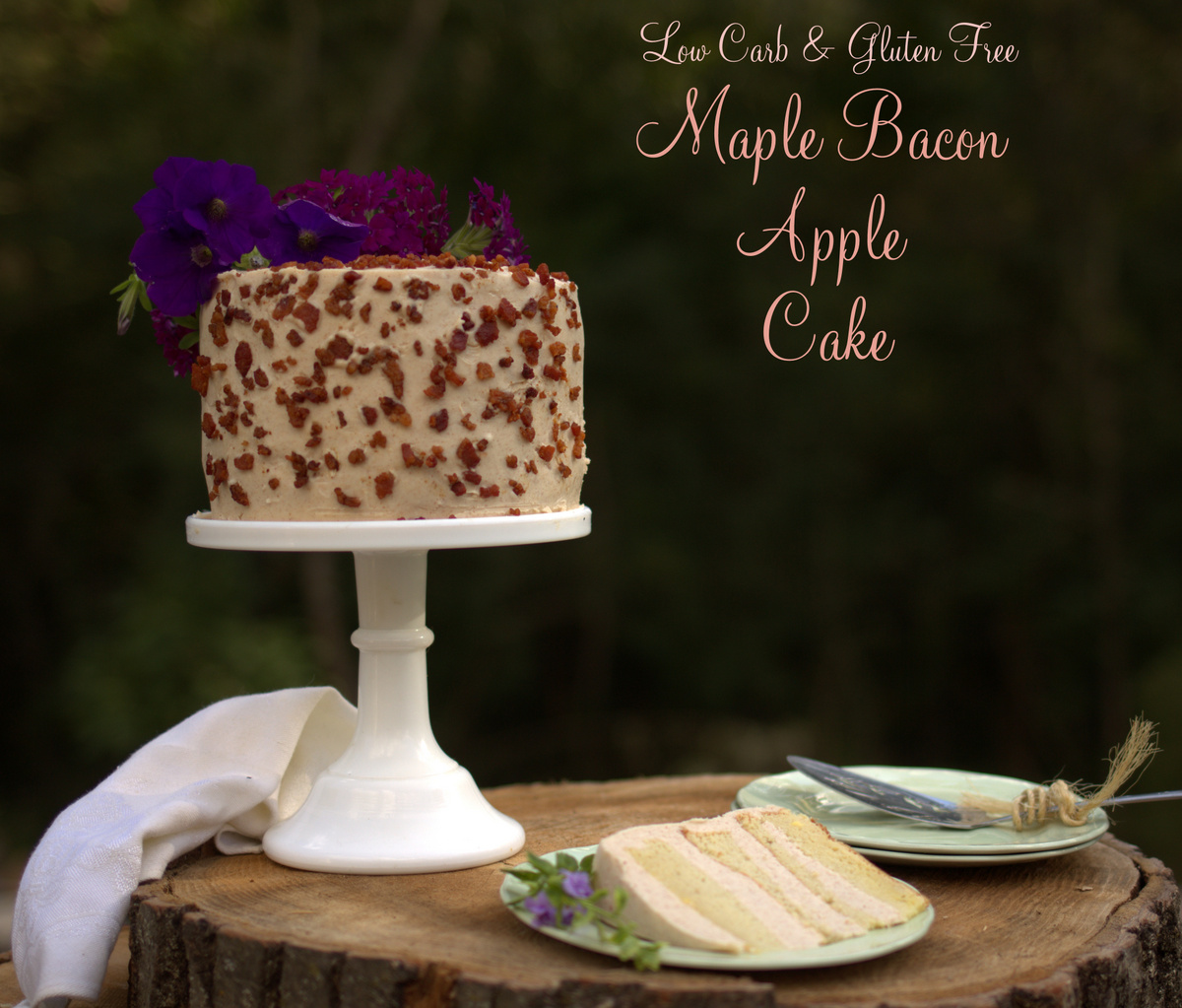 Is it ok to have MAPLE BACON APPLE CAKE FOR BREAKFAST? It has bacon in it!
Guess what?! Today is my birthday! Yep, I'm 25… again. Just kidding. I'm 3 dozen… man, time flies! And I am having a decadent Maple Bacon Apple Cake to celebrate.
I wanted to make a special cake with my boys. Micah adores anything with bacon. However, Kai does not! After we went to the Minnesota State Fair I thought it would be fun to have hotdogs on a stick. I actually had to pick off the bacon after I took this photo because he started crying, "I don't want bacon!" So if you are like Kai and don't like bacon, this cake tastes divine without it. Feel free to skip the garnish.

It is also getting time to be apple season so I thought I would make this an "apple" cake. The apple, maple and bacon pair so lovely together but you could also use maple extract in the cake too. The combination of maple with the bacon and the apple is a perfect cake to celebrate Fall!
I am a huge fan of MasterChef. The boys and I especially enjoy watching MasterChef Jr. together. I am always amazed at how beautiful they make layer cakes. I am not much of an artist and I prefer "quick and easy" but I'd like to think that my cake would make it into the finals:) And if you are intimidated by making this cake, it really isn't that hard.
My tips for my Maple Bacon Apple Cake are:
1. Use 5 inch spring-form pans if you have them. The cake releases easier with those. I didn't use them because I don't have that small of a size, but they certainly help if you have them.
2. Freeze the cake before frosting. If you try to frost a warm or room temperature cake, the cake crumbles and you have a frosting full of cake pieces.
3. If the cake breaks when slicing it into layers (before frosting it) don't worry. The frosting is like a amazing duct tape that holds it all together. You can't even tell one layer of my cake was in 3 pieces. 4. Use room temperature frosting. If the frosting is too cool, it will be hard to spread. I made the frosting the night before and stored it in the fridge. I actually set it in my toaster oven for 3 minutes to warm it up so it was nice and spreadable.
4. Make it beautiful by using flowers or bacon for garnish. Frost then chill in fridge for an hour. Heat knife with warm water and smooth frosting.
5. You do not have to brown the butter, but OH MY! It is worth it! See my helpful video below the recipe:)
Maple Bacon Apple Cake
Instructions
Preheat oven to 350 degrees F (175 degrees C). Grease bottom of 2 5 inch cake pans with coconut oil spray. Beat the egg yolks with Swerve until light in color and doubled in volume. Stir in almond milk, extract, almond flour and baking powder.
In a small bowl, beat egg whites until stiff peaks form. Fold egg whites into yolk mixture. Pour into prepared pans. Bake at 350 degrees F (175 degrees C) for 20-25 minutes or until cake tester inserted into the middle comes out clean. Allow to cool 10 minutes. Cool cake completely. I froze the cake before frosting so the frosting spreads on easily. Loosen edges with a knife before removing.
FROSTING: Combine butter, confectioners Swerve, cream cheese, cashew/almond milk and extract in small bowl. Beat at medium speed, gradually adding enough milk for desired spreading consistency. If you brown the butter, the frosting may separate at first. Once you add the unsweetened cashew/almond milk it will combine. It will also thicken a lot as it sets and chills. Frost cooled cake.
ASSEMBLE: Halve each cake layer horizontally with a long serrated knife using a gentle sawing motion (remember, if it breaks, the frosting will hold it together). Put 1 layer, cut side up, on a cake stand or large plate and spread with about ¾ cup frosting. Stack remaining cake layers, spreading about ¾ cup frosting on each layer and ending with top cake layer cut side down. Spread top and side of cake with frosting. Garnish with bacon!
Notes
Nutritional Information:
427 calories, 43g fat, 8g protein, 3.5g carbs, 1.1g fiber
(90% fat, 7% protein, 3% carbs)
Here is a video of making the brown butter:

Plan Plan Plan is the key to success
Recipes like this can be found in my cookbook…Yes, I even have dessert recipes in The Art of Healthy Eating Slow Cooker! One trick that works for our family is that Craig helps clean up after dinner, while I prepare dinner for the next night. I often fill my slow cookers with a main dish, side dish and dessert (yes, I have 3 beloved slow cookers). Then in the morning, all I have to do is take the slow cooker shell out of the fridge and turn them on. That takes so much stress and anxiety out of my day!
To get over 300 slow cooker recipes, check out The Art of Healthy Eating: Slow Cooker, click HERE to order. 
My favorite slow cooker is $40 off today! Click HERE to find. 
And this one is more affordable and is $10 off today. Click HERE to find.
Happy Eating! Thank you all for your love and support!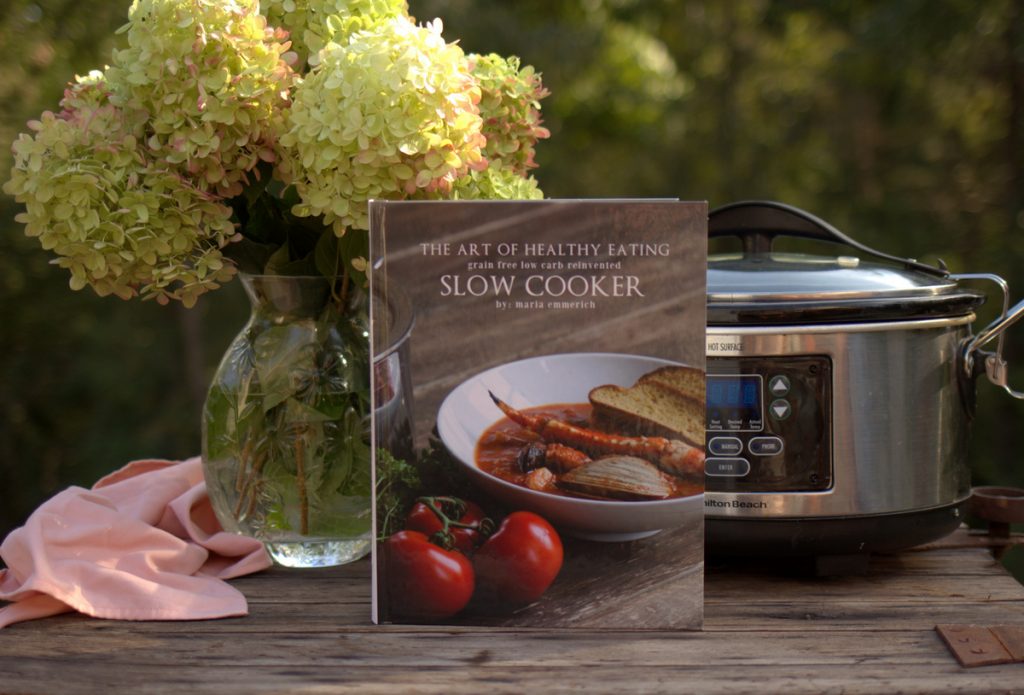 TESTIMONY OF THE DAY
"Okay Maria and Craig — more good news that I just have to share!
After 8 months of my Keto lifestyle, I just got my blood work back. This is UN-freaking-BELIEVABLE! Are you sitting down?!  
My Triglycerides went from 201 to 66. Yes, you read that correctly.  
A1C went from 5.5 to 5.2.
My liver enzymes are normal and, while still sluggish, my thyroid is functioning better! I have the LabCorps results to prove it.  My doctor and I are both in shock!
WOO HOO!!!" – Rebecca