How Lyme Disease Changed My Life
Craig and I have a very serious story to tell. I find it interesting that from social media, you may think we have it all together but it is far from it. Facebook photos can look so glamorous and show a false truth. Yes, I am grateful for my family and being offered amazing opportunities but having to watch my husband suffer for years has taken a toll on our whole family.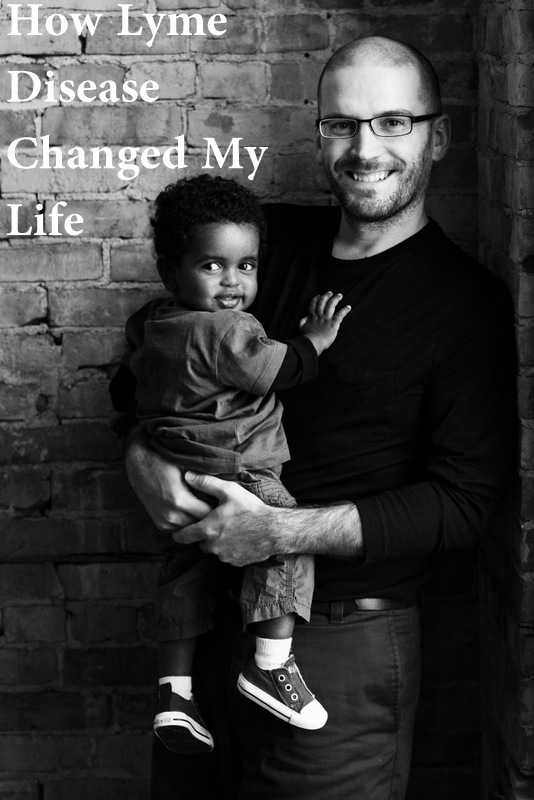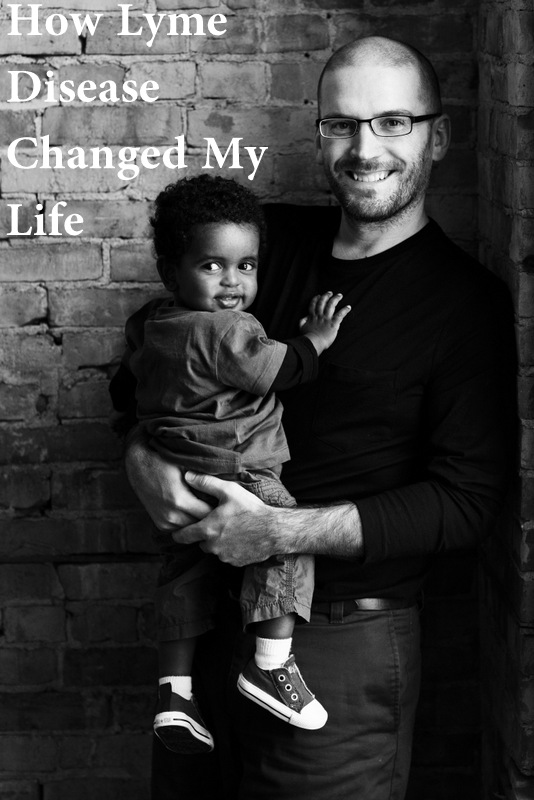 5 years ago Craig started living in chronic pain. I (Maria) used this photo of him holding Kai because it is the last photo I have of him looking strong. He went from a muscular and strong man to 134 pound man who hunches as he walks and struggles with constant pain. There were days he didn't want to get out of bed because the pain would be unbearable. We had no answers for his pain and he seemed to give up and just live with it. We have tried everything in the past 5 years; exogenous ketones, CBD oil, acupuncture, physical therapy, massage therapy, supplements and even though has has eaten 100% keto the whole time, he was still left with constant pain. The only thing that got him out of bed was to help all of you who needed help with answers to keto questions. He enjoyed helping all of you and his science background loved researching deep into the ketogenic lifestyle.
He has lived with chronic pain every moment of the last 5 years which have progressively gotten worse and worse. It started as lower back pain. This moved up his back until his entire back was always sore and stiff. Then his shoulder and neck became sore and stiff. Now he has migratory pain as well that moves from his hip, to knee, to ankle then back to knee. The pain feels like when you have a really bad ankle sprain. It shows up one day in the ankle then is gone to the knee the next day. Sometimes in both.
The hardest thing of all has been knowing that this is how my boys know me (Craig). We brought them home 6 years ago and for all of what they remember of me (last 5 years) it has been "daddy has a sore back". My boys know they can't jump on my back, I can't carry them, give them piggy back rides. When I see other fathers putting their kids on their shoulders it is hard because I know I can't do that for my boys. They know that when I play football with them I can't run. I also can no longer throw as far as my 8 year old son. I can't shoot a basketball from as far away as Micah either. They just know me as the dad that can't do many activities with them and that has been hard.
Diagnosis
There are major problems with our current medical community and how they deal with Lyme disease. First of all the standard test (western blot Lyme test) has a very high false negative rate. That means that is will say you are negative for Lyme when you are really positive. There are several reasons for this. The western blot Lyme test tests for IgG antiboidies and it separates them into weights which creates bands for the antibody response to specific proteins found on the Spriochete (Lyme). There are a total of 10 bands (18, 21, 28, 30, 39, 41, 45, 58, 66 and 93 kDa). It then looks for 5 positive bands. If it gets 5 positive bands it then looks at the IgM antibodies which have bands 23, 39 and 41. The IgG are typically form early stage infection and IgM from later stage infections.
If they get the 5 positive bands from the IgG they look for 2 positive bands in the IgM. They do this to prove you have a current Lyme infection as you can have antibodies from an earlier infection (but not current). This makes sense in general but here is the problem. For whatever reason the Western Blot test doesn't report on the bands 22, 25, 28, 31, 35, 37 and 83! They don't test all the bands on the IgG which is why many times they will report a negative result and don't even look at IgM antibodies. This is what happened to me about 2 years ago. I had the western blot test and it came back negative. The Igenex test tests for all the bands and for co-infections as well. More on that next.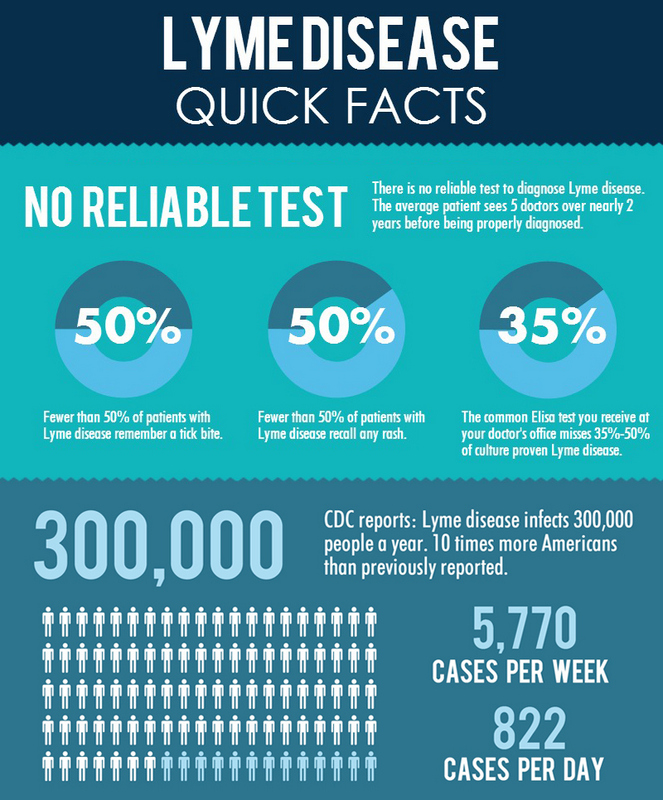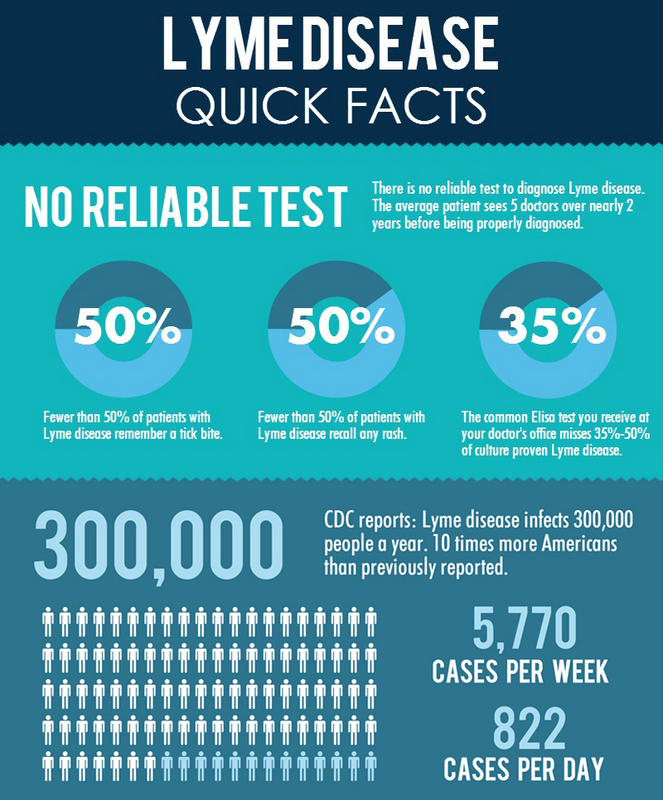 I (Craig) went another 2 years of not knowing what was wrong with me and getting worse and worse. I finally went to a functional doctor to try to figure out what was going on. Our functional doctor had additional blood tests done and found that Craig, the carnivore, was still anemic with low iron and b-12. She assumed he was a vegetarian because of his blood work; but Craig eats almost entirely meat! He became extremely keto (near zero carb) because it was the one thing he could do to keep the pain and inflammation manageable. Even with this his CRP came back at 50! CRP tells you how much inflammation is going on  in the body and you want to be 2.0 or less, ideally 1.0 or less and he was 50.0. Given his extreme keto diet and the lifestyle he lives, we knew there had to be something really wrong.
One day I (Maria) broke down to my publisher who I talk to often about book projects and many other things. I told Erich, my publisher, how Craig is never on the adventures I take with my kids. I take the boys camping and fishing without Craig because he can't handle the pain. During this conversation I told Erich how I often have 6 ticks on me in the summer months. His voice got very serious and he told me he lived in Thailand and areas around the world that have poisonous snakes, spiders, insects but what scares him the most are ticks with Lyme disease. Erich said Craig probably has Lyme. I told Erich that Craig did get tested a year ago and it came back negative. Erich explained how the traditional Lyme test (standard western blot Lyme test) has false negatives 90% of the time and that we need to do an Igenix test. He said it was expensive but worth doing it AND if Craig's Lyme test came back positive, I need to do one also. Sure enough, Craig's Igenix blood test came back positive. It was a bit of a relief to Craig to finally have an answer to his chronic pain, but also challenging to know the long road to recovery that was ahead.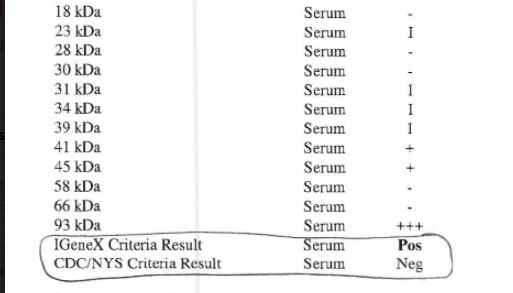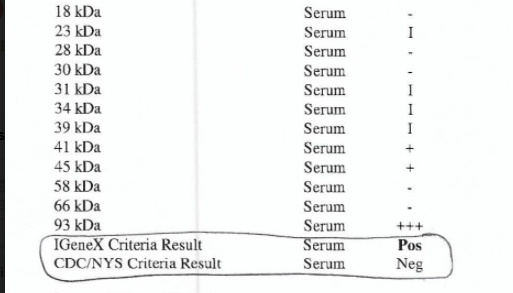 As you can see, using the CDC criteria I (Craig) still show negative but with the Igenex test you can see the positive result of Lyme disease.
We began talking with doctors about treatment and this is where things got really frustrating. The clinic doctors and even Holistic doctors we contacted didn't have Lyme experience and all they would do is give 2 weeks of standard antibiotics (Doxycycline). We know that with chronic Lyme disease that Craig has, this will do little to nothing to address the disease (more on that below). We were only able to find a couple Lyme Literate doctors in the Minneapolis area and they were booked out 3-4 months. After 5 years dealing with this disease Craig didn't need to wait 4 more month to start treatment. We finally found a Lyme Literate doctor in San Francisco that could see him the following week. Craig flew out the next week and met with her to start treatment. He is now working with Dr. Shalev at Holtorf Medical Group. They are very knowledgeable about the latest Lyme disease treatments and she even worked under Dr. Klinghardt who is widely seen as one of the top Lyme experts in the world.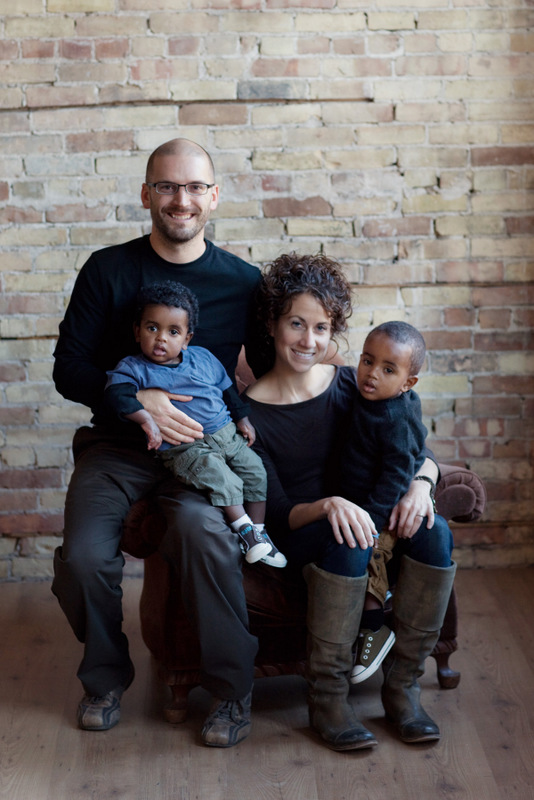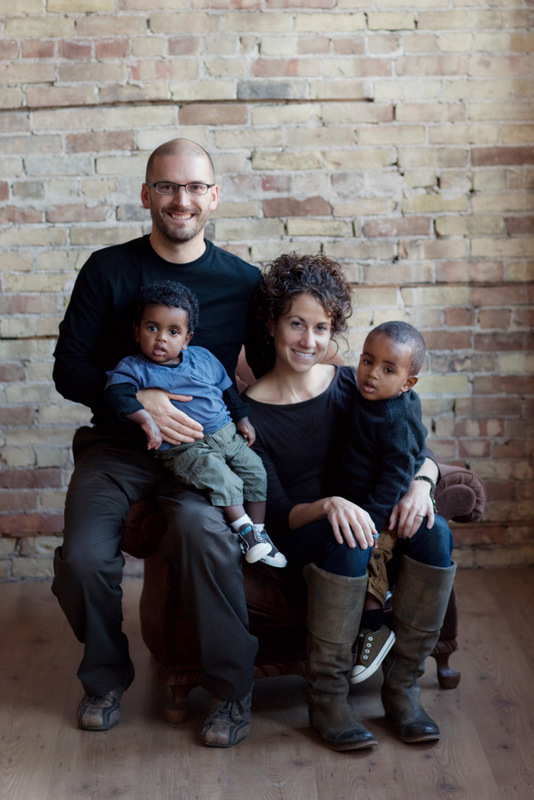 There is a documentary that is really eye opening about Lyme disease and how our medical system has failed so many people. It is called Under Your Skin. Here is the trailer.
I highly recommend this movie to anyone dealing with Lyme or who has someone they know dealing with it. You can watch it on Amazon Prime Video HERE.
So now we are on the road to recovery. But as anyone who has dealt with chronic Lyme disease knows, it is a very long road. There is so much to deal with and treat. Lyme breaks down your immune system so much that a host of issues creep in when you have it for this long. There are a bunch of co-infections, biofilms, cysts, bacteria, parasites, heavy metals and much more that all have to be dealt with in order to fully recover. This is why traditional treatment is so flawed.  A couple weeks of traditional antibiotic does little to deal with all these related issues and the Lyme just hides in the parasite, cysts and biofilms and reinfects you as soon as the antibiotic is stopped. Borrelia Burgdorferi (Lyme) is capable of transforming into a cyst when it feels its life is threatened. While in cyst form, Borrelia obtains immunity from antibiotics, its host's immune system, and temperature and PH variations. It can also lower its metabolic rate while in cyst form in order to ward off starvation. When conditions within its host become more favorable, it will transform back into its spirochetal form. A spirochete can also have the added protection of a biofilm if it morphs into a cyst while inside a biofilm.
When you start to treat these underlying issues, you will actually get much worse before you get better. Many people end up bed ridden for some periods of time. The reaction is called a Herx (or Herxheimer) reaction. It occurs when you have a big die-off parasites, yeasts, co-infections, etc related to Lyme. This is a long road but we hope he will begin seeing improvements in 4 month or so with a recovery time expected to take 9 months to a year or more.
Craig was lucky enough that his diet and lifestyle were able to keep the Lyme from crossing over into the brain to effect neurological things like foggy memory, muscle control, etc. Many people end up with foggy memory, unable to walk stairs or even being bed ridden. I believe that the Keto lifestyle he lived helped him avoid the disease progressing to that point.
In fact, there is some growing evidence that many of the cases of Alzheimer's, Parkinson's, ALS, MS, arthritis and others may have a root cause of un-diagnosed Lyme disease. In the documentary listed above Dr. Klinghardt states that he has yet to see an MS patient in his office that didn't also test positive for Lyme disease. Lyme Disease is a growing epidemic in this country and our healthcare community is tragically uneducated on its treatment. Those doctors that are educated on Lyme are booked out months. This results in more and more people being un-diagnosed or misdiagnosed leading to long term issues and chronic Lyme disease which can lead to MS, Parkinson's and a host of other chronic diseases.
Treatment
So now he is in treatment. We have started by attacking the co-infections, bacteria, parasites and cysts. The top Lyme doctors today believe that addressing these issues first gives better results as the Lyme won't be able to come back as easily after proper antibiotic treatment. We started with the Cowden protocol. The protocol itself incorporates a multifaceted approach to treating chronic Lyme disease through powerful anti-microbials that work just as good, if not better, than doxycycline, by addressing the 3 anatomical forms of the Lyme bacteria (i.e., spirochetal, cyst-form, and L-form), co-infections, detoxification support for the brain, nervous system, liver, kidneys, blood, and lymphatic system, immune modulation, heavy metal removal, krebs cycle support and energy support due to magnesium deficiency, biofilm dissolvers, and the removal of excess sulfur.
He is also starting the Klinghardt protocol for killing parasites. It is an intensive protocol using several anti-parasitic drugs to eliminate all the parasites that might be present (and thus get rid of the places where Lyme can hide). One of the best Lyme parasite anti-parasitics right now is Ivermectin. It is widely recognized as one of the most effective drugs for Lyme disease patients.
This will be a long process (likely over a year in total) and I will get worse before I get better. I will follow up with more posts in the future about my journey and hopefully that journey can help others who are struggling with this disease. Thanks for all your love and support!