Low Carb Thai Noodles
Testimony of the Day
"Maria, Today is my 50th birthday and I feel AMAZING and that's thanks to you!! I have lost 15# I have incredible energy, I sleep through the night for the first time in years, and I'm no longer hungry all the time. I can't say enough about you, your books amazing recipes and all the support you offer. As you know I have tried so many plans and have been a chronic dieter since age 13. This all makes sense and its a life change that is so easy to do. Thank you again for all that you do to make people healthy. P.S I plan to celebrate my birthday today by taking a 50-mile bike ride, I just had knee surgery 4 weeks ago and healed so well. This too has to do with the way I feel. Thanks, Mary"
Plan Plan Plan is the key to success
One trick that works for our family is that Craig helps clean up after dinner, while I prepare dinner for the next night. I often fill my slow cookers with a main dish, side dish and dessert (yes, I have 3 beloved slow cookers). Then in the morning, all I have to do is take the slow cooker shell out of the fridge and turn them on. That takes so much stress and anxiety out of my day!
To get over 300 slow cooker recipes, check out The Art of Healthy Eating: Slow Cooker, click HERE to order. 
My favorite slow cooker is $40 off today!
And this one is more affordable and is $10 off today. Click HERE to find.
Happy Eating! Thank you all for your love and support!

Coconut Aminos
You may look at the ingredients and see "Coconut Aminos" or "Tamari" sauce and say "What?"!!! So what is it? and why ORGANIC? Monsanto Co., the world's largest seed producer, has developed the first-generation Roundup Ready soybean (and corn) seeds…they are in discussion about putting Roundup INSIDE the seed so the weeds have no chance against the crop! Well, what ramifications does this have for our health? Do you notice a rise in auto-immune diseases? cancer? fatty livers? AHHH!!! We aren't sure just how bad it can become, but some issues are precancerous cell growth in the digestive tract, inhibited the development of the brain, liver, and testicles, partial atrophy of the liver, enlarged pancreas and intestines, and immune system damage. My suggestion is to only use Coconut Aminos or Organic Tamari Sauce.
Coconut Aminos are also a great soy sauce replacement. This delectably delicious soy-free sauce, containing 17 amino acids, is dark, rich, and salty. I am amazed at its resemblance to soy sauce. It is made simply from raw coconut tree sap and sun-dried sea salt, and naturally aged. This sap is very low glycemic (GI of only 35), is an abundant source of amino acids, minerals, vitamin C, broad-spectrum B vitamins, and has a nearly neutral PH. The majority of conventional soy sauces on the market are made with non-organic, genetically modified (GMO) soybeans. Long term use of unfermented soy-related products has led to an increase in soy allergies, a disruption in proper thyroid function, and an overload of estrogens in the body.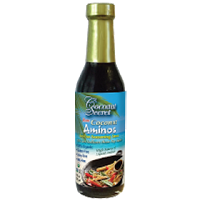 Tamari is a premium Japanese soy sauce. The major difference between Tamari and regular soy sauce is the proportion of ingredients between soybeans and wheat. While regular soy sauce contains 40-60% wheat, Organic Gluten-Free Tamari is made with 100% soybeans and no wheat. While the sodium level of Tamari and regular soy sauce is the same, the higher concentration of soybeans in Tamari gives a richer, smoother, more complex taste than ordinary soy sauce. Tamari is naturally fermented for up to 6 months and it doesn't contain MSG or artificial preservatives. Organic Gluten-Free Tamari's fermentation process is different than ordinary soy sauce, giving it unique flavor-enhancing properties. Add Tamari to gravies, sauces, and casseroles. Use it as a marinade and in stir-fry dishes. Reduce sodium levels in your cooking without compromising taste. One teaspoon of Organic Tamari contains one-eighth the sodium as one teaspoon of salt.
I use them in my "healthified" dressings, marinades, sauces, and rice-free sushi. Click HERE to find it.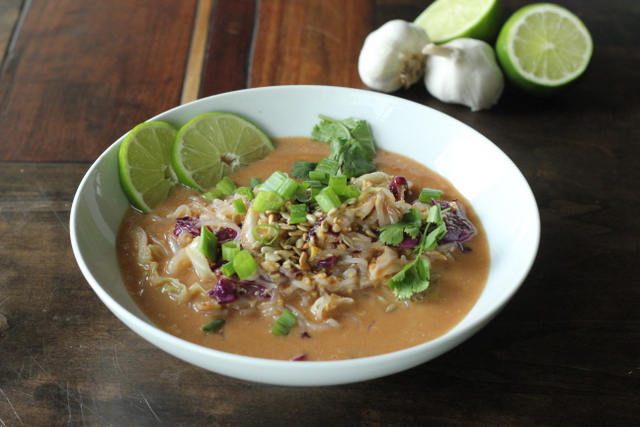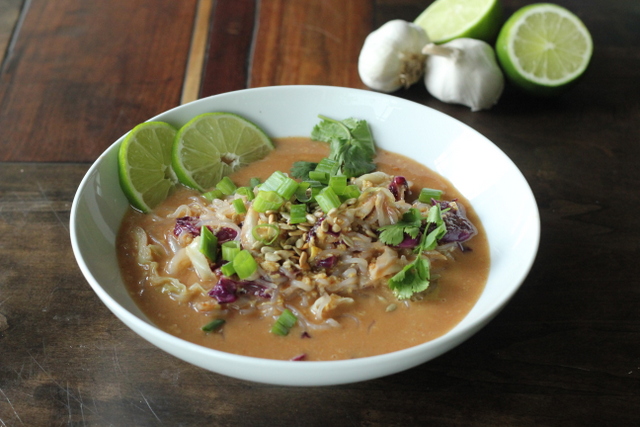 Noodles:
4 cups zucchini, cut into noodle-like strips (Or Miracle Noodles)
*I used my handy-dandy tool: The Spiral Slicer
Sauce:
4 TBS natural peanut butter (or sunflower butter)
4 TBS organic broth (veggie/beef or chicken) (steaming hot)
2 TBS Coconut Aminos OR aged wheat-free tamari sauce (fermented soy sauce)
1 1/2 TBS Swerve
1/4 teaspoon cayenne pepper
1 1/2 tsp lime or lemon juice
Peanuts or Sunflower Seeds for garnish
In a small bowl combine peanut/sunflower butter and broth; mix until smooth paste forms. Stir in Coconut Aminos, Swerve, cayenne and lime/lemon juice. Mix by hand until well combined and smooth. Mix with the zucchini and enjoy it! Makes 4 servings.
Option: add chicken or shrimp to make this one hardy meal!
NUTRITIONAL COMPARISON (per serving)
Using White Pasta = 322 calories, 44 carbs, 3g fiber, 12g protein, 11g fat
Using Zucchini Pasta = 119 calories, 7 carbs, 3g fiber, 7g protein, 8g fat