SUGAR CRAVINGS
Willpower
 is a muscle in the brain that can get over worked! You NEED to 
limit
temptations
! You only have a finite amount of 
willpower
 as you go through the day, so you should be careful to conserve it and try to save it for the emergencies. Work and family obligations may be using all of your 
willpower
 and you end up giving in to food 
temptations
.
Here are some tips:
1. Clean out your pantry. Other people in your house don't need that stuff either.
2. Don't put it those temptations near you. Just putting food where you can see it next to you depletes your willpower.
3. Cravings, frustrations, desires — all become overwhelming. MAKE "HEALTHIFIED" low carb lemon bars. I keep things like that in my freezer AT ALL TIMES! Especially in the summer, I feel no desire to eat the sugar and wheat-filled treats that are going to set me off course… it is a down-hill spiral!
4. In the short term, self-control is a limited resource. But over the long term, it can act more like a muscle. Practice Practice Practice = better willpower. It will get easier everyday.
5. Supplements like Bifido bacteria, 5-HTP, l-glutamine, Magnesium, zinc and some others I recommended all help with those nasty cravings and temptations!
To read more on neurotransmitters and the brain, check out my book Secrets to Controlling Your Weight Cravings and Mood.
Thank you for your love and support!

"HEALTHIFIED" LEMON BARS
CRUST:
3/4 cup blanched almond flour
1/4 cup coconut flour
1/2 cup coconut oil or butter
1/2 cup Swerve (or erythritol and 1 tsp stevia glycerite)
1/2 tsp Celtic sea salt
CRUST: Preheat oven to 325 degrees F. Grease a square glass pan. In a medium bowl, mix ingredients. This will be a thick cookie crust; press onto bottom of pan. Place in oven to pre-bake the crust. Bake for 15 minutes or until lightly golden brown. Remove from oven and set aside to cool.
FILLING:
3 large eggs
1/2 cup Swerve (or erythritol and 1 tsp stevia glycerite)
1/2 tsp aluminum free baking powder
1/4 tsp Celtic sea salt
4 TBS lemon juice
In a medium bowl, beat the ingredients for the filling until well combined. Pour the mixture evenly over the pre-baked crust and bake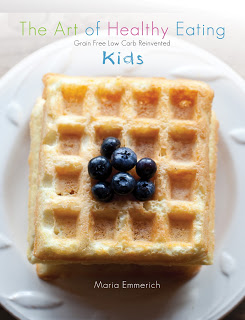 again for about 15-20 minutes or until set. Let cool. Store in fridge or freezer in an airtight container. Makes about 16 bars.
NUTRITIONAL COMPARISON (per bar)
Traditional Lemon Bar = 160 calories, 8g fat, 1.9g protein, 19g carbs, trace fiber
"Healthified" Lemon Bar = 112 calories, 10g fat, 3g protein, 2.5g carbs, 1.2g fiber
This recipe and many other yummy treats can be found in this cookbook: The Art of Healthy Eating: KIDS