Low Carb Chocolate Donuts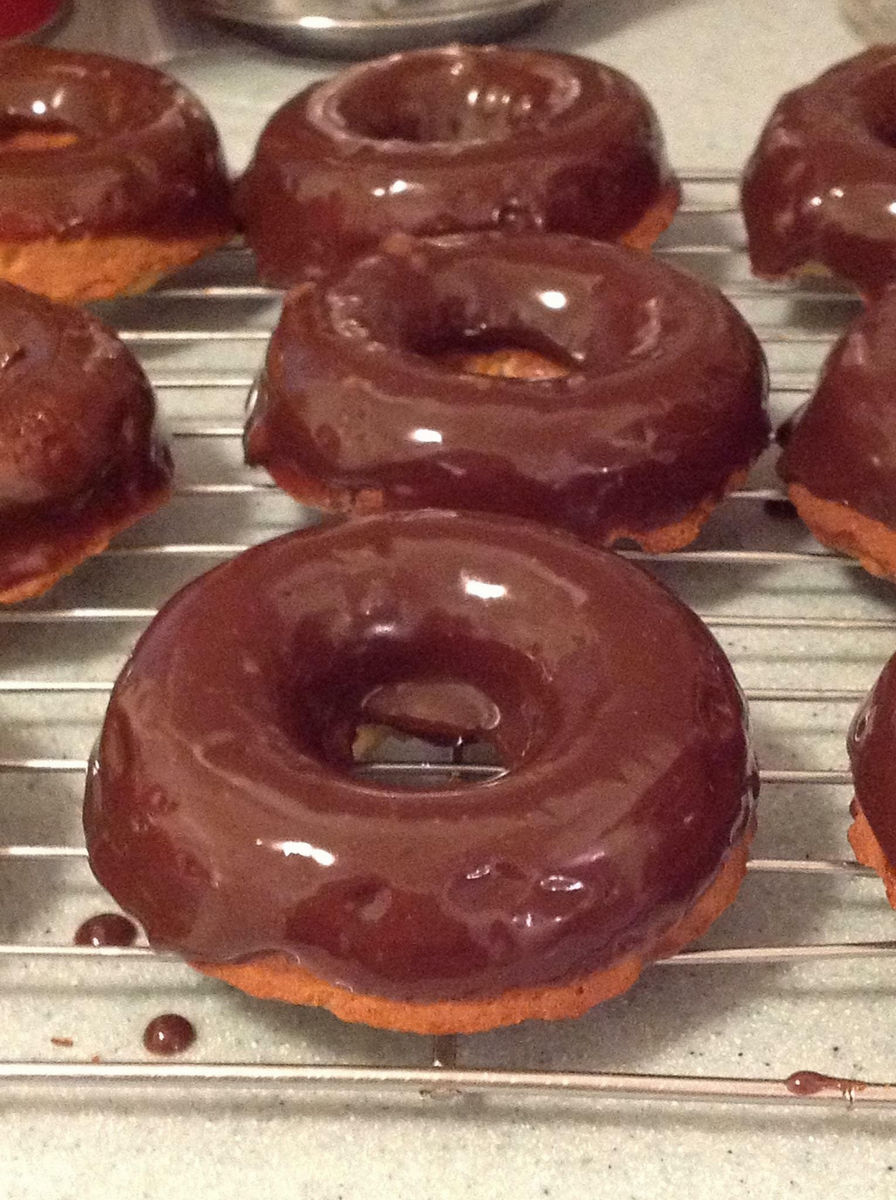 If you love chocolate and donuts, this recipe will not disappoint! Who knew that low carb chocolate donuts could exist?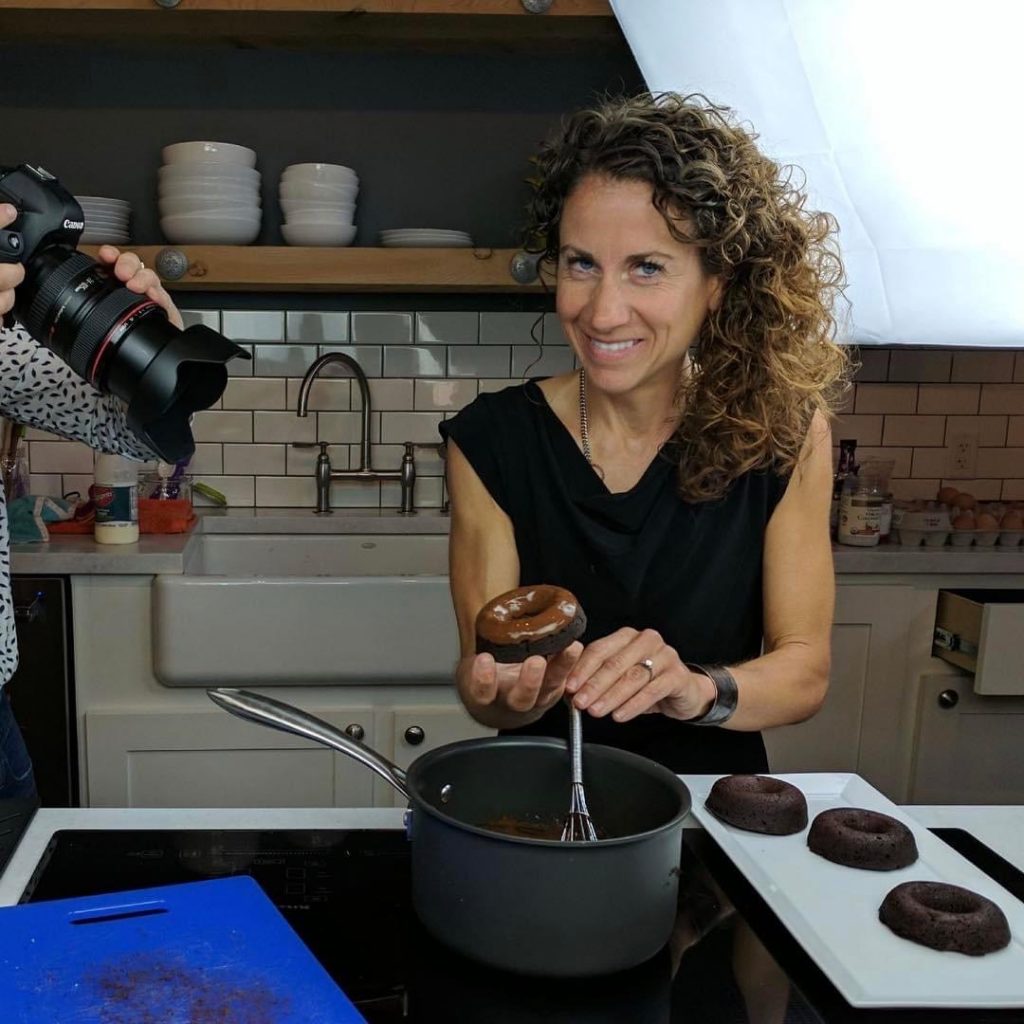 DONUT
1/2 cup
blanched almond flour
3 eggs, separated
1/4 tsp Celtic sea salt
1/4 tsp baking soda
1 tsp vanilla (or other extract like Almond)
1/4 tsp cinnamon (optional)
2 TBS cocoa powder
1/4 cup
Swerve 
(or 1/4 cup
erythritol
and 1 tsp
stevia
)
4 TBS coconut oil or butter
GLAZE:
6 TBS unsweetened cocoa powder
1/4 cup butter or coconut oil
1/4 cup Swerve (or erythritol and 1 tsp stevia glycerite)
1/4 cup unsweetened almond milk
1/2 tsp vanilla extract
Whip the egg whites until stiff peaks form. Combine the yolks, sweetener, oil/butter and whisk until well-blended. Combine all the dry ingredients, blend well. Gently fold the wet ingredients into the whipped whites and then slowly fold in the dry mixture, and fold until well blended. Fill the donut pan 3/4 of the way full. Bake for 15 minutes at 350 degrees F, or until a toothpick comes out clean.Meanwhile, melt coconut oil with sweetener and extract. Drizzle or dunk the baked goods into the glaze. Enjoy! Makes 16 servings.
To make the frosting, make erythritol into a powder in a food processor. Melt together the 6 tablespoons of cocoa and butter; set aside to cool. In a medium bowl, blend together the sweetener, almond milk and 1/2 teaspoon vanilla. Stir in the cocoa mixture. Spread over cooled donuts and enjoy!
NUTRITIONAL COMPARISON (per serving)
Traditional Donut = 311 calories, 15g fat, 3g protein, 43.4g carbs, 0.9g fiber (42.3 effective carbs)
"Healthified" Donut = 176 calories, 16.5g fat, 3.6g protein, 3.7g carbs, 2.2g fiber
TESTIMONY OF THE DAY
"Hi Maria! On 02/15/13 I was diagnosed with a 12mm Pineal Gland Cyst after a sever migraine. In late July I flew to Colorado in hope of finding some answers and second opinions. I was given no information from the 2-3 Neurologist that I have seen as to what caused or is "feeding" this. The doctors are very unhelpful due to where my cyst is located (dead center of my brain). Their fearful that it will grow thus forcing them to operate, so they shove RX's at me in hopes that something will help. Only more bad news followed. Not only was the Cyst causing problems, I was on my way to getting Type 2 Diabetes and leaky gut. I knew I needed to change my life and fast. 
I found out about "The Maria Way" from some very good friends. I have followed your plan since the being of August. On 08/20/13 just 2.5 short weeks of being GF, I had my follow up MRI. It showed that the cyst was now only 1.1cm in size. It had already shrunk 1mm! I know that sounds tiny but when you're talking about something growing in the middle of your brain it means a lot! I have stopped all med's and have been migraine and headache free for almost a month now thanks to you!
My skin has improved and my body has never felt better. I can't wait to see how i feel in a month! My holistic doctors believe that a change in diet and the right supplements will probably shrink or even make my cyst go away. I am really looking forward to TOTAL body health. I truly do feel that "you are what you eat".
I have never felt better! Not only am I losing weight but very soon I will be completely healthy! Thank you Maria!!!!" Megan
Most people I consult are doing keto totally wrong. Get fast results with the my NEW Keto Packages!