Lipolysis and Why You Can Gain Weight Eating Too Much Fat
There are a lot of conflicting views and advice on the web about what is a well formulated ketogenic diet, especially for weight loss. Lots of people promote Bullet Proof Coffee, Fat Bombs, eating sticks of butter, adding carbs or doing carb ups, etc.  In this article I want to clear up the metabolic processes that are involved with a ketogenic diet, insulin resistance and how to leverage them to heal your body and as a result, lose weight.
"Hi Maria! I've spent the past few weeks really eating on the lower end of the fat side. Gave up ribeyes, NY Strips, eating fish for my first meal everyday (along with eggs however, so still getting fat there), lean beef like sirloin and lean ground beef at dinner, again having poached egg yolks because that is my dipping sauce.

I've also really reduced my portions. I'm FINALLY dropping weight, feeling so much better digestively and energetically. My sleep is getting better, my outlook on life has improved. AND the amazing thing is not only am I not hungrier, I am less hungry than I was when eating larger portions and much more fat.

Thank you both for always pushing back on the keto/carnivore space promoting limitless fat, calories, pounds of meat, etc." – Julie
What Causes Insulin Resistant and Weight Gain?
The primary cause of weight gain is high dietary carbohydrates. This causes insulin to respond and store the excess fuel (blood glucose) that results. This is also the stem of most diseases. Check out this chart by Ivor Cummings.
As you can see, impaired insulin signaling is the stem of most diseases we face. There are several other factors that contribute (not enough sunlight, poor diet, lack of exercise, poor sleep, magnesium deficiency, stress, etc), but the impairment of insulin signaling (insulin resistance) and the resulting inflammation is the core cause.
So it is very important to understand how to reverse insulin resistance. Controlling our insulin levels (reducing carbohydrates) is just one part.
What is the cause of insulin resistance? Some people will say high glucose levels. Others will say being obese. While some say high insulin levels. High insulin is partly true but what really causes the break down of metabolic function is when our body fat (adipose tissue) gets very large and can't hold anymore fat.
Adipose tissue is a very important signaling component in our bodies. Keeping our fat cells happy turns out to be very important to our metabolic function. The key is to reduce our fat cell size. You can have people with a lot of fat cells but the cells are small and they don't have insulin issues. You can also have people with little body fat but the fat cells are large and they do have insulin issues and diabetes. This is why people that are 110 pounds can still get diabetes without gaining weight. The fat cells, when they get enlarged, no longer allow additional fat to be stored in them as they get inflamed. This is what starts the metabolic breakdown.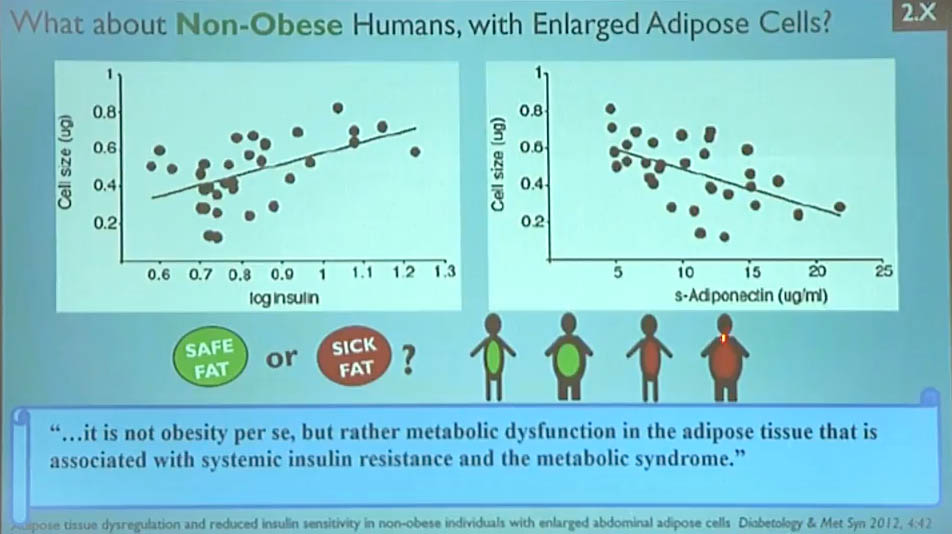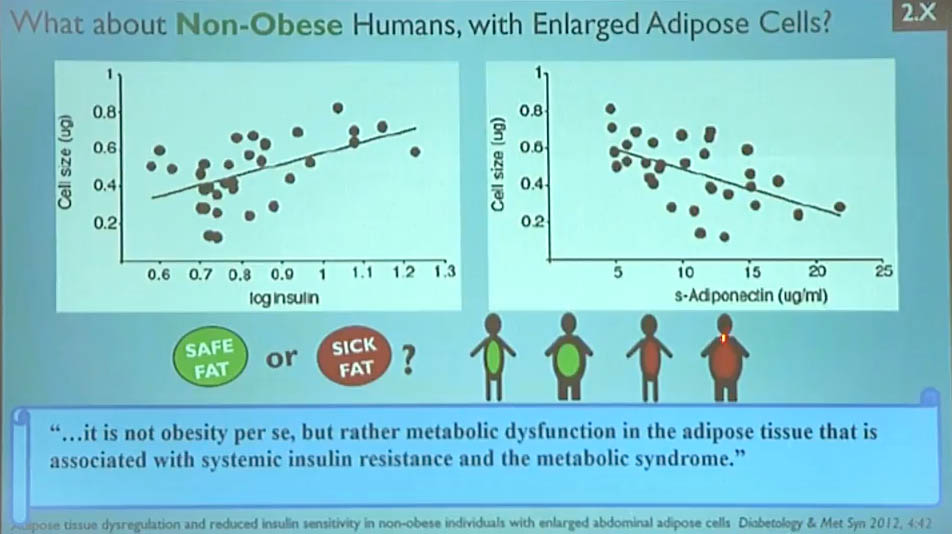 Eating low carb goes a long way to reverse metabolic issues by lowering insulin.  But it is also very important to eat in an energy deficit in order to allow your body to use body fat for fuel in order to shrink the size of the fat cells. Shrinking of the fat cells (even in people that may not have a lot of weight to lose, but are insulin resistant) is needed to reverse the metabolic breakdown.
This isn't the old Calories in Calories out argument. All calories are not equal. But our bodies are very good at managing energy flux within the bloodstream. So if excess energy is being consumed in the diet (BPC, Fat bombs, etc), it will stop sending energy into the blood from storage (glucose or fat). We want our bodies to use body fat for fuel in order to lose weight AND to shrink the size of the fat cells to reverse metabolic damage and diabetes.  So keeping fat moderate during weight loss is important.
How do you Know that you are Insulin Resistance?
Most people (and doctors) would tell you that your fasting glucose measurement is the first to indicate that there is a problem with insulin resistance. This is where you test your blood glucose in a fasted state (8 hours of no food). They typically get concerned an may ask for a glucose tolerance test if fasting levels are over 100 (more typically over 125). The glucose tolerance test is where they give you a glucose solution (75 grams) and measure your blood glucose levels at 1 hour intervals after (for 2-3 hours typically). This measures how long it takes your body to store the glucose and lower blood sugar. But there are flaws in these measurements because they miss many people that are already diabetic but still pass these glucose tests. They basically only catch those people who have had their system already break down. Their pancreas has been working so hard for so many years to keep the blood glucose down that is starts to fail and fasting glucose levels begin to rise.
Years ago Dr. Kraft developed a test of insulin instead of glucose. This test is similar to the glucose tolerance test but instead of monitoring blood glucose, you monitor blood insulin levels. This diagram (source) shows the different response profiles of various stages of diabetes. The lowest blue one is normal. The other 3 are different stages of diabetes.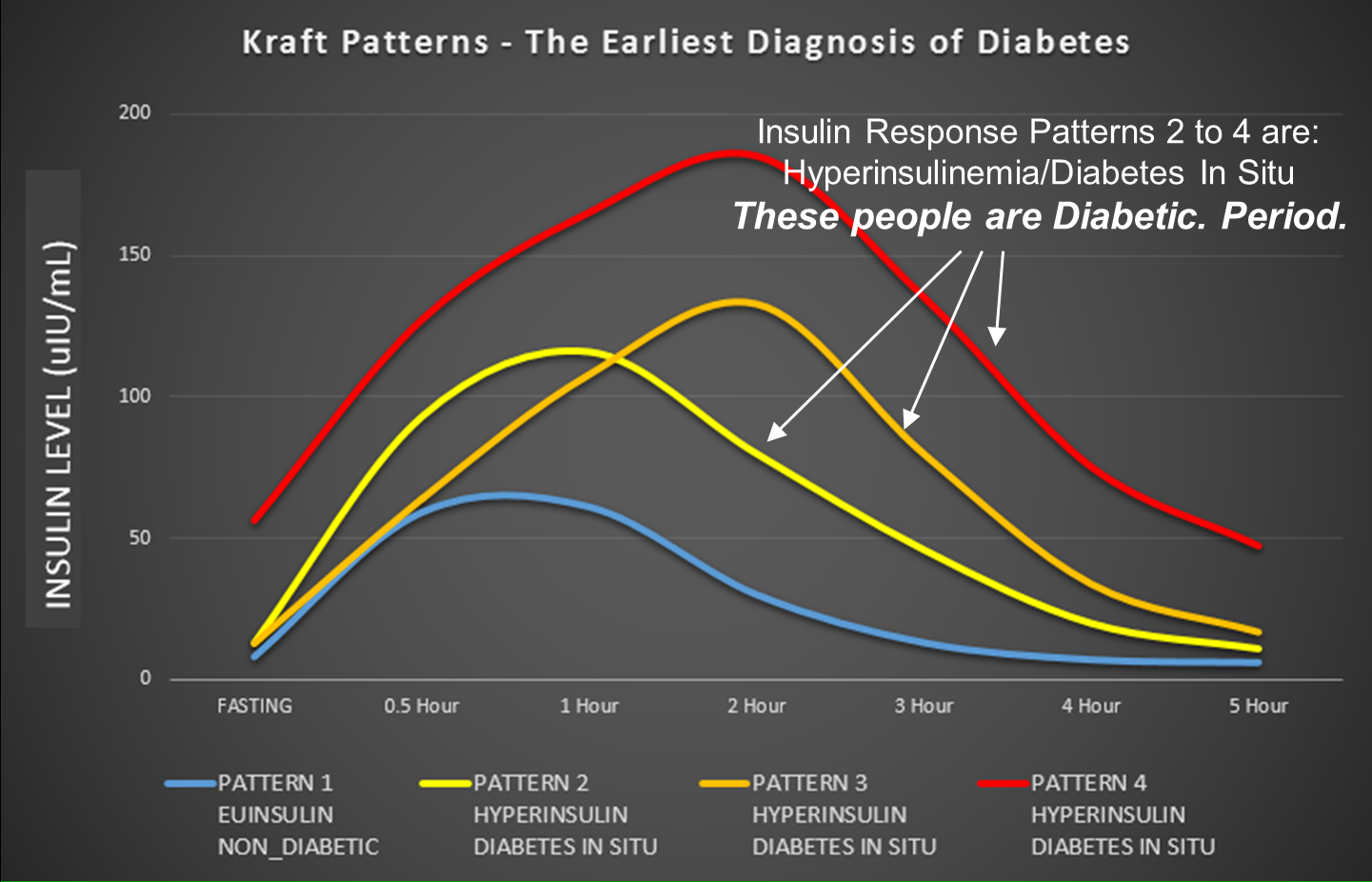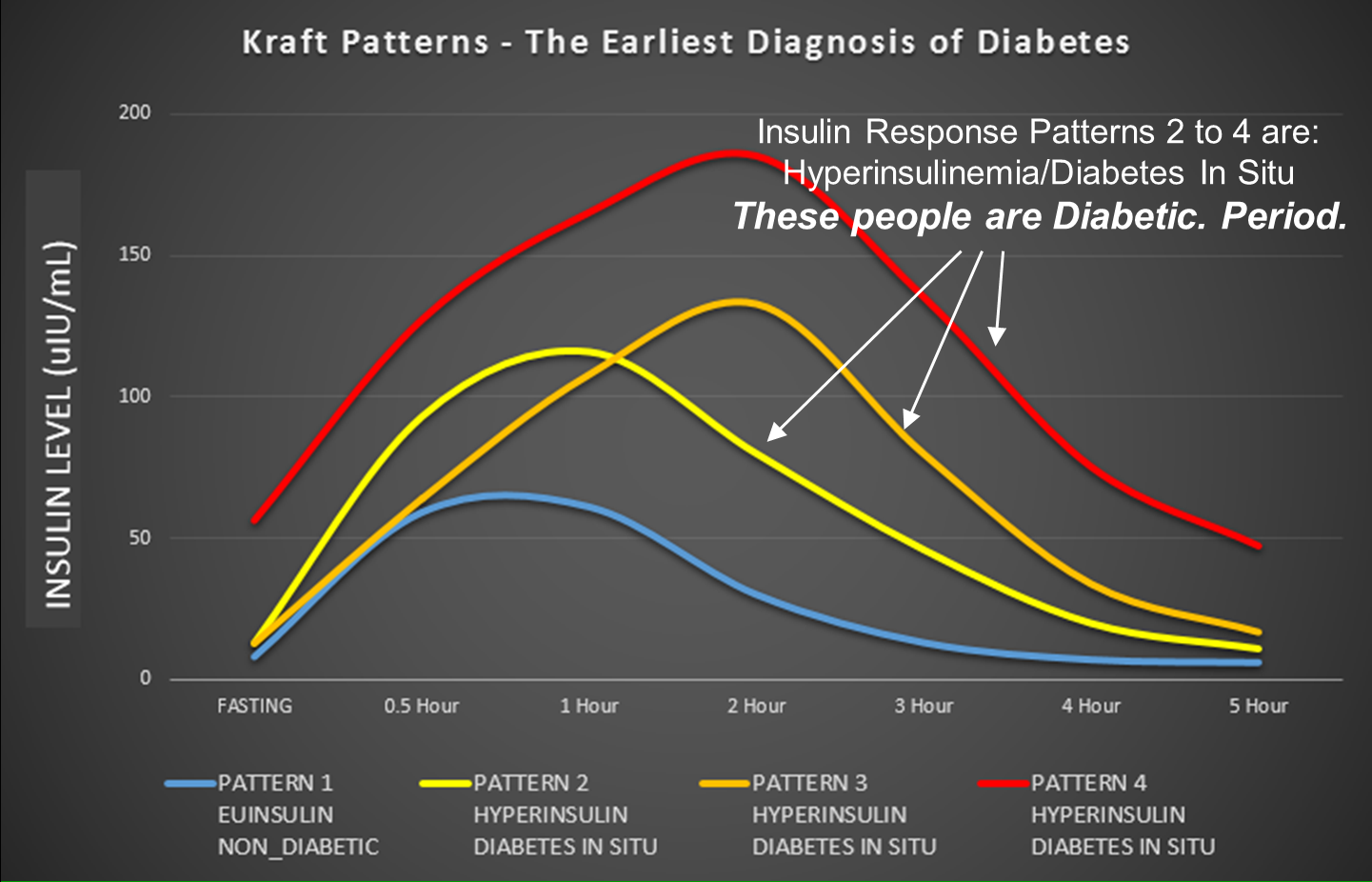 Kraft found that over 75% of the people he tested with this method had diabetes but passed the blood glucose tests. This makes the Kraft test one of the most important tests you can do to assess your health and metabolic function. It shows the insulin problems that lead to failure up to 10 years or more before you fail the glucose tests.
Remember, this failure in insulin signaling is the cause of the majority of major illnesses today. Cardiovascular disease, cancer, obesity and hypertension, diabetes and Alzheimer's, inflammatory diseases.  It is estimated that 50% of Americans are now diabetic (or pre-diabetic which is really the same thing). But with this Kraft test would indicate that upwards of 65% or more are actually diabetic.
What are the stages of a Ketogenic Lifestyle?
There are three distinct phases that occur with when a well formulated ketogenic diet is implemented.
1.

Endogenous Ketone Production

The first phase is when you start showing elevated ketones in your bloodstream. This usually starts after 1-2 days of carbohydrate restriction (20g or less total carbs). You will see blood ketones go from 0.1 or trace to 0.2 or 0.3 or higher blood ketones. In this phase you may still struggle to have enough energy.  Making sure you get electrolytes (salt, potassium and water) and adding extra fat (like fat bombs) can be helpful to fuel the body until your body can better utilize your own fat for fuel.
2.

Becoming Fat Adapted
This can take about 4-6 weeks (or even more for some people). This phase is where the body starts to utilize body fat for fuel. This is called Lipolysis. Stored body fat (adipose tissue) is triglycerides. Each triglyceride molecule is three free fatty acid (FFA) molecules connected with one glycerol molecule. It taps stored body fat to generate FFA to fuel muscle and other lean tissues as well as some glycerol (that it turns to glucose) to fuel parts of the brain that still need glucose. At this point you want to ditch the extra fat (fat bombs, etc) so your body uses more body fat for fuel (fat loss and shrink fat cell size).
3.

Fully Keto Adapted

Now you become a metabolic powerhouse. It can take anywhere form a two months to a few months (up to 6 or more in some cases). This is where there are some real changes at the cellular level. Mitochondria become more efficient, you can use FFA much better for fuel and much more. Insulin resistance is being reversed. Adipose tissue and fat cell size is reduced. This is where you really start feeling like a super hero with loads of energy, healing your body and other great benefits (moods, focus, memory, etc).

With these stages it becomes clear that in the first phase, you do need to add extra fat to the diet for fuel until the body adapts and can make it from your own fat cells. But once your body gets Fat Adapted, you can now use dietary fat or body fat equally. Using body fat for fuel (lipolysis) is what you want for weight loss (fat loss). So you don't want to add lots of dietary fats if feel weight loss and healing is the goal or it will use those for fuel instead of body fat.
What does a Well Formulated Ketogenic Diet for Weight Loss Look Like?
It is pretty remarkable when you take a look at what this diet really looks like compared to a typical American diet. Now this average from THIS study may be a bit outdated (I'm guessing today the average calories is much higher). But in the study the typical American diet looks like this (source):
Now lets look at what a well formulated Ketogenic diet can look like for many people (when trying to lose weight).
Notice anything?  All that really changed was the lower carbs (and thus calories).  And the great thing is once you get your body out of the cycle of spiking blood sugar and insulin, it is actually quite easy to sustain this level of calories (much easier than high carb diets). The remaining energy needed each day comes from stored body fat.   This shrinks the fat cells (lose weight) and reverses the metabolic damage. This is what a well formulated ketogenic diet looks like for weight loss.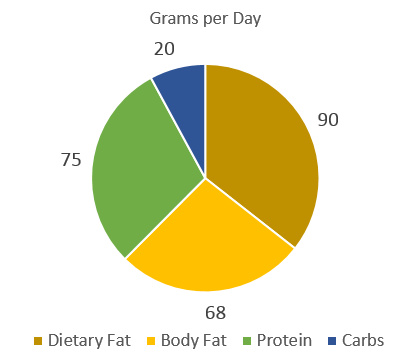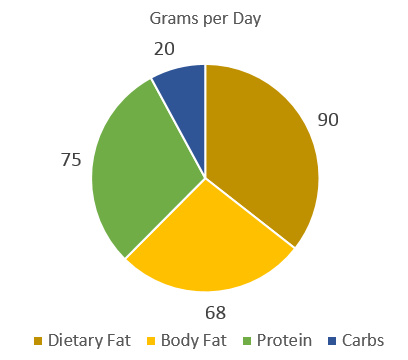 The only real change to these numbers for someone in maintenance would be higher fat. This will make up the 68 grams shown in this diagram (each person will be different in their metabolic rate).
CLICK HERE to use our macro calculator and get your own personal macros!
More Great Science Articles and Support!
For more great science article like this, tons of support including weekly webinars with Craig and Maria.  If you want the ability to make your own meal plans check out our subscription site HERE.
Update:
I want to emphasis that this isn't the old calories in calories out concept. It is all about the latest science that shows that when the fat cells get too full and inflamed the hormone signaling gets interrupted.
So when this signaling is messed up, you want to shrink the fat cells quickly to restore the hormone signaling. You will do this quicker by moderating fat intake in the beginning. Eating say 1,200 or 1,400 calories vs 5,000 will just get you where you want to be faster.  Just some level of moderation instead of eating a pound of bacon and fat bombs all day. When your hormone signaling is messed up, you don't get the signals of "I'm full".
PROTEIN SPARING MODIFIED FASTING
The idea behind a protein-sparing modified fast (PSMF) is to reduce carbs and fat as much as possible while still hitting your protein goal or even getting a bit more protein than your target. Instead of 0.8 times your lean mass for your protein goal, you want 1.0 times your lean mass when doing a PSMF. The additional protein makes your body use even more stored fat for fuel, helps break stalls or accelerate weight loss and healing, and helps keep you feeling full, while also giving you the added benefit of the high thermic effect of food with protein, which means that you effectively lose 25 percent of the calories you take. You also want to get some fat during this type of fast to ensure that you keep your hormones happy and that fat-soluble vitamins (A, D, E, and K) get absorbed. 30 to 50 grams of fat will be enough. But lower the fat this much forces the body to use more stored body fat for fuel, exactly what you want for weight loss.
PSMF is something we typically have clients do a couple days a week. Then regular keto eating the other days. For example, let's say a woman weighs 170 pounds and has 38 percent body fat, which means she has 105 pounds of lean mass. Her macros would be 20 grams or less of carbs, 105 grams of protein, and 40 grams of fat. As you can see, this is like fasting while preserving lean mass because she is only getting about 860 calories, though only about 730 of those calories are useful because of the thermic effect of food. She will get enough protein to preserve important lean body mass, but she will have to use a lot of stored fat to fuel her body. This is what makes PSMF such a great tool for accelerating weight loss or breaking a stall.
Eight to ten years ago, Maria called this practice a "pure protein day." Back then, we hadn't heard of PSMF. We just knew the properties of the thermic effect of food and how our metabolisms worked, so we knew this could be helpful for people to lose weight faster. PSMF is becoming more popular and well-known and is a great tool for improving results.
We have just launched an all new Protein Sparing Modified Fast cookbook!  This book is loaded with over 47 great recipes and 2 weeks of PSMF meal plans with full grocery lists!