Lemon Poppyseed Boccone Dolce Cake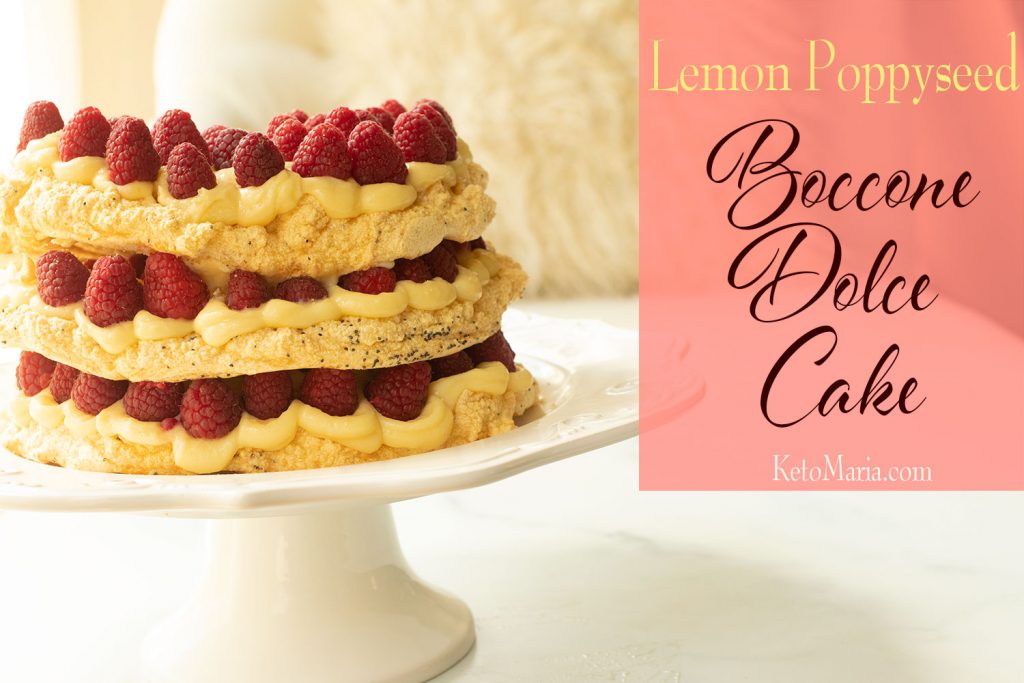 Boccone Dolce ('sweet mouthful') is an Italian meringue-based, layered dessert that is just as delicious as it is stunning! Just make sure to take a photo before you slice it since it crumbles.
My Lemon Poppyseed Boccone Dolce Cake is also protein sparing! A protein packed cake! What's not to love?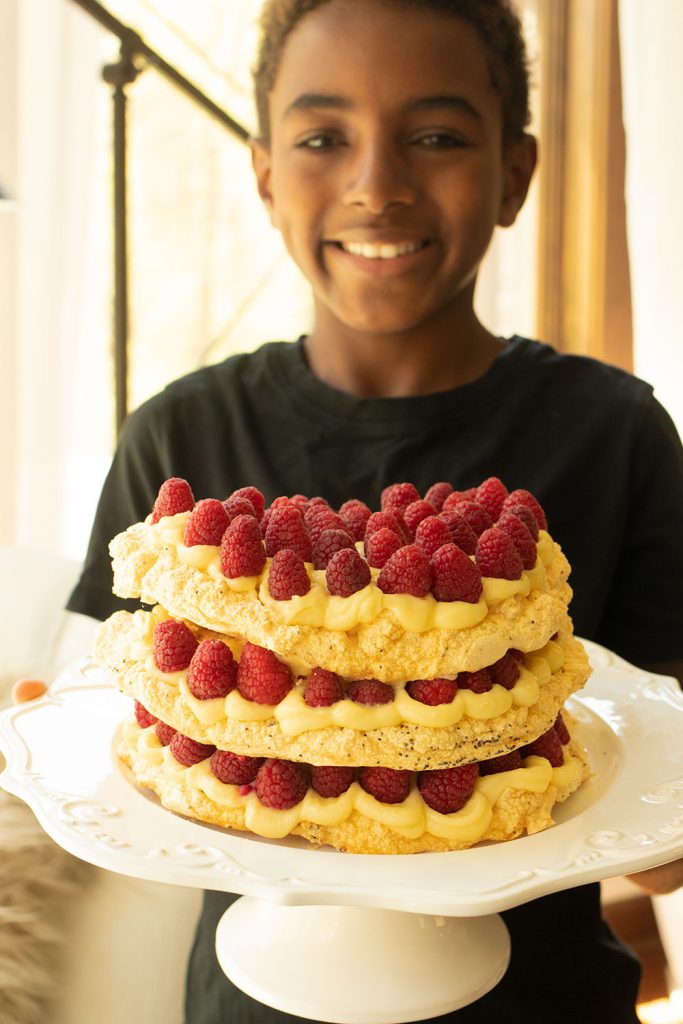 I added Further Foods hazelnut collagen to my keto brownies for an added health benefit!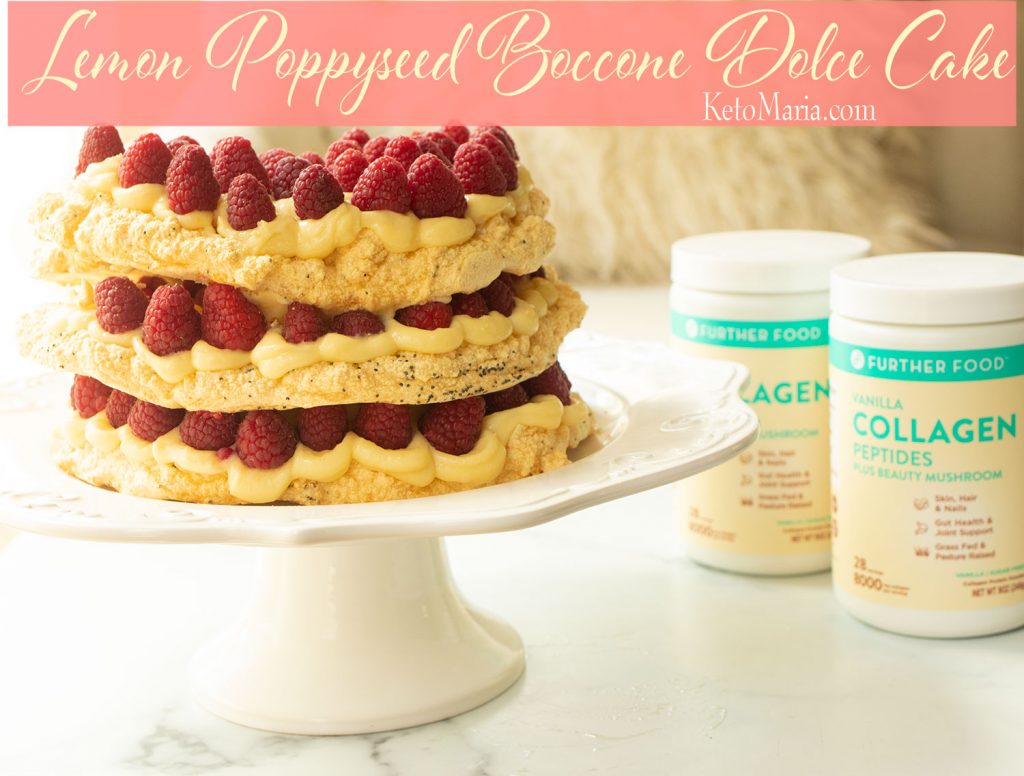 Further Foods collagen is not only filled with top quality ingredients, they are also delicious!
I love that I can easily open a tub of Further Foods Vanilla Collagen and use it to make my lemon poppyseed Boccone Dolce Cake in an instant!
Further Foods is SO generous that they are doing a special discount for all of my readers!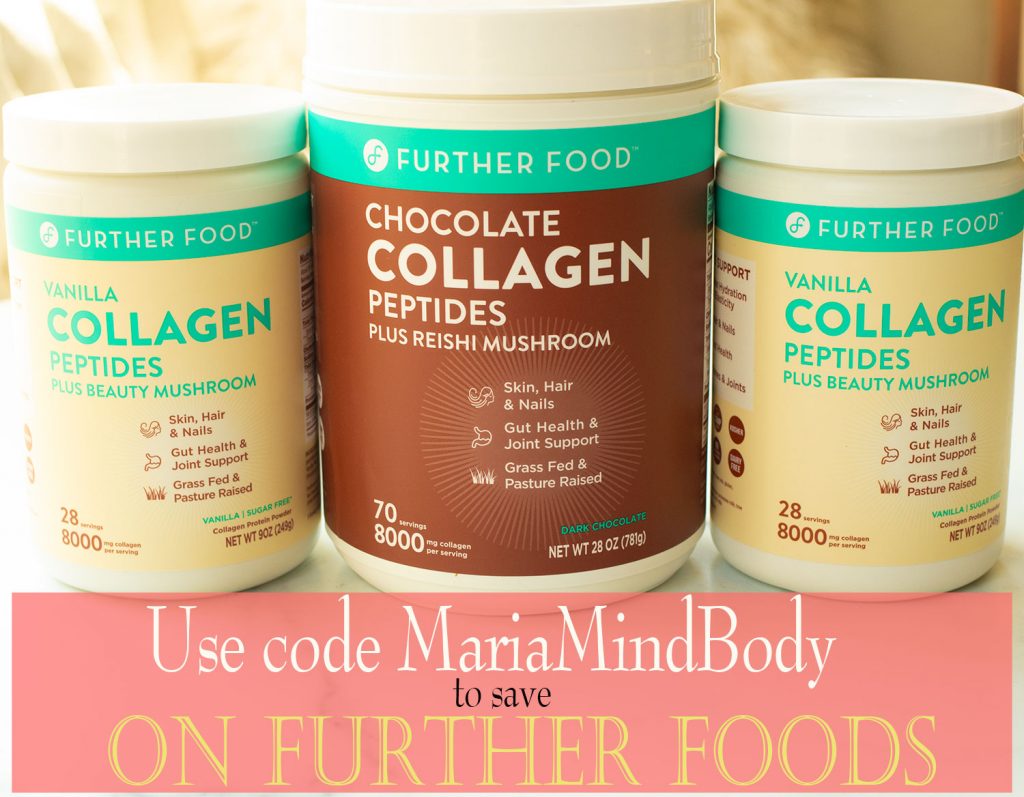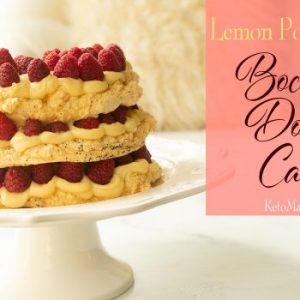 Lemon Poppyseed Boccone Dolce Cake
Ingredients
10

large

egg whites

room temperature

1¼

cups

confectioners'-style natural sweetener or equivalent amount of liquid or powdered sweetener

¼

teaspoon

cream of tartar

¼

teaspoon

Redmond Real salt

2

tablespoons

poppyseeds

2

teaspoons

lemon extract
FILLING:
10

large

hard-boiled egg whites

or 1¼ cups 100% liquid egg whites, lightly scrambled

1

cup

unsweetened almond milk

½

cup

confectioners'-style natural sweetener or equivalent amount of liquid or powdered sweetener

or more to taste

1/2

cup

Further Food Vanilla Collagen

2

teaspoons

lemon extract

⅛

teaspoon

Redmond Real salt

Raspberries
Instructions
Preheat the oven to 200 °F. Cut parchment paper into 3 (9-inch) rounds and place on 2 large baking sheets.

Make the cake: In a large bowl, beat the egg whites, sweetener, cream of tartar, and salt with an electric hand mixer on high speed until stiff peaks form, 5 to 7 minutes. Gently stir in the poppyseeds and extract. Divide the meringue mixture between the 3 parchment rounds, spreading each portion into a smooth and even disk, about 1 inch high.

Bake for 3 hours, then turn off the oven and leave the meringue disks inside the oven, letting the residual heat continue to bake them for another 20 minutes. Transfer the meringue disks to a wire rack to cool completely.

Meanwhile make the filling: Put all the filling ingredients in a blender and puree until very smooth. Taste and add more sweetener as needed. Transfer to a bowl, cover, and keep refrigerated while the meringue disks are cooling.

Assemble the cake: Once the meringue disks have cooled completely, peel off the parchment and place one disk on a cake platter. Using a spatula, spread one-third of the filling on the meringue. Top with raspberries along the outside of the meringue. Repeat with remaining meringue disks, filling, and raspberries.

Cut into slices with a very sharp knife, wiping the blade clean after each cut, and serve.
Nutrition
Calories:
37
|
Fat:
1
g
|
Protein:
7
g
|
Carbohydrates:
2
g
|
Fiber:
1
g
|
P:E Ratio:
3.5
TESTIMONY OF THE DAY
"Well, I didn't expect to feel emotional over this but here we are!
In two years, I have gotten sober, lost a baby, had a beautiful daughter who was in the NICU for the first 2 months of her life, and stopped taking care of myself due to pandemic life. 3 months ago I decided it was enough, and thanks to the delicious recipes and unwavering guidance of Maria Emmerich my life has changed.
I go for a walk every day with my daughter, I eat foods I love, and the PTSD and anxiety I have lived with since a serious accident in my early 20's has become much more manageable. I am grateful!" Helen 
Most people I consult are doing keto totally wrong. Get fast results with the my Mind-blowing Keto School!