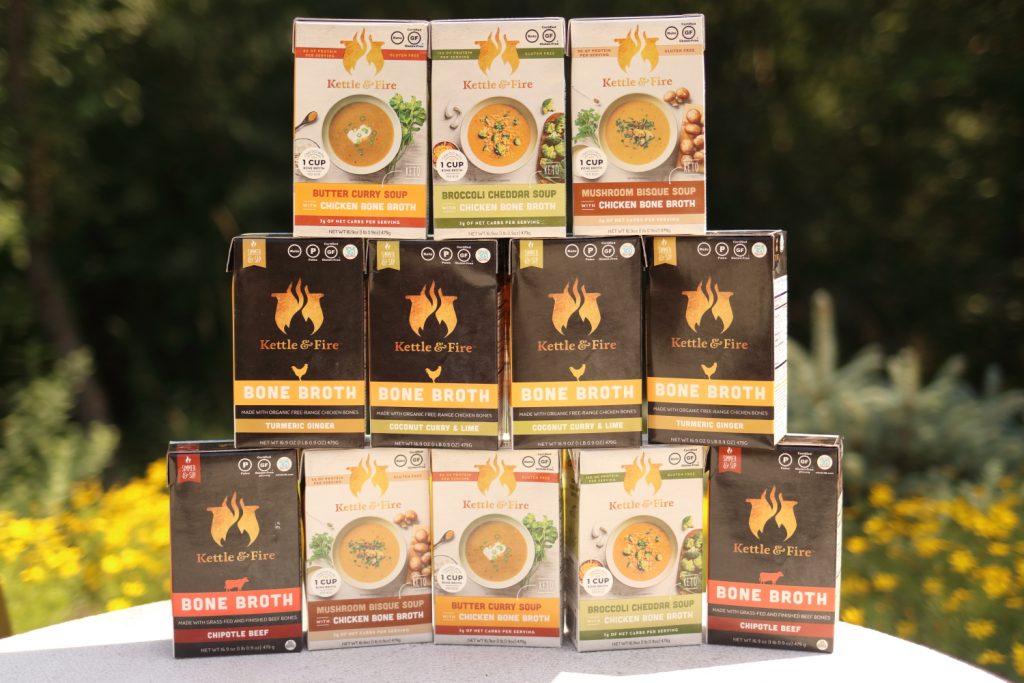 Sometimes life just get too busy and it is hard to plan healthy keto options.  Even Craig and I, who actually enjoy cooking have had our own struggles and are often pinched for time. I find myself making homemade bone broth less and less; and more often than not, using Kettle and Fire bone broth!
I have great news!
People who truly understand the struggles of wanting healthy keto food and wanting it fast exist…and they want to help! Like my friends over at Kettle & Fire.
They aren't strangers to the keto lifestyle. In fact, they've been quietly showing the bone broth community how to make it work for quite a while.
But then they did something even cooler. (Or maybe I should say warmer…)
They developed a new line of soups – made with their signature organic bone broths – that are ready-to-heat in less than 5 minutes, portable, and (more importantly) keto-friendly. I LOVE that I can pack these when we go camping!
Their new keto soup line (now up to 30% off!) features a new spin on some classics, as well as brand new, never-before-seen combos.
I can't honestly say which is my favorite yet, because there are two incredible flavors to choose from:
Broccoli Cheddar
Mushroom Bisque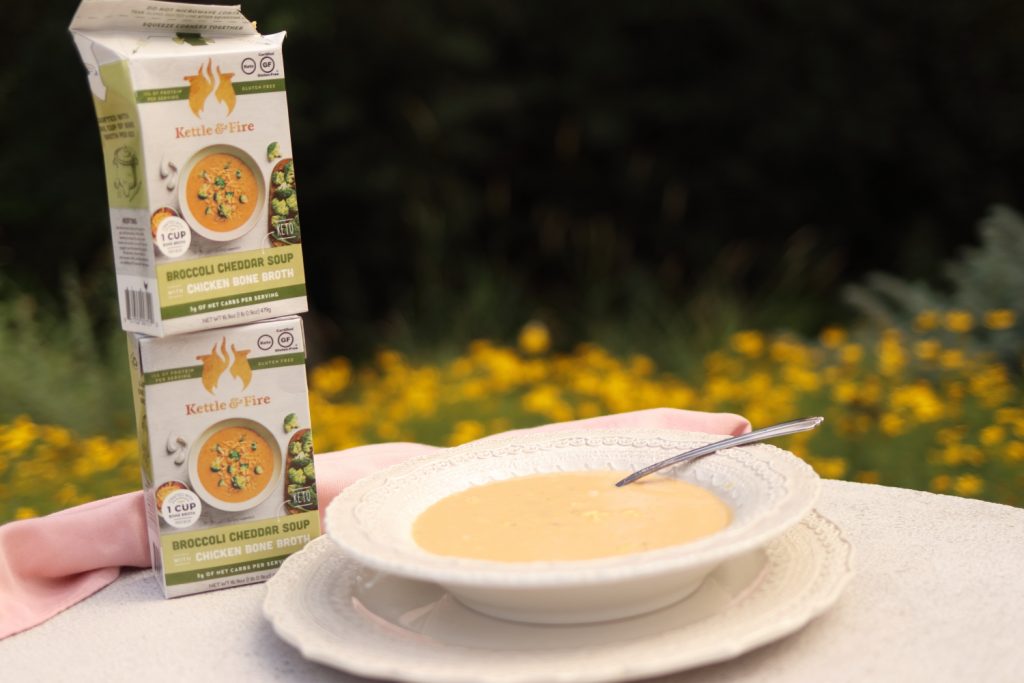 And each flavor is specially-formulated to help keto dieters knock their goals out of the park, with healthy fats and tons of protein.
Kettle & Fire understands that starting a keto diet takes education, discipline, and dedication.
And that's why they made success taste so, so good.
For the next week, you can get up to 30% off plus free shipping on broccoli cheddar or mushroom bisque keto soups.
Pick your favorite or mix-and-match to keep yourself motivated with new tastes!

Keto Soups Backstory
Last year, the Kettle & Fire team decided to participate in a keto diet challenge. They read all the research on the physical and mental benefits so we wanted to see what all the fuss was about.
The team was all giddy with excitement but didn't realize the huge problem that we'd all be up against -> They loved tasty food too much. It got to the point where it became a running joke at the office when team members inevitably failed at following the diet.
See, when you're following the keto diet, you're pretty limited on the types of foods you can eat. Tracking carbs becomes a bit of a chore and the lack of food choices can be downright frustrating. On top of this, successfully adhering to the keto diet requires a lot of time. Time spent grocery shopping, meal planning, finding solid recipes so you're not eating the same boring meals every day…you get the picture.
So after many false starts in our attempt to follow a ketogenic diet, they asked themselves, "If living a keto lifestyle were magically effortless, what would it look like?"
From that question, a few things kept popping up:
We all wanted access to easy and tasty foods

We all wanted a personal chef to make keto friendly foods (one can dream right?)

We all wanted meal prep to be super easy and not time consuming
So after a lot of reflection, they had a light bulb moment:
Why not create a convenient and delicious keto friendly food that solved these pain points?
They wanted to create something that:
Ketogenic dieters could make in minutes and consume on-the-go.

Could easily be paired with recipes and didn't collect dust in their pantry.

Was high in good fats, low carb and helped get keto dieters into ketosis.

Was made from real foods and had high nutritional value

Tasted so good that keto dieters could enjoy with family and friends that might not even be following the diet.
And thus, the idea to make Keto friendly soups came to fruition.
Their vision is to create a line of delicious keto friendly soups that solves all the pain points listed above. All of these soups will be high in fat, low carb, infused with high quality bone broth, nutritionally dense, only real ingredients and most importantly absolutely delicious.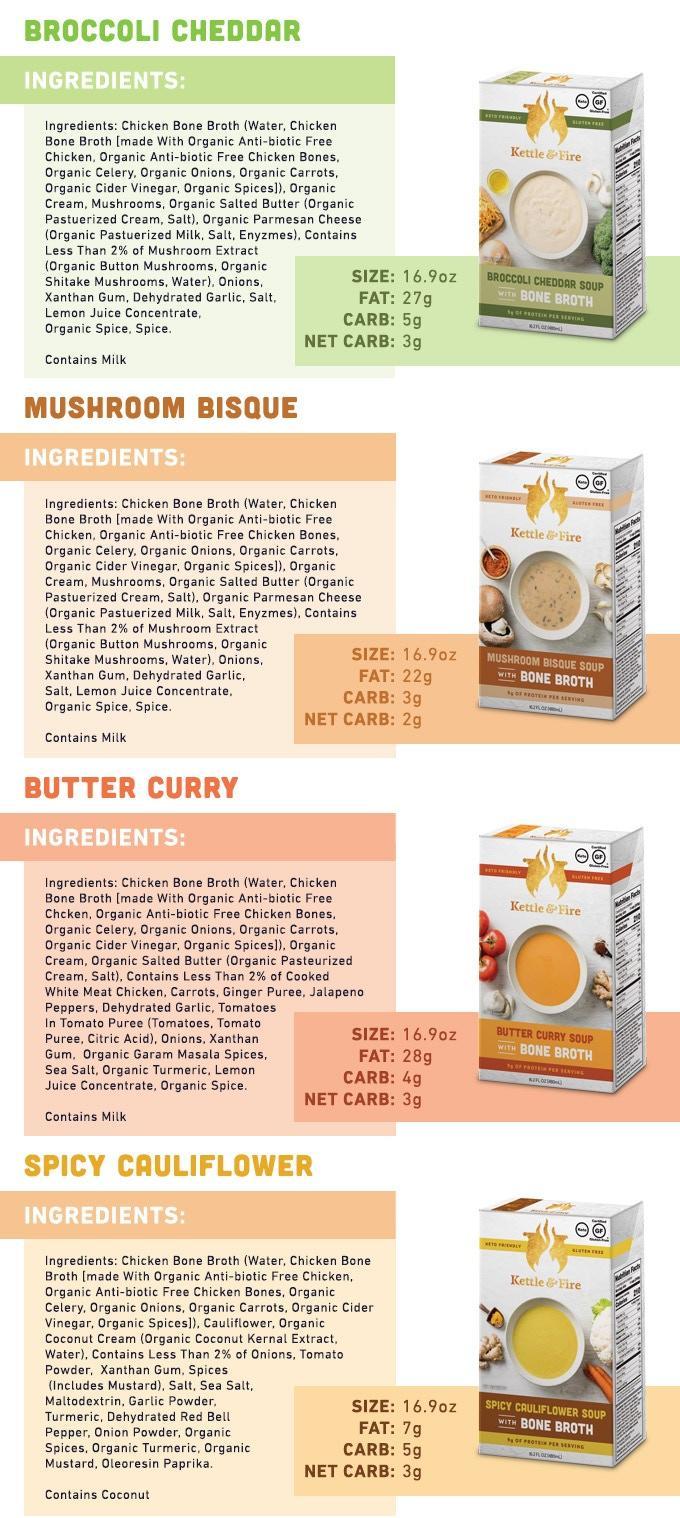 TESTIMONY OF THE DAY
"Hi Maria, I wanted to update you on my progress!
Starting weight – 435
Current weight – 220
Goal weight – 180
All of this weight lost has been in the last 14 months all by keto. Still not comfortable with doing a shirtless before and after picture.
Most people I consult are doing keto totally wrong. Get fast results with the my NEW Keto School!