Keto Chocolate Flan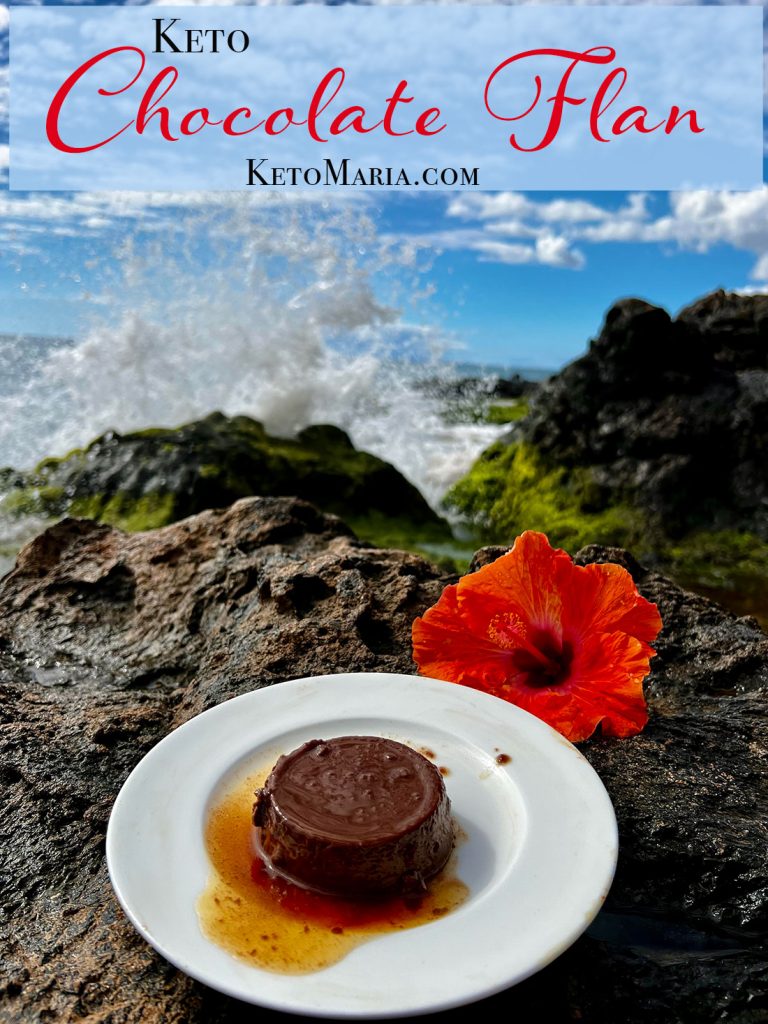 My keto chocolate flan will blow your mind! It is perfect for a Cinco De Mayo dessert!
To make my chocolate flan, it is really quite easy. The directions look difficult, but it is very simple. I made a quick one minute Reel video on my Instagram @mariaemmerich where you can see just how simple and delicious this keto recipe is!
My keto kids LOVE this recipe!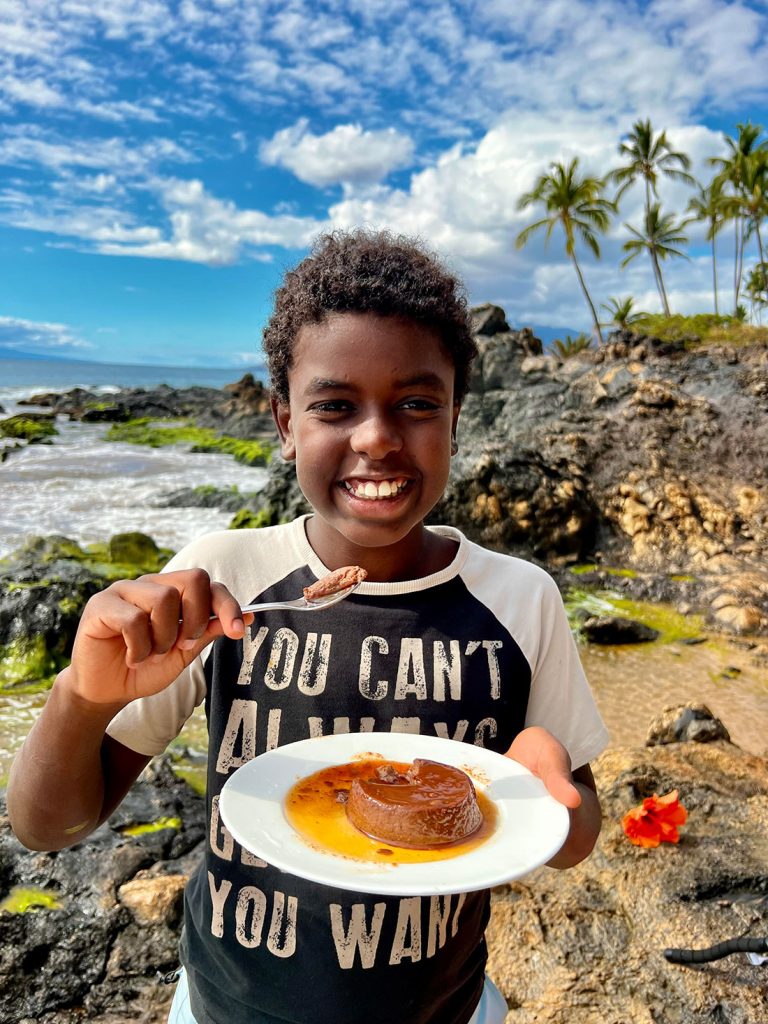 When making my keto chocolate flan, make sure to bake it in a water bath. This helps cook the chocolate flan evenly.
To make my Keto Chocolate Flan, I used my favorite NEW Monk Fruit Allulose Blend sweetener from Impact!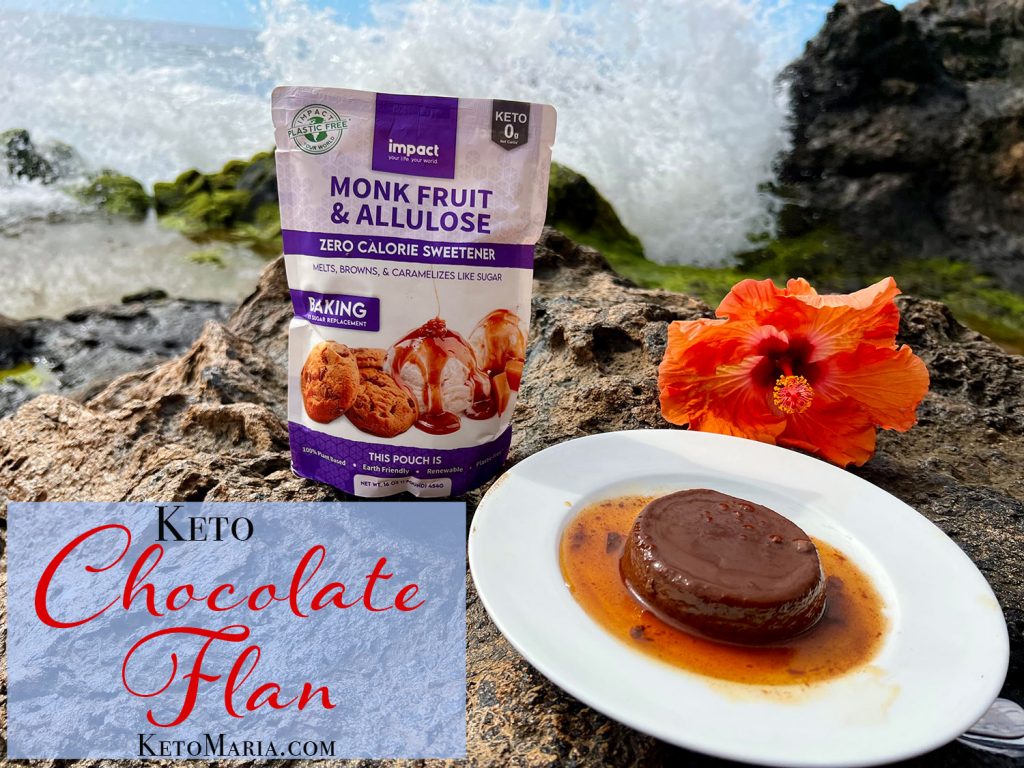 Other sweeteners will not work to make the caramel part of my flan recipe. Allulose melts unlike erythritol which helps make the creamy caramel.
Impact makes really great sweeteners! Other low-quality sugar substitutes often taste bitter, have artificial ingredients, additives, and fillers. Impact provides healthier, tastier solutions!
I highly suggest to order a few bags of their Monk Fruit Allulose Blend so you can make a lot of my keto chocolate flan! It is so easy and perfect for healthy dessert when you are craving chocolate!
Another cool thing that I LOVE that Impact is that they do not use plastic and really cares about the environment!
Click HERE to find Impact sweeteners! and use code MARIA15 to SAVE!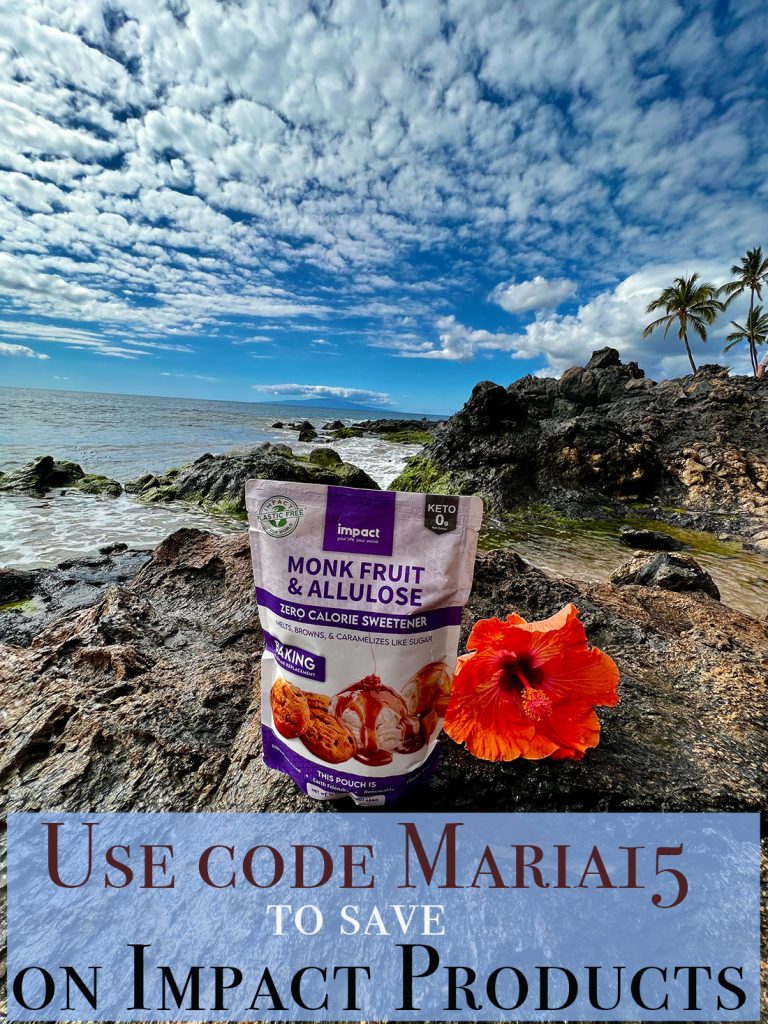 Keto Chocolate Flan
Instructions
Preheat oven to 325 degrees F. Place 4 (4 oz) ramekins into a casserole dish. Set aside.

Place 1/2 cup Impact Monk Fruit Allulose Blend into a large pot and heat over medium high heat until melted, while stirring frequently. Once melted, add the water. Continue to heat on medium high. Stir occasionally until the sauce has become a golden brown. Remove from heat and divide into the bottom of the ramekins, covering the bottom evenly. Set aside and allow to cool.

In a medium sauce pot, heat the heavy cream over medium high heat until simmering.

In a blender, place the eggs, 1/2 cup Impact allulose, stevia glycerite, vanilla and salt. Blend the mixture together well. Once the cream is simmering, remove from heat and while the blender is running at low speed, add the chopped chocolate and slowly drizzle in the hot cream. Once the cream is entirely in the blender, cover and puree until smooth and chopped chocolate is melted. Taste and adjust sweetness to your liking.

Divide the custard into each ramekin, on top of the layer of caramel.

Place hot water into the casserole dish around the ramekins. Bake for 20-30 minutes. Or until the flan is just set and no longer liquid.

Remove the casserole dish from the oven but leave the ramekins in the hot water for another 10 minutes.

After 10 minutes, gently remove the ramekins from the casserole dish. Place in the fridge to cool for 3 hours or overnight.

When ready to eat, use a butter knife and slowly run it on the inside of the custard to release it from the ramekin.

Turn the ramekin upside down and slowly jiggle the custard onto the plate.
Nutrition
Calories:
365
|
Fat:
34
g
|
Protein:
8
g
|
Carbohydrates:
6
g
|
Fiber:
2
g
|
P:E Ratio:
0.2
TESTIMONY OF THE DAY
Today this sweet woman named Terry came up to us on the beach and started crying. She said I changed her life and she lost over 90 pounds!
Her husband took this photo and she posted it on my private Facebook group (which you can join for support!) and wrote:
"I'm so excited I got to meet my heroes today! Maria & Craig, you saved my life!!!"  Terry
It was a rough day and Terry totally made me remember what is important!
Most people I consult are doing keto totally wrong. Get fast results with the my Mind-blowing Keto School!