Keto Cake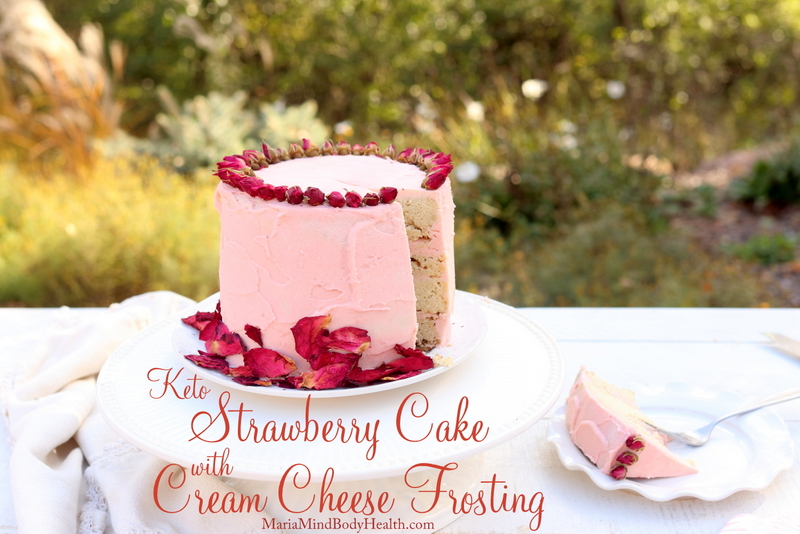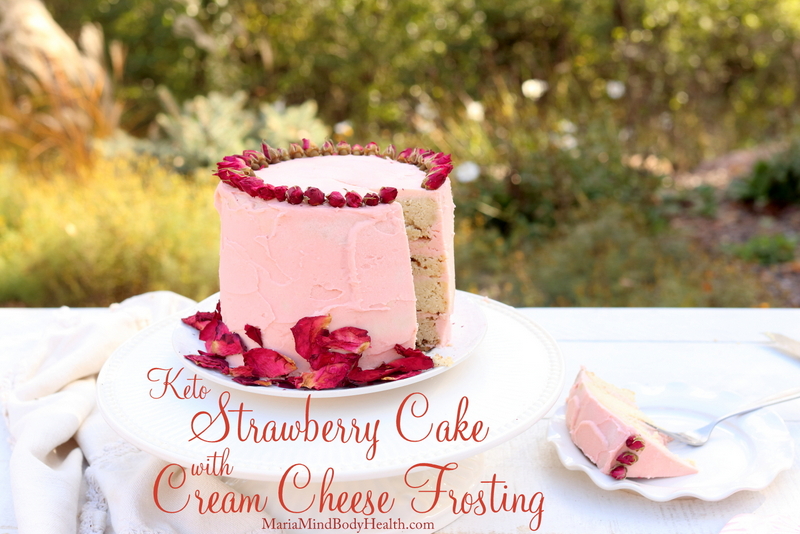 My son Kai turned 8 years old on October 21st! Time flies by too fast! I often look at old photos of when Kai was a baby and tears run down my cheek. It seems like yesterday that I had to hold him all the time or he would cry. Now I have an independent little boy who gets embarrassed when I give him a kiss in front of his friends which makes me sad, but Craig said I helped him gain confidence when he needed it most which helped him become the confident little boy that he is now.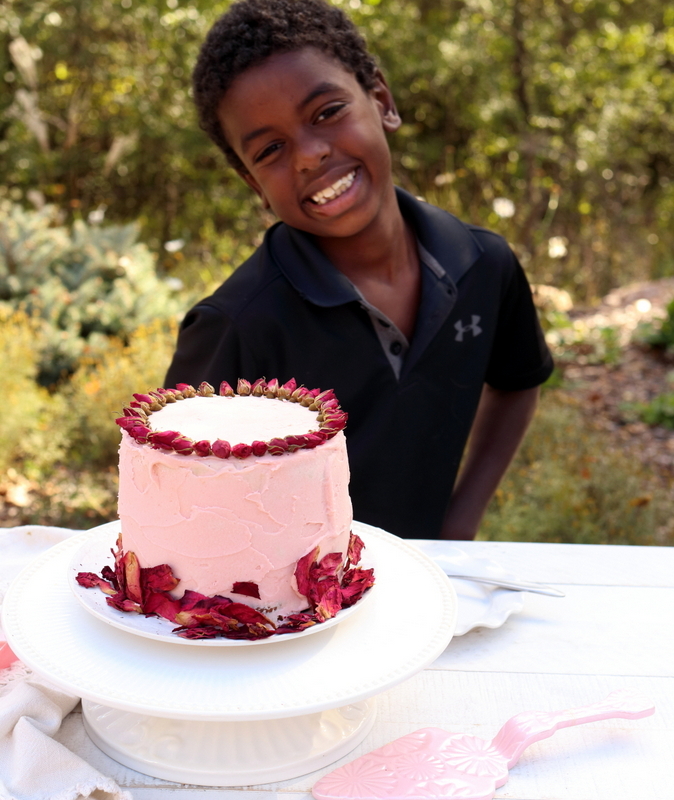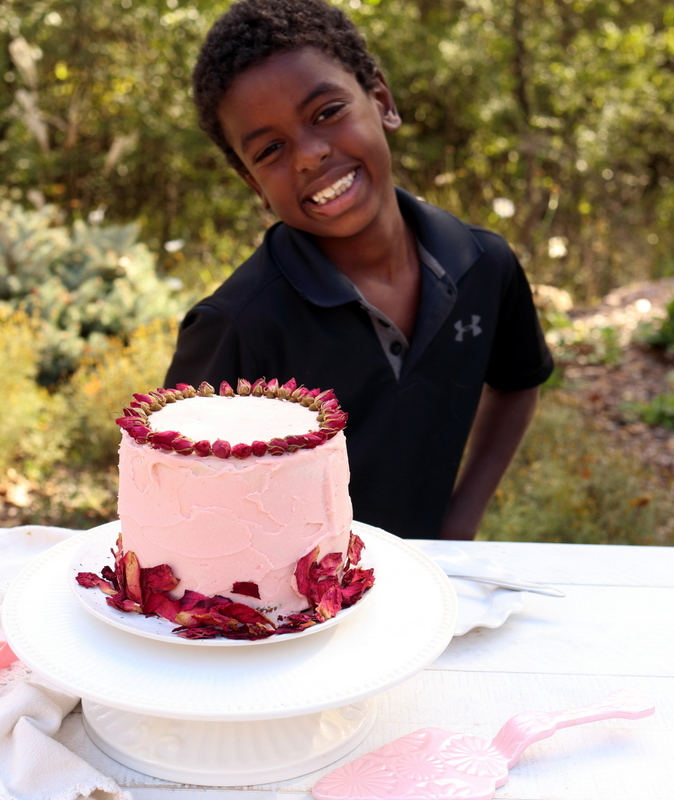 For his birthday I asked him what flavor of keto cake he wanted me to make. He loves strawberry and he loves cream cheese. So I made a strawberry keto cake with cream cheese frosting.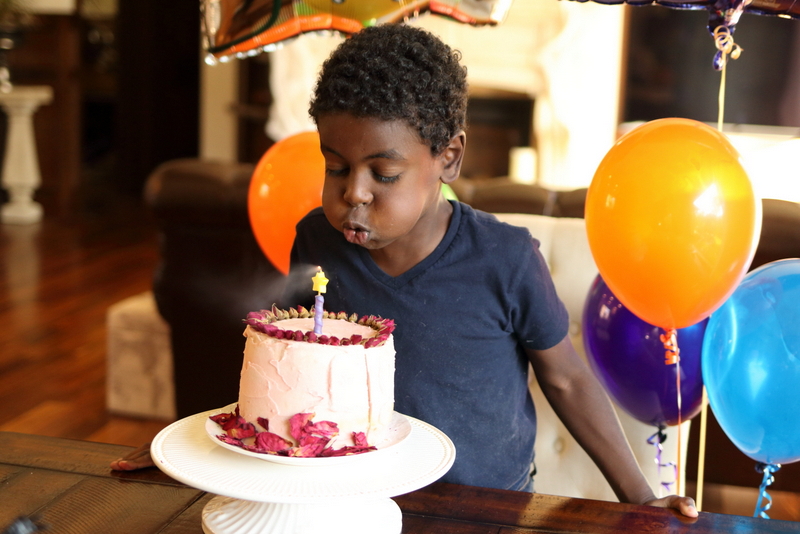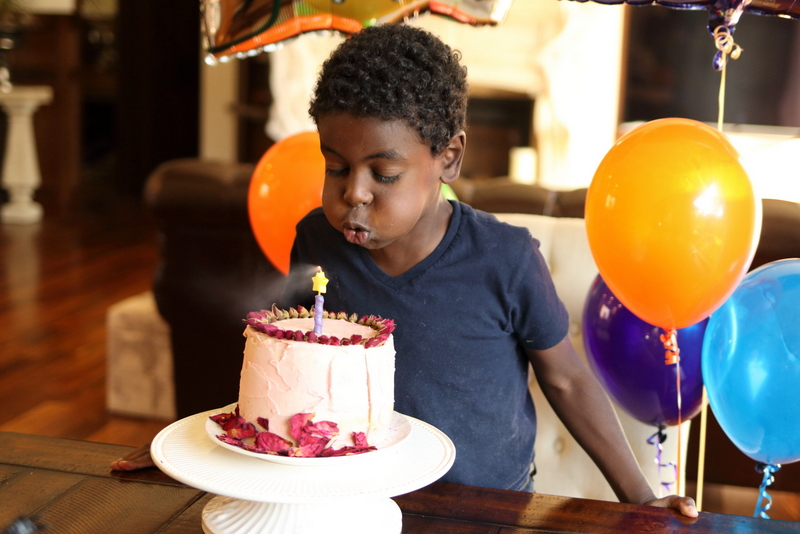 Kai loves pancakes more than cake, so I also made a huge batch of my keto flappers from Keto Comfort Foods cookbook for breakfast and made that into a keto pancake-cake and had that sitting at the table when he woke up! He got a kick out of my decorating with sausages and strawberries around his breakfast cake!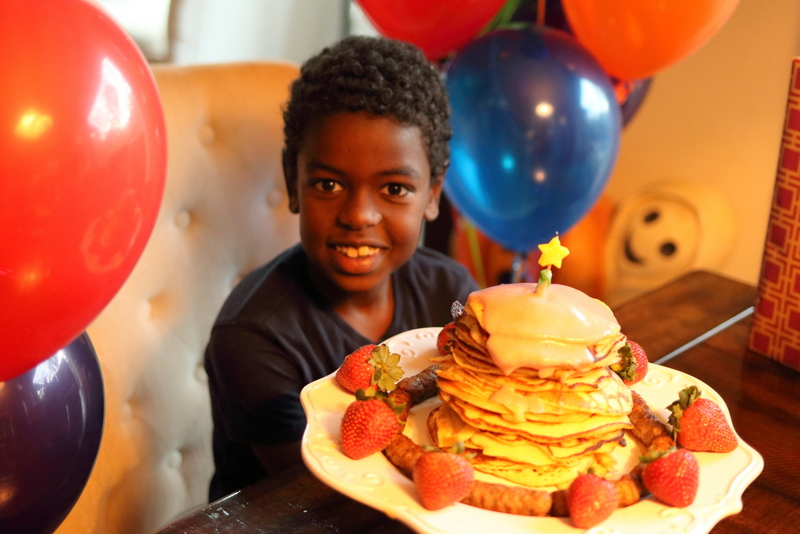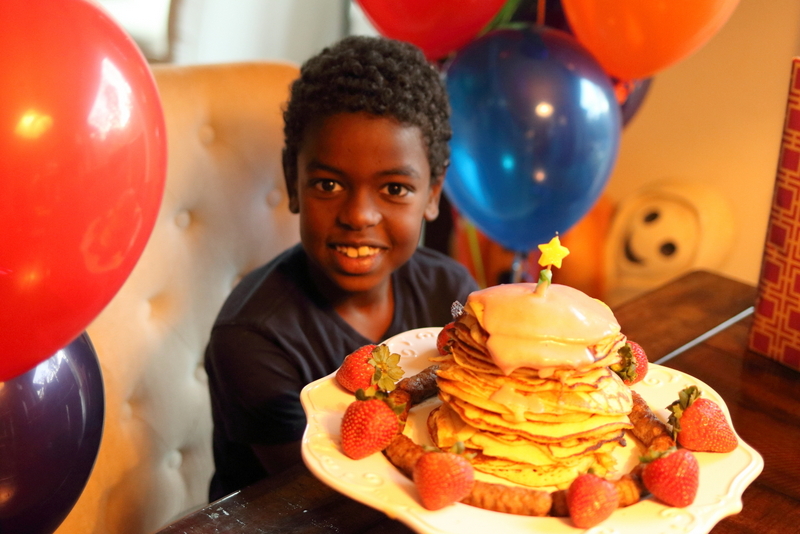 I am not very artistic nor patient when it comes to decorating cakes. So I ordered some dried flowers to use for decorations, which turned out quite nice and easy!
Special equipment that I used for this Strawberry Keto Cake with Cream Cheese Frosting:
Dried Flowers: Click HERE to find.
2 5-inch cake pans: Click HERE to find.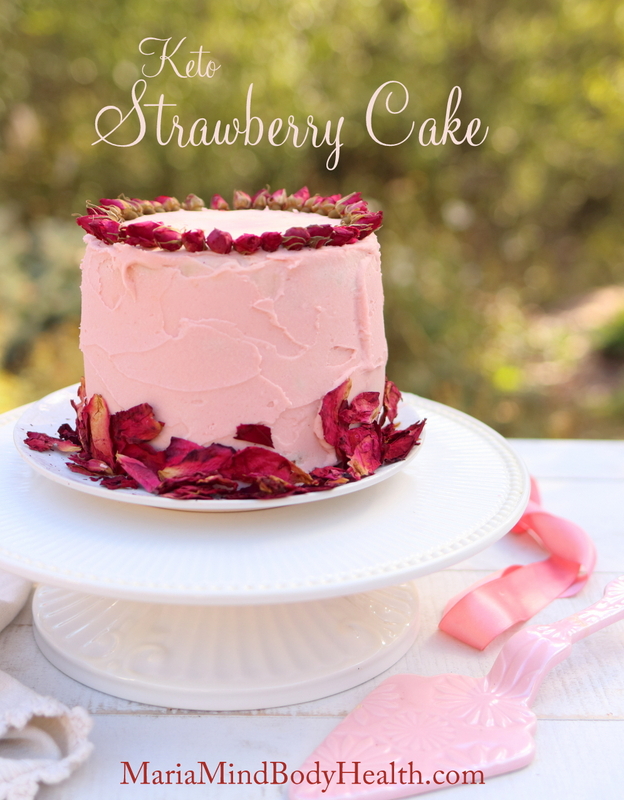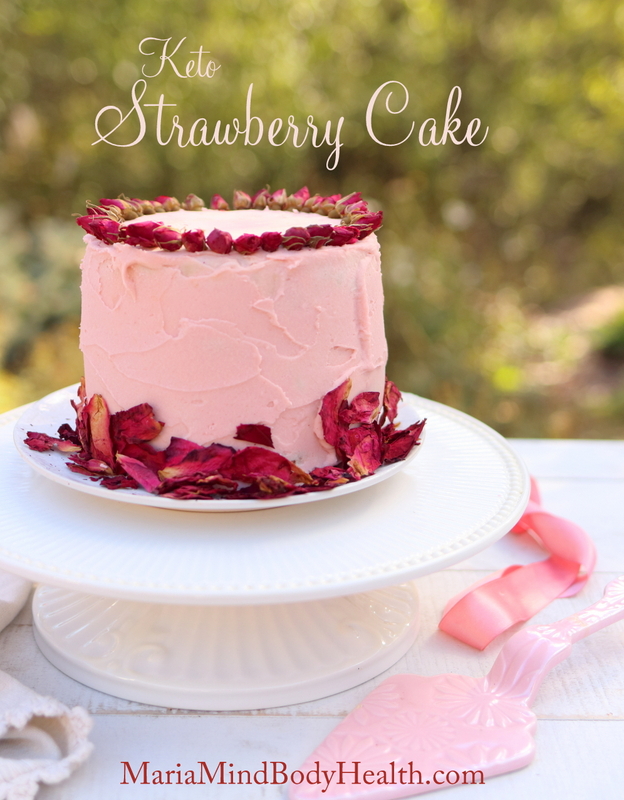 Keto Cake
Ingredients
CAKE:
3/4

cup

butter or coconut oil

softened

1

cup

coconut flour

1

teaspoon

baking powder

1/4

teaspoon

baking soda

3/4

teaspoon

Redmond Real salt

1

cup

Natural Sweetener

or equivalent

8

large

eggs

1 1/2

teaspoons

strawberry

or vanilla extract

1/2

cups

sour cream
FROSTING:
1.5

cups

butter

1.5

cups

Natural Sweetener

1.5

8 ounce package

cream cheese

1

teaspoon

strawberry extract

or vanilla extract

1/4

cup

pureed strawberries

or unsweetened almond milk
Instructions
CAKE: Put oven rack in middle position and preheat oven to 300°F. Line 2 5-inch cake pans with parchment paper and grease well. Set aside.

Sift together coconut flour, baking powder, baking soda, and salt, into a large bowl. In another bowl, beat together butter and sweetener with an electric mixer at medium-high speed until pale and fluffy, 3 to 5 minutes. Beat in eggs 1 at a time, beating well after each addition, then beat in extract. Reduce speed to low, then add flour mixture and sour cream alternately in batches, beginning and ending with flour mixture and mixing until batter is just smooth.

Spoon batter evenly into pans, smoothing tops, then rap pans once or twice to expel any air bubbles. Bake until pale golden and a wooden pick inserted in center of cakes comes out clean, 40 to 45 minutes. Cool 10 minutes in pans on racks. Run a thin knife around edge of pans, then invert racks over pans and reinvert cakes onto racks to cool completely. I put cakes into the freezer for easy frosting (frosting frozen cakes spreads easier).

FROSTING: Combine butter, confectioners Swerve, cream cheese, extract in small bowl. Beat at medium speed, gradually adding enough strawberry puree (or almond milk) for desired spreading consistency. Frost cooled or frozen cake.

ASSEMBLE: Slice each cake layer horizontally with a long serrated knife using a gentle sawing motion. Put 1 layer, cut side up, on a cake stand or large plate and spread with about 3/4 cup frosting. Stack remaining cake layers, spreading about 3/4 cup frosting on each layer and ending with top cake layer cut side down. Spread top and side of cake with remaining frosting (about 3 1/2 cups) and garnish with dried flowers, gently pressing to help them adhere.
Nutrition
Calories:
344
|
Fat:
33
g
|
Protein:
5
g
|
Carbohydrates:
5
g
|
Fiber:
2
g
|
P:E Ratio:
0.1
TESTIMONY OF THE DAY
"Maria, I am truly grateful. I have been trying for so long to find the key to weight loss, and the first two weeks of your help, keto has changed my life. Between your recipes, the prep I do and the supplements you suggested, I feel good, I finally sleep and I am losing weight. I am a teacher,  and this September has been the smoothest one I have had! I am sleeping well and eating well. Life is good!"
"I have always struggled with my weight. At 28, I can say I tried every fad diet out there. Now with your help I am half way to my goal weight. Left I was over 300 pounds at my brothers wedding and on the right i am 236. Still a ways to go, but I know I got this now and can live this way for the rest of my life. Everyone notices how much happier I am and it's true! Love the Emmerich Keto way!"
Most people I consult are doing keto totally wrong. Get fast results with the my NEW Keto School!