Is Keto Safe for Kids?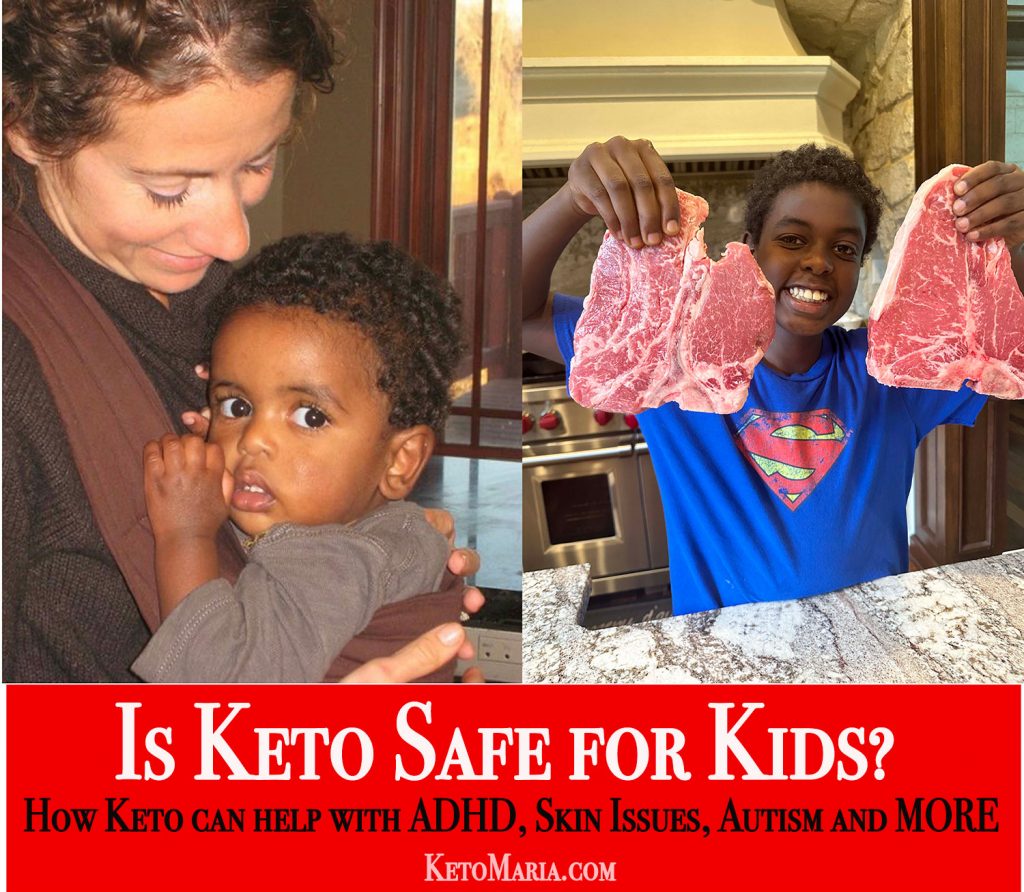 This time of year I get very emotional about my growing family. We arrived home from Ethiopia the day before Thanksgiving in 2011. The boys were so tiny! We immediately changed their diet to the ketogenic diet and we have seen the boys thrive eating this way which is why I wanted to write a special post on how the keto diet is safe for kids.
What I find interesting is that if I fed my kids pop-tarts and cereal for breakfast, no one would say anything about it; but the fact that they eat 2 burger patties for their first meal, people tend to freak out! Oh and I do have a keto Pop-Tart recipe for kids who are trying to cut out sugar. My boys and I were watching Gilmore Girls and they asked me what a Pop-Tart was so I decided to write a recipe for all my sugar free kiddos!
Our boys have been eating sugar-free and low-carb and prioritizing protein for over 11 years and are thriving. When we adopted them at ages one and two, they barely registered on the growth charts. Within a little over a year of eating mainly meat, they were around the 50 percentile for weight, and now both of them are in the 75 percentile or above.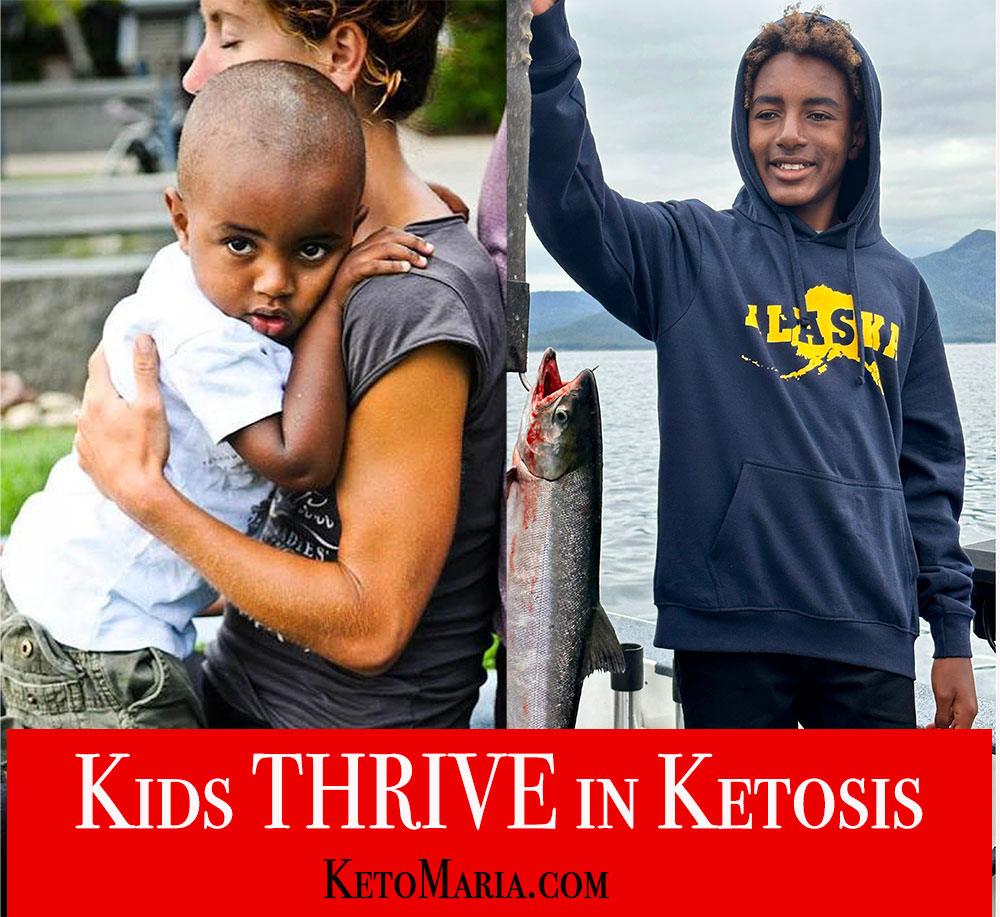 Ample protein and nutrient-dense foods are fueling their growth. They do not eat carbohydrates and they do not like vegetables. They are very smart and have great memories.
Micah has a nearly photographic memory and never forgets anything and is in advanced math and the best football player I know. Kai is the most creative kid I have ever known with his amazing art and has the most positive attitude of any person I have ever met. I am blessed to be their mother.

NUTRIENTS IN KETO FOOD
My mother was always concerned that they didn't eat any vegetables and they would only eat the salmon, steak or burger patties when we would come and visit which is why my husband decided to make charts showing my family where the nutrients are.
Here is one of the many eye-opening charts from our book Keto: The Complete Guide to Success.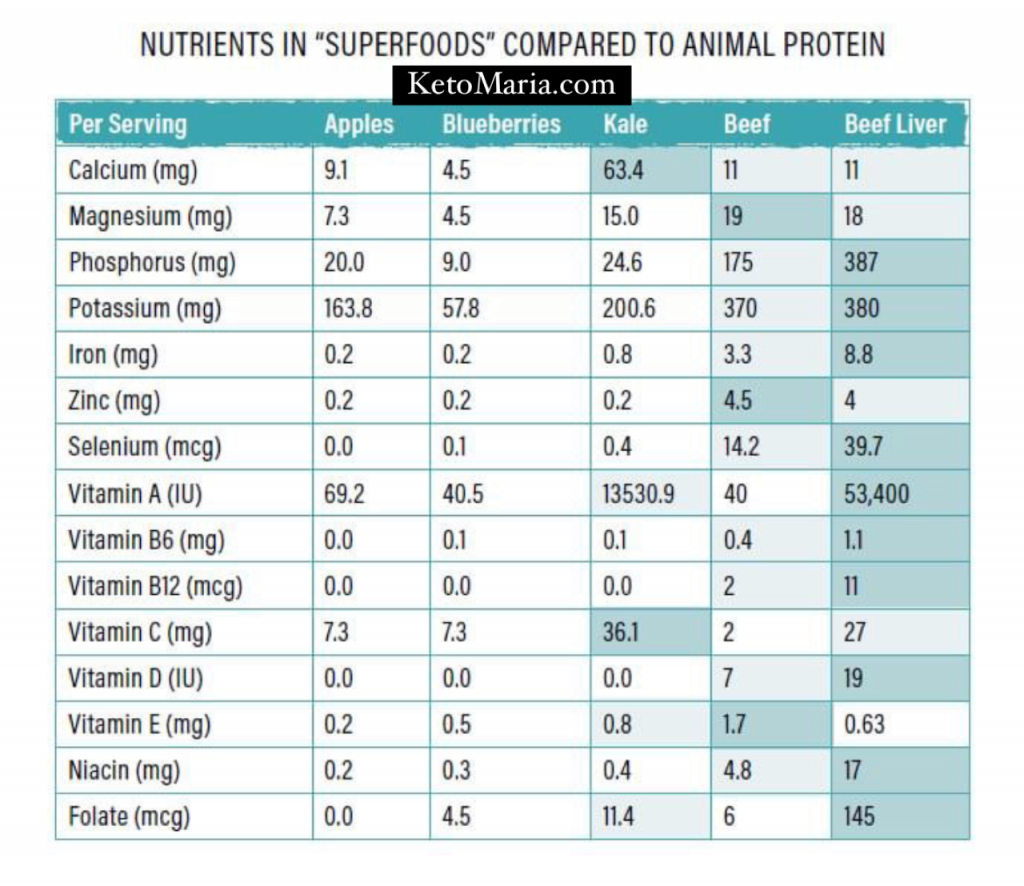 Animal proteins are where most of your vitamins and minerals come from, not the vegetables and definitely not the fruits. Plus they come with the most bioavailable forms as well as complete amino acids (protein) and healthy fats.

KETO AND ADHD & KETO FOR SKIN ISSUES
For starters, I hear many testimonials from parents about ADHD and eczema, like this one:
Here is a report from another happy parent:
"I wish I had pics of my son's skin beforehand. But eating sugar-free has cleared up his eczema, and it has done miracles for his ADHD. I just had a meeting with his teacher this morning, who confirmed that he had been much more even-keeled." — Stacy
This lifestyle can be excellent for helping kids focus too.
"We put our ten-year-old son on your diet in November in the hope that it would help his ADHD symptoms. We did not use medication and did not want to, but his gluten-free diet was not enough. In December, his teacher remarked that he seemed more focused in class, especially after snack time, which used to be marked with bursts of energy and a lack of self-control. Although the new diet took more planning on my part and required him to try new foods, my son said he felt better. Well, last night, he got his report card. His grades went up in every subject. The change is remarkable. Thank you." — Katie
The improvements in moods and focus go beyond ADHD, and I have helped many clients with children on the autism spectrum. Here is one client: If you have a child on the autism spectrum, you understand just how powerful it is to be on a whole new level and protocol.
Here is another testimonial showing considerable improvements in moods:
"We just went on your diet plan, and there was an immediate shift in behavior. I honestly thought that we would have a grieving period over cake pops from Starbucks. In the past, we had an upset little girl every time she saw that dang green mermaid. I honestly think yanking the processed sugar out completely was way bigger for our child. She is four and has an ASD diagnosis. It's mostly speech and language we are dealing with, so explaining the changes to her was not going to help. She's on a whole new protocol, but this diet was the first step. We are very impressed by the removal of sugar. She takes one simple no for an answer now. It's crazy." — Heather
KETO FOR AUTISM
We fostered-to-adopt this little guy 4 years ago. He was 3-years-old but the size of an 18 month old. He would refuse to eat everything except hotdogs, french fries, and cookies. He was content to starve himself as long as he could feel full by filling up with water. We recognized that his diet of choice was nit healthy and could result in serious health issues if we allowed him to continue to eat like that, so we started intensive training to teach him to eat other foods. It was terrible; lots of temper tantrums, me crying privately, gagging, even vomiting occasionally.
He and I dreaded every meal, but we persevered and after about 18 months he would happily eat most things without complaint. But while he'd eat whatever we gave him, his growth rate didn't improve much; and despite him being 7 now, he's the size of a small-framed 5-year-old.
We know who his bio-mom is and she's tiny, so I assumed it was just his genetics. He also has symptoms of ADHD and high-functioning autism and I read that eating keto can help kids with their symptoms. I was already eating keto, so I put he and his bio-brother on keto to see if it would help them. Both boys are gaining weight faster than before (his brother is also small for his age) and this particular child has gone from gaining 0-2lb every 6 months to gaining 1 lb per month! And he's grown a full inch in height since starting keto 2 months ago! This is amazing to me!!!
Also, in addition to his increased growth rate, he has better emotional regulation and impulse control! Which are two of the symptoms that I had hoped keto would help!
He has friends now! He's not getting himself into trouble with his impulsive behavior all the time! Things that he's literally done daily for the past 4 years (like throwing toys in the house), never happen anymore. I'm so thankful for Maria Emmerich's educational material and cookbooks!" -Angie
"I have seen a complete behavior change in my three-year-old after switching to a sugar-free diet—like mind-blowing change. He is no longer angry all the time, and I've heard more I-love-yous since he stopped eating wheat and sugar than I did in the months before. This way of eating really does work! I have seen no change in my daughter, but her behavior was nothing like my son's. Neither of them has lost weight (they didn't need to, but growth was one of my earlier concerns about switching), and I've only seen positive outcomes. Give the body the nutrition it needs to function properly!" — Nicole
I have hundreds of client testimonials covering improved eczema, seizures, asthma, acid reflux, acne, gestational diabetes, massive weight loss, A1c control for children with type 1 diabetes, GERD, Crohn's, Tourette's, narcolepsy, and immune function. They show that not only is a sugar-free lifestyle not dangerous for kids, but it can be amazing for helping kids thrive and regain health. Yes, a sugar-free diet can be very helpful for the whole family.
"I've lost 99 pounds eating your diet. I'm now weaning off fibromyalgia pain medication because this diet reduces inflammation and helps with my pain more than meds, so why take them?

My husband lost 70 pounds, got off his CPAP at night, said goodbye to migraines, cured his acid reflux, and normalized his blood pressure.

My oldest daughter lost about 20 pounds. My middle daughter has lost almost 50 pounds and reversed ADHD, oppositional defiant disorder, sleep apnea, migraines, and undiagnosable tummy troubles (her doctor assumed she was lying!).

My youngest didn't need to lose any weight, but she no longer gets bloated after eating, and it doesn't take her two full weeks to get better after being sick anymore. Your diet has completely changed our family for the better." — Amanda

WHAT ELSE CAN KETO HELP WITH?
What else can cutting sugar help with? Over the past two decades, I have helped tons of parents get their kids on a sugar-free diet and seen huge improvements in moods, focus, overall health, and much more.
"Hi Maria and Craig,

I just wanted to update you on our success! I am the one that asked if you would add two seats so I could bring my daughter to your PSMF class at your home.

Jozie is 12 and has Turners Syndrome and weight issues and eating has been a struggle her entire life. Guess what?! She is successful and loves this way of eating! She is experiencing being full and I always said "she doesn't have a full switch"!

Also, she is on shots daily for growth for her TS and hadn't been growing well even with them. Well, during the last 44 days she grew an inch and she lost 10lbs!!

The supplements from your personal health assessment and your way of Keto has been nothing but amazing! We didn't care about the weight loss but figured some would happen. Her self esteem, her confidence, and her success in committing to this lifestyle is just giving her so much! Thank you, thank you, thank you I have been doing it side by side with her so we could be a team and the benefits I am seeing are also nothing short of amazing. I have lost 17lbs and still going.

Most importantly for me I am hanging on to my gallbladder and seeing so many other health improvements! Like my allergies are even non-existent since I converted – who knew?!

Thank you for going out of your way to add two seats that day…you literally changed our lives in ways I can't put all in to words." – Linda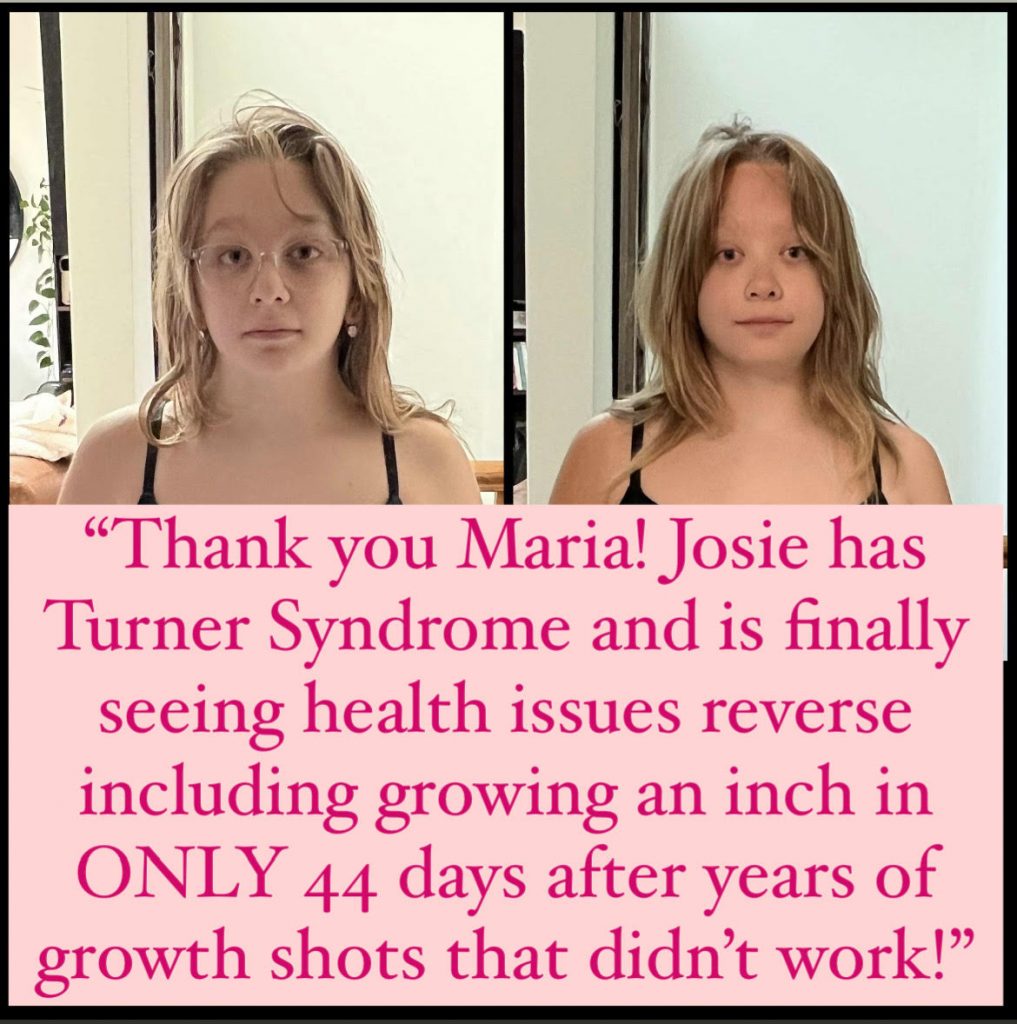 These testimonials demonstrate just how much a sugar-free, low-carb lifestyle can help kids.
There is emerging science to back up these claims as well. A March 2021 study showed a link between sugar consumption and its effects on gut microbiome diversity, finding that "Diet-induced alterations in the gut microbiota may be linked with altered neuro-cognitive development."[1] Sugar consumption resulted in memory impairment and inflammation in the hippocampus (the part of the brain responsible for learning and memory) of young rats.[2] Another study showed that sugar consumption in early life had long-term negative effects on memory function. [3]
If you are interested in getting your kids off sugar, I have wonderful weekly meetings to help change your families lives!
IS KETO SAFE FOR KIDS REFERENCES:
1 E. E. Noble, C. A. Olson, E. Davis, et al., "Gut microbial taxa elevated by dietary sugar disrupt memory function," Translational Psychiatry 11, 194 (2021).
2 T. M. Hsu, V. R. Konanur, L. Taing, et al., "Effects of sucrose and high fructose corn syrup consumption on spatial memory function and hippocampal neuroinflammation in adolescent rats," Hippocampus 25, no. 2 (2015): 227–39.
3 E. E. Noble, T. M. Hsu, J. Liang, and S. E. Kanoski, "Early-life sugar consumption has long-term negative effects on memory function in male rats," Nutritional Neuroscience 22, no. 4 (2019): 273–83.