Homemade Starbucks Salted Caramel Hot Chocolate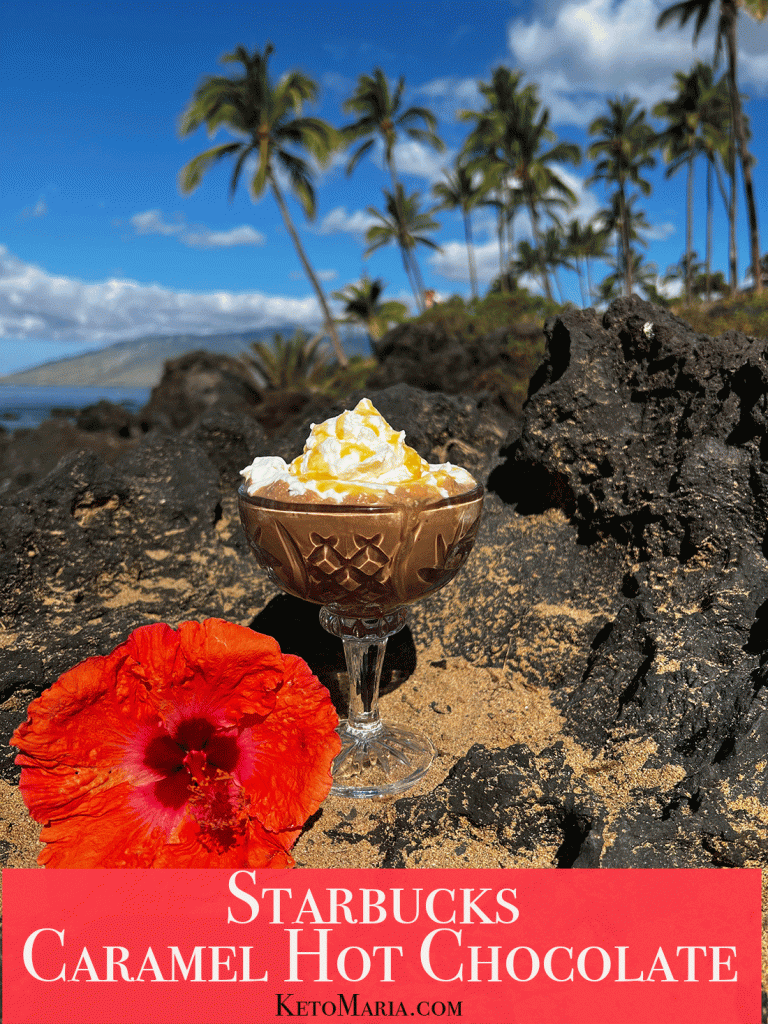 I have been so excited to share my Homemade Starbucks Salted Caramel Hot Chocolate recipe!
If you haven't tried and you are wondering it Allulose is really sugar free, I have feedback from diabetics; both Type 1 and Type 2 for feedback on if they have ANY rise when using this new sweetener called Allulose. And the results are in… Allulose does not increase blood sugar at all! Yahoo!
Here is a screen shot of a Type 1 diabetic testing it (thanks RD!)!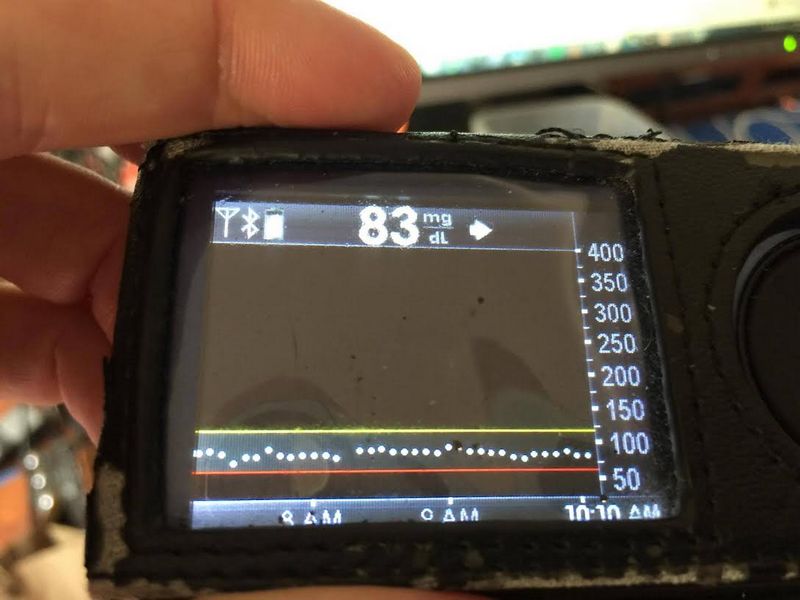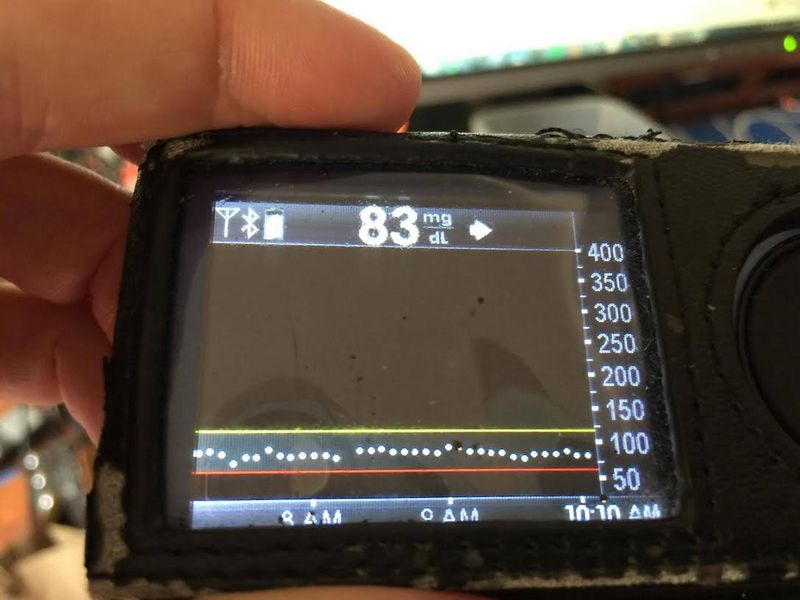 Starbucks's Caramel Hot Chocolate is not only FILLED with sugar! It is also very expensive.
Many times people complain about the cost of eating keto, but I have to tell you, I find I save money by making healthy versions of recipes like my Homemade Starbucks Caramel Hot Chocolate at home!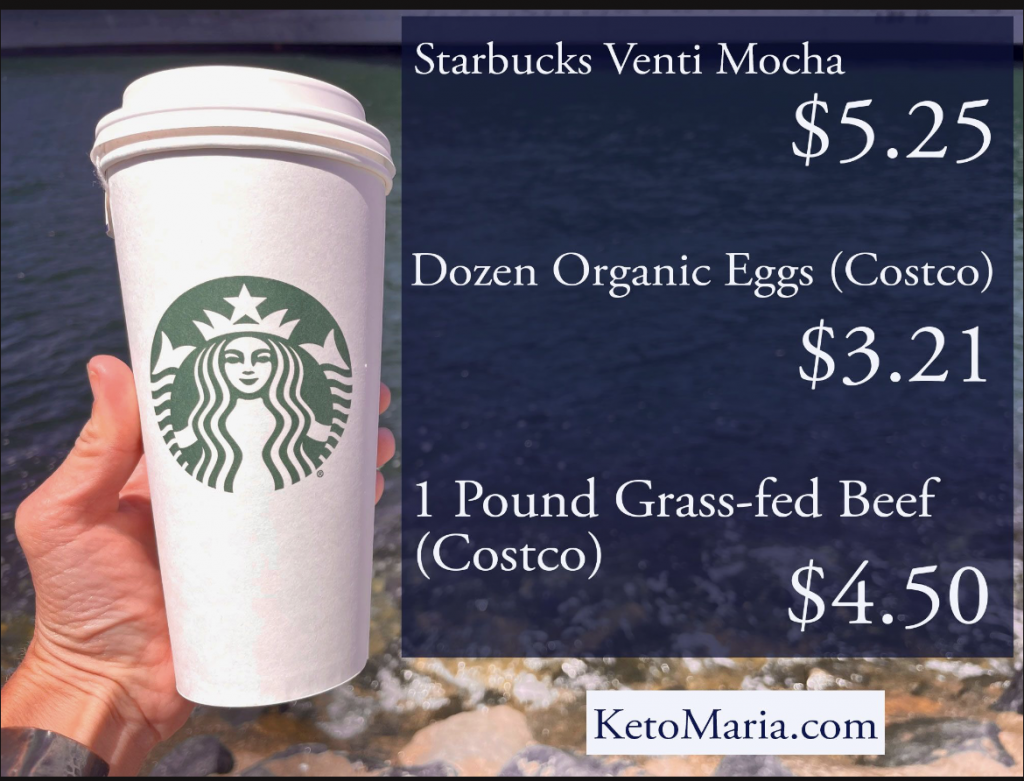 To make my Homemade Starbucks Caramel Hot Chocolate, I used my favorite NEW allulose from Impact! Other sweeteners will not work as well with my sugar free caramel recipe. Allulose melts unlike erythritol which helps make the caramel creamy and smooth.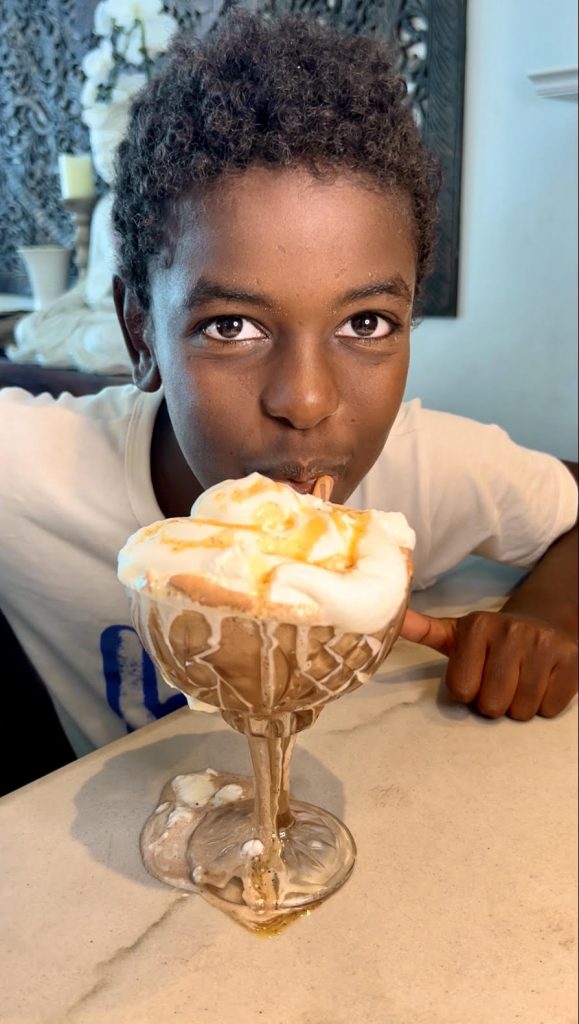 Impact makes really great sweeteners! Other low-quality sugar substitutes often taste bitter, have artificial ingredients, additives, and fillers. Impact provides healthier, tastier solutions!
I highly suggest to order a few bags of their monk fruit allulose blend so you can enjoy homemade caramel hot chocolate all year round!
Another cool thing that I LOVE that Impact is that they do not use plastic and really cares about the environment!
Click HERE to find Impact sweeteners! and use code MARIA15 to SAVE!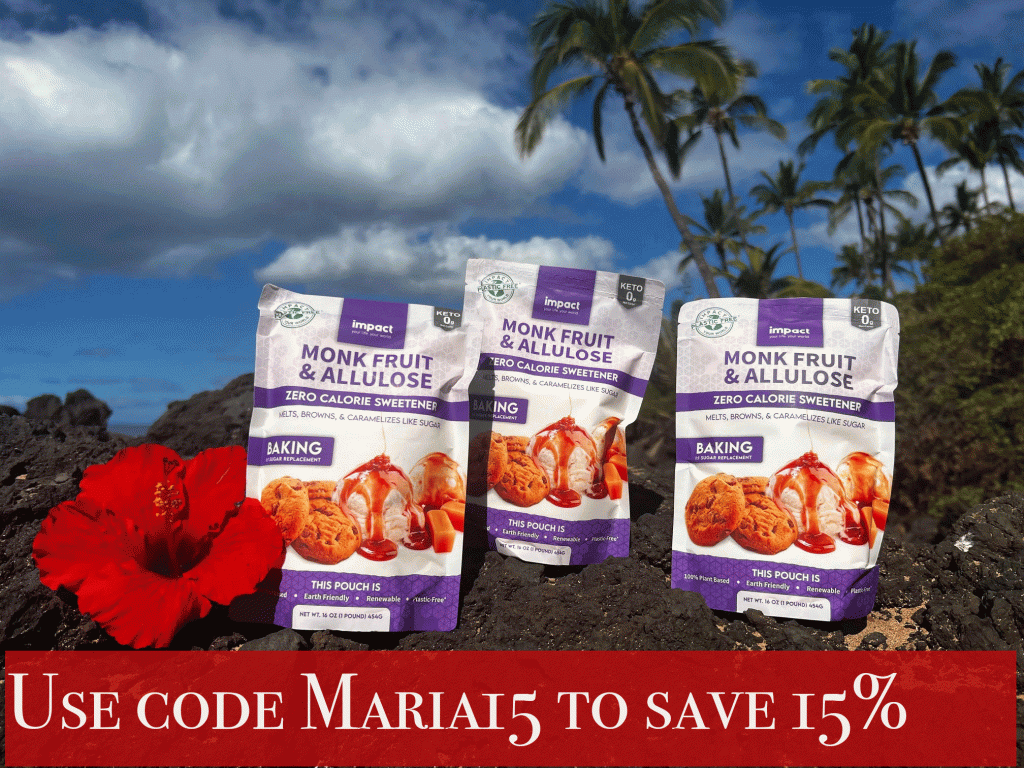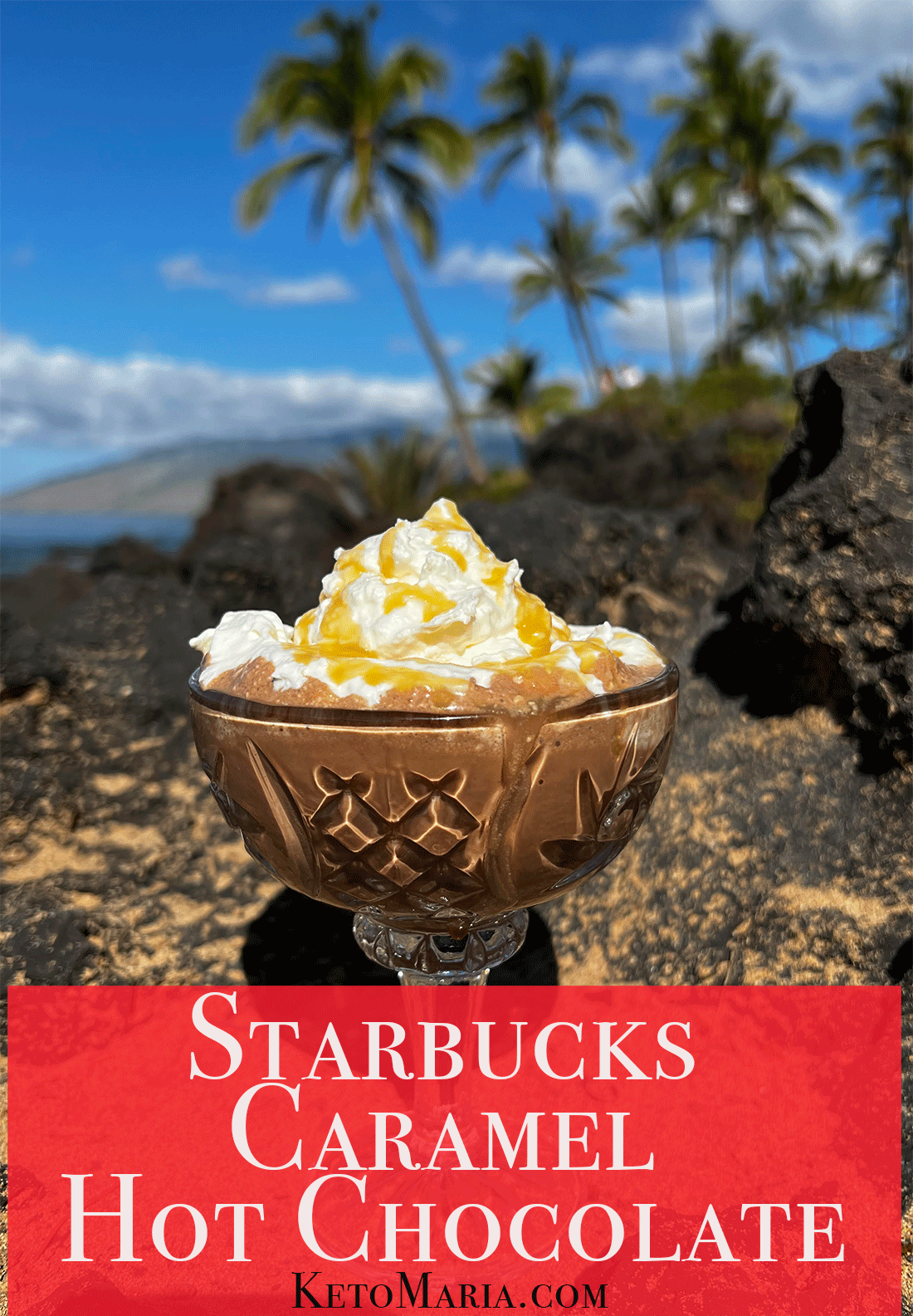 Homemade Starbucks Salted Caramel Hot Chocolate
Ingredients
SUGAR FREE CARAMEL (this will make extra):
HOT CHOCOLATE:
1 1/2

cups

unsweetened almond milk

or canned coconut milk for a thicker drink

2

large

eggs

1/4

cup

allulose

1

ounce

unsweetened baking chocolate

chopped fine (or more if you prefer a dark hot chocolate

1/2

teaspoon

vanilla

Few drops chocolate stevia

Pinch

Redmond Real salt

OPTIONAL GARNISH:
OPTIONAL GARNISH:
Whipped Cream sweetened with Impact Monk Fruit Allulose Blend
Instructions
To make the sugar free caramel sauce, before you begin, make sure you have everything ready to go - the cream and the butter next to the pan, ready to put in.

Heat butter on high heat in a heavy-bottomed 2-quart (2 L) or 3-quart (3 L) saucepan. Whisk and let it come to a boil, watch for specks of brown (this is brown butter....so good on veggies!). Immediately add the Allulose and whisk until melted. Add the cream to the pan and bring to a boil for 1 minute. Whisk until caramel sauce is smooth.

Let cool in the pan for a couple minutes, and then pour into a glass mason jar and let sit to cool to room temperature. Store in the refrigerator up to 2 weeks.

To make the hot chocolate, heat the almond milk in a sauce pot over high heat until simmering.

Meanwhile place the eggs, allulose, chopped chocolate, vanilla, stevia and salt into a blender. Puree the mixture to chop the chocolate very find. While the blender is running over slow speed, pour the hot almond milk into the blender. Taste and adjust sweetness to your liking. Place the hot chocolate into goblets. Drizzle in 2 tablespoons of the caramel sauce. Stir to combine.

If desired, garnish with whipped cream and a drizzle of caramel sauce! Click HERE to find the best Whipped Cream Dispenser! Place 1 cup heavy cream and 2 tablespoons allulose into the canister. Close and shake to combine. Use to top the hot chocolate with whipped cream.
Notes
(Hot Chocolate without Caramel):
312 calories, 28g fat, 13g protein, 13g carbs, 10g fiber
Nutrition
Calories:
414
|
Fat:
39
g
|
Protein:
14
g
|
Carbohydrates:
13
g
|
Fiber:
10
g
|
P:E Ratio:
0.3
TESTIMONY OF THE DAY
"My name is Cheryl and my keto journey started 6 months ago. 
I had been overweight my whole life. I weighed in at my heaviest  at 280 pounds, wearing 3x and 2x clothing.
I was diagnosed  with IBS when I was 14 and suffered for years with it.  Five years ago I was diagnosed  with diverticulitis. It was so extreme that I was hospitalized  for a month  on IV antibiotics and then finally I had to have emergency surgery to remove a large diseased section of my bowel. In the midst of the operation they also found an abscess  in my bowel.
In April 2021 I had another  re-occourance of the diverticulitis. In May I had miraculously  "stumbled " across Maria and Craig Emmerich at Keto-Adapted.com.  Researched them and then I  fully invested in my health (something  I had never done before).
Today (only 6 months later) I weigh in at 165 pounds and I'm fitting into medium and small  clothing.
It feels so surreal!
No more IBS  and  no more diverticulitis. I followed Maria's advice and I feel the best I've ever felt! I also feel  so much younger! I have 25 more pounds to lose before I'm at my ideal weight for skin removal surgery.
Thank  you  Maria and Craig for saving my life!!" Cheryl
Most people I consult are doing keto totally wrong. Get fast results with the my Mind-blowing Keto School!