Healthy Holiday Gift Guide!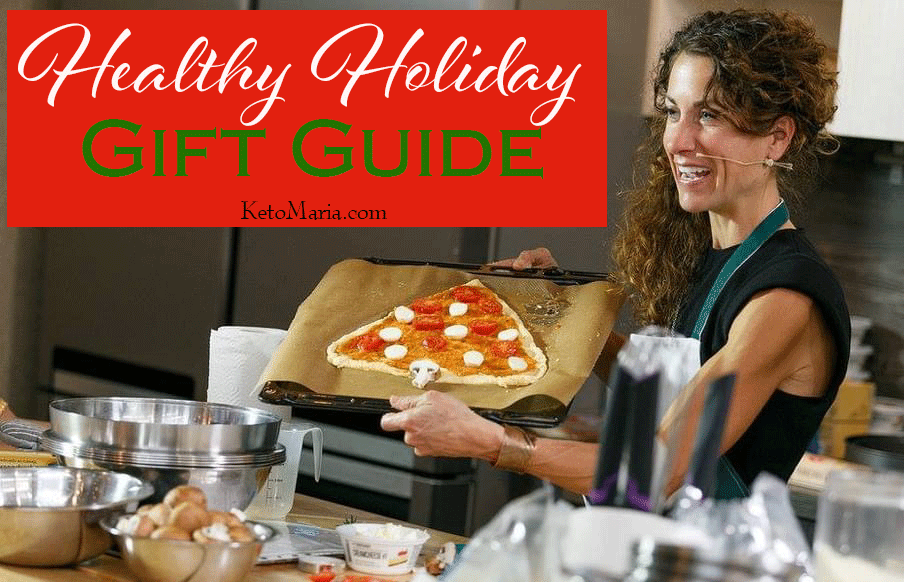 I love gifting healthy gifts that "Keep on Giving!" So I contacted my favorite healthy keto companies to see if they would do special discounts for my readers!
These are my top healthy gifts to give!
BEST HEALTHY HOLIDAY GIFTS
1. The Good Chocolate
The Good Chocolate is a sugar free chocolate sweetened with stevia! The owner Ben, is so generous, he is offering 20% off when you use code MARIA!
My boys love The Good Chocolate in their stocking stuffers!
Click HERE to get the discount!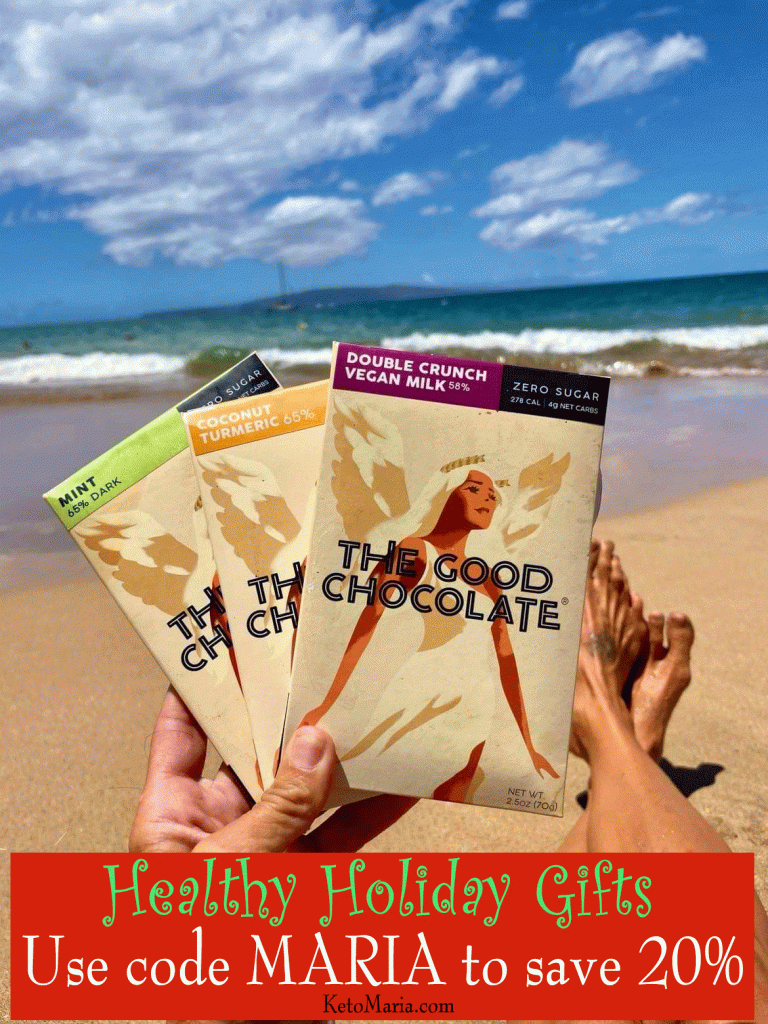 2. KETO ELECTROLYTES
LMNT is my boys FAVORITE keto drink! The chocolate makes a great hot chocolate! Perfect for a stocking stuffer!
LMNT is so generous, they are giving away 5 boxes of Chocolate Mint to 5 winners!
To enter to win, share this blog post on your Facebook wall or Instagram stories and tag me!
Click HERE to stock up on LMNT Electrolytes!
And Starting November 29th, you can get the new chocolate medley that includes the all NEW Chocolate Caramel!
Get the Chocolate Medley HERE!

3. KETO CHOW
You know I LOVE my KetoChow egg white protein powder! I make my zero carb protein sparing bread every single week with it! I also love to make my Dutch Baby pancakes and fry bread with it!
What a great gift idea! I bread pan, a cast iron skillet and a bag of KetoChow egg white protein!
Chris and Miriam are so generous they are offering 15% off when you use code MARIAHOLIDAY!
4. $50 OFF SIZZLEFISH
I LOVE Sizzlefish! I love that ALL of their products are perfect for protein sparing days! My favorite is their halibut and crab legs!
Sizzlefish is so generous, when you sign up with a subscription, you get $50 OFF ($25 off first 2 boxes!) WHAT A GREAT DEAL!
5. REDMOND REAL SALT and ELECTROLYTES
You all know I am a salt snob! Use quality salt like Redmond Real Salt and your food will taste extra delicious!
Grab a few bottles of Redmond (and their smoked salt) so your holiday recipes will taste extra special!
Click HERE and use code MARIA to get 20% off Redmond!
6. EVERLY DRINK MIX
Everly is a great keto drink mix to add flavor to water or to use in recipes like my gummies! I love the peach mango!
Click HERE and use code Maria20 to save 20%!!!! (This code will not subscription orders)
7. NATURAL CLEANER AND DISINFECTANT
I only use natural cleaning products like Force of Nature!
Force of Nature is an all natural cleaning product that also disinfects using only salt, water, vinegar and electricity. Force of Nature is also much less expensive than other cleaning products.
CLICK HERE and use code MARIA40 for 40% off any bundle! 
8. JOOVV RED LIGHT THERAPY
I use my red light on my face every single night!
Red light therapy can be great for many things like reducing pain, reducing wrinkles, speedy up recovery and much more. Here are the discounts you can get on Black Friday:
Discounts
$50 off Joovv Go

$150 off Mini

$200 off Solo

$300 off Half-Max

$400 off Duo

$500 off Max

$600 off Quad

$800 off Elite
CLICK HERE to get Joovv red light therapy.
9. IMPACT ALLULOSE
I LOVE Impact Allulose to make my ice cream and desserts for the holidays!
Hudson from Impact is so generous he is offering an amazing deal! Get 35% off + free shipping on all orders over $90!
10. Bon Charge
We love the blue light blocking glasses for sleep and all the other great products that Bon Charge makes. Here are the deals you can get over the holidays:
Black Friday

17-30th November – 25% off sitewide – discount automatically applied at checkout

Holiday Sale

1st December to 25th December – 20% off sitewide – discount code TBD and will be listed on the website for people to access and use

Boxing Dale Sale

26th December – 2nd January – 25% off sitewide – discount automatically applied at checkout

CLICK HERE to get these great deals!
11. Just Thrive Probiotics and UTI Supplement 
My whole family takes Just Thrive probiotics every single day! This is the best probiotic I have ever tried! It helped get rid of my IBS!
Probiotics are also helpful for depression, immune health and more!
Beth from Just Thrive is so generous, she is offering 25% off statewide until November 30th when you use code KETOMARIA!
12. Wonder Monday Cheesecakes
Who doesn't love cheesecake?
Not only are Wonder Monday Cheesecakes sugar free, they are also gluten free, only 1 gram of carbs and super delicious!
Skip spending the holidays baking and order a few boxes of these cute cheesecakes! Store them in the freezer and pop them out when company comes!
Use code MARIAE5 to save!
Click HERE to stock up on keto cheesecake! 

13. Equip Prime Protein Powder
My new favorite healthy product is Equip beef protein powder! I am addicted to their strawberry! It is a great way to make a protein sparing shake!
* 20% off when 2 products are ordered
* 30% off with 4 products are ordered
* 40% off when 6+ products are ordered
Click HERE to stock up on healthy protein powder!  

15. ChiliPad
We could not live without our Chilipad. It keeps you comfortable while you sleep (not too hot, not too cold) so you get better sleep.
From the 25th to 28th you get 25% off everything! No coupon code needed.
Just go HERE to get in on this sale!

15. Kettle and Fire Bone Broth
Kettle and Fire make the best bone broth that is made the old way, just like if you made it at home. They have an amazing sale through November 29th where you can save up to 30% off!
CLICK HERE to stock up!

16. FOND Bone Broth
Fond also makes amazing bone broths. They have many flavored broths too which can really add flavor and depth to recipes. Now through November 28th you can get 22% off with this coupon.
Coupon: BFF2022

17. Pili Nuts
Pili nuts are the lowest carb nuts out there. And they taste buttery and great too! From now until November 30th you can get 20% off site wide!
Coupon: Blackfriday20

18. BeautyCounter
I love BeautyCounter for non-toxic makeup, sunscreen, and other products. For black Friday you can get 20% off site wide, 30% off orders over $250 and free shipping on orders over $50!!

19. FURTHER FOOD COLLAGEN
SAVE 25% on my favorite collagen when you use code MARIA25! BUT HURRY! This deal ends December 31st! 
20. Trip of a LIFETIME!
I don't know about you but my love language is quality time and adventures! I don't need anymore stuff, but I always crave more adventures!!!!
With the past few years of not traveling, I saved up so I can go on amazing keto trips and you are invited!
I'm not one to have an expensive purse, I cut my own hair, but I will spend money on traveling and exploring the WORLD!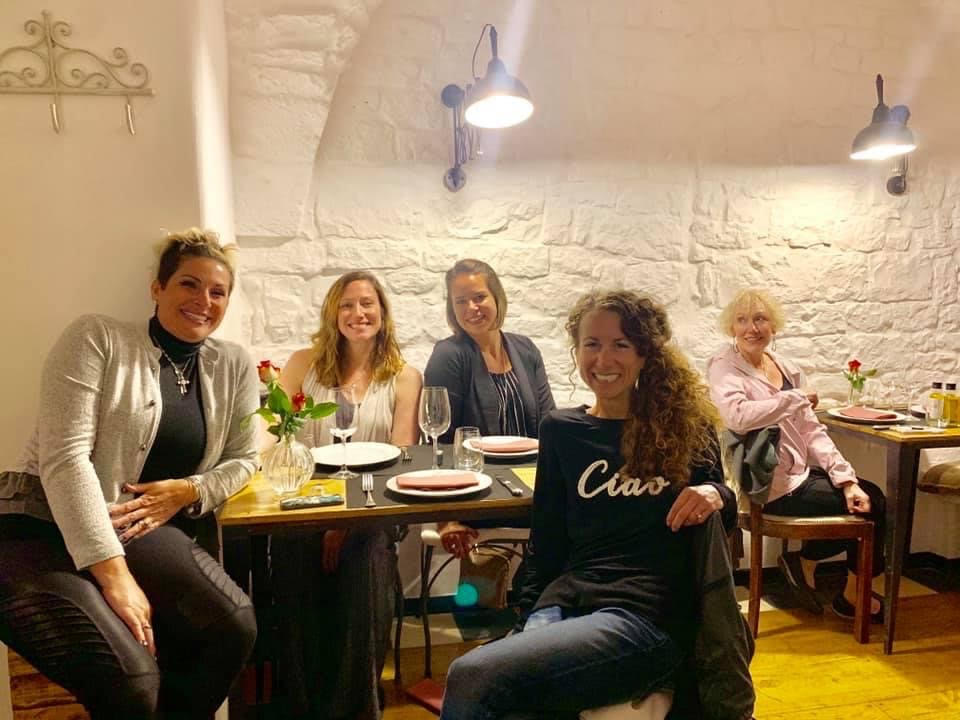 If you are like me, ask for this gift of a lifetime and travel with me to the most beautiful places! You will be treated like a QUEEN/KING on these trips! We even stayed in a castle!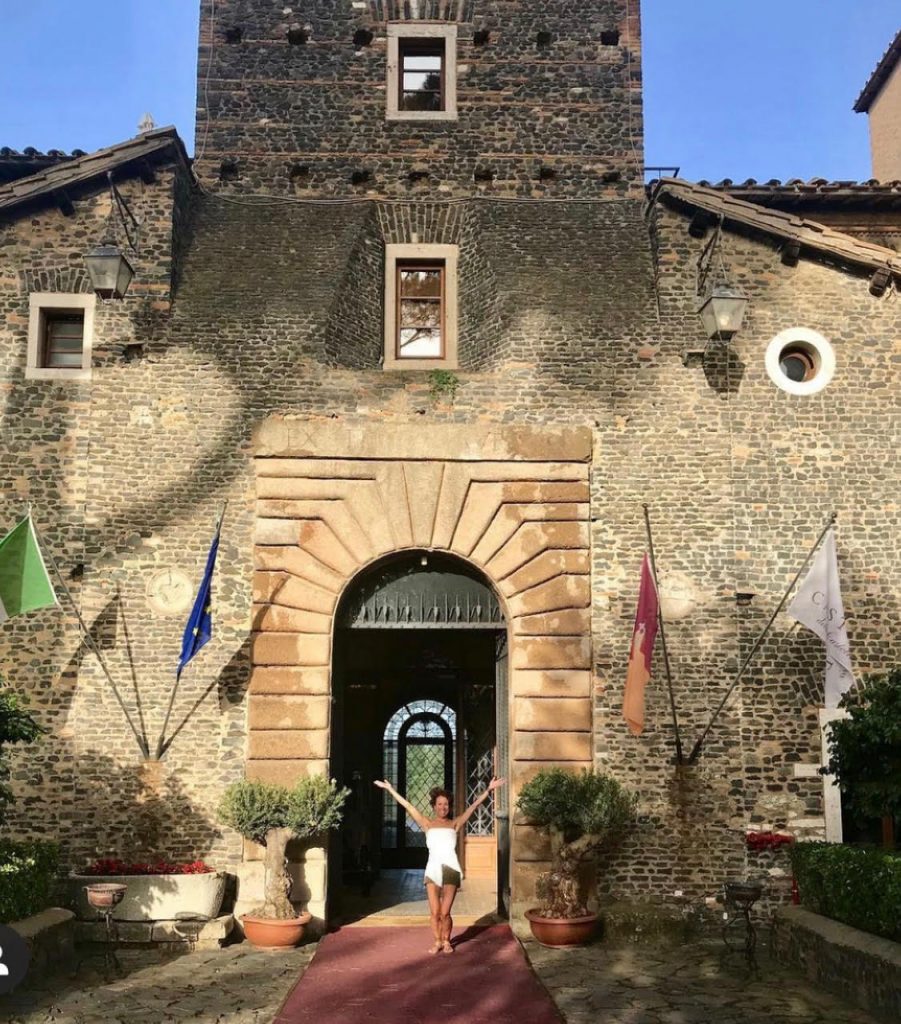 What would be better than gifting your mother a trip? Gift yourself this trip and join us too! As a mother, I would love to explore and travel with my children!
Even if you are not keto, you will LOVE these VIP trips where you will be pampered and explore the most beautiful places in the World! There's no judging on the trips; if you don't want to eat keto, you can enjoy whatever you want; however, if you want to enjoy the most amazing keto food, you will be served delicious food!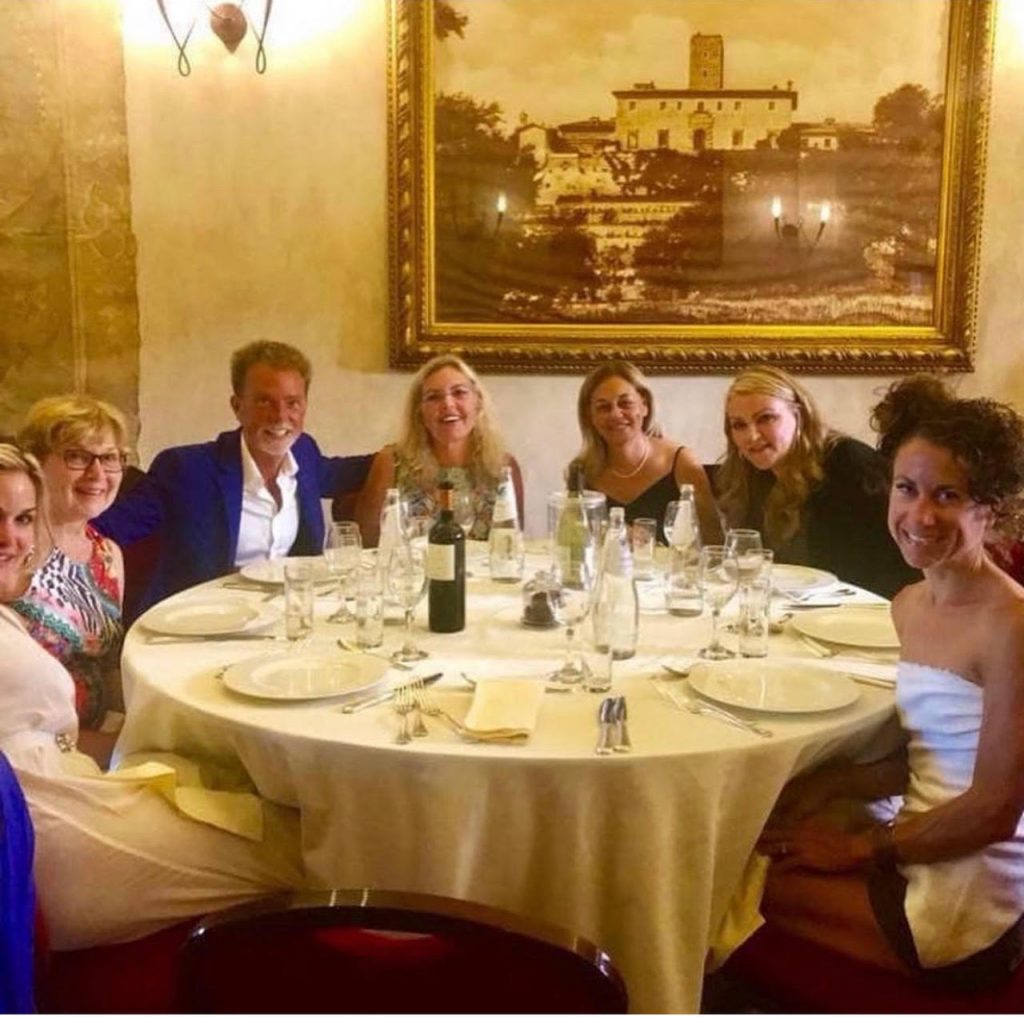 I honestly never realized how much I would enjoy a guided trip like these until I experienced it.
These keto trips are the BEST because I know I am going to see the best sites in the area (without waiting in a long line!), I am going to sleep in a beautiful hotel, I am going to be served delicious food, I have transportation to all the amazing places! It's awesome because you do not have to stress out about any of the planning!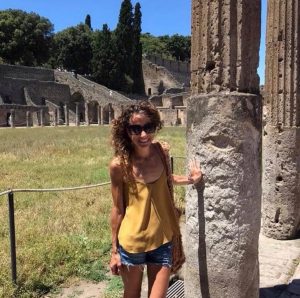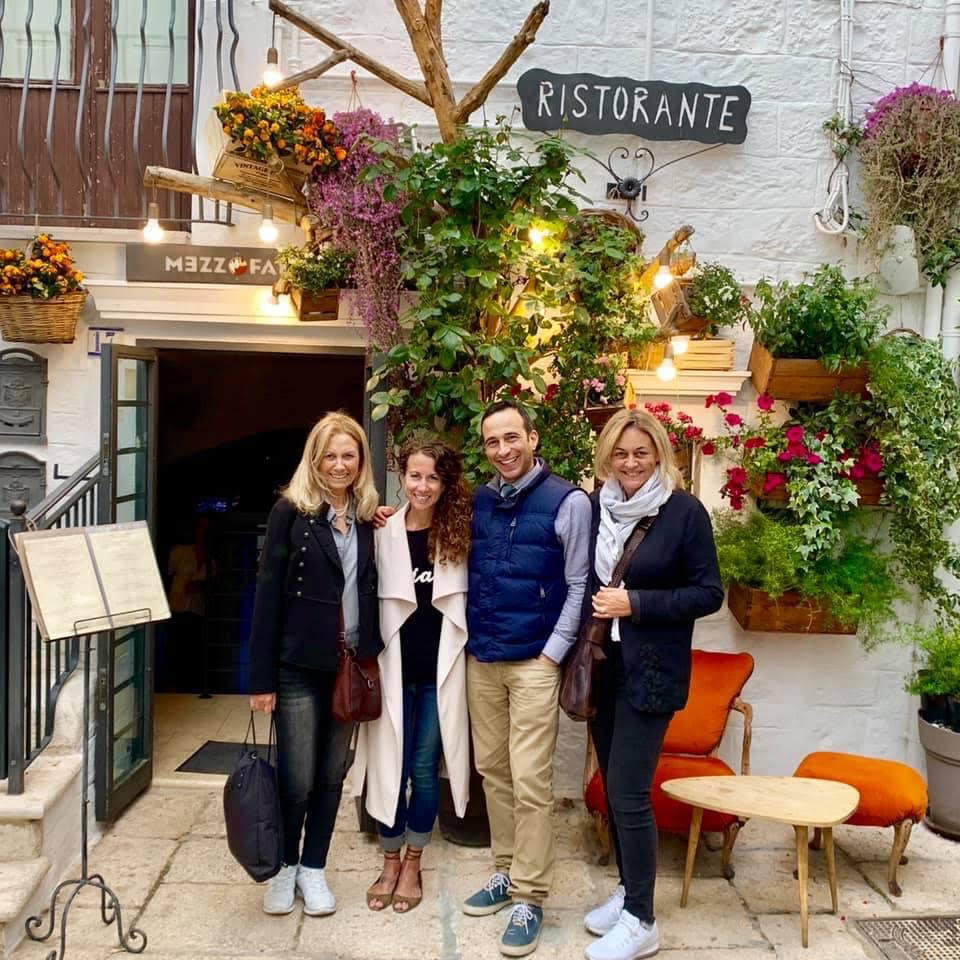 Here is a testimony from one of the past keto travelers:
"I would kick myself if I didn't write this post…if you have ever had a desire to see Italy, learn more about the keto way of eating, please watch for the next announcement on Maria's page for the next Italy tour.

I was there…and while I was not at my ideal weight, I came away with more powerful information from Maria than before. She gave very powerful speeches that reinvigorated my desire to be back on track.

You know what else? Maria is NOT judgmental...she realizes that everyone is on a path to better health, and she is there to share tips, tricks and great knowledge to help you get there. I admit that I was intimidated, but once I met her, how could you not fall head over heels for this beautiful person who only wants to share her passion for better health by simply changing our diets?! (Food is thy medicine!) I will definitely try to make the next #ItalyKetoMaria tour next year, and for those of you who didn't go this time, don't miss out…it was PHENOMENAL!!! 🇮🇹♥️" Katya
This group will be friends of mine for life!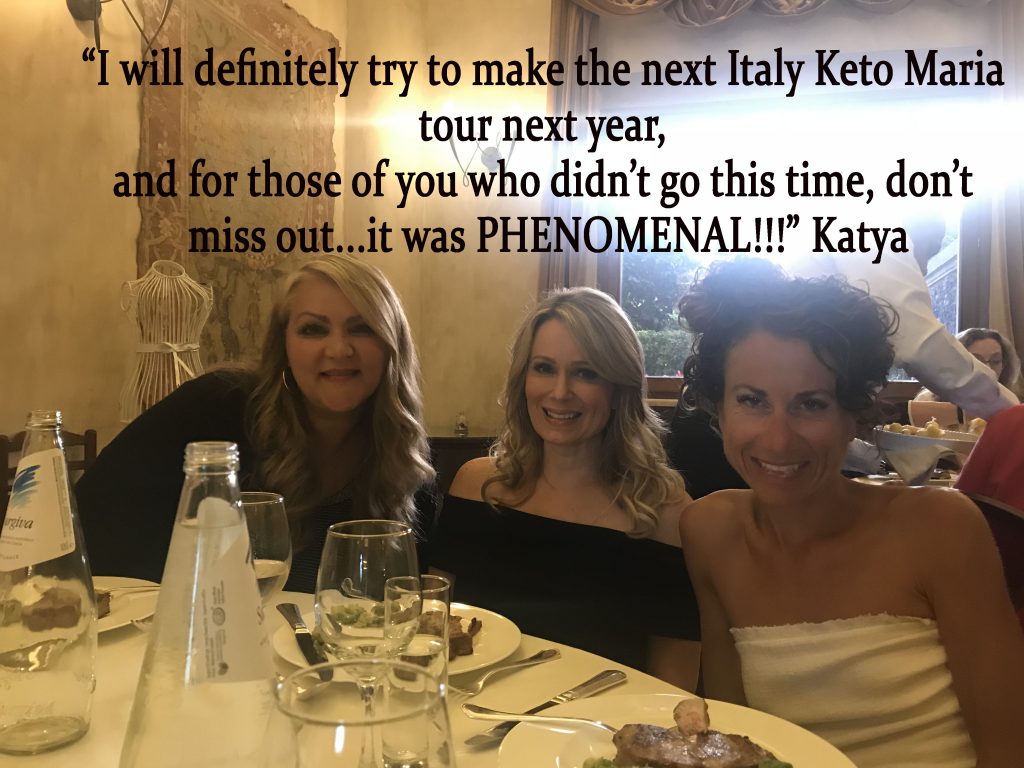 Happy Holidays friends!