Healthcare is Failing Us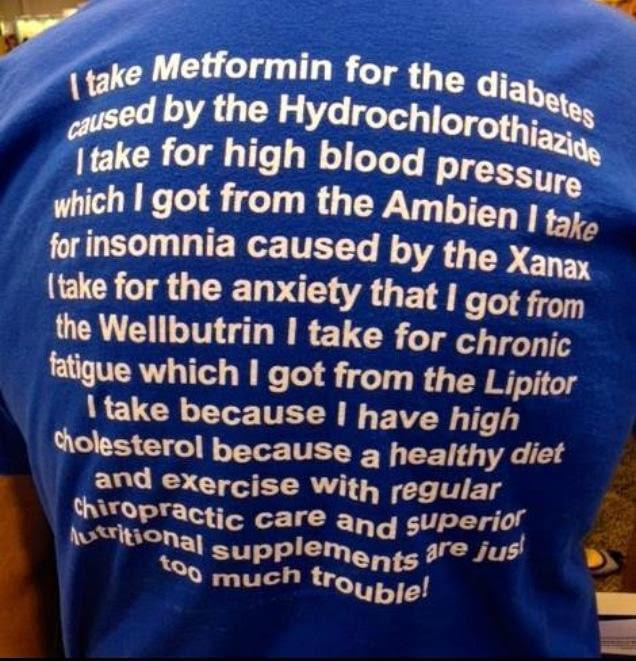 This title may offend some of you, but let me explain. I am not writing this to pick on the hospitals. I am not writing this to pick on the doctors and nurses. I am writing this to bring awareness to the lobbyists that push harmful products on us that are keeping us sick! And this isn't just in America but in many countries around the world. The second hospital meal example below is from Canada.
I love this quote by Hippocrates almost 2000 years ago.
"Let food be thy medicine and medicine be thy food"
This applies now more than ever. But if you look at how hospitals feed their patients, they have somehow lost sight of this fundamental truth. We no longer treat root causes with food, we only prescribe medication to mask symptoms. This is how I started down the path of nutrition education. I was struggling with PCOS, IBS, Acid reflux and other issues. I went to the doctor and was told "Those are just the cards you were dealt" and offered 2-3 prescriptions. Just a few weeks later my dog Teva was losing patches of her hair and when I took her to the vet the first thing they asked is "what are you feeding her?" Why do we do this at the vet, but my doctor never asked me what I was eating?
I am also writing this to help YOU as a consumer to know that you do NOT have to and shouldn't eat the unhealthy products they tell you to before surgery.
For example, there is a new Ensure Pre-Surgery drink that is now becoming the standard for pre and post surgery in America.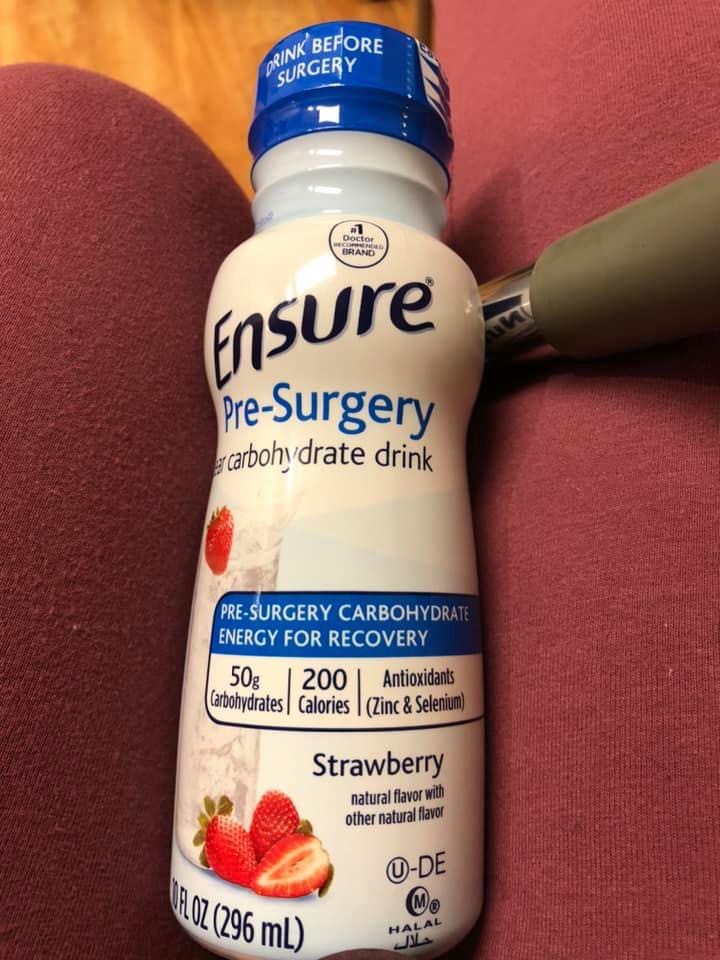 This "healthcare drink" is basically a Mountain Dew without the caffeine!
As if the 50g of carbs didn't make it sweet enough, they also had to add 3 harmful artificial sweeteners! And only listing 6g sugar is disingenuous. This is 50g pure sugar.
One of the ingredients is Maltodextrin which doesn't have to be listed as sugar, but sugar has a glycemic index of 52 and maltodexerin is 110 on the glycemic index! This drink's title should be "Type 2 Diabetes in a Bottle!"
This product has almost the same nutritional profile and ingredients that researchers use to induce type 2 diabetes and obesity in lab rats! Think about that for a second. This is how we induce type 2 diabetes and obesity in rats when we want to study them, but we give this to people to "help them recover from surgery"?
So let's take a look at these studies that supposedly show improvements in surgery outcomes when adding carbs prior to surgery. First, the conflicts of interest are astounding.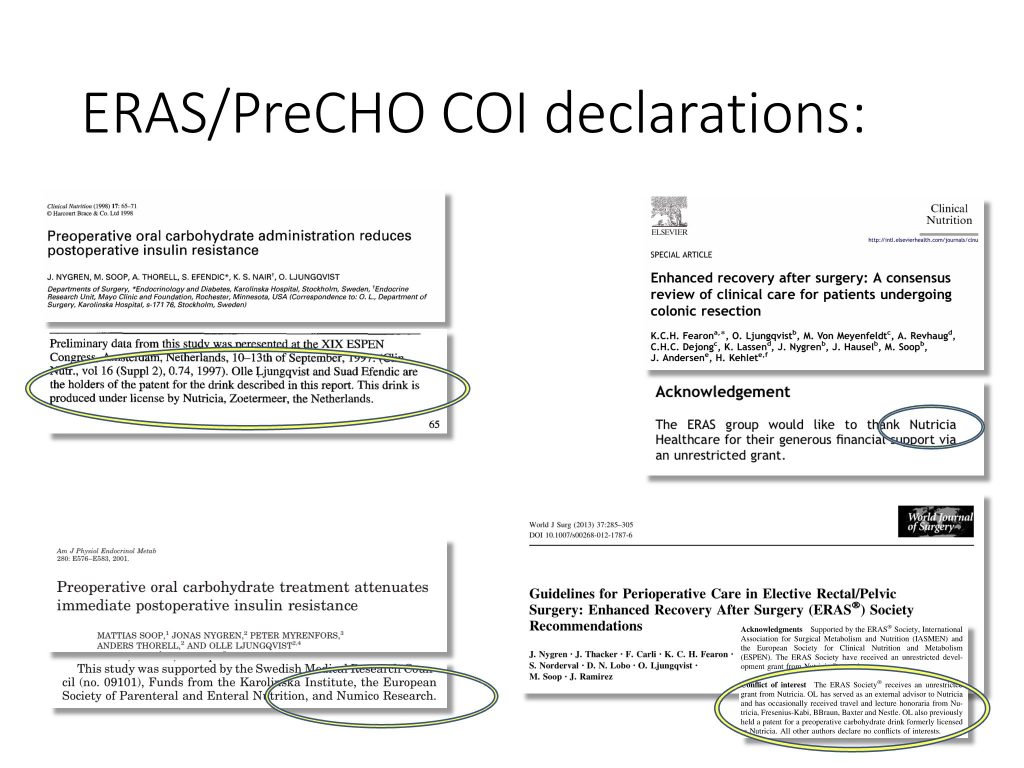 Check out that list. "holders of the patent for the drink described in this report".  Two of them are funded by Nutricia Healthcare, makers of these drinks. Another by Numico Research, yet another maker of the drinks.
Second, a meta analysis of these 27 of these types of studies determined that most were at high risk of bias because of inadequate blinding (see above). There was no affect on complication rates. There was no significant difference in length of stay compared to placebo group and only a small difference compared to the fasting group. CLICK HERE for the analysis.
This is why healthcare is broken in America. This is not to say it's the doctors fault. It isn't their fault. It is the pure profit motivations of the big corporations manipulating the science to drive more profits. The doctors are being shown studies, given materials showing how (based on this flawed and biased information) they can save recovery time and reduce the hospital stay after surgery by these companies. It looks compelling and busy doctors don't have time to read every study and look into the details of each. So they make it standard for all surgery patients.
Here is the process for these big pharmaceutical organization:
Think of something ridiculously cheap to produce that you can make a ton of money on (basically corn maltodextrin and water).

Fund a few studies to "show" improvements in outcomes using your drinks.

Slap on fancy statistics and marketing to make it look like there is a big benefit to patients and get all the doctors on board prescribing it.

Profit! $$$
All the while doing nothing to really help the patients.
Studies are more and more funded by companies that have a vested interest in the outcome of the study. Studies on statin are a great example of this and there are many others. We used to have significant government funding of studies but as that has been cut, big corporations have filled to void and as a result we have all suffered the consequences of biased studies driven by profit motives.
Let's take a reality check here. Healing requires amino acids to repair tissues. There is no biological pathway to turn glucose into animo acids. None. How about a drink of bone broth (high in collagen and nutrients), protein and collagen. Those are the building blocks for healing. Fund a study to show the difference in this glucose drink and a drink of bone broth, protein and collagen and the results WOULD REALLY be significant, without any bias inserted.
This applies to nutrition in general too. Just look at the junk that is fed to patients at hospitals.
Here is what my father-in-law was fed during a hospital stay.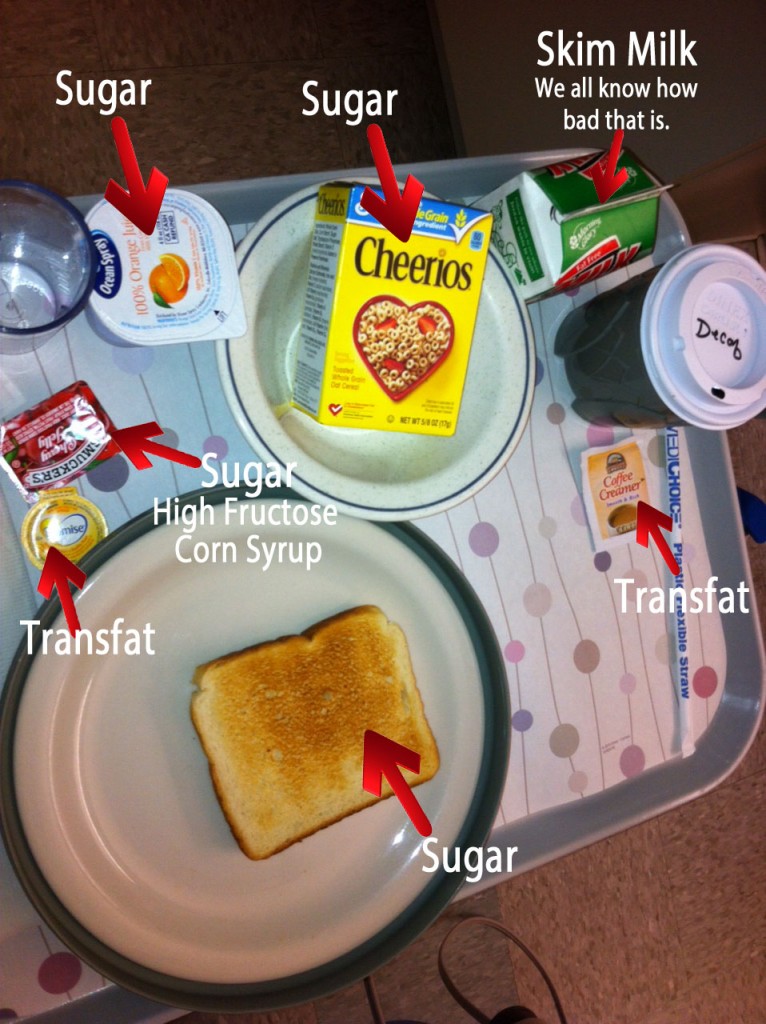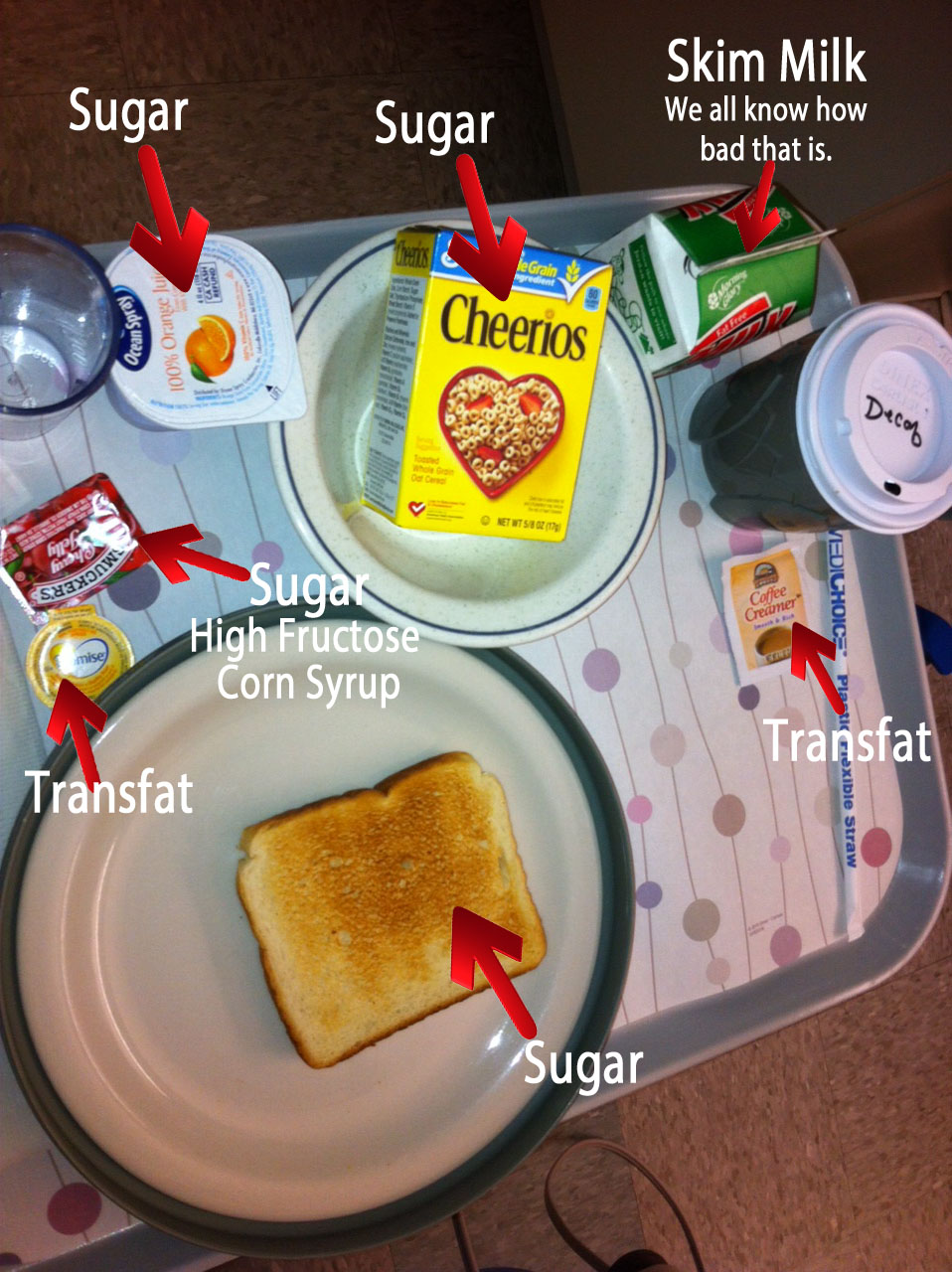 Complete garbage. I would eat NOTHING on this platter.
Take a look at this image. Are you thinking, looks like a bakery or donut shop? Nope, this is a hospital cafeteria.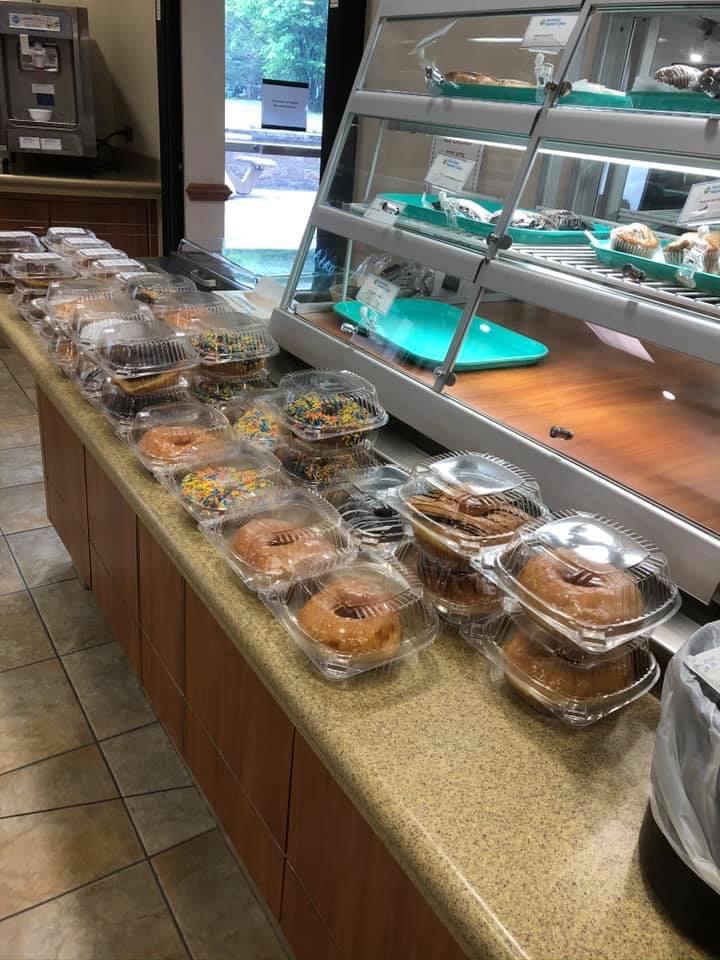 Here is another one. In a hospital, this is the "Healthy Snack Options" in a vending machine.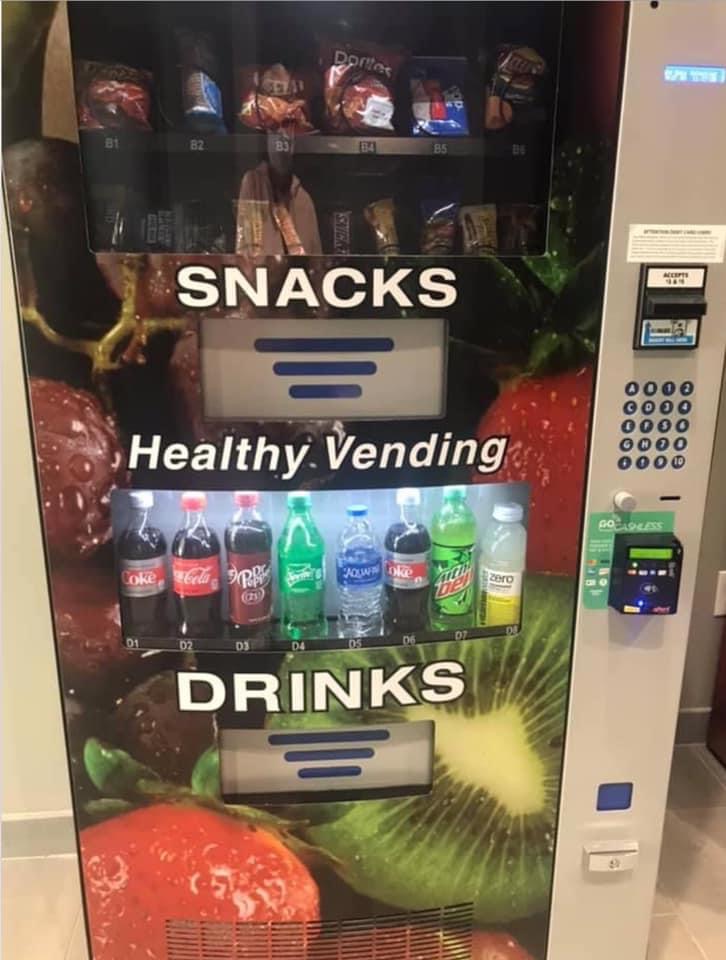 Mountain dew, sugary sodas, Cheese-its, Doritos, Pop-tarts, Snickers bars. Is anyone surprised we are sick and obese?
How about a diabetic breakfast? They must do something to help them control blood sugars right? Check out this example: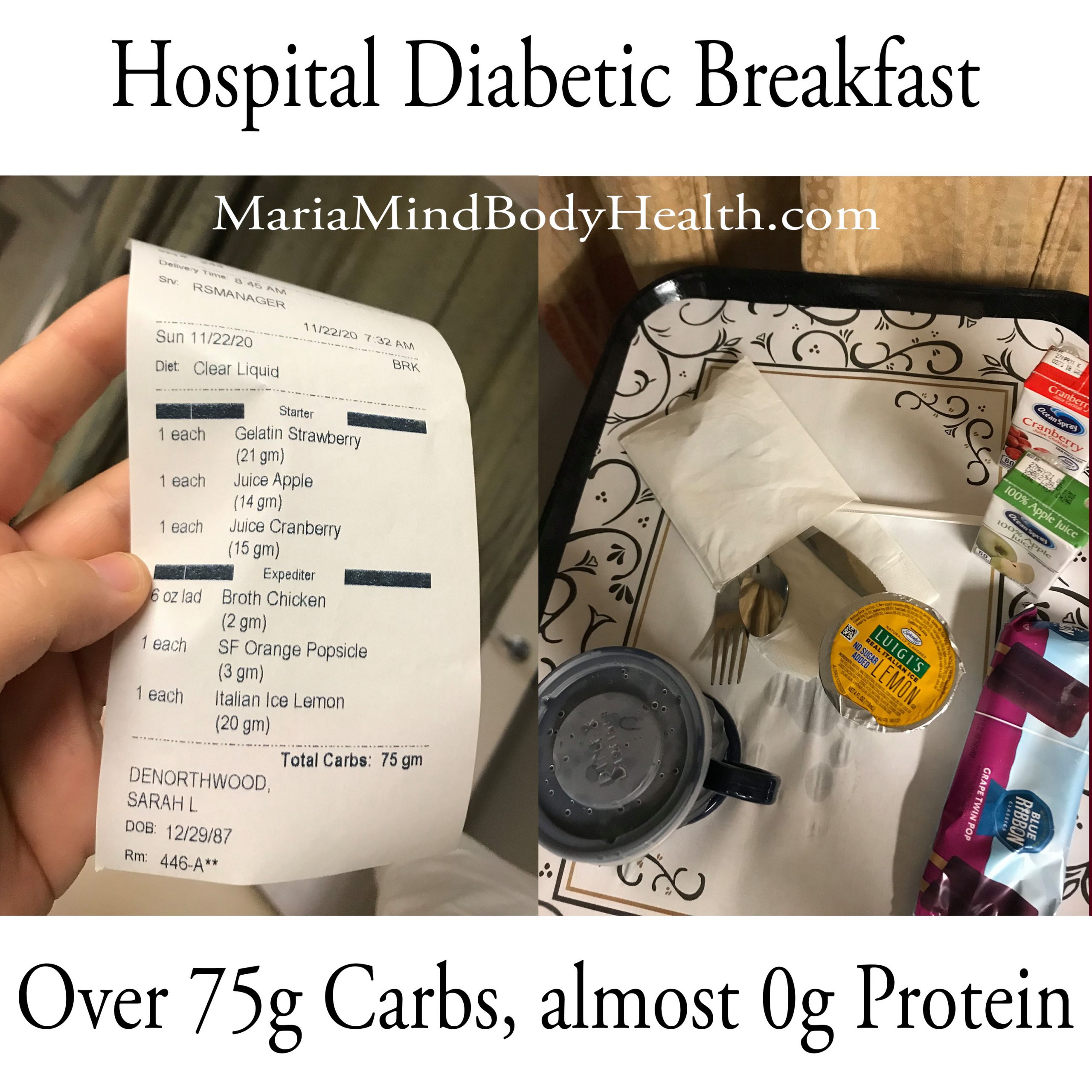 So basically pump the type 2 diabetic and type 1 diabetics full of sugar for breakfast and give them little to no protein and fat. Absolutely crazy!
Here is another example of a "Diabetic Friendly" breakfast at a hospital.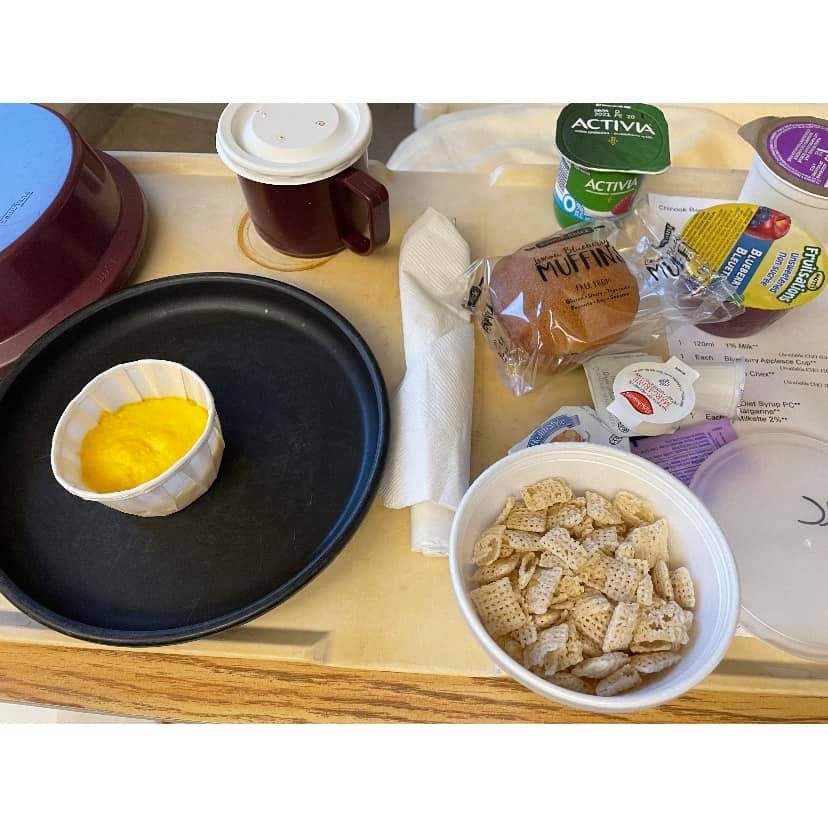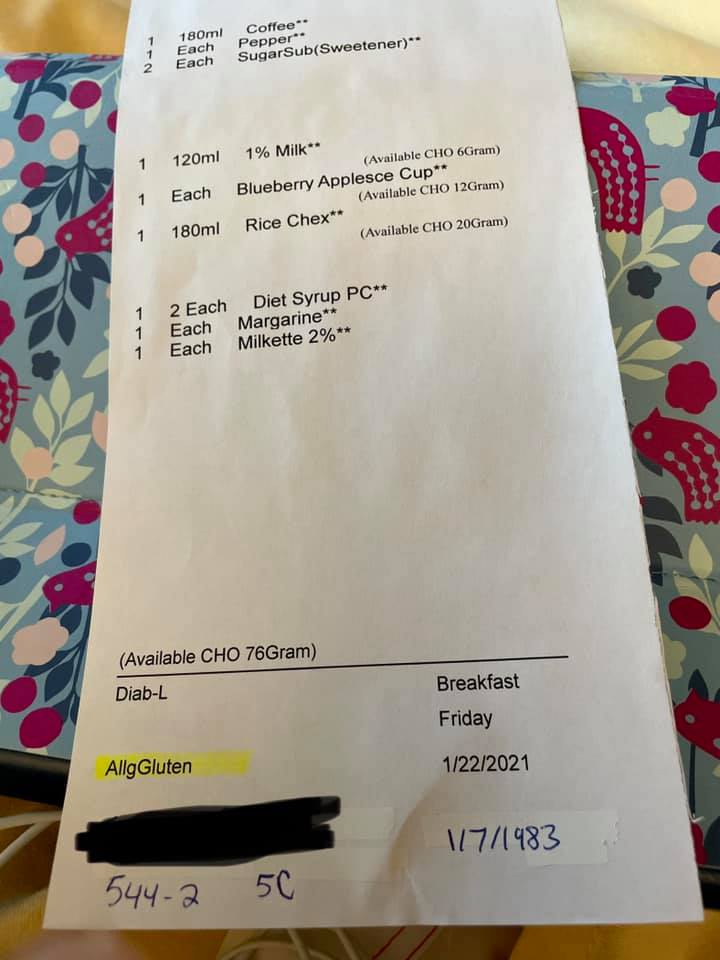 Another 76 gram plus of carbohydrates at one meal. Loaded with transfat, grains, sugar and carbs.
After a long discussion with the hospitals "Diabetic Nutritionist" who gave her mom this meal, she then got this "diabetic meal" for lunch.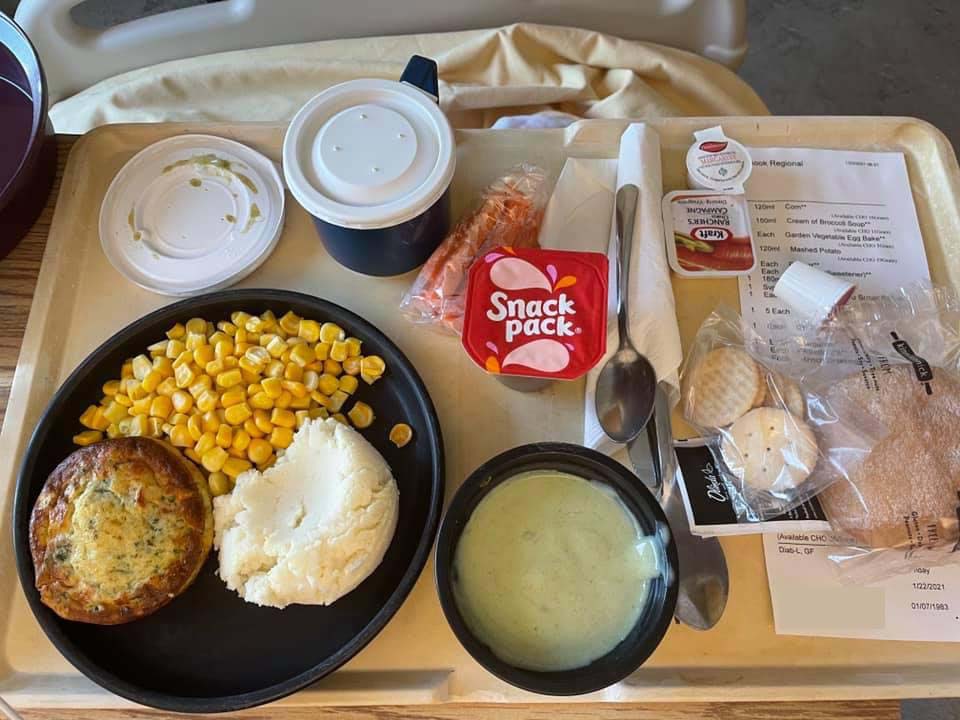 America's healthcare system is broken.
If you really want to get healthy, off medication and heal like this amazing testimony below, remember this: "Let Food Be Your Medicine!" 
I decided to become a nutritionists after my own personal struggle with American Healthcare failing me. I struggled with food and weight throughout adolescence and into adulthood. I am very passionate about helping people heal their body through food because the medical field has failed me and my family numerous times. went to the doctor at the age of 16. I was told I had PCOS (polycystic ovarian syndrome), I was given an antidepressant, an acid blocker and a medication for IBS.
That same week, I took my dog, Teva, to the vet after she started losing her hair in patches. The FIRST thing my veterinarian asked me was, "What are you feeding her?" Yes! What a good question! But you know what? I have never been asked that question at the doctor. Not once. My doctor told me it was nothing I was doing wrong, it was just the cards I was dealt! HA! No it wasn't! I was working at a coffee shop where I drank sugary mochas all day and whatever cinnamon roll, scone or muffin didn't sell that day, went home with me! I always made sure to make extra cinnamon rolls in the morning so I had some to eat! I ate nothing but sugar and carbs. No wonder I was so sick!
As a society, we need to start healing ourselves at the cellular level with what we put in our mouths. If we want to lower healthcare costs, let's start changing what we are eating! FOOD CAN HEAL!
Eating keto isn't a diet for me. It is a lifestyle. I love food and I will always love food, but more so, I love the way I feel eating like this! That is why I spend so much time and money creating new recipes for all of you. I want you to be able to commit 100 percent.
TESTIMONY OF THE DAY
"Hi Maria!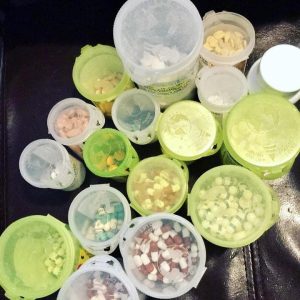 Here is a photo of all the medications I am NO LONGER taking!!! I had depression, anxiety, thyroid issues, migraines, and chronic pain (fibromyalgia). You and your recipes resolved all those issues! I have lost 90 lbs and am a much more active, happy, healthier version of myself! You have helped to keep this a fun, interesting way of life. I have all your books and preorder the new ones when you announce them! 
I am so grateful to you and your husband and the advocacy you do for this lifestyle. I am so grateful for all your knowledge, time, kindness and how all your recipes help enable me to make this a lifelong journey! 
The important part is how much my life has improved, how happy I am! 
Thank you thank you thank you for all you do!!! 
Sincerely,
Cristin"
Most people I consult are doing keto totally wrong. Get fast results with the my NEW Keto Packages!