What Happens When You Eat too Many Carbohydrates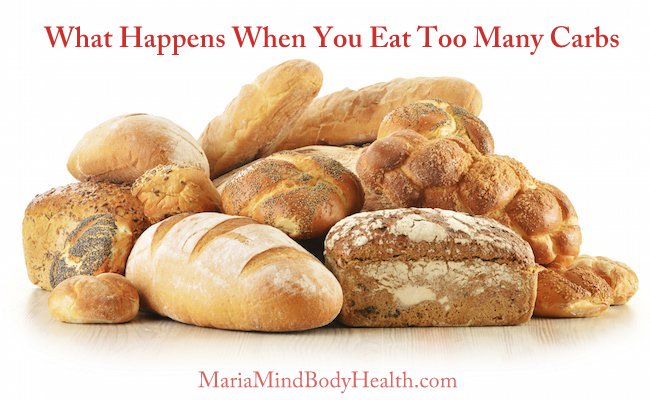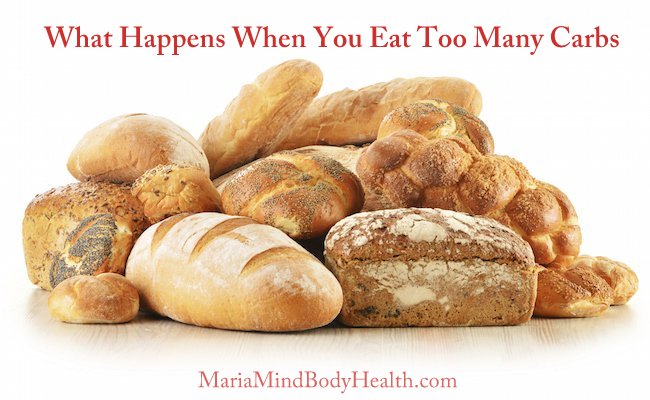 No matter where the carbohydrates are being stored, liver or the muscles; the total storage capacity of the body for carbohydrate is really quite limited (only about 1200-2000 calories) and that is only if the glycogen has been depleted through exercise. 2000 calories is about a 20 mile run. If you aren't doing that level of activity everyday, you don't have that much storage available. Once the levels in the liver and muscle are filled with glycogen, excess carbohydrates have just one fate: to be converted into fat and stored. Even though carbohydrates are fat-free, excess carbohydrates can end up as excess fat storage. Any meal or snack high in carbohydrates will generate a rapid rise in blood glucose. To adjust for this rapid rise, the pancreas secretes the hormone insulin into the bloodstream. Insulin then lowers the levels of blood glucose by storing it in the liver or muscle as glycogen. Insulin also tells the body not to release any stored fat. When this happens, you can't use your own stored body fat for energy. So the excess carbohydrates in your diet not only make you fat, they make sure you stay fat.
But the bigger issue is something called oxidative priority. The body has a process for dealing with different fuels in the blood stream. When you eat, it goes through a priority when dealing with the fuels coming in from the meal. Here is a chart showing that priority.


As you can see Alcohol is the #1 priority and there is no storage in the body for alcohol. This is one of the reasons why alcohol is so bad for weight loss (more on that HERE). All of it has to be burned off before the body can start using other fuels. The second priority is ketones. If you have more ketones than the body needs, it has to deal with them before moving on to other fuels. Next is protein. Protein goes to muscle synthesis to generate and repair lean tissue. Next is carbohydrates and last is fat. So in a typical American diet, you will have moderate protein along with high carb and high fat in the diet. The whole time the body is dealing with the high carbohydrates that came in the meal, all the fat that also came with it gets put straight into storage in your fat cells. This is the bigger problem with high carbohydrate diets. Due to the priority of fuels most of the fat you ate with the carbs goes directly into storage because insulin remains high and the body is busy dealing with all the carbohydrates you just ate. Remember, a normal blood sugar is 1 teaspoon of sugar in the entire volume of blood in your body. That is 4 grams of carbohydrate.
Lipolysis is the process of using stored bodyfat for fuel. An increase in insulin tells the fat stores (adipose tissue) to stop releasing fat into the blood stream or stop lipolysis. This makes sense since you don't want an over supply of fuel in the blood. This happens when any food is eaten (yes, even fat will raise insulin enough to stop lipolysis).  To recap, when we eat too much carbohydrate, we are sending a hormonal message, through insulin, to the body that states: "Store as fat".
Whenever insulin is raised, lipolysis is stopped. If you want to lose fat, you want lipolysis running as much as possible. This is also why intermittent fasting can be helpful as you limit the amount of time that insulin is raised. Look at this chart.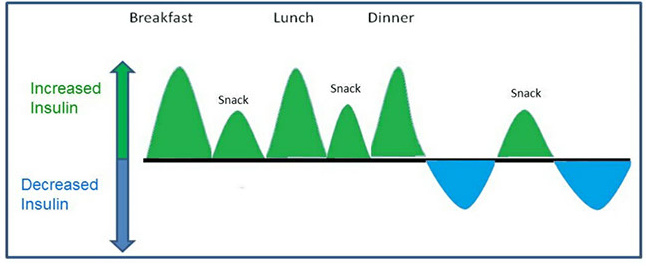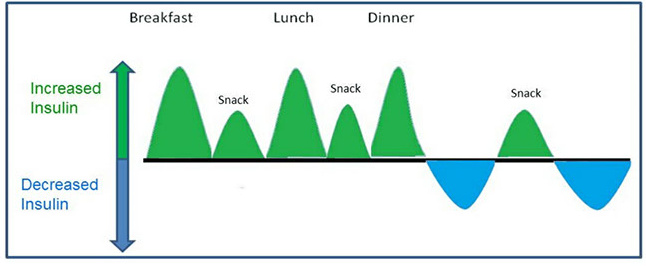 Chart from Ted Naiman HERE.
Eating every few hours and adding snacks keeps your insulin raised and keeps you from using stored bodyfat for fuel. And if what your eating includes excess carbohydrates then the insulin response is higher and longer keeping you from burning fat even longer. More on Intermittent Fasting HERE.
After you eat carbohydrates your blood sugar increases and your pancreas releases insulin. Insulin makes sure your cells receive some blood sugar necessary for life, and increases glycogen storage. But, it also tells your body to use more carbohydrate, and less fat, as fuel due to the oxidative priority.  If you want to burn fat for energy, the insulin response must be decreased. Eating refined sugars release a lot of insulin, allowing less time for using stored fat for fuel.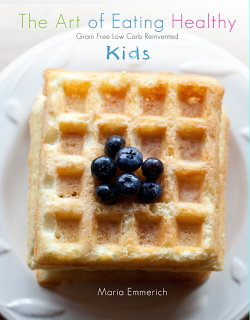 Just as important is the hormonal response. Eating a high carbohydrate meal also stimulates hunger. As blood sugar rapidly increases, insulin rises sharply since too much blood sugar can kill you. This results in a drop in blood sugar. But with a rapid rise due to over consumption of carbohydrates, there is an over correction and blood sugar drops too low before it can correct. This results in hunger, often only a couple of hours after the meal. Cravings, usually for sweets, are frequently part of this cycle, leading you to snack on more carbohydrates. Not eating makes you feel ravenous shaky, moody and ready to "crash." This cycle causes you to never get rid of that extra stored fat, and a decrease in energy intake. To read more, check out Keto; A Complete Guide to Success on the Ketogenic Diet, including Simplified Science and No-Cook Meal Plans.
Insulin's actions are countered by glucagon. Glucagon alerts the liver to slow down triglyceride and cholesterol production, for the kidneys to release excess salt and fluid, to the artery wall to relax and lower blood pressure, and to the fat cells to release stored fat to be burned for energy. But, insulin is a stronger hormone and when it is high, it suppress glucagon's actions. After a childhood of over consumption of sugar, metabolic syndrome and insulin resistance can result. This is why what we feed our children is so important to set them up for a lifetime of healthy living. To find lots of 'kid-friendly' meals and snack, check out my KIDS COLOR cookbook: The Art of Eating Healthy: KIDS.
Excess carbohydrates results in both a fuel problem (fuel storage and stopping of lipolysis) as well as a hormonal problem (blood sugar crash with hunger and cravings). Controlling our blood sugar and keeping it as even as possible throughout the day not only limits our hunger and cravings but it enables the body to get back to burning fat for fuel quicker.
Here is a photo of my son Kai on his birthday enjoying his favorite meal… my Mexican meatloaf cupcakes topped with guacamole and a cherry tomato! As you can see by his face, he is one happy little boy!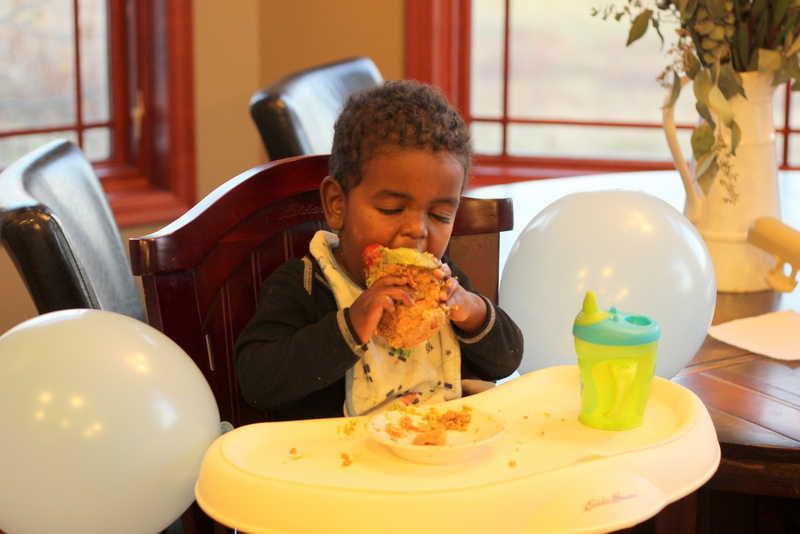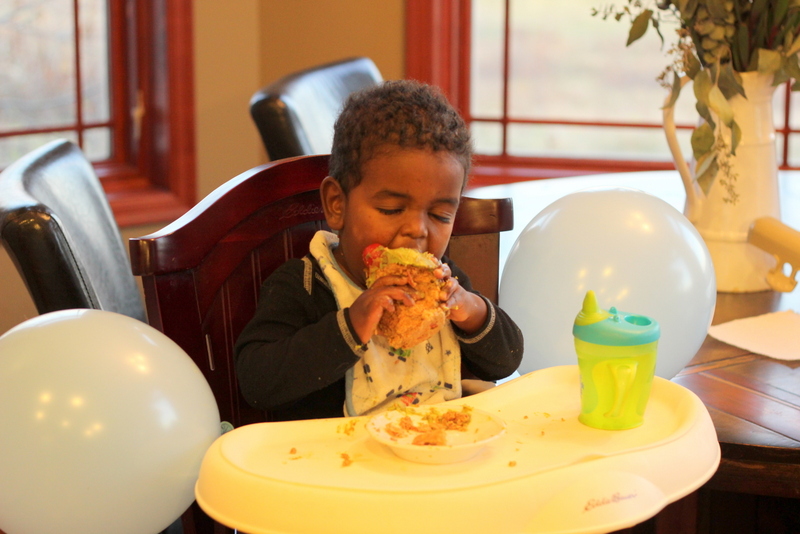 TESTIMONY OF THE DAY
"80 pounds lighter and life is just beginning at 50!!!  This lifestyle is the BOMB!!! Thank you Maria and Craig for your time and commitment towards helping others live their best life!!" – Marnie