"Gotcha Day" Celebration and CHOCOPERFECTION
"Gotcha Day" Celebration and CHOCOPERFECTION
Maria's Favorite Things Giveaway!
Throughout this holiday season, I will be featuring a few of my favorite things to giveaway to keep you on the path to health. Today I am giving away a HUGE box of ChocoPerfection bars! ChocoPerfection bars uses the sweeteners oligofructose, which is derived from ground-up chicory root, and erythritol, which comes from fermented natural foods. These ingredients don't effect insulin levels (zero on the glycemic index) or have a laxative effect like malitol. Most "low carb" chocolates use malitol which does increase blood sugar and often causes intestinal discomfort. So, here's to chocolate on a "diet!" Click HERE to find all "healthified" chocolates. 
The retail price of this 60-bar box is $59.95! I thought it would be a perfect gift to help you stay the course when the Holiday candy comes lurking into your home and offices.
All you have to do is 3 things:
1. "Like" Maria Mind Body Health on Facebook and share Maria Mind Body Health on your Facebook wall.
2. "Like" ChocoPerfection on Facebook.
3. Leave a comment below that you would like to win and also include what "healthified" recipe you and your family enjoys the most.
A winner will be picked December. 1st. Good Luck!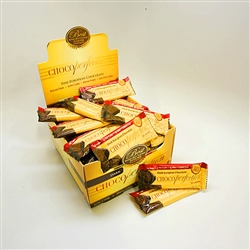 The winner is…. Janet Marin!  Congrats!
Testimony of the Day  
"Ok… going on complete faith in Maria I JUST ordered the 30 day accelerated plan! I know TONS of us had so many questions about it …. so. ….I opened Day 1… it's like healthy eating for dummies, but BETTER!!!!
What to do when you get up. .. what to eat for breakfast…What supplements you should be taking and when, Etc. (Written like a schedule for you)
The only thing you have to figure out on your own is when to go to the bathroom lol … that MAY be in one of the other pdf files though! Just kidding! lol
Back to reading…but I wanted to let those that were curious a bit of info. ..I'll update when I learn more but so far. ..AWESOME!!!!! Thanks, Maria!" -Kel
Click HERE to get your 30 day meal plans and start your transformation!
 "GOTCHA DAY" CELEBRATION 
Today is the celebration of finally bringing Micah and Kai home. I don't even know how to express the emotions I feel today. I am not much of a crier and hold my emotions pretty steady, but when I look back at the adventure Craig and I went through, it is impossible to hold it together.
This first photo collage is of when we first met the boys. Baby Kai immediately loved us and was attached to Craig because Micah and I were best buddies and Micah would push Kai and the other kids away from me. I would have to sneak out of the room to run to the bathroom quick or Micah would start crying for "mommy!"
But let me back up a little. The first few hours of meeting Micah, I was put in a room with him and another adoptive father and son and as I held Micah he screamed for about 2 hours in fear of me. It felt like a lifetime. I was so sad, I feared he would never like me. Then I thought, why did they stick me in this dark room trying to bond with a toddler? So I left the room with him and started to play ball outside. Within about 15 minutes, he thought I was pretty cool and was attached to me for the rest of our trip!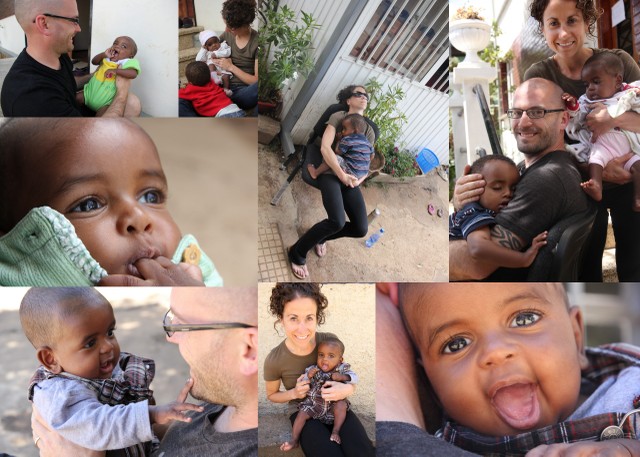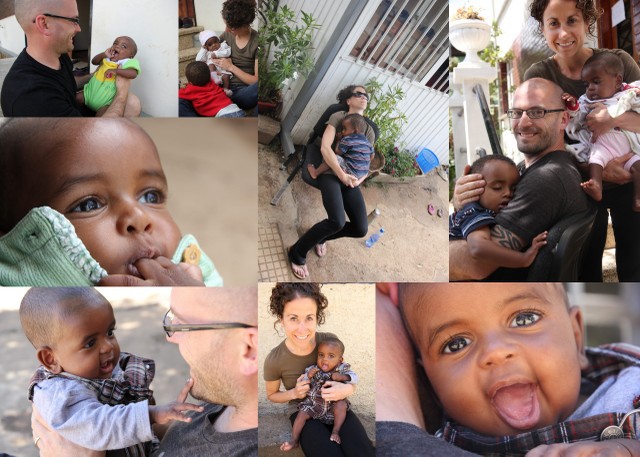 I love and hate these photos. I love them for how wonderful the time was that we got to bond with the boys. There were no clocks, no time-constraints, we basically held them until our arms were numb. These photos also remind us of how sick we got just before we had to come back to the US… this was not a pleasant 24 hour plane ride!
Anyway, the reason I hate these photos is because we had to leave the boys in Ethiopia. We thought it was just going to be a 4 to 6 weeks at most. But thank goodness I didn't know at the time that it would take 6 months before I was able to hold them again. We were also very concerned because Kai had a terrible respiratory cough but the doctor in Ethiopia said, it was just because of the pollution and poor air quality and that we just needed to get him out of here in order for him to get better. Considering that the first baby we were placed with died in Ethiopia of malaria, we were deeply concerned about the health of both Micah and Kai. We wept as we drove off without them.
We came back to the US and waited and waited and waited. Each week, we were given photos of the boys at the orphanage and they never were smiling in them. It made me so sad to see them grow up in photographs. It was complete torture.
Months went by and we tried to distract ourselves by writing cookbooks and working a lot, but it still couldn't cover up our sadness. Then on November 16th, we were notified that we can bring them home! Craig immediately got us on the first flight he could and we were on our way!
This next photo collage is of our returned trip to bring the boys home 6 months after our first visit. This trip wasn't easy. Baby Kai, who loved us in the first trip, cried whenever we held him. He wanted his nannies. This broke our heart.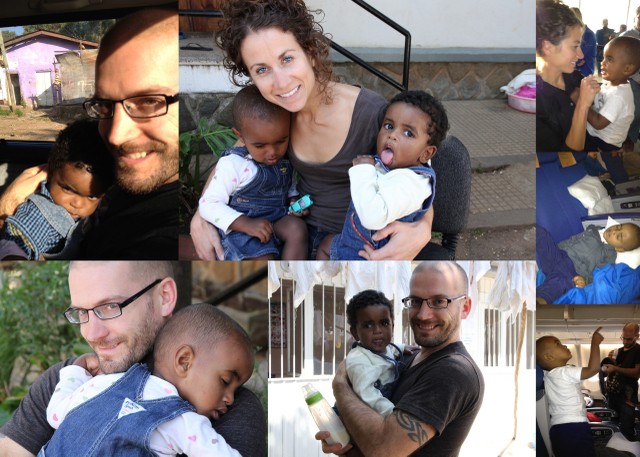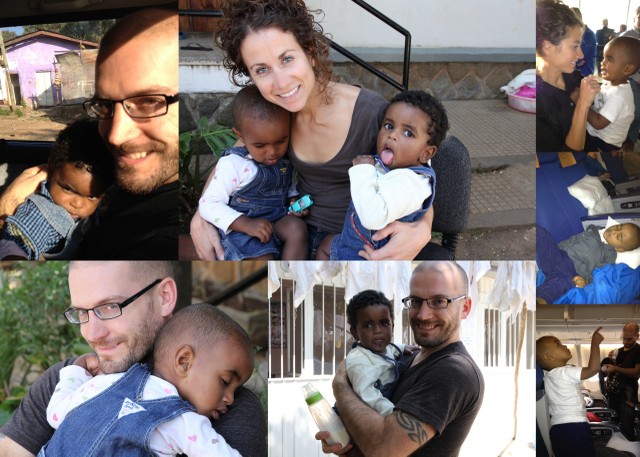 Every month that went by, I feared that Micah wouldn't remember the woman who played ball with him, but when we jumped out of the taxi cab, he ran into my arms (see video). This video is priceless to me.
The trip home was so scary for the boys. They hadn't left their little 20 foot by 20 foot courtyard for 7 plus months! To Kai, this was the only world he knew. Everything was new. They were behind gates their whole life. They cried in fear in the car, they had fear of our little dog Ohana, fear of our bathtub. This was now Micah's fourth home in 2 years. Everything was just so different for them. Oh, and don't get me started on the parasites they had! Not fun on a 24 hour trip home!
It is amazing how you forgot the trials and challenges we went through until I look back at the photos. It seems like they have been with us forever.
One of Micah's first phrases was "Micah, Kai, Daddy, Mommy, Hana." O'Hana is our dog (O'hana means "family" in Hawaiian). He still repeats it all the time.  Family.