Flourless Chocolate Hazelnut Cake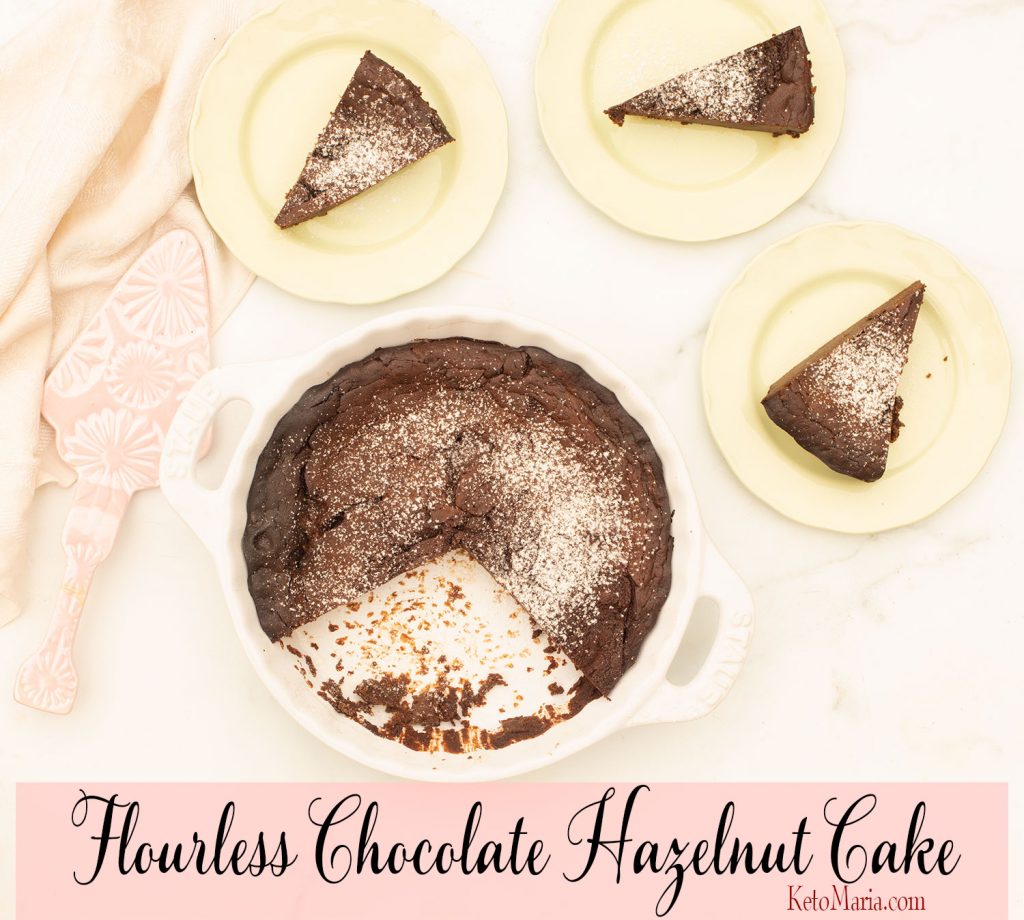 Believe me when I tell you this is going to be a staple dessert in your home! It not only makes the house smell amazing, my flourless chocolate cake recipe is very easy and there are no almond flour or coconut flour!
My drool-worthy flourless chocolate hazelnut cake is also awesome because it is dairy free! If you are following my protein sparing/30 Day Ketogenic Cleanse protocol for maximum weight loss and healing, this recipe is totally allowed (for a non protein sparing day)!
I do not eat chocolate often but I have a piece of this once a week! I love making this flourless chocolate cake for the holidays! Perfect for a Thanksgiving or Christmas dessert!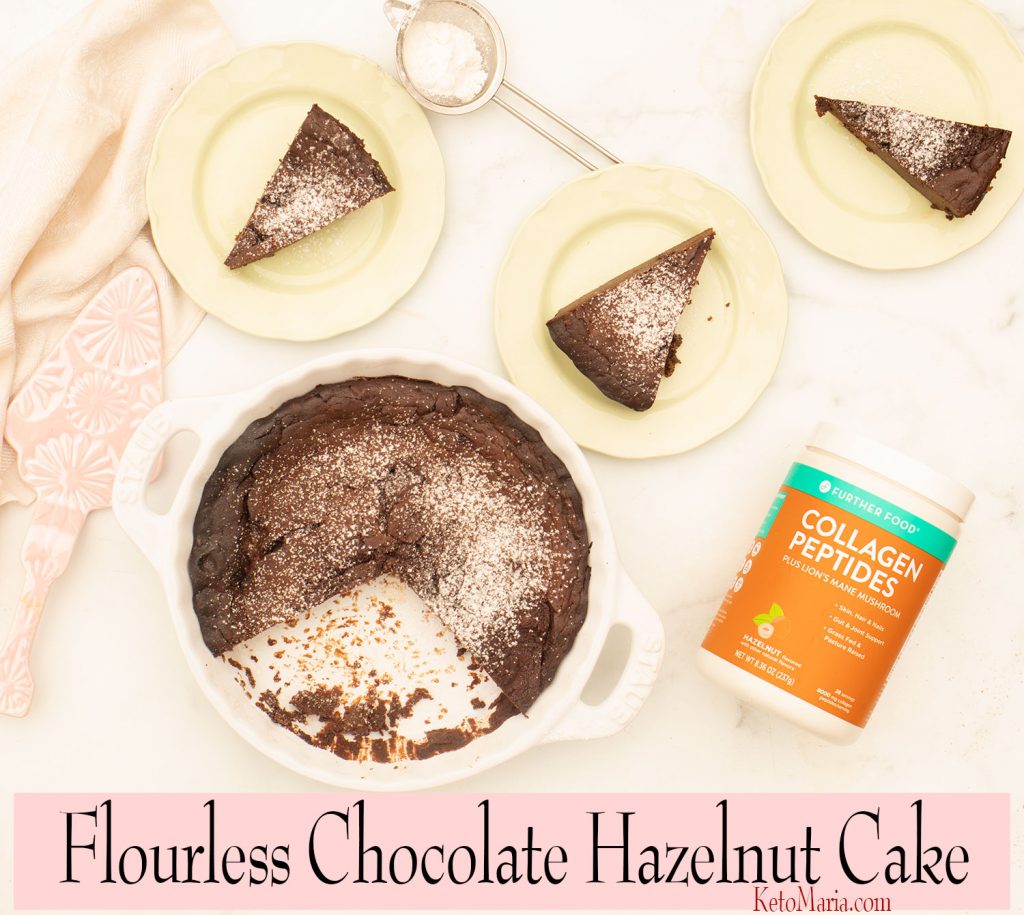 I LOVE this flourless chocolate cake! The recipe got even better when I added Further Food NEW hazelnut collagen to this decedent keto cake!
Further Food products are not only filled with top quality ingredients, they are also delicious!
I love that I can easily open a tub of Further Food NEW HAZELNUT Collagen and use it to make my flourless chocolate hazelnut cake in an instant!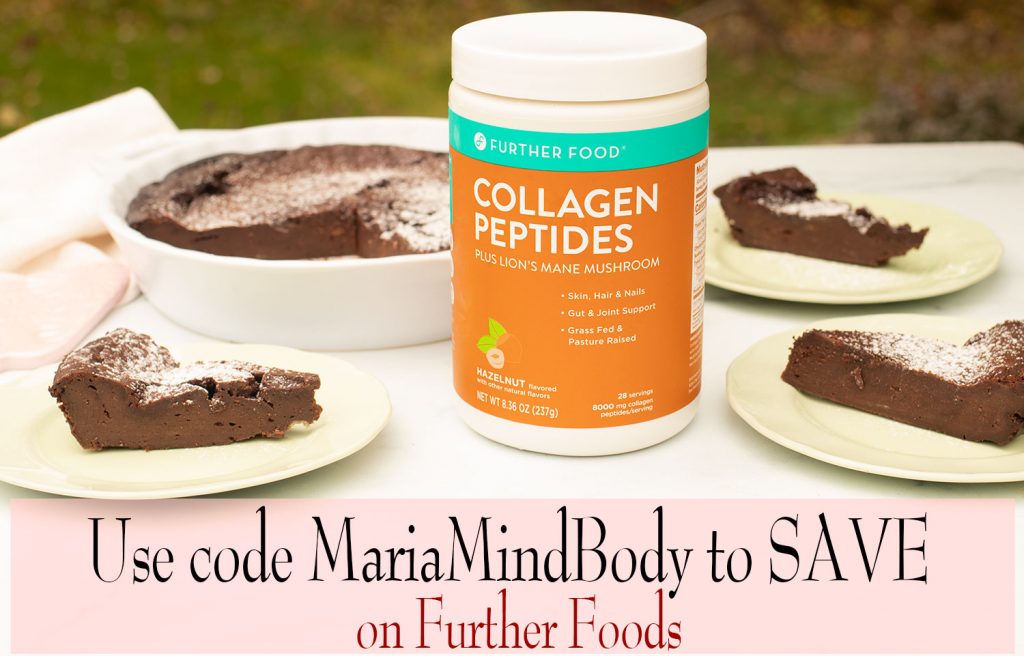 Further Food is SO generous that they are doing a special discount for all of my readers!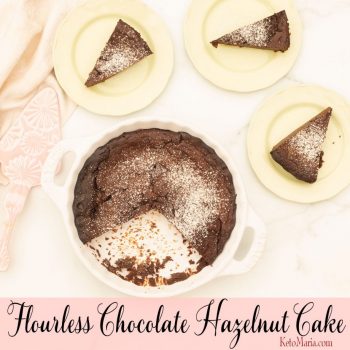 Flourless Chocolate Hazelnut Cake
Instructions
Preheat oven to 350 degrees F. Grease an 8 inch pie pan (or grease a 4 ounce ramekin to make one at a time and store the extra batter in the fridge or freezer).

Place the baking chocolate and coconut oil in a large heat-safe bowl. Heat in a double boiler (or microwave) until melted.

Remove from double boiler. Stir in the collagen, sweetener, eggs, stevia. vanilla and salt. Combine until smooth. Taste and adjust sweetness to your liking (note: the sweetness will bake off and be less sweet).

Place the mixture into the prepared pie pan or ramekins. Bake the torte for 25 minutes or until a little jiggly in the center (bake ramekins for 8 minutes or until a little jiggly).

Remove from heat and enjoy!
Nutrition
Calories:
261
|
Fat:
26
g
|
Protein:
6
g
|
Carbohydrates:
3
g
|
Fiber:
1
g
|
P:E Ratio:
0.2
TESTIMONY OF THE DAY
"Hi Maria! PSMF (protein sparing modified fasting) days work!! In May I had been at a weight loss stall for 15 months. I have been eating this keto lifestyle for 4 1/2 years. I took measurements in early May and again today. In 4 1/2 months of doing PSMF days 2 days a week plus trying to lower my fats a little on normal keto days, I lost 16 lbs and 7". Most of the inches were lost in my torso with 1" in my thighs. And I lived in an RV for 3 months with limited cooking/baking options and not as many food options.
I found this fleece sweatshirt in the back of my RV closet from 2016, size 5X. My husband took pictures of me in it this morning. Here are some before pictures and some recent ones. I'm still working on losing 15-20 lbs and building muscle while lowering my fat percentage. Thank you so much Maria Emmerich for changing my life." Twila
Most people I consult are doing keto totally wrong. Get fast results with the my Mind-blowing Keto School!