Estrogen Dominance
Testimony of the Day
"Hi Maria! On 02/15/13 I was diagnosed with a 12mm Pineal Gland Cyst after a severe migraine. In late July I flew to Colorado in hope of finding some answers and second opinions. I was given no information from the 2-3 Neurologist that I have seen as to what caused or is "feeding" this. The doctors are very unhelpful due to where my cyst is located (dead center of my brain). Their fearful that it will grow thus forcing them to operate, so they shove RX's at me in hopes that something will help. Only more bad news followed. Not only was the Cyst causing problems, but I was also on my way to getting Type 2 Diabetes and leaky gut. I knew I needed to change my life and fast. 
I found out about "The Maria Way" from some very good friends. I have followed your plan since the being of August. On 08/20/13 just 2.5 short weeks of being GF, I had my follow up MRI. It showed that the cyst was now only 1.1cm in size. It had already shrunk 1mm! I know that sounds tiny but when you're talking about something growing in the middle of your brain it means a lot! I have stopped all med's and have been migraine and headache free for almost a month now thanks to you!
My skin has improved and my body has never felt better. I can't wait to see how I feel in a month! My holistic doctors believe that a change in diet and the right supplements will probably shrink or even make my cyst go away. I am really looking forward to TOTAL body health. I truly do feel that "you are what you eat".
I have never felt better! Not only am I losing weight but very soon I will be completely healthy! Thank you, Maria!!!!" Megan
Click HERE to start your journey to a keto-adapted diet!
ESTROGEN DOMINANCE and CANCER
Did you know that men can have 'estrogen dominance' too? Yep, one of the causes of prostate cancer is excess estrogen in men. (reference). Both androgen and estrogen have been reported to stimulate proliferation of cultured prostate cancer cells.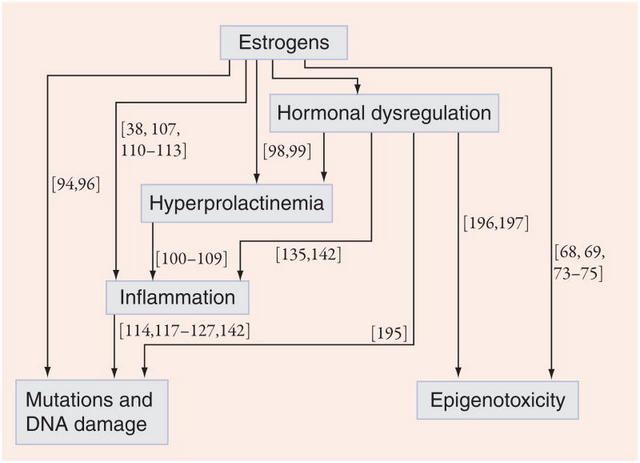 This diagram demonstrates estrogenic carcinogenicity in the prostate. The numbers refer to references supporting the corresponding pathway of estrogenic action. (To find the references and diagram click HERE).
A well-formulated ketogenic diet has an intense and fast effect on cancer. All of your body's cells, including cancer cells are fueled by glucose. Conversely, cancer cells have one huge mortal flaw; they do not have the metabolic adaptability to be fueled off of ketones, but your healthy cells can thrive on ketones. Therefore, since cancer cells need glucose to thrive, and carbohydrates turn into glucose in your body, then cutting out carbs literally starves the cancer cells.
HEALTH TIP: Excess bad estrogen in the liver and fat cells is a leading cause of breast, thyroid and uterine cancer in women, as well as prostate cancer in men. Cutting out all of the estrogenic factors is extremely important (which I list in my Keto-Adapted book). A supplement called Estrofactors helps detox this bad estrogen out of the liver which will in turn heal liver function and increase T3 production for thyroid patients. Click HERE to find.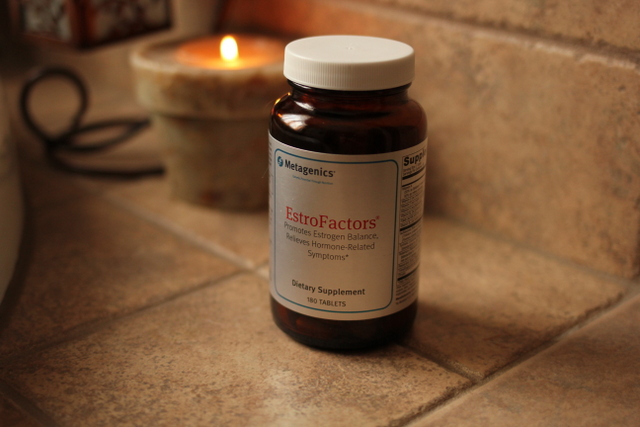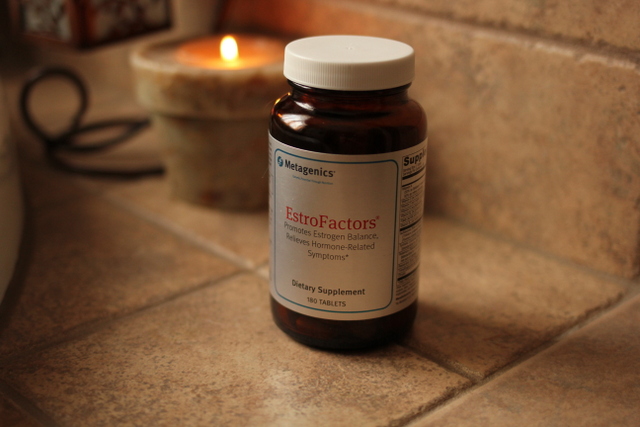 ESTROGEN DOMINANCE
Are you not going #2 everyday? Has your doctor told you that it is fine and that is just how your body is? Well, your doctor is wrong. Everyone should go #2 everyday…it is more important than you think. We are living in a sea of estrogens. When we aren't properly excreting those toxic levels of estrogens, they get stored in our fat cells which is detrimental for weight gain. Fat cells make estrogen and estrogen causes fatty tissue growth. This is a vicious cycle we'd like to avoid. Excess estrogen is excreted in the bowel. When stool remains in the bowel for a longer time, as in constipation, the estrogen is reabsorbed.Some ways we get too much estrogen is exposure to chemicals that mimic estrogen such as many plastics (microwaving food in plastic dishes or using plastic wraps and containers) or eating non-organic food. Beef and chickens are typically given potent estrogenic substances ('super-estrogens') to make them more productive.
Our produce is often laced with these substances. People develop estrogen dominance as a result of a high-carb diet, consuming excess fructose, drinking alcohol, having a "Tired-Toxic Liver (see chapter in Secrets to a Healthy Metabolism), or environmental factors…all of which we have some power to control.


The liver is a filter of sorts. It detoxifies our body, protecting us from the harmful effects of chemicals, elements in food, environmental toxins, and even natural products of our metabolism, including excess estrogen. Anything that impairs liver function or ties up the detoxifying function will result in excess estrogen levels. If your liver is tired and toxic, a special diet plan would be in order to help.
Estrogen is produced not only internally but also produced in reaction to chemicals and other substances in our food. When it is not broken down adequately, higher levels of estrogen build up. This is true for both men and women, although the effects are more easily recognized in men. Alcoholic men with impaired liver function develop a condition called gynecomastia, with estrogenic characteristics including enlarged breasts, loss of male pubic hair, and belly fat.
Some signs of excess estrogen in MEN and WOMEN:
-Migraines
-Low back pain
-Weight gain secondary to insulin resistance
-Belly Fat Accumulation (A "Beer Belly" is really an "Estrogen Belly")
-Fibrocystic breast disease
-Excessive PMS
-Menstrual disturbances–irregular and heavy bleeding
-Endometriosis
-Fibroids
-Ovarian cysts
-Breast Cancer

Correcting Estrogen Dominance involves more than just correcting the estrogen-progesterone balance and supporting the adrenals. It is important to eliminate the factors as much as possible. Exposure to xenoestrogens , insufficient sleep, toxic exposure, poor nutrition (high carbohydrates, low fat/protein intake, low nutrient value), and stress are some common causes. I also have suggestions for supplements to help speed the process of healing. So, do you feel like you are eating the right way, taking the right supplements, and STILL aren't going #2? It is most likely a food allergy!
Click HERE to rid your body of estrogens!