Eggnog
Who doesn't love the taste of eggnog at Christmas time? Here is a way to really cut the calories and sugar!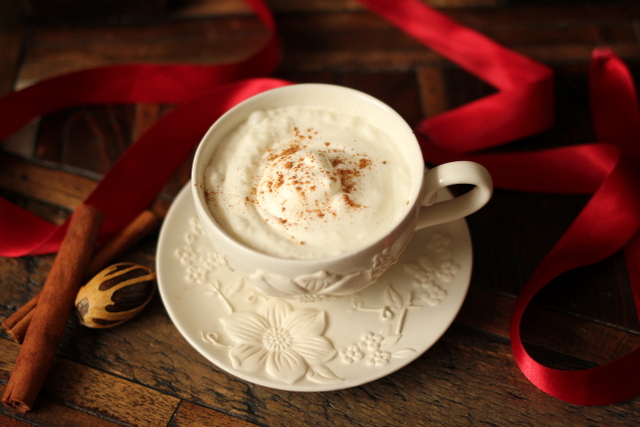 Eggnog
1 egg nog tea bag
1 cup vanilla almond milk
1/4 tsp nutmeg
2 tsp
Swerve 
(or a drop of stevia glycerite)
In a saucepan, warm the almond milk, nutmeg, and sweetener until hot. Place the tea bag in a teacup. Slowly add the almond milk into the cup and let steep for 3 minutes. Enjoy!
NUTRITIONAL COMPARISON (per cup):
Traditional egg nog = 343 calories, 34.4 carbs, 0 fiber
"Heathified eggnog = 42 calories, 2 carbs, 1 fiber
Testimony of the Day
"Dear Maria, It has been a miraculous month full of wonders and discoveries since I started with our phone consult! Here is the list of what me, my husband and – believe it or not, lol! – 3 our cats achieved during this month:
1. Bowel improvement – regularity, pain, itching, blood, bloating, free. One of my cats used to get terrible constipations that would require physical assistance and medications and result in bleeding and other things which are completely gone now.
2. Candida clear – no more white tongue, runny/stuffed nose or itchy "downstairs"
3. Weight-loss (including our 3 cats who for some reasons now started preferring our food – coconut cream as well btw! – to the high-carb cat food thing which they used to go crazy about because of the valerian root ingredient that has no more dramatic effect on them anymore). One of my clients I started working with recently told me yesterday, "I want to have a body like yours – looks so athletic, muscly, healthy!" And the last pair of jeans I got was size 0! Don't worry, though, about me being too lean – I'm really short, 5 feet even))
4. No more teeth sensitivity
5. Skin improvement – hyper-pigmentation after oral contraceptives (which btw I've had from 2008 and couldn't remove even with chemical peeling procedure – terrible thing, really! they would give me acid burn every 2 weeks from October till the middle of December! – or liver cleansing pills) is almost gone! Considerable acne and blackhead reduction – I still get some acne right before my period), no more excess grease. Noticeable skin turgor – it's not as loose as it used to be, even my parents mentioned that!
6. Body temperature and blood pressure normalization – I used to be always cold, my normal body temperature was lower than normal people are supposed to have (35.1 instead of 36.6 C), same with blood pressure – 80/50 or even 80/- on a bad day sometimes which made me pale, dizzy, inactive, lazy…. Now I'm always hot, my lips are red and even my cheeks pretty often get rosy!
7. Joint pain and cracking free – my husband's joints have been a trouble for years and mine started killing me after the last surgery and antibiotics.
8. Muscle pain-free – in fact, much more flexible and responsive than ever!
9. Energy level is just fantastic! To be honest, I only felt this way on Prozac – happy and too energized. But it's much better, because I'm not on meds, because there is no side effects like insomnia, hand shaking and stomach issues. I sometimes get so much energy, I'm actually scared of myself, lol! My husband calls me Turbo-broom 😀 I wake up and fall asleep easily and get those precious 8 hours! I feel fantastic both physically and emotionally! I can say the same thing about my cats who become much more playful and energetic lately! My husband just offered to go on the last bike ride this year – and it's only 39 degrees F today!
10. Clear mind – my mind has been foggy for years now, my memory was terrible and not only would I forget events or people from some years ago but even some simple words, like everyday things, used to have troubles with grammar while speaking – it feels completely different now! Memory is sharp, attention is focused, even the abilities to taste and smell things increased, and all the other things one needs to feel great!
11. Great economy! First at got expensive – meat/fish/seafood is more expensive than grains, fruit and veggies. But now that the consumption of food has reduced drastically – I only need coffee with coconut cream and oil in the morning and one (rarely two) meal/s a day. The meal size is smaller too – don't need that much anymore. Same with cats! And I don't need that huge cup of coffee, just a small cup, about 4-5 sips.
11. My cooking skills improved, even though I've always loved cooking but it's gotten to a brand new level with your helpful tips, advice and detailed instructions! All the things I cooked according to your recipes we just loved!
Thank you for teaching me this way – a real godsend way for me and all my family! And you've made it so easy and understandable! You are making difference in a great way! God bless you and your wonderful family!
Meanwhile, have a Happy Thanksgiving and take those huge thanks from our family!" Irena
To start on your path to health and healing, click HERE.