Easy Protein Sparing Noodles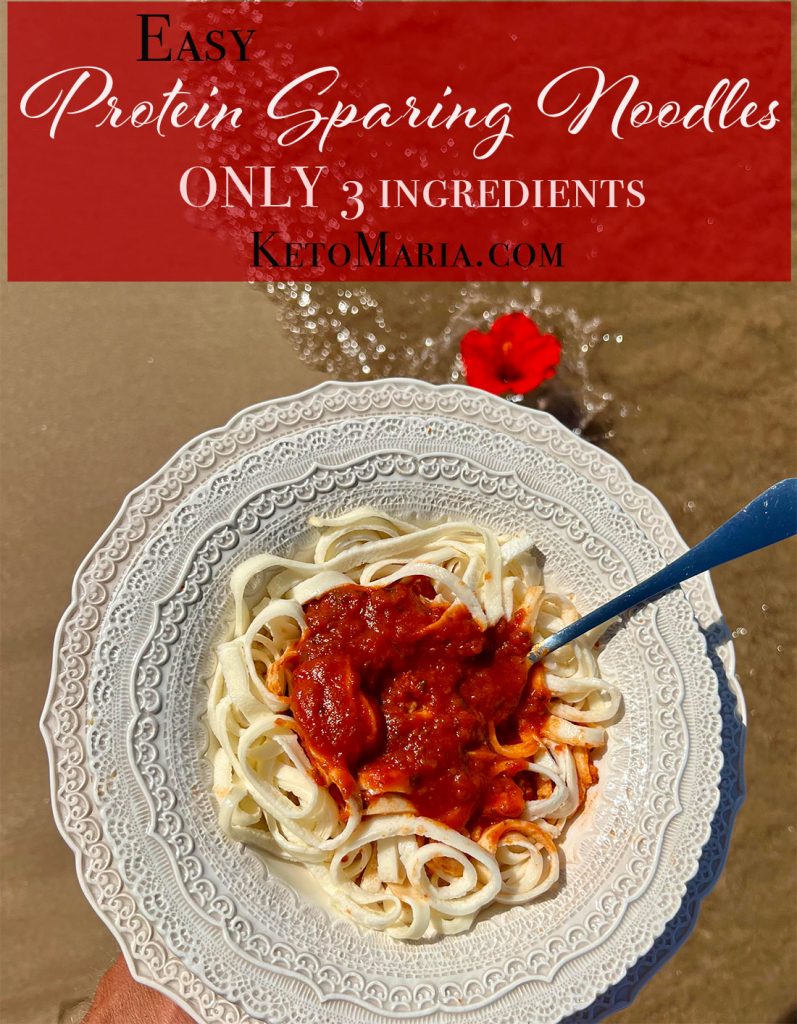 Oh my goodness my friends! It is about time I shared my very special recipe that I had on Keto-Adapted.com for protein noodles! This recipe was inspired by Nancy who posted the idea on my private Facebook Group called Keto (which you can join for support!)
My recipe for Easy Protein Sparing Noodles will blow your mind! The recipe that Nancy posted was cooked on a skillet. I found cooking on a skillet difficult to flip so I made my recipe in the oven! Super easy! You will love it!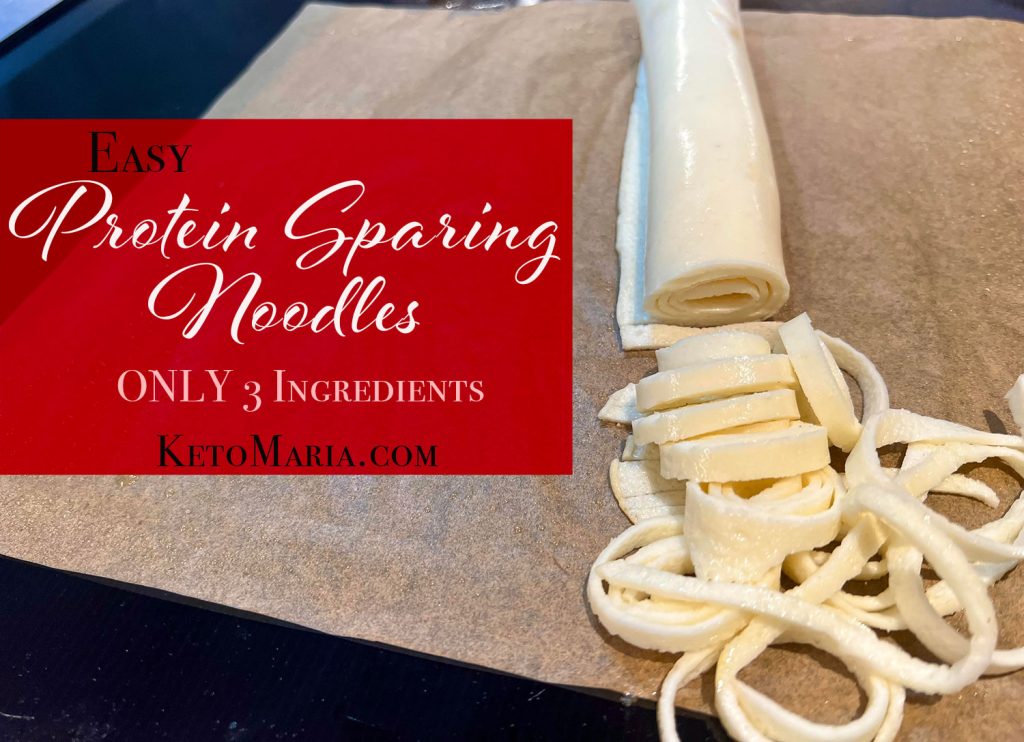 PROTEIN SPARING NOODLES versus OLIVE GARDEN
Move over Olive Garden! My spaghetti is ONLY 67 calories and basics zero carbs!
1 portion of Olive Garden Spaghetti is 635 calories, 105 grams of CARBS, 17 grams of fat and 14 grams of protein.
I do not know about you, but when I have a plate of noodles, I want more than one small cup of noodles! I want a big bowl of noodles! That screams comfort food to me!
This is why my Easy Protein Sparing Noodle recipe is amazing! You can have a HUGE bowl of noodles for a fraction of the calories for regular pasta!
I would rather enjoy a big plate of my protein sparing noodles and feel satiated and great after eating it!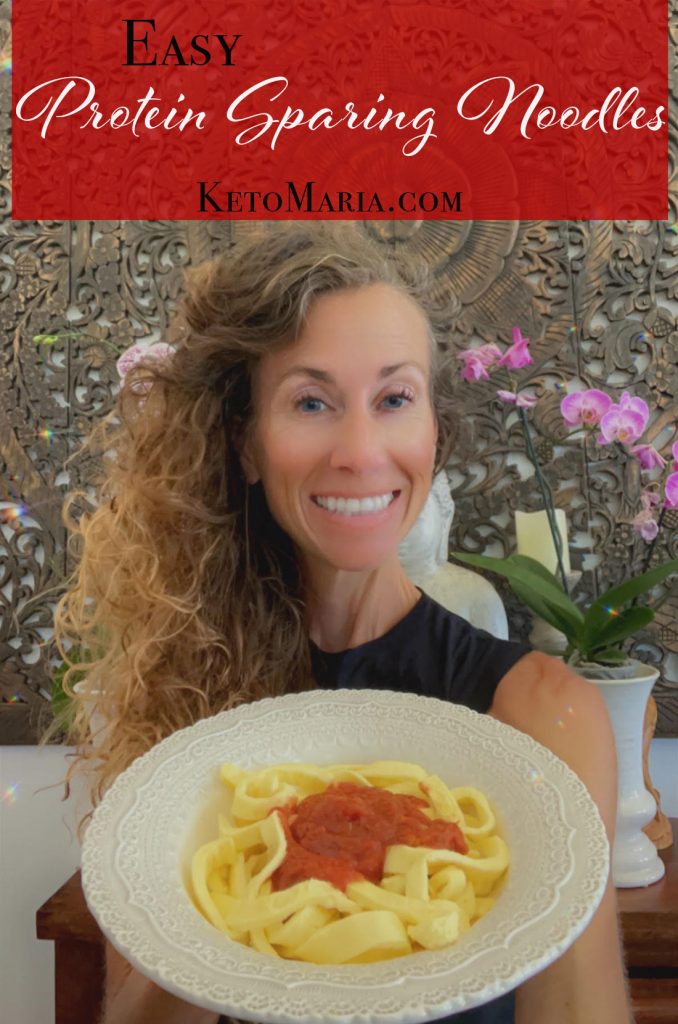 HOW TO MAKE PROTEIN SPARING NOODLES
To make my Protein Sparing Noodles, I used Further Food Gelatin! Adding gelatin to my protein sparing noodles adds a delicious chewy texture!
Further Food gelatin and collagen peptides are both excellent sources of collagen. Both their Collagen & Gelatin are sourced from the highest quality, grass-fed, pasture-raised, hormone-free, and antibiotic free bovine collagen.
The benefits of collagen and gelatin are astounding! Just eating my delicious Protein Sparing Noodles helps support skin elasticity & hydration, longer hair & nails, stronger bones & joints, faster recovery between workouts, increased flexibility, improved digestion, and it even keeps you feeling full and satiated for longer!
Further Food Collagen Peptides dissolve instantly in any recipe, and Gelatin Powder naturally thickens recipes. It's perfect for making keto noodles, dairy free ice cream, jello, sugar free gummies, no bake cheesecake, or panna cotta!
Use code MARIAMINDBODY is for 20% off site-wide !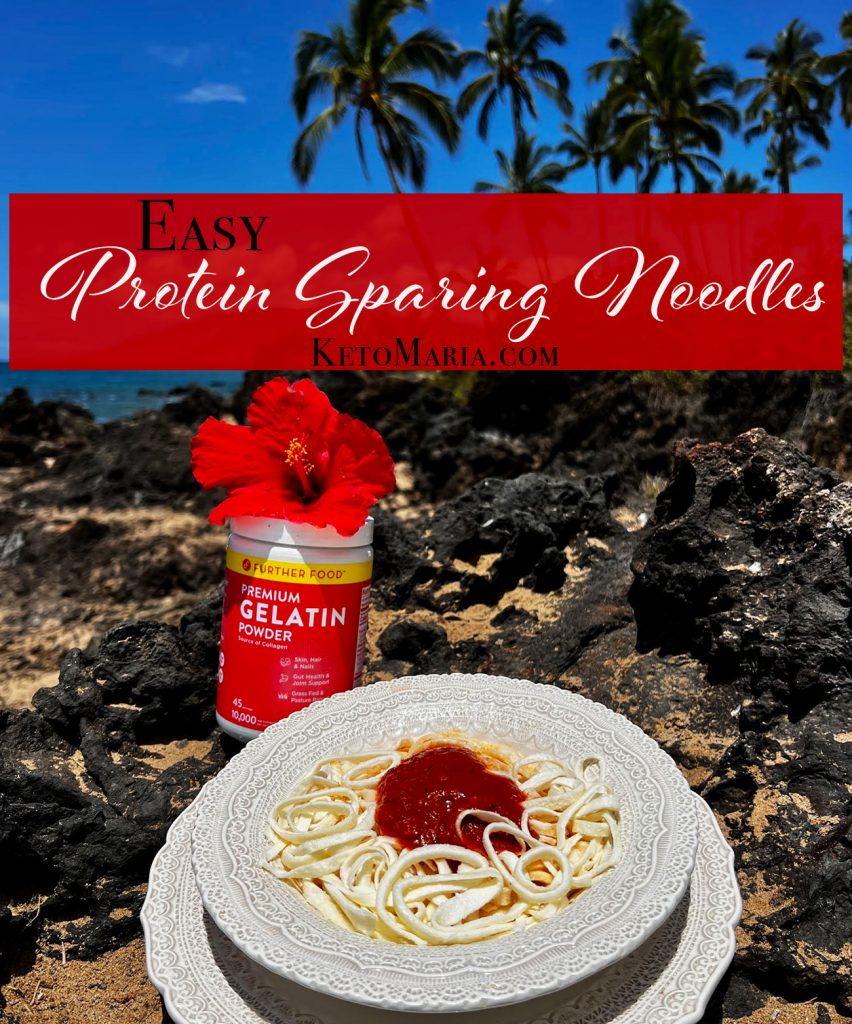 Easy Protein Sparing Noodles
Instructions
Preheat oven to 300 degrees F.

Place the egg whites into a blender. Add the Further Food gelatin and salt and blend the mixture well.

Spray a silicone baking sheet with edges (like THIS ONE) liberally with avocado oil spray. Pour the mixture into the baking sheet and use a spatula to spread the mixture out to cover the baking sheet completely in a thin layer. Place in the oven to bake for 6-10 minutes or until just cooked through.

Remove from oven and allow the mixture to cool.

OPTION 2: Heat a large non-stick skillet or crepe pan to medium heat. Spray with avocado oil spray and pour the mixture into the skillet. Turn the skillet to coat the entire bottom in a thin layer. Cook the noodle mixture for 2 minutes or until completely cooked through. Gently flip to cook the other side for one minute. Remove from the skillet.

Once the sheet of protein sparing noodles is cool, remove it from the silicone pan. NOTE: If it sticks, place the pan into the freezer for 10-15 minutes before removing, the sheet of noodles comes off easier.

Place the sheet of noodles onto a cutting board and roll it up in a tight jelly roll. Use a sharp knife to slice into protein noodles.

Serve with your favorite protein sparing toppings.

Store extras in an airtight container in the fridge for up to 5 days. To reheat, place in a lightly greased skillet over medium heat for 2 minutes or until heated through.
Nutrition
Calories:
79
|
Fat:
1
g
|
Protein:
18
g
|
Carbohydrates:
1
g
|
Fiber:
1
g
|
P:E Ratio:
18
TESTIMONY OF THE DAY
This is an email from one of my phone consults!
"Maria! Good morning!!! Just wanted to check in.  After 6 days down 8.6 pounds!!!!  I am feeling great! Those protein sparing beef burritos are a staple for me.

See you on the webinar tonight!  I watched the one last week the day after

Have a great day!

All the best,

Joyce
Most people I consult are doing keto totally wrong. Get fast results with the my Mind-blowing Keto School!