Testimony of the Day
"Hi Maria! On 02/15/13 I was diagnosed with a 12mm Pineal Gland Cyst after a sever migraine. In late July I flew to Colorado in hope of finding some answers and second opinions. I was given no information from the 2-3 Neurologist that I have seen as to what caused or is "feeding" this. The doctors are very unhelpful due to where my cyst is located (dead center of my brain). Their fearful that it will grow thus forcing them to operate, so they shove RX's at me in hopes that something will help. Only more bad news followed. Not only was the Cyst causing problems, I was on my way to getting Type 2 Diabetes and leaky gut. I knew I needed to change my life and fast. 
I found out about "The Maria Way" from some very good friends. I have followed your plan since the being of August. On 08/20/13 just 2.5 short weeks of being GF, I had my follow up MRI. It showed that the cyst was now only 1.1cm in size. It had already shrunk 1mm! I know that sounds tiny but when you're talking about something growing in the middle of your brain it means a lot! I have stopped all med's and have been migraine and headache free for almost a month now thanks to you!
My skin has improved and my body has never felt better. I can't wait to see how i feel in a month! My holistic doctors believe that a change in diet and the right supplements will probably shrink or even make my cyst go away. I am really looking forward to TOTAL body health. I truly do feel that "you are what you eat".
I have never felt better! Not only am I losing weight but very soon I will be completely healthy! Thank you Maria!!!!" Megan
Click HERE to start your journey to a keto-adapted diet!
Cancer and Ketogenic Diet
Did you know that men can have 'estrogen dominance' too? Yep, one of the causes of prostate cancer is excess estrogen in men. (reference). Both androgen and estrogen have been reported to stimulate proliferation of cultured prostate cancer cells.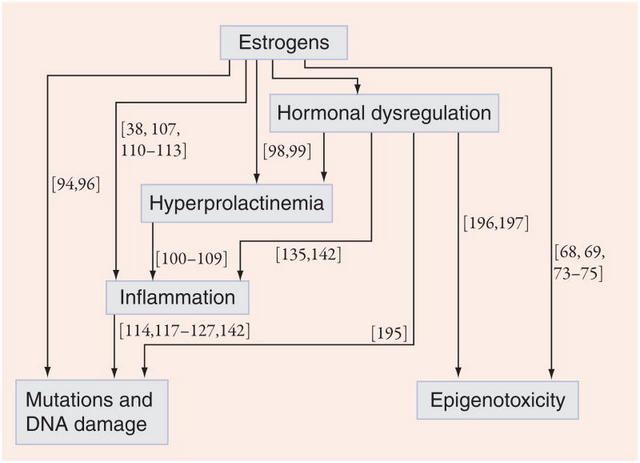 This diagram demonstrates estrogenic carcinogenicity in the prostate. The numbers refer to references supporting the corresponding pathway of estrogenic action. (To find the references and diagram click HERE).
A well-formulated ketogenic diet has an intense and fast effect on cancer. All of your body's cells, including cancer cells are fueled by glucose. Conversely, cancer cells have one huge mortal flaw; they do not have the metabolic adaptability to be fueled off of ketones, but your healthy cells can thrive on ketones. Therefore, since cancer cells need glucose to thrive, and carbohydrates turn into glucose in your body, then cutting out carbs literally starves the cancer cells.
HEALTH TIP: Excess bad estrogen in the liver and fat cells is a leading cause of breast, thyroid and uterine cancer in women, as well as prostate cancer in men. Cutting out all of the estrogenic factors is extremely important (which I list in my Keto-Adapted book). A supplement called Estrofactors helps detox this bad estrogen out of the liver which will, in turn, heal liver function and increase T3 production for thyroid patients. Click HERE to find.
Unlike healthy cells that can get energy by metabolizing sugar in the mitochondria, cancer cells appeared to fuel themselves only through glycolysis, a less-efficient means of creating energy through the fermentation of sugar in the cytoplasm.
If most aggressive cancers rely on the fermentation of sugar for growing and dividing, then take away the sugar and the cancer can stop spreading. Meanwhile, normal body and brain cells switch to generate energy from fatty molecules called ketones, the body's main source of energy on a fat-rich diet.
The healthiest way to stop feeding cancer cells isn't to increase protein while subbing out excess carbohydrates; it is to increase healthy fats. Too much protein will increase glucose also via gluconeogenesis. I know I have written that many times, but it is such a common mistake that people make when cutting out carbohydrates. Limit protein to high-quality organic and pastured sources only.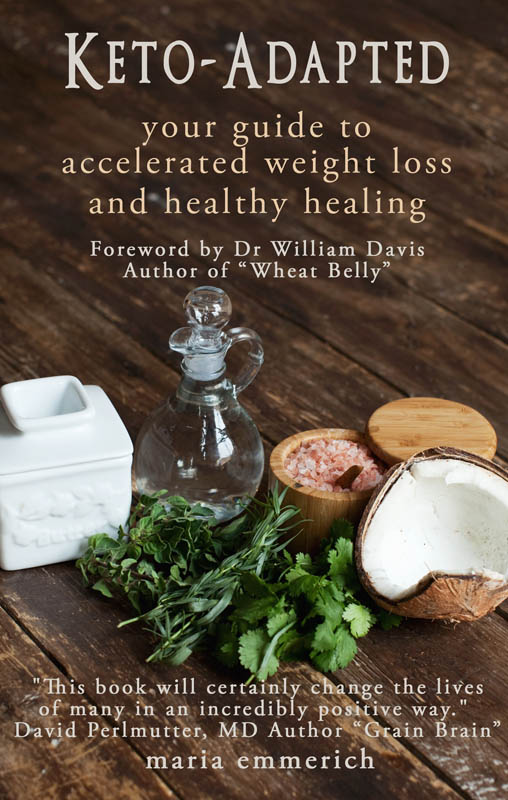 To read more on how to become keto-adapted and starve those cancer cells from glucose, click HERE.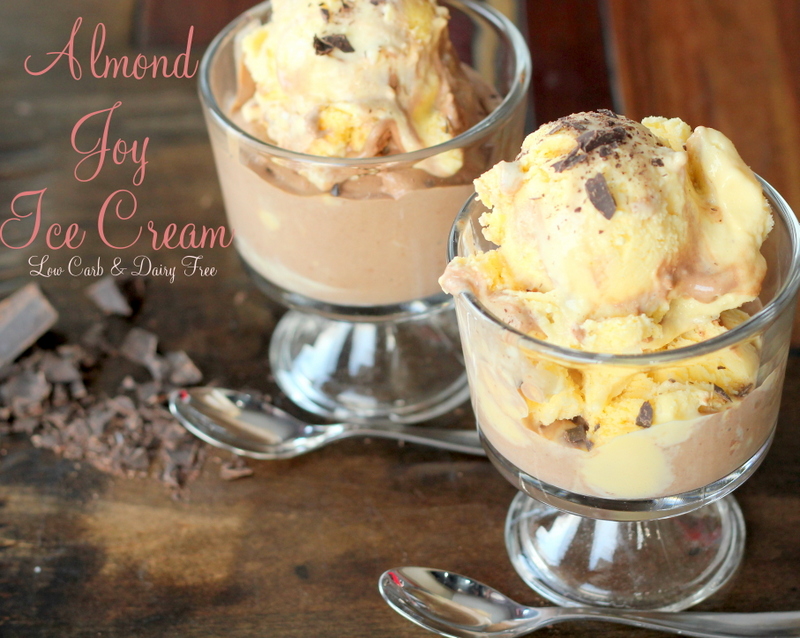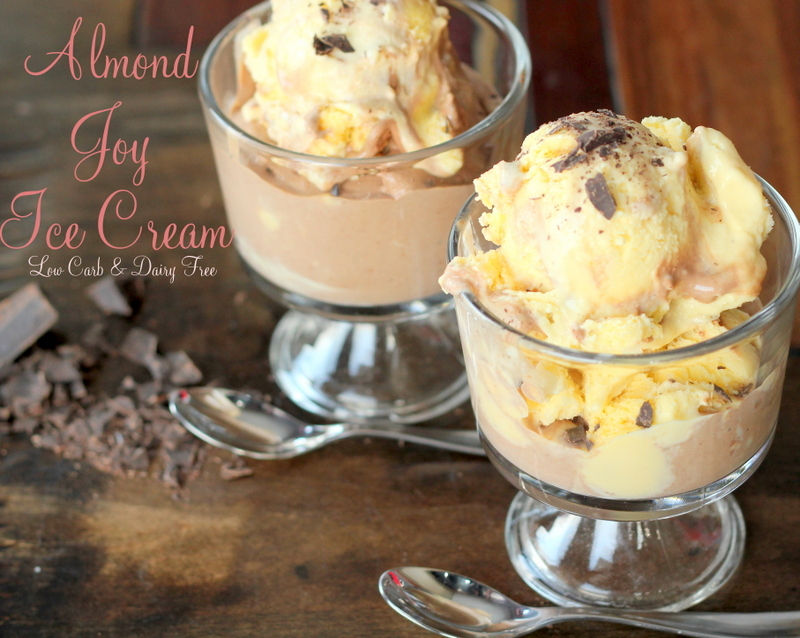 3 cups (2 cans) unsweetened coconut milk
2/3 cup unsweetened cocoa powder (optional)
6 TBS Allulose (keeps ice cream soft)
1 tsp stevia glycerite
1/2 tsp Redmond Real salt (helps it from hardening like a rock)
1 tsp almond extract (or vanilla)
OPTIONAL: Homemade Almond Joy Chocolate Chunks
Whisk cocoa powder in a small amount of coconut milk, until smooth. Then add the rest of the ingredients and whisk until well combined. Make according to your machines instructions. This ice cream will get very hard in the freezer, but I just set it out for 20 minutes before serving. Enjoy! Makes 6 servings.
NUTRITIONAL COMPARISON (per serving)
Traditional Ice Cream = 266 calories, 24 carbs, trace fiber
"Healthified" Ice Cream = 276 calories, 6.5 carbs, 2.6g fiber
For MORE recipes with coconut milk, check out my cookbook: NUTRITIOUS AND DELICIOUS!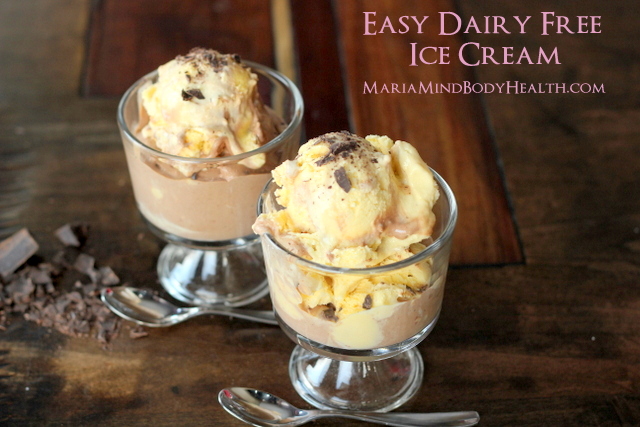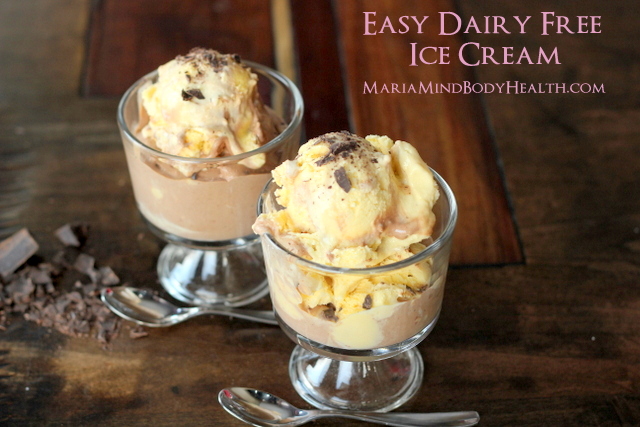 A great story!
"My son has had eczema since he was 1 ½ years old. He has a severe allergy to dust mites, and with a fully carpeted house and no money to replace them, he is basically allergic to our house. His arms, stomach, back of knees and neck were covered with eczema, and I have been so worried he would get MRSA or something akin to that since he has so many open sores.
I talked to my son and suggested he go further than just being gluten-free (he is allergic). We made lists of what foods he wanted me to make to be able to succeed as grain and sugar-free. After lots of cooking and only a week, his skin looks so much better. I wish I had taken before and after pictures because you literally would not believe the change.  
The extra added benefit of going grain and sugar-free is that his ADHD is less evident. We had been managing his ADHD by avoiding certain foods and chemicals in foods, but he has become so much more even-keeled. 
At only 10 years of age, he is convinced of the benefits of eating this way." –Stacy